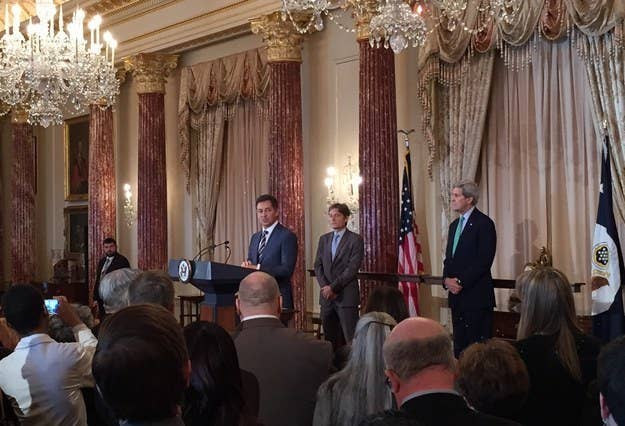 WASHINGTON — Multiple LGBT foreign service officers said in interviews with BuzzFeed News that they have had their careers upended because of how the U.S. State Department handles overseas placements for employees in same-sex relationships.
Beginning with a 2009 decree from Secretary of State Hillary Clinton, the Obama administration has taken steps to do away with long-standing policies that excluded same-sex partners of diplomats from benefits like diplomatic passports and being counted as family members in calculating diplomats' housing allowance. The Obama administration also has appointed a record number of out gay ambassadors and named a married gay man to the new post of special envoy for LGBT rights earlier this year.
But, for many career staff, the department has not leaned hard enough on other countries to allow gay and lesbian diplomats to bring their families with them to overseas posts. Instead, they find they are sometimes shifted to less desirable posts in order to avoid conflict over their partner's status or told the U.S. government will not help them bring their family members into a country that doesn't recognize their relationship.
"I wish I could say there was progress, but the fact is, more and more countries are saying no to our families, and each year we find ourselves with fewer career options," said Selim Ariturk, president of the organization representing LGBT employees at the State Department known as GLIFAA. Ariturk said GLIFAA had received complaints on average from at least one LGBT employee every quarter over the past few years. The department's handling of these situations not only raised questions of fairness within the organization, Ariturk said, but also the depth of the U.S. government's commitment to defending LGBT rights.
"If we don't stand up for our own LGBT families, all the homophobic countries will pick up on that signal — and they have," Ariturk said. "If we're going to stand up for LGBT rights around the world, we need to stand up for our own American diplomats and their families."
Deputy Assistant Secretary of State for the Bureau of Human Resources Phil Lussier strongly disagreed that the department wasn't adequately supporting its LGBT employees during an interview with BuzzFeed News.
"The push really comes from the top and it is coming from the top" to get more countries to accept the same-sex partners of gay and lesbian diplomats, Lussier said. Secretary of State John Kerry called for establishing the "gold standard" for equal treatment of LGBT diplomats' families in March, echoing remarks he made the previous June. Lussier said that the department was preparing to send official instructions to all U.S. missions that Washington wants them "to be very proactive on this issue" to expand this list, a follow-up to a similar cable sent last year.
Lussier said that an informal tally counts about half of the countries with U.S. missions openly accrediting diplomats' same-sex partners, but there is a limit to what the State Department can do.
"The problem is ... not all countries have the same thinking on the cultural change that we have here in the United States," he said.
But stories told by some gay foreign service officers suggest that the human resources officers in Washington and in the embassies may shift them away from desirable posts in non-gay-friendly countries without adequately consulting them. Even more troubling, they say, is that human resource officers sometimes blame them for raising concerns and don't provide support for answering basic questions about whether they will be able to go to their post with their partners.
In one case, a diplomat who asked not to be identified out of fear of retaliation told BuzzFeed News that since joining the foreign service in 2010 he has twice been all-but-promised a plum post in a country where they needed his specialized language skills only to be reassigned at the last minute because of this country's policy toward same-sex partners. When this first happened in 2011, the diplomat said that his State Department career development officer told him, "There aren't a lot of places that will accredit your same-sex partner, so if you choose to continue in this relationship it will adversely affect your career."
The couple subsequently broke up in part because of concerns about his career prospects, though they got back together about one year later. He still has not served in a country that he feels is best suited to his language skills.
Even foreign service officers at the most senior ranks of the foreign service report feeling abandoned by the State Department when trying to bring their partners to an overseas post.
In the spring of 2014, a 15-year veteran officer named Jeff Daigle backed out of an assignment to be the top public affairs officer in the U.S. embassy to China not long before he was due to begin language training to prepare for the job. Daigle declined to comment for this story because of the department's restriction on employees speaking to the press, but his husband, Matt Cuenca-Daigle, told BuzzFeed News that Daigle withdrew after the couple "hit a brick wall where [HR] said we can't do anything" to ensure Cuenca-Daigle would be able to accompany him on his multiyear tour in Beijing.
After months of trying to get a clear answer from HR, Cuenca-Daigle said they were ultimately told that he would have to leave China every three months at his own expense and re-enter on a short-term visa. If he were arrested at the border or deported, Cuenca-Daigle said HR told them "the U.S. embassy could not assist me in any way." A friend serving in South Korea had been separated from his partner when he was deported after attempting to re-enter on a similar short-term visa, and they were not prepared to take that risk.
"This is really shocking that they couldn't do anything," Cuenca-Daigle said. While the Defense of Marriage Act prevented the federal government from recognizing same-sex couples' marriages and therefore placed some limits on how far State could go in recognizing spouses like him until the Supreme Court struck down the provision in 2013, Cuenca-Daigle said he was stunned to find he still did not have the same protections as an opposite-sex spouse.
"I would have thought the embassies around the world would reflect the best of what America has to offer," Cuenca-Daigle said. "To condone any form of discrimination is a disappointment."
The State Department said that Daigle was applying at a moment when personnel changes in the Chinese government led China to be less accommodating to same-sex partners, and that was likely the reason that Daigle had such a hard time. One of the challenges in providing good information on visas for partners is that "[t]he world is changing every day," said Lussier, the deputy assistant secretary. And the State Department doesn't want to publish a list of which countries will accommodate same-sex partners that could become public, potentially forcing some governments to reverse their policy if it became a political scandal at home.
There is also always a risk that U.S. diplomats can be caught up in the rapidly changing politics of LGBT rights. Shortly after the Indian Supreme Court reinstated a law criminalizing homosexuality in December 2013, a senior politician then in the opposition suggested that the Indian government should "go ahead and arrest all of" the same-sex partners of U.S. diplomats.
"We know there are governments that just aren't going to recognize same-sex spouses," said a diplomat whose partner has had visa issues, speaking anonymously out of fear for retaliation for speaking to the press. "I think there's a disappointment that the U.S. government and individual posts aren't really doing enough, and it's not really consistent with what's been stated as department policy and what's been said by Secretary Kerry."
Ariturk, of the LGBT employees association, said advocating for the rights of LGBT diplomats can be an important way for the United States to confront homophobia in countries where it has become a political issue.
"As part of a comprehensive approach to standing up for the human rights of LGBT persons, that's got to be one component," Ariturk said. "The human rights of LGBT people in those countries and the out service of American diplomats are two sides of the same coin."
A previous version of this story incorrectly gave the title of Phil Lussier. He is the deputy assistant secretary of state for the Bureau of Human Resources, not the Bureau of Human Affairs.