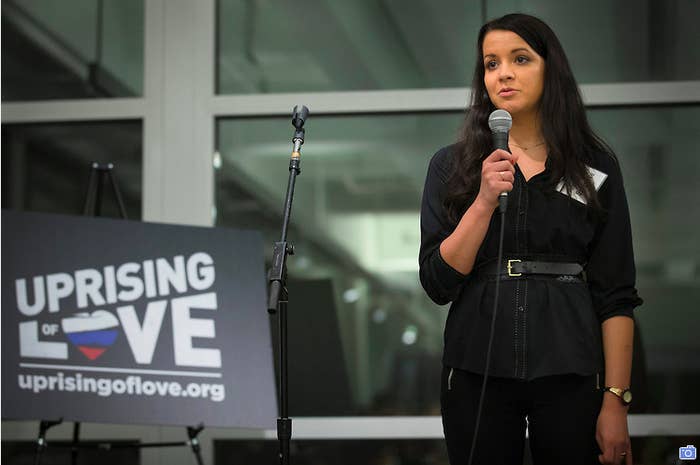 Russian police have detained four LGBT activists in St. Petersburg as they were preparing to unfurl a banner quoting the Olympic Charter's language against discrimination on the city's Belinskiy bridge.
One of those arrested at around 3:45 p.m. local time on Friday was Anastasia Smirnova, who has served as a coordinator and spokeswoman for a coalition of six leading Russian LGBT activist organizations. Activists have asked that the names of the three others not be published. They noted that one of them is pregnant.
An LGBT activist who witnessed the arrests told BuzzFeed from St. Petersburg that the four protestors had stopped on their way to a bridge leading to the picturesque Vasilyevskiy Ostrov neighborhood to take some pictures when they were suddenly surrounded by police cars. The arrival of the police was so sudden that activists had no idea how they had even learned of the planned protest.
"Either the phones are being listened to or maybe there are cameras all over the city; only a few people knew about this action," said the activist, who asked to remain anonymous out of fear for her safety.
The activists involved knew there was a risk of arrest, but didn't expect a confrontation with police officers until they reached the bridge, the activist added.
Activists have had no communication with the four since their arrest, and they are not certain what charges the police will bring. "It's not clear, but we can make guesses. They might be charged with 'participating in an illegal action'," the activist said, essentially demonstrating without prior permission.
The four activists were released late Friday evening and are facing charges of "participation in an illegal public assembly," Anastasia Smirnova told BuzzFeed by phone.
Smirnova said the group would have a court hearing on Saturday at 1 P.M. local time, but that this is a preliminary hearing and no decision is expected on their case.
"It was pretty scary about how they knew about" the photo session where they were arrested, Smirnova said, adding that activists did not even consider it a protest "action," but rather a chance to take private snapshots to mark the opening of the games. "Probably they are tapping our phones."
The extreme reaction to the attempt to take pictures is "definitely ... a result of the tighten control of the Olympic Games," Smirnova said. "The police panicked because they are so ready for any kind of provocations."
The police refused to return a car belonging to the activists which was towed during at the time of their arrest, Smirnova said, saying they had special orders not to release it.