For LGBT Donors, Russia Is The New Marriage
Can the strategies that turned the U.S. LGBT movement into a money machine work when the fight goes abroad? Melissa Etheridge headlined a celebrity fundraiser for a new coalition that hopes to make that true.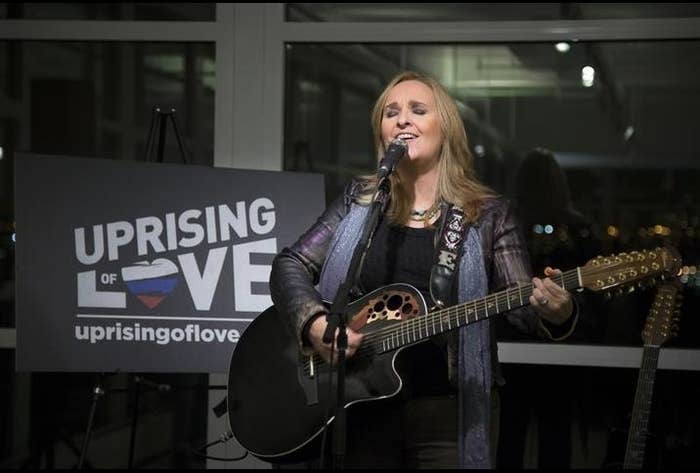 When Julie Dorf started trying to raise money for international LGBT rights work more than two decades ago, she said, people looked at her like she was nuts.
"When we started [the International Gay and Lesbian Human Rights Commission] in the middle of the AIDS epidemic, people would look at me and say, 'I have people dying in my backyard; I don't have time to think about gay people in Russia.'"
And while U.S. support for LGBT advocacy abroad has grown over the years since IGLHRC came into being as the first international gay rights organization in 1990, it has claimed a tiny sliver of the dollars going to LGBT advocacy. Major grassroots fundraising efforts with the celebrity glitter that the domestic movement became so adept at were not a part of the equation.
But a fundraiser headlined by Melissa Etheridge on Monday night in Manhattan showed how much times have changed. Etheridge has partnered with Dustin Lance Black and other entertainment industry figures to form a coalition to raise funds for Russian LGBT activists, which they're calling Uprising of Love. That's also the title of the anthem Etheridge penned for the movement resisting Russia's "homosexual propaganda" law. It will go on sale in January with proceeds going to LGBT activists.
By the time the Uprising of Love coalition launched, the Human Rights Campaign had already made waves by diving into international work with a $3 million investment from Republican financiers. Its first initiative was also a fundraising campaign for Russian activists, under the banner "Love Conquers Hate." It uses the classic retail strategy that HRC perfected to support its domestic work: selling campaign-branded t-shirts advertised with photos of celebrities in campaign gear.
In remarks before performing the new song, Etheridge gave voice to the mood among Americans that seem to make them ready for international LGBT fundraising pitches.
"It seemed to be just weeks after we had just had this incredible high of that decision of the Supreme Court knocking down DOMA" that she learned about the anti-gay crackdown in Russia, she said. "We've been pushing this boulder for 20, 30 years up this hill [in the U.S.]. And we made it, and we can breath…. All of us who have gone that journey, when we see what's happening in Russia, [we say] "No no no no. We are never ever ever going back."
Etheridge speaks for many Americans who've been active in the LGBT rights movement — or at least that's the hope of the organizations who are now trying to expand their fundraising for international work. If they're successful, it will be a fundamental change in the ecosystem of LGBT fundraising, which has kept international efforts as a small niche working in the shadow of domestic advocates and organizations working from Europe.
The money raised by Uprising of Love will go to the Russia Freedom Fund, which is a partnership between the Arcus Foundation, the Council for Global Equality, and the Open Society Institute. If the average politically aware American has ever heard of any of these groups, the last one is the most likely to be familiar — Open Society is the pro-democracy organization established by financier George Soros.
Open Society has been giving grants to LGBT organizations for about a decade, but only established a specific LGBT rights initiative in 2008. By that time it had already established itself as one of the major donors working on LGBT issues abroad. That's not only a reflection of Open Society's commitment to the issue, but also how small the international LGBT sector was in the world of philanthropy.
A 2010 review of international LGBT grant-making found that the four U.S.-based organizations that gave the most support gave a combined total of around $10 million. To put that in perspective, that same year another survey of U.S. LGBT organizations brought in a total of more than $161 million.
Only two American LGBT-specific organizations placed within the top 10 global givers to LGBT rights abroad that year. (The others were the Open Society Foundation, the Ford Foundation, and the Atlantic Philanthropies; other top givers included European organizations and governments.) One was the Aestraea Lesbian Foundation for Justice, which was started as an all-volunteer organization in 1977, and today has an operating budget of $7 million. It has always raised a substantial portion of its grants, but its international program — launched in 1996 — was heavily spurred by gifts from the German philanthropist Ise Bosch, heir to the Bosch appliance fortune.
The other was Arcus Foundation, which is taking the lead in organizing the Russia Freedom Fund. It was established by Jon Stryker, an architect who is heir to a Kalamazoo, Michigan based medical-technology fortune. This year, said Arcus's Executive Director Kevin Jennings, Arcus will spend $18 million on LGBT rights causes, and $10 million on its second area of focus — protecting great apes.
But because of its endowment, Arcus has never needed to try to raise money before, said Jennings. The Russian Freedom Fund is the first time the organization has tried to find widespread support for any of its initiatives.
"We've never done anything like this before, so I don't know what to expect," Jennings told BuzzFeed. The foundation has seeded the fund with $150,000 and has lined up commitments from major donors and other organizations, but these have not yet been made public. This includes the Human Rights Campaign, although spokesman Fred Sainz declined to provide how large its contribution would be.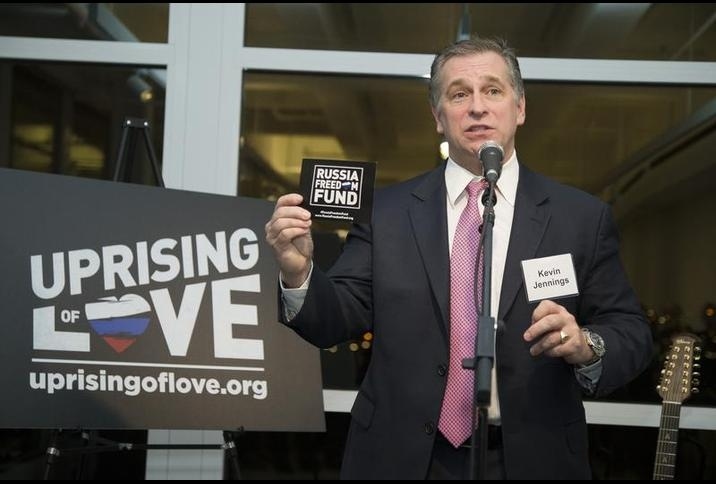 It's fitting that Russia would become the first test of Americans' willingness to invest in LGBT rights battles abroad. In some ways, the Russian oppression of LGBT people is where the U.S. international movement began.
The International Gay and Lesbian Human Rights Commission was the first organization based in the United States dedicated to LGBT rights overseas. And it grew out of work that Julie Dorf started doing while studying abroad in Russia in the 1980s as an undergrad at Wesleyan University. She wound up writing her senior thesis in 1987 on the gay slang developed in Russian prisons — a place many gays wound up under the Soviet regime.
She got work leading tours to Russia after she graduated, a position she used to smuggle aid to activists behind the iron curtain, everything from carbon paper to electric generators. When she decided to start an organization to do this work in a more sustainable fashion, she took a group of her key donors to Russia in 1992, on a trip she led along with Rep. Barney Frank and his then-partner, Herb Moses.
"It's a bizarre nostalgia trip that things are so bad in Russia again," said Dorf, who is now with the Council for Global Equality.
The situation in Russia is not the first time Americans have taken notice of a serious threat to gay rights abroad, of course. When news of Uganda's "kill the gays" bill broke in United States in 2009 — thanks largely to Rachel Maddow's consistent highlighting of the proposal on her MSNBC program — it provoked a major outcry. But that never translated into a broad-based fundraising effort.
In some ways, said Andrew Park, today's push for funds for Russia is the outgrowth of institutional responses to the Uganda crisis. Park directs the Sexual Orientation and Gender Identity program for Wellspring Advisors, which is a major actor in the international LGBT giving world. But it's hard to say how big; the grants it helps administer are all anonymous, and the identities of their sources are a closely guarded secret.
Around the time the Ugandan bill started making headlines, U.S. LGBT organizations started engaging internationally, Park said. The ball had started rolling when several LGBT organizations had come together in 2008 to start the Council for Global Equity to lobby the state department on its LGBT policy. When the Uganda story broke, traditionally domestic organizations began exploring ways to get directly involved overseas.
"The Uganda moment is one of the reasons that HRC started its program; the momentum for that started before the Russia problem came along," Park said. A broad-based fundraising programing might have been possible for Uganda based on the "thirst for information" about what was going on there, he added, but none of the organizations stepped in to provide a place for dollars to go.
But the crisis in Russia also came at the exact right moment to capture Americans' attention. One barrier to international engagement by U.S. activists has long been that they have felt too embattled at home, first because of the HIV crisis and then the fight over marriage equality. And the pool of LGBT donors is very small; a 2012 study estimated that less than 3 percent of LGBT adults in the U.S. contribute to LGBT rights organizations.
While LGBT advocates stress that there is plenty of work left to do at home — including building on the Supreme Court victory to establish marriage equality in all fifty states — the fall of DOMA has given Americans the bandwidth to pay attention to the situation in other countries.
"Some Americans recognize that as the U.S. LGBT movement institutionalizes its rights in law and policy that attention should also be paid to solidarity with other communities, specifically with LGBT communities that find themselves in a very different moment of rights fulfillment," said Jessica Stern, who has been the executive director of the International Gay and Lesbian Human Rights Commission since 2012.
So the confrontation in Russia struck at exactly the right moment to capitalize on the energy unleashed among American LGBT people in the wake of the Supreme Court victory. And the situation in Russia had some elements that made it especially well-poised to capture Americans' attention. It evoked Cold War tropes of America championing freedom against Russian oppression, and the Olympics were an ideal point of confrontation around which to organize. And, some advocates say privately, the fact that Russia is perceived as is a white nation with an advanced economy may have made it easier for many in the U.S. movement to identify with than many of the countries in Africa where the situation for LGBT people is far more dire than in Russia.
There is a danger in this intense focus on Russia, warns Katherine Acey, executive director emeritus of the Astraea Foundation.
"What's happening in Russia has always been a very difficult and terrible situation and it deserves support," she said, "but it does feel a little odd that Russia has suddenly become the flag ship for global issues."
The challenge to the movement going forward, Stern said, is to now broaden the focus to other places where LGBT people remain embattled.
"We hope that Russia doesn't become the sum total of the international news cycle's attention to LGBT rights," she said. "We must have the attention span to care about LGBT rights violations in multiple places at any particular moment."