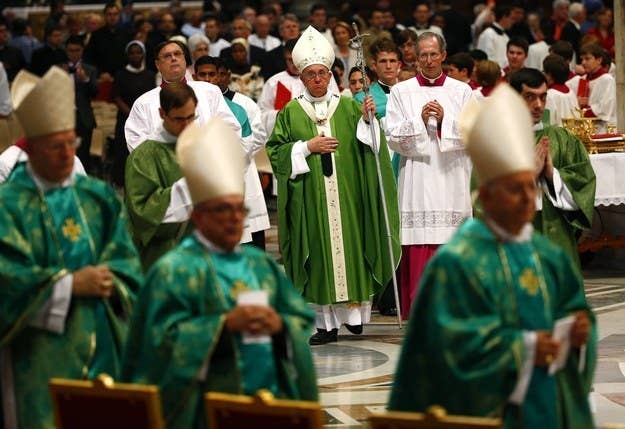 This is a breaking story and will continue to be updated.
A final statement agreed to on Saturday by a summit of Catholic Church leaders to discuss teachings on family retreated from groundbreaking language on "welcoming homosexual persons" included in an interim draft released on Monday.
This language, as well as other passages on finding a way to allow people who have divorced and remarried to receive communion, provoked a vocal backlash among conservative bishops when it was published on Monday. Following the backlash, the English translation of the preliminary document was modified.
The final statement — formally known as the Relatio of the Extraordinary Synod on the Family — drops the title "Welcoming homosexual persons" from the section on the place of gays and lesbians in the church. Weaker language that spoke of "The pastoral care of people with homosexual orientation" was proposed instead, and a phrase referring to "Homosexuals have gifts and qualities to offer to the Christian community" was also dropped. But even this new language failed to receive a vote needed to be adopted, the Associated Press reported, failing on a vote of 118 to 62.
Here is the full text of the two paragraphs proposed for the version adopted on Saturday, translated from Italian by BuzzFeed News:
The pastoral care of people with homosexual orientation

55. Some families live the experience of having members who are of homosexual orientation. In this regard, questions have been raised on pastoral care which is appropriate to deal with this situation by referring to what the Church teaches: "There is no basis whatsoever to assimilate or to draw even remote analogies between same-sex unions and the plan of God for marriage and the family. " Nevertheless, men and women with homosexual tendencies must be accepted with respect and sensitivity. "In their regard should be avoided every sign of unjust discrimination" (Congregation for the Doctrine of the Faith, Considerations Regarding Proposals to Give Legal Recognition to Unions Between Homosexual Persons , 4).

56. It is totally unacceptable that the Pastors of the Church pressures in this matter and that international bodies condition financial aid to poor countries, on the institution of laws that establish the "marriage" between persons of the same sex.
Official translations of the Relatio have not yet been published online.
Here it is in the original Italian:
L'attenzione pastorale verso le persone con orientamento omosessuale

55. Alcune famiglie vivono l'esperienza di avere al loro interno persone con orientamento omosessuale. Al riguardo ci si è interrogati su quale attenzione pastorale sia opportuna di fronte a questa situazione riferendosi a quanto insegna la Chiesa: «Non esiste fondamento alcuno per assimilare o stabilire analogie, neppure remote, tra le unioni omosessuali e il disegno di Dio sul matrimonio e la famiglia». Nondimeno, gli uomini e le donne con tendenze omosessuali devono essere accolti con rispetto e delicatezza. «A loro riguardo si eviterà ogni marchio di ingiusta discriminazione» (Congregazione per la Dottrina della Fede, Considerazioni circa i progetti di riconoscimento legale delle unioni tra persone omosessuali, 4).

56. È del tutto inaccettabile che i Pastori della Chiesa subiscano delle pressioni in questa materia e che gli organismi internazionali condizionino gli aiuti finanziari ai Paesi poveri all'introduzione di leggi che istituiscano il "matrimonio" fra persone dello stesso sesso.
This is the earlier text of the corresponding section in a previous draft of the Relatio, which was then modified after conservative backlash:
"Welcoming Homosexual Persons

Homosexuals have gifts and qualities to offer to the Christian community: are we capable of welcoming these people, guaranteeing to them a fraternal space in our communities? Often they wish to encounter a Church that offers them a welcoming home. Are our communities capable of providing that, accepting and valuing their sexual orientation, without compromising Catholic doctrine on the family and matrimony?

The question of homosexuality leads to a serious reflection on how to elaborate realistic paths of affective growth and human and evangelical maturity integrating the sexual dimension: it appears therefore as an important educative challenge. The Church furthermore affirms that unions between people of the same sex cannot be considered on the same footing as matrimony between man and woman. Nor is it acceptable that pressure be brought to bear on pastors or that international bodies make financial aid dependent on the introduction of regulations inspired by gender ideology.

Without denying the moral problems connected to homosexual unions it has to be noted that there are cases in which mutual aid to the point of sacrifice constitutes a precious support in the life of the partners. Furthermore, the Church pays special attention to the children who live with couples of the same sex, emphasizing that the needs and rights of the little ones must always be given priority.
The Associated Press reports that controversial passages on communion for those who have divorced and remarried also failed to earn enough votes to pass. The pope wanted the full text released for the sake of transparency, perhaps responding to criticism from some bishops that the full proceedings of the synod were being withheld in order to manipulate the conclusions.
This post has been updated as new information has become available.