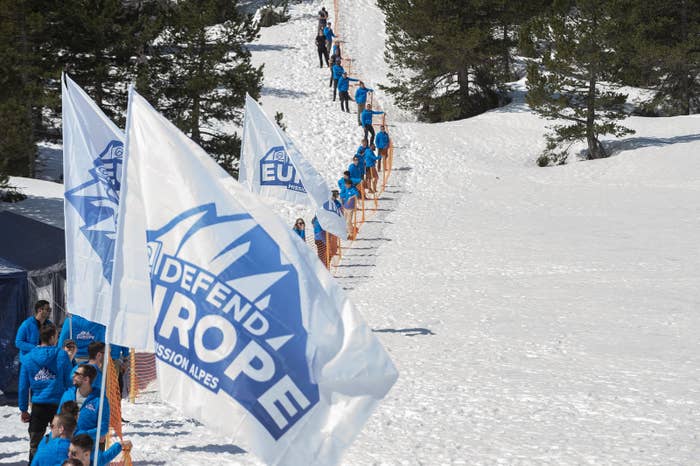 Facebook has targeted one of the major white nationalist groups in France by shutting down two of their largest pages this week, according to French news reports.

The pages belong to the pan-European movement known as Generation Identity, which became widely known last summer with a mission branded "Defend Europe," sailing a boat intended to stop NGOs from rescuing migrants crossing the Mediterranean from Africa. Facebook closed the main page of the group's French chapter, known as Generation Identitaire, and suspended a page under the Defend Europe banner.
But many major pages affiliated with the group remain active. These include one belonging to the group's French parent organization, Les Identitaires, with more than 60,000 followers. The pages of the group's chapters in Germany, Italy, and Austria are still active as well, which have almost 150,000 followers combined.
Generation Identity first announced its Facebook and Instagram page had been closed through its Twitter account on Tuesday, which Facebook confirmed to French media on Thursday. The AFP reported that a Facebook spokesperson explained the decision by saying, "We do not allow hate speech on Facebook, because these speeches create an atmosphere of intimidation and exclusion, and can lead to violence in the real world."
The move came a couple weeks after around 100 Generation Identity members launched an "Alps mission," erecting a plastic fence across a mountain pass in the hopes of stopping immigrants crossing the border from Italy.

Facebook did not immediately respond to questions from BuzzFeed News, nor did France's Generation Identity. The group is protesting the suspension via its Twitter account with a pinned tweet that says: "Today it is us, tomorrow it will be you! We need your support!"
Generation Identity is the largest international organization of the "Identitarian" movement, which grew out of former fascist circles in France in the 1970s as an attempt to rebrand white nationalism. It has since inspired a new generation of racial separatists, including Richard Spencer and the alt-right in the United States.

The action against Generation Identity's French branch comes just as the group's most high-profile international spokesperson, Austria's Martin Sellner, is planning to join a protest against alleged censorship in London set to feature Milo Yiannopoulos, Breitbart's Raheem Kassam, and other far-right activists.
British authorities appear to have become increasingly concerned about Generation Identity's efforts to expand in the UK, recently barring Sellner and his girlfriend, the American YouTuber Brittany Pettibone, from entering the country.