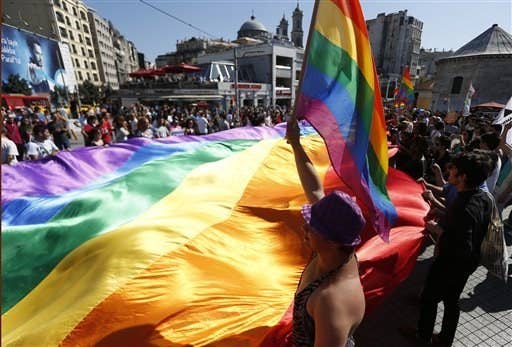 Europe's top human rights court ruled Tuesday against the government of Turkey in a case brought by a trans man who was denied the right to gender reassignment surgery unless he agreed to be sterilized.
Twenty countries of the 47 states that have signed the human rights charter that created the Strasbourg-based European Court of Human Rights (ECHR) impose sterilization as a requirement for people seeking to change their legal gender, according to the organization Transgender Europe. Tuesday's ruling, which is technically binding on the courts of member states, comes as several European countries are overhauling their gender identity laws to give more control over gender identity to individuals rather than to doctors or judges.
"It's absolutely thrilling and important to have this judgement now," said Richard Köhler, Transgender Europe's senior policy officer.
The case began in 2005, when a Turkish court ruled that a trans man identified in court documents as Y.Y. could not undergo gender reassignment surgery because he was not infertile, a requirement for gender reassignment under Turkish law. He went to court rather than submit to medical sterilization. A Turkish court ultimately allowed him to move forward with gender reassignment in 2013, but the ECHR still heard his original challenge and awarded him damages of 7,500 euros in damages for the years he was unable to access gender reassignment surgery.
"The respect due to the physical integrity of the concerned party would be in opposition to his having to undergo" sterilization, the court ruled in a unanimous decision, and therefore a violation of the European Convention on Human Rights, the treaty on which the ECHR's authority is based. "The resulting interference in the claimant's rights with respect to his private life cannot thus be said to have been 'necessary' in a democratic society."
While trans-rights supporters applauded the decision as a step in the right direction, this ruling was limited only to the sterilization requirement and did not address other barriers to gender reassignment such as having to have psychiatric professionals sign off on the request. Many countries are quickly moving to simplify the process for changing gender assignment on legal documents, removing barriers that critics say pathologize or dehumanize transgender people.
LGBT rights activists widely regard Denmark as having one of Europe's most progressive gender identity laws. A law passed in 2014 eliminated the requirement of a medical diagnosis or treatment before someone can petition to change their documents through a simple administrative procedure. This was part of a growing wave to modify gender identity laws in Europe, and countries including the Netherlands, Iceland, Portugal, and Sweden have also changed their laws since 2012.