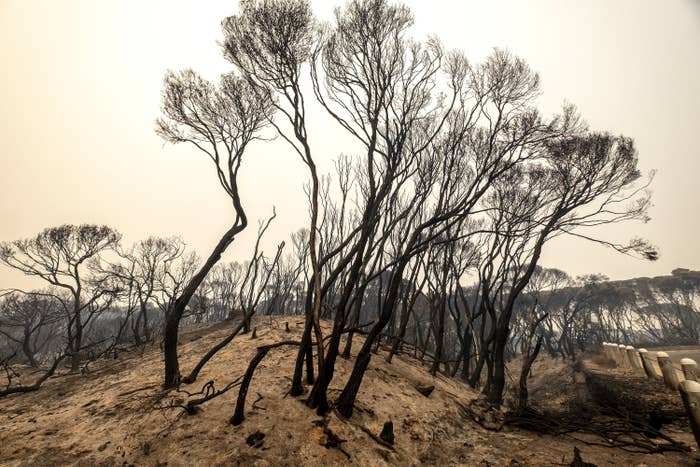 Just weeks before unprecedented wildfires broke out across Australia, killing an estimated 1 billion animals, the prime minister declared that the country faced a terrible threat: environmental protesters.

"A new breed of radical activism is on the march," Prime Minister Scott Morrison said in a November speech. He added that there was a "place for peaceful protests," but he wasn't going to stand for environmentalists obstructing and delaying mining projects or calling for boycotts of banks that finance the country's coal industry.
He promised to find a way to "successfully outlaw these indulgent and selfish practices that threaten the livelihoods of fellow Australians."
The wildfire crisis began — and Morrison went on vacation in Hawaii — before the prime minister could advance any anti-protest measures, but he wasn't making an idle threat. State lawmakers had already passed a new law targeting environmental protesters, which allows officers to search activists without a warrant and criminalizes the use of locking devices that make it hard for police to remove protesters during a sit-in. This fell short of what some state lawmakers from Morrison's ruling coalition had hoped; they had also proposed prison sentences for people arrested more than once during protests.
Morrison's promise to quell environmental protesters in Australia is part of a global trend. Being an environmentalist has long been dangerous — at least 164 activists worldwide were killed in 2018, according to the NGO Global Witness. Many more were threatened, arrested, or slapped with lawsuits by corporations hoping to tie them up in court.
As the climate crisis intensifies, so are environmental protests. And many places — even countries with strong free-speech protections — are increasingly casting environmental activists as a new kind of extremist and using broader powers to punish and marginalize them.
Almost 100 prosecutions were documented worldwide against environmentalists or activists defending community land rights from corporate interests last year by the Business and Human Rights Resource Centre. Ana Zbona, a project manager at the center, told BuzzFeed News that such prosecutions were most common in countries like Peru, Russia, and the Philippines, but said it was rapidly becoming more common in the US.

"It doesn't matter if you're in Nicaragua or the US, powerful people want to stop you. And the government is prepared to help," said Carla Garcia Zendejas, director of the people, land, and resources program at the Center for International Environmental Law in Washington. "And they don't just use brute force — governments use the rule of law and create the legitimate legal backing to put people in jail because you've equated environmental protesters with terrorists."
The movement against anti-mining protesters in Australia was prompted last year by a bitter fight in Queensland over a planned new coal mine that is projected to become one of the largest in the world. The Carmichael mine is slated to be active for the next 60 years, and a scientific analysis found that it could produce coal that would add an estimated 77 million tons of carbon dioxide on average each year over the life of the project, more than all automobiles on Australian roads in 2016.
Australian environmental activists view the project as a serious threat at a time when the UN says nations must be making drastic cuts to greenhouse gas emissions to stop catastrophic warming. As the project has advanced, protesters have engaged in acts of civil disobedience, including suspending themselves above railway lines or chaining themselves to cement-filled drums to block rail lines. They have also used boycotts to pressure companies linked to the project to back out. The Morrison government — which has close ties to the coal industry — has responded by vilifying protesters with help from news outlets that are part of Rupert Murdoch's right-wing media empire.
The biggest change that Morrison wants to make to federal laws isn't to punish people for street protests — that's regulated by the state governments — but rather to make it a crime to call for boycotts of companies involved in supporting mining projects, a tactic known as "secondary boycotts." One major boycott and protest target of opponents of the Carmichael coal mine has been Siemens, a German engineering firm that is building the signaling system to transport coal from the mine.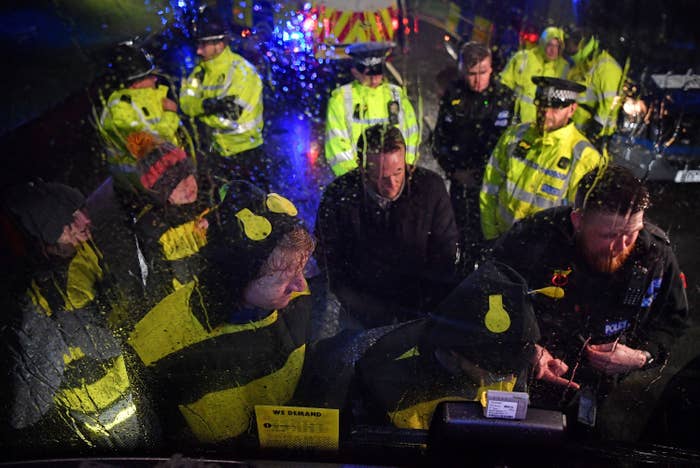 One activist involved in the campaign against Siemens is Daniel Bleakley, a 37-year-old who grew up near the site of the planned Carmichael mine and now lives in Melbourne. He was arrested last month during a protest organized by Extinction Rebellion, an environmental group that uses nonviolent direct action to demand progress on climate change, after he glued himself to a Siemens office in Melbourne.
"I think it really shows who has the power in our democracy," Bleakley said of Morrison's proposal to criminalize secondary boycotts. "We're living in an authoritarian regime that's controlled by the fossil fuel industry."
Extinction Rebellion began in the United Kingdom in 2018. The group first caught international attention last April by paralyzing traffic in London with street occupations that lasted more than a week. Police at first worked cooperatively with protesters, said Tobias Garnett, a human rights lawyer on the group's legal strategy team. But Conservative lawmakers and right-wing tabloids in the UK — including some owned by Murdoch — blasted law enforcement as too lenient. Prosecutors decided to take a firm line and brought charges against all those arrested.

This escalated in October, as Extinction Rebellion prepared to launch another wave of protests. Police officers preemptively raided warehouses the group was using to prepare, and then imposed a blanket ban on protests in London, which a judge ultimately overturned. More than 1,800 people were arrested during those protests, and police have also called on lawmakers to give them broader powers to put a stop to Extinction Rebellion in the future.
There is "a pattern of policing of Extinction Rebellion which has sought to undermine, criminalize, and brand as extremist those who are taking to nonviolent direct action to bring attention to the climate and ecological emergency," Garnett said.
British counterterrorism police even added the group to a list of "extremist" organizations in a pamphlet circulated to teachers, police, and other officials who are required to report signs of "radicalism" alongside neo-Nazi and Islamist extremist groups, the Guardian reported last week.
The police visited at least one person, the Guardian reported, after he was reported by a government clinic that he called to ask for advice on how to handle his claustrophobia if he were arrested during a protest.
British counterterrorism police did not respond to a request for comment from BuzzFeed News, but the Guardian reported police had recalled the pamphlet.
This was not the first time British police have lumped environmentalists in with terrorists; in 2016, local officials in northern England reportedly classified opponents of a fracking project in the area as extremists. On Friday, the Guardian reported that Greenpeace and Extinction Rebellion, among other nonviolent environmental organizations, were added to a document distributed by Counter Terrorism Policing to prevent radicalization.
In North America, protests against oil and gas pipelines have also brought hefty crackdowns in recent years. Canadian police, who are locked in a long-running standoff with an indigenous group resisting a gas pipeline slated to be built in the western province of British Columbia, authorized shooting protesters ahead of a raid in 2019, the Guardian reported. The Royal Canadian Mounted Police challenged the accuracy of the report, calling it "unsubstantiated, incomplete and inflammatory."
In the US, the Trump administration recently asked Congress for broader powers to stop protests against oil pipelines, such as the months-long demonstration in 2016 and 2017 to stop the Dakota Access Pipeline near the territory of the Standing Rock Sioux Tribe. Last June, the administration called on Congress to add "impeding, disrupting or inhibiting operation" of pipelines — or those under construction — to an existing federal law that punishes "damaging or destroying" one with 20 years in prison.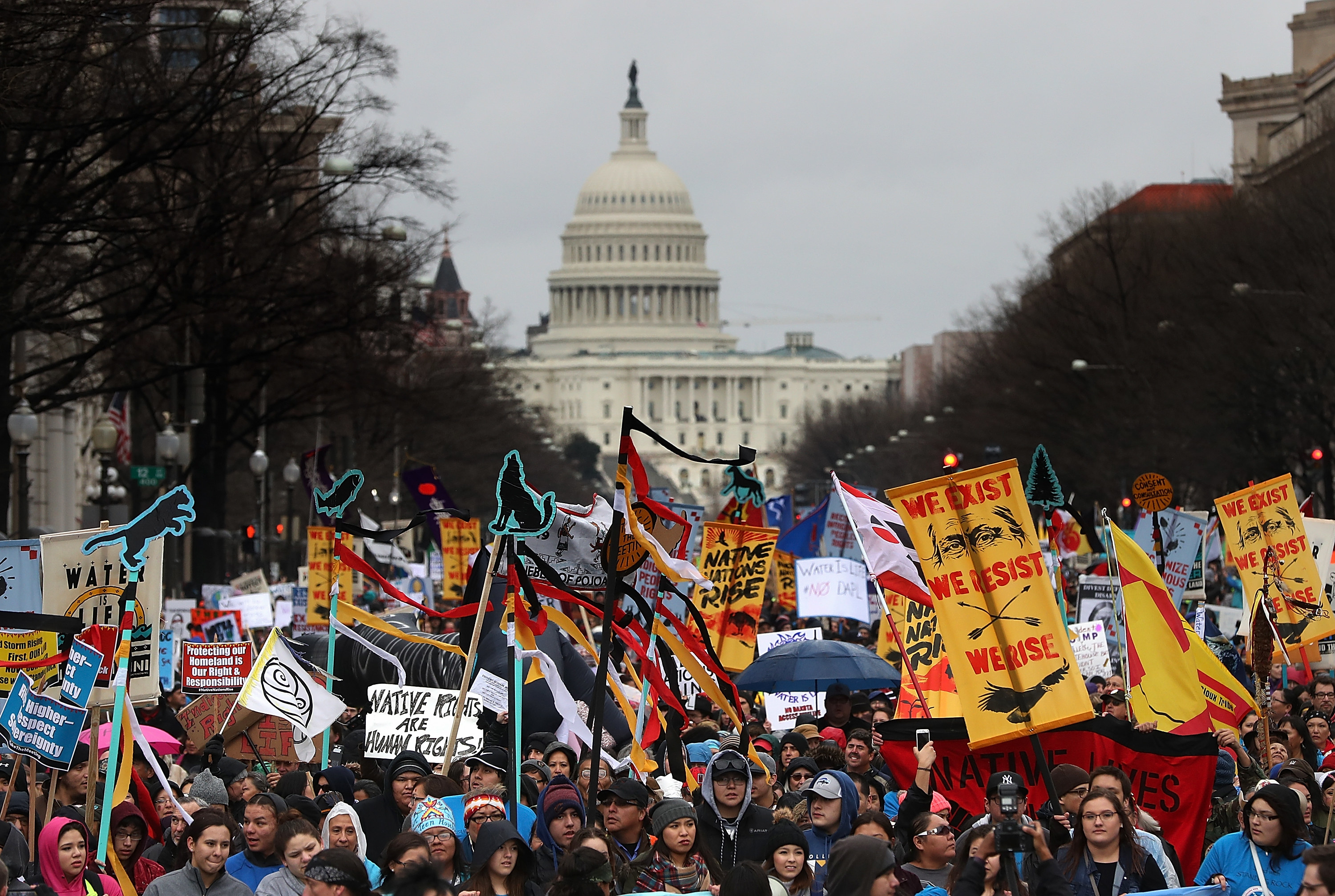 This proposal has not advanced, but 10 states have adopted laws targeting pipeline protesters since 2017, according to the International Center of Not-for-Profit Law (ICNL), and similar legislation has been introduced in several others. Many of these provisions are modeled on a proposal circulated by the American Legislative Exchange Council, a right-wing group backed by the Koch brothers, major political donors whose family made its fortune in the fossil fuel industry. Elly Page, a legal adviser for ICNL, said many state proposals also include broad language seeking to criminalize providing financial support to anti-pipeline activists or even "encouraging" or "advising" protesters.

The Trump administration is also classifying anti-pipeline activists as violent extremists, reportedly calling a small group that disrupted crude oil pipelines in 2016 "suspected environmental extremists," in a recent Department of Homeland Security intelligence assessment that also covered white nationalists and mass shooters.
DHS did not respond to a request for comment from BuzzFeed News.
Protests will likely escalate as climate change contributes to growing disasters, like the fires now burning in Australia. In Melbourne, Bleakley from Extinction Rebellion said it is "absolutely disgusting" that lawmakers are going after activists trying to stop the climate crisis.
"The real climate criminals are the executives and the politicians who keep opening up new coal mines and really ignoring climate science," he said.
Lane Sainty contributed reporting from Sydney.