A new BuzzFeed News–Ipsos survey of LGBT Americans finds Donald Trump's policy proposals following the Orlando shooting have gained little traction.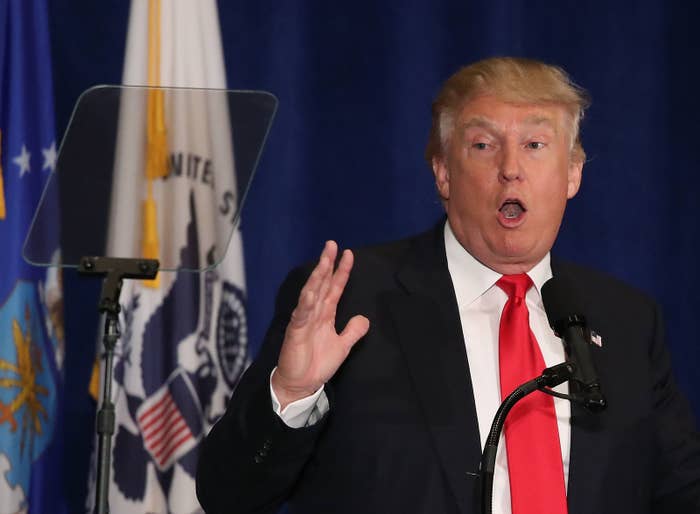 The poll, which surveyed 548 LGBT Americans across the country between June 27 and July 7, asked respondents how their views on "laws temporarily banning Muslims from entering the United States" had changed since the Orlando shooting on June 12.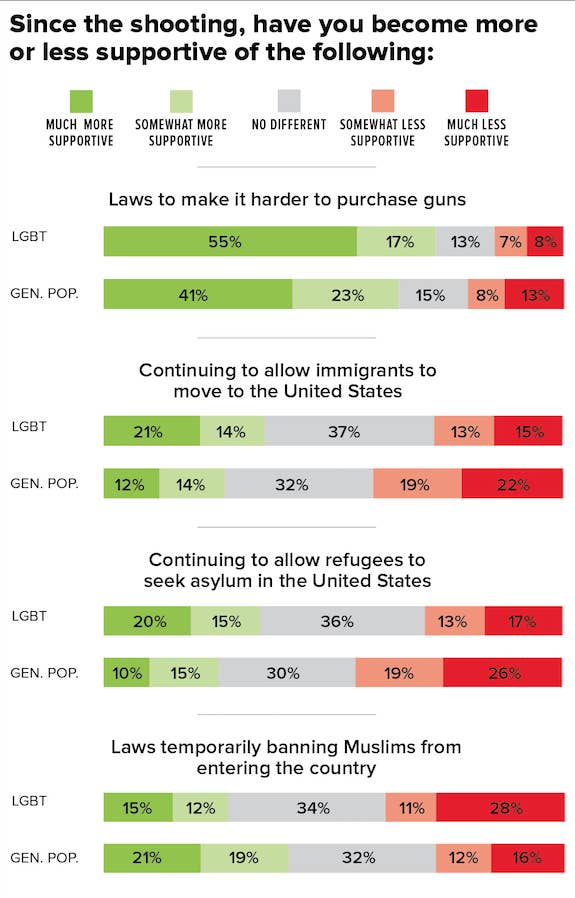 Trump's call for "a total and complete shutdown of Muslims entering the United States" following the attacks in San Bernadino and Paris has been a defining part of his presidential campaign.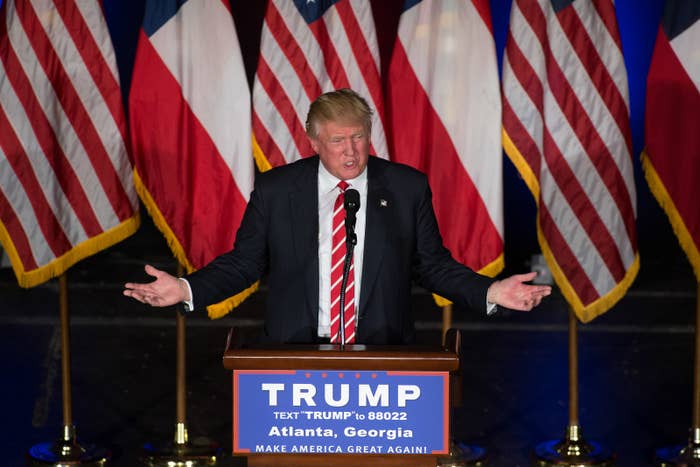 "[I] appreciate the congrats for being right on radical Islamic terrorism" Trump tweeted after the attack, and said in a June 15 speech, "ask the gays ... Who's your friend? Donald Trump or Hillary Clinton?"
Trump argued he was the better candidate for LGBT people because "radical Islam is anti-woman, anti-gay, and anti-American." But LGBT Americans appear to be far less worried about Islam than Americans as a whole.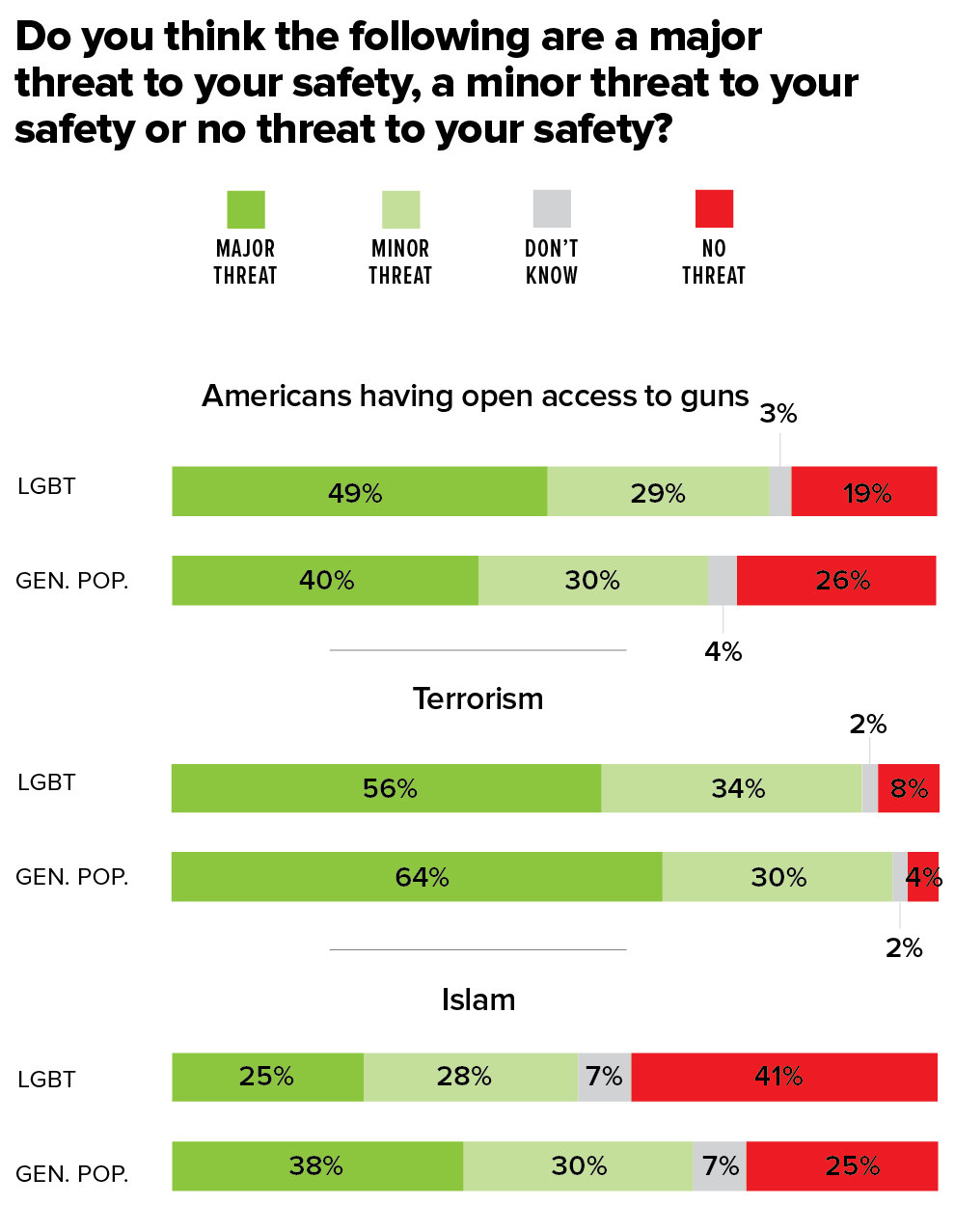 Trump also argued after the shooting that his support for gun rights actually could prevent another attack like the one in Orlando.
But an overwhelming number of LGBT people disagreed.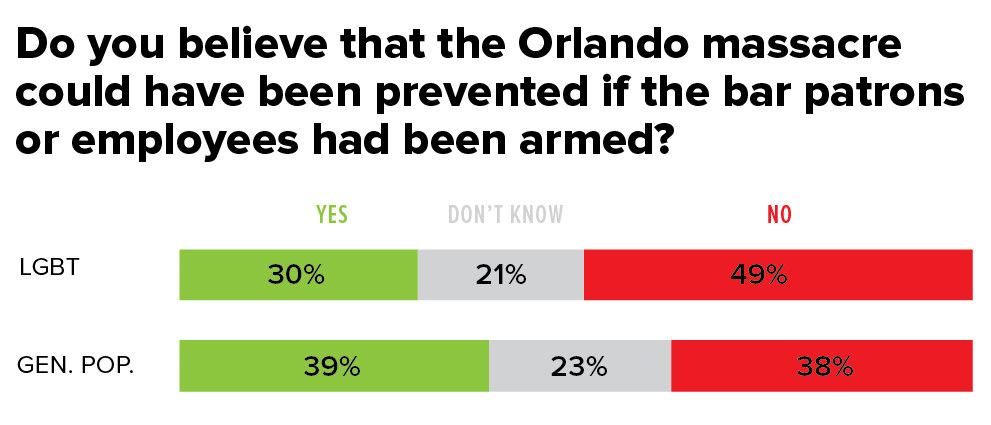 That doesn't mean that LGBT community completely rejects guns.

Some of the gaps between the opinions expressed by LGBT people in this poll and Americans as a whole might be explained by the fact that this sample skews more Democratic than the overall population.
Among LGBT respondents, 55% said they consider themselves Democrats or lean Democratic — just 15% said they are Republican or lean Republican. Among the sample of the general population, 44% said they are Democrats or lean Democratic and 28 are Republican or lean Republican.
This survey did not ask how respondents intended to vote, but it did ask respondents to choose between descriptions of two candidates: Among LGBT respondents, 72% said they were more likely to support a "candidate who supports gun control, supports open immigration policies and has a record of supporting LGBT rights," while 29% said they preferred a "candidate who says LGBT people are safer with broad gun rights and more secure borders, but who is also seeking support from religious conservatives."
*The precision of Ipsos online polls is measured using a credibility interval. In this case, the LGBT poll has a credibility interval of plus or minus 5 points.
**The general population poll has a credibility interval of plus or minus 3 points.