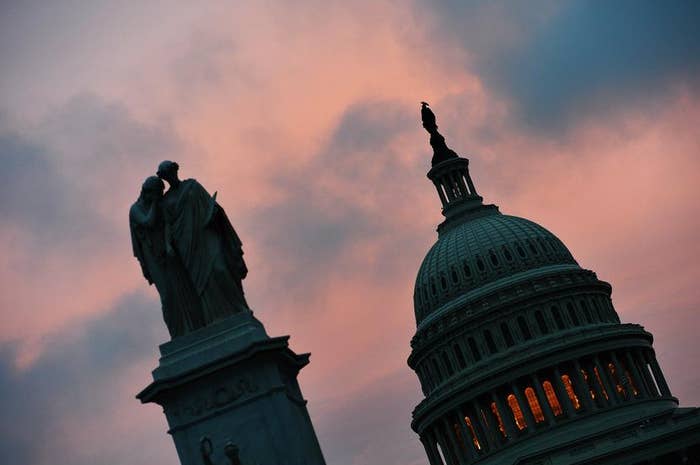 WASHINGTON — Legislative victories in places like Russia and the growth of grassroots "pro-family" movements even in progressive Western European countries should give heart to U.S. conservative activists who feel increasingly embattled, said speakers at a controversial event held Friday in a House of Representatives meeting room.
There's "no question that public opinions in all nations are shifting to quote 'LBGT rights,' so we're looking at … fierce opposition, but that's not the whole story," said Janice Shaw Crouse of the Concerned Women for America's Beverly Le Haye Institute, in remarks framing a discussion hosted by the World Congress of Families on "What Should America Learn" from family policy abroad.
The meeting had sparked controversy because leaders of the World Congress of Families have been linked to Russia's "homosexual propaganda" law. The meeting was originally planned to be held in a Senate meeting room under the auspices of Illinois Sen. Mark Kirk, but his office withdrew his sponsorship after an outcry from LGBT activists. The office of House Speaker John Boehner then provided the group a meeting space in the Longworth House Office Building.
Participants pointed to the appointment of same-sex marriage opponent and long-time social conservative advocate Kevin Andrews as minister of Australia's department of social welfare in the government of recently elected Prime Minister Tony Abbott. They also discussed encouraging growth of grassroots conservative movements in France, Spain and Nigeria.
But much of the discussion was devoted to arguing that Russia's law prohibiting "the promotion of non-traditional relationships to minors" has been distorted in the U.S. media.
Austin Ruse, president of the Catholic Family and Human Rights Institute (C-FAM), urged the roughly two dozen people in attendance to "Please understand what is really going on in Russia and cast aside all the propaganda."
The law does not prevent gays and lesbians from "living openly" or going to the many gay bars in Moscow, he said. The law, he said, simply responds to the fact that "Russians do not want ... homosexuality to be taught and otherwise exposed to school children."
Crouse said the goal was to stave off what she described as the aggressive politicization of LGBT people driven by U.S. activists.
"What we're seeing in this country are activists who are going far beyond peaceful protest — they are turning into thugs who are destroying freedom of speech and destroying religious liberty," she said. "That's not the case in other countries. This whole LGBT movement is being driven by activists from the United States, primarily."
Allan Carlson, founder and international secretary of the World Congress of Families, added that the pro-family movement in Russia is growing in part because the Orthodox Church is gaining confidence as it seeks to see Russia "re-Christianize" after decades in which religious and family life were disrupted by the atheist Soviet regime.
Carlson pointed to FamilyPolicy.ru, an organization the WCF helped establish in collaboration with a family policy institute tied to the Orthodox Church.
"They are trying to build a pro-family movement in Russia, and we're working with them," he said.
While supporting Russia's "gay propaganda law," panelists said they were concerned about the increased reports of violence targeting LGBT people in the country.
"There are groups of people that really are doing bad things to LGBT people, and they really should stop. And the government really has to do more to stop them," said C-FAM's Ruse. He floated the idea that the World Congress of Families could consider a panel on anti-gay violence during its conference planned for September of next year in Moscow.
"It would be an interesting conversation to have, can we have the conversation where Christian conservatives in the Unite States condemn some of the most extreme laws around the world and at the same time be understood the we oppose some of the things you guys really want—marriage, adoption, so on and so forth," he said.
Panelists closed by discussing the challenge they believe they now face by advancing their cause in the United States. Concerned Women for America's Crouse said she was disheartened by the recent election in Virginia, in which socially conservative Republicans lost statewide to their Democratic opponents.
"We have to change the people who are making these decisions," she said. "And thus far, we are losing that battle as witnessed in the election in Virginia."
But, Ruse closed, "I don't want anybody here to think I at least think we're defeated — a lot of what you hear today is … defeatist language."
"It is a vicious totalitarianism that is loose in the land right now," where LGBT activists want to silence events like this, he said. "And people have to wake up."
But with a majority of US states still banning same-sex marriage in their constitutions and countries abroad taking steps to curtail LGBT rights, he said, "We're challenged [but] we're not defeated. We are not even on the run."
This story has been updated to clarify panelists were concerned about increasing reports of violence against LGBT people in Russia, but questioned whether attacks were actually on the rise. The appearance of growing violence may be created by better reporting of incidents, they said.