Victory For Transgender Activists Over Sharia Law
"As long as section 66 is in force the appellants will continue to live in uncertainty, misery, and indignity. Therefore, section 66 is unconstitutional and void."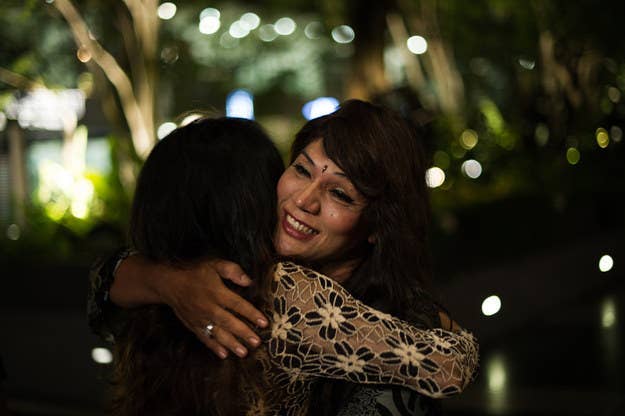 Transgender rights activists in Malaysia won a huge victory on Friday when an appeals court struck down a state's religious code that made it a crime for "any Muslim male person" to "wear a woman's attire" or "pose as a woman."
The ruling comes in a challenge to section 66 of the Sharia code of the state of Negeri Sembilan, just south of the capital, Kuala Lumpur. Malaysia's constitution declares it a Muslim nation, but religious codes are enacted by state legislatures. Section 66 was adopted in 1992 as part of the Syariah Criminal Enactment, with a penalty of up to six months and a fine equal to around $300. This case began with a challenge filed in 2011 brought by four transgender women that was thrown out by a lower court in 2012. One of them withdrew from the case as it was appealed.
"As long as section 66 is in force the appellants will continue to live in uncertainty, misery, and indignity. ... Therefore, section 66 is unconstitutional and void," wrote Judge Dato' Mohd Hishamudin Yunus for a unanimous three-judge panel of the appeals court in Malaysia's administrative center, Putrajaya.
The ruling only strikes down the provision in the state of Negeri Sembilan, but could be used as legal precedent to challenge similar provisions in other Malaysian states if it is allowed to stand. Government lawyers have the option of appealing the ruling to a higher court.
The ruling also potentially has implications well beyond the rights of trans people. This is the first time a religious law has been challenged on constitutional grounds, according to the lawyer who argued the case on behalf of the trans women, and its outcome rests on whether Islam or secular law is deemed to be supreme in Malaysia. A lower court judge cited the Quran in her judgment and held that constitutional protections for "fundamental liberties can be excluded" as long as Sharia codes are "consistent with the teachings of Islam."
The appeals court disagreed. "It is clear (and this legal position is not disputed) that all State laws, including Islamic laws passed by State legislatures, must be consistent with Part II of the Federal Constitution (which guarantees the fundamental liberties of all Malaysians)," Judge Yunus wrote.
The language of the ruling appears to limit its application only to those people who have received medical diagnoses of "Gender Identity Disorder". In laying out the "Background Facts" to the case, Yunus wrote, "The three appellants are Muslim men. Medically, however, they are not normal males. This is because they have a medical condition called 'Gender Identity Disorder' ('GID')" as defined by the Diagnostic and Statistical Manual of Mental Disorders published by the American Psychiatric Association.
"The evidence furnished by the appellants, therefore, establish that GID is an attribute of the appellants' nature that they did not choose and cannot change; and that much harm would be caused to them should they be punished for merely exhibiting a manifestation of GID i.e. cross-dressing," Yunus ruled.
Thilaga Sulathireh of the trans rights group Justice for Sisters, which helped organize the legal challenge, told BuzzFeed News she thought the decision was "really, really good."
"We [are] very excited," she said. After the early defeats, this victory "feels very surreal."
Here's the abbreviated opinion issued Friday. "A full judgment will be issued in due course," the judge wrote.