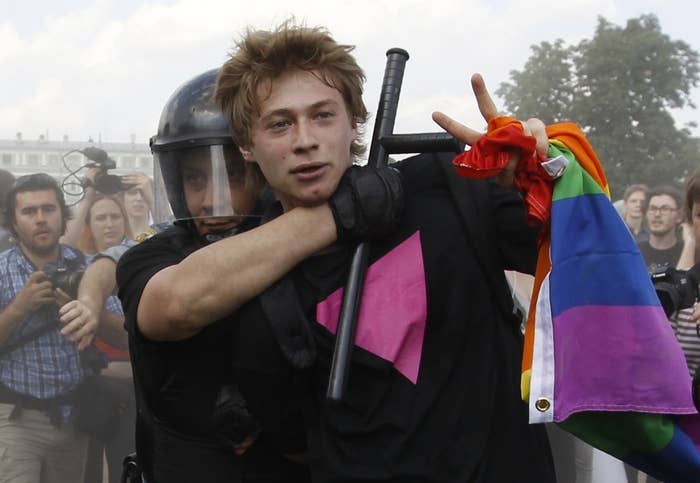 The American anti-gay activist Scott Lively is facing charges for crimes against humanity because of his involvement in Uganda's infamous "Kill the Gays" bill. But he's also found a platform in Eastern Europe calling for restricting LGBT rights.
Lively made a big foray into the region in 2006 and 2007, when he says he did a "50-city tour of the former Soviet Union" to "bring a warning about the homosexual political movement which has done much damage to my country and which has now taken root in Russia."
When Russia passed its law against homosexual "propaganda" earlier this year, Lively rushed to take credit.
It's not clear if he fairly could. Vitaly Milonov, the outspoken author of St Petersburg's anti-gay propaganda law and a leading champion of a federal law, said he could not remember if he had met Lively or not. "I've never heard that name before," he told BuzzFeed.
Lively's visits to the region came as political anti-LGBT sentiment was just gaining steam. The Russian region of Ryazan was the first to pass an anti-gay law, in May 2006. Eleven more regions followed suit beginning in 2011, until the federal law was passed in June of this year.
Yet if Lively played a role in shaping anti-gay sentiments in the region, it is not a simple case of exporting US culture wars. Lively won his platform in Eastern Europe because he was useful to forces inside the region already stirring up anti-gay sentiment.
And the impact of this intercontinental collaboration was not one-sided—if Lively and other activists like him left American fingerprints on the anti-gay movement in Eastern Europe, there are also some surprising Eastern European fingerprints on anti-gay activism in the United States.
Before Lively took to the international stage, he cut his teeth leading campaigns for anti-gay ballot initiatives in Oregon in the early '90s. One of these actually has a little similarity with Russia's newly passed law banning propaganda of "non-traditional relationships"—it would have banned the use of state resources to "promote, encourage or facilitate homosexuality, pedophilia, sadism or masochism" because they "are abnormal, wrong, unnatural and perverse." He later moved to Sacramento, California, and published the book that brought him the attention of anti-gay activists worldwide.
This was The Pink Swastika: Homosexuality in the Nazi Party. Published in 1995, this work of Holocaust revisionism claimed that Adolf Hitler was gay, and a cabal of gay men inside his inner circle were responsible for the Holocaust.
"'To the myth of the 'pink triangle'—the notion that all homosexuals in Nazi Germany were persecuted—we must respond with the reality of the 'pink swastika,'" Lively wrote with his coauthor, Kevin Abrams.
According to the extensive documentation of Lively's career by the hate-group monitoring organization the Southern Poverty Law Center, this Holocaust conspiracy theory was Lively's "passport" to Eastern Europe. But it didn't take him overseas immediately. First it opened doors to the large Russian-speaking immigrant community around Sacramento, which was incubating increasingly militant opposition to homosexuality.
In 2007, Lively became one of the founders of the group Watchmen on the Walls, a group dedicated to fighting the "homosexual agenda" abroad: its creation embodied the anti-gay currents that were uniting interests over such great distances. Lively's three partners in starting the group were the Seattle megachurch pastor and former NFL-player Ken Hutcherson, who wanted support from Slavic evangelicals for his efforts to overturn a state law protecting gays and lesbians from discrimination; Vlad Kusakin, a Russian radio host and newspaper publisher based in Sacramento; and Alexey Ledyaev, who leads the New Generation megachurch in Latvia.
Ladyaev was already a prominent voice against homosexuality with his own global network to Christian conservatives before Watchmen on the Walls was formed. He has used eclectic means to publicize his views, including directing a rock-opera in which, the Southern Poverty Law Center describes, "a hero character wearing a tuxedo battling men in black tights armed with tiki torches" while a chorus sings "victory over the gays" above heavy-metal guitar riffs. He also wrote a book in 2002 calling for the imposition of Christian law to stop the domination of gays and Muslims.
"The first devastating wave of homosexuality makes a way for the second and more dangerous wave of islamization [sic]," he wrote.
When the first gay pride march was held in the Latvian capital of Riga, marchers were met by protestors who pelted them with eggs, rotten tomatoes, and plastic bags of feces. Some of these protesters declared their affiliation to Ladyaev's church with t-shirts emblazoned "I Love New Generation."
Watchmen on the Walls brought American anti-gay activists like Lively a broader international platform. But it also transmitted a share of this anti-gay sentiment from Eastern Europe to the United States.
The year that Watchmen was formally founded, a 26-year-old man was punched to death in Sacramento by a group of Russian-speaking men who believed him to be gay. "The Latvian Anti-Gay Movement Spills Over to US," proclaimed the Southern Poverty Law Center, reporting how this incident exposed the number of Slavic immigrants affiliated with the Watchmen and New Generation churches were being mobilized around homosexuality. SPLC wrote:
A growing and ferocious anti-gay movement in the Sacramento Valley is centered among Russian- and Ukrainian-speaking immigrants. Many of them are members of an international extremist anti-gay movement whose adherents call themselves the Watchmen on the Walls. In Latvia, the Watchmen are popular among Christian fundamentalists and ethnic Russians, and are known for presiding over anti-gay rallies where gays and lesbians are pelted with bags of excrement. In the Western U.S., the Watchmen have a following among Russian-speaking evangelicals from the former Soviet Union. Members are increasingly active in several cities long known as gay-friendly enclaves, including Sacramento, Seattle and Portland, Ore.
One of his allies at the time called these immigrants "divine penicillin" to cure the illness of homosexuality in western cities.
This heady moment of transcontinental collaboration does not appear to have lasted; Lively told BuzzFeed that he only returned once to Eastern Europe, in 2011. He claims to have helped kill a non-discrimination law in Moldova that would have protected LGBT people. But if we take Lively at his word, the goal of his international work was never just to shape other countries according to his vision. It was also to use anti-gay attitudes abroad as leverage in the fights he was losing at home.
Lively is also playing for much bigger stakes than just restricting LGBT rights alone. As he put it to BuzzFeed, "I realize I might face future lawsuits on the same logic as the one I'm now facing. That will not stop me from ... working to prevent the dismantling of Christian civilization around the world."
Lively sees the globe as now locked in a profound struggle between a "Biblical, natural family based model" versus "the model of moral anarchy pushed by the 'gays.'"
The heterosexual family "is the foundation of human civilization and personal fulfillment," he said. "So long as this ideal is preserved as [a] goal to which the "mainstream" of society aspires, subcultures of those who choose to live discretely outside of the mainstream are tolerable."
But he's willing to go pretty far when those "subcultures" become indiscrete.
Reflecting on his 2007 trip to Russia in light of England and France's legalization of same-sex marriage, Lively spelled out that he's playing for much bigger stakes than restricting LGBT rights alone. At base, he appears to believe that theocratic rule must crush the human rights framework that has been used to advance rights for gays and lesbians. He wrote:
We need to completely reject the humanistic presuppositions of the debate on homosexuality as they now exist and get re-grounded in the presuppositions of the Bible. In short we cannot possibly create or even preserve public policy that implicitly or explicitly disapproves of homosexuality while conceding the anti-biblical premise that discrimination against homosexuals is morally and legally wrong. We must be able – and willing – to build all of our arguments on the premise that homosexuality itself is wrong and therefore homosexual "marriage," "parenting," etc., are wrong.
Is it any wonder he thinks a nation with growing church influence and a shaky commitment to democracy like Russia should be a model for the world?
Max Seddon contributed to this report.