Could A Win On Marriage Weaken LGBT Organizations?
"After marriage passed in the Netherlands, the movement more or less collapsed," said the lawmaker who sponsored the Dutch marriage equality bill. Could that happen in the United States?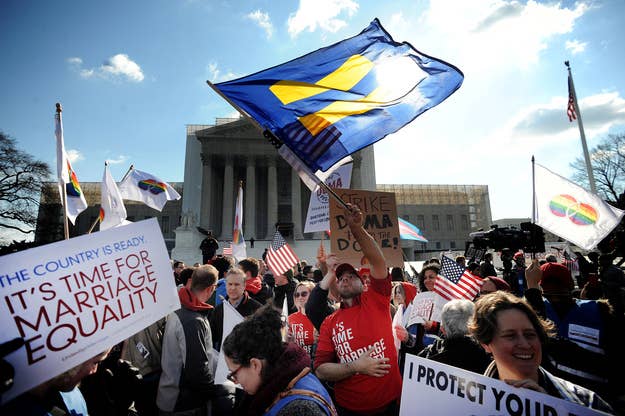 If same-sex couples secure a victory on marriage equality, it will have come largely from years of work from a cadre of LGBT activists. But a win on marriage could ironically leave the organizations leading the effort in a weaker position to target the other forms of discrimination that remain.
That's what's happened to other leading LGBT rights organizations in places with marriage equality. Hate crimes, workplace discrimination, and bias against transgender people persisted, but marriage equality convinced many people — both gay and straight — that their work was done.
"After marriage passed in the Netherlands, the movement more or less collapsed," said Boris Dittrich, the former member of the Dutch parliament who won passage of the world's first-ever same-sex marriage law in 2000. After that, it was very hard to get people to engage on other issues the movement cared about, like discrimination against LGBT seniors in nursing homes and bullying in schools.
Tanja Ineke, head of COC-Netherlands, said that it took some time before they could get LGBT concerns back on the national radar. "There were a lot of people in the movement and in society at large who thought the emancipation is over and done now that marriage is open to us … People in society didn't understand there was a need to fight."
Canada's national LGBT organization, Egale, saw a 30 to 40% drop-off in monthly donations once marriage became legal for same-sex couples in 2004, said its executive director, Helen Kennedy. Their problem was not only convincing the public that gays and lesbians still faced discrimination; they also had lost the issue that kept a broad coalition of LGBT organizations on the same page.
"The movement was extremely united for one common cause, and that was marriage," Kennedy said. "After marriage there has been a certain amount of apathy towards other issues that are still extremely important for basic human rights in the LGBT community."
Leaders in the major U.S. LGBT rights organizations say that they may be better prepared than the organizations in these other countries to refocus their efforts. They were around well before marriage, and say they've never been entirely focused on the marriage issue.
"Even in a country where we have marriage equality … I don't think there's any lack of issues to keep working on," said Human Rights Campaign Senior Legislative Counsel Ty Cobb. Marriage won't deliver one goal sought by the organization for more than 20 years, passage of the Employment Non-Discrimination Act, which would ban employers from discriminating against LGBT people. Addressing school bullying and advancing public education against homophobia will also remain top priorities, he said.
But having issues to work on isn't necessarily the same thing as having people to do the work. LGBT rights organizations will need to be prepared to find that many of the grassroots activists who turned out to fight for marriage equality — gay and straight — may not be there to fight for other issues.
That's the concern of Katherine Franke, a longtime LGBT rights advocate who directs Columbia University Law School's Center for Gender and Sexuality Law.
"I think people who are not part of the gay rights movement, whether they are gay or straight, who have identified emotionally with this issue will move on," she said. "Many of them are invested in marriage, not in [LGBT] rights. A lot of those well-meaning donors and elites who have identified with this issue will disappear."
Marriage occupies a paradoxical position in many LGBT movements around the globe; it often figures as the sine qua non of legal equality. But it is a right that is accessed unevenly — it can remain out of reach to people in poorer and more rural communities where homophobia remains pervasive.
This is most striking in South Africa, which enacted unprecedented LGBT protections in its post-apartheid constitution and legalized same-sex marriage under court order in 2006.
"In terms of marriage and what the constitution really said, it doesn't really help," said Funeka Soldaat of Free Gender, a black lesbian organization working against hate crimes in black townships.
Despite its progressive laws, South Africa suffers staggering rates of anti-LGBT hate crimes, and black lesbians are especially vulnerable. This has led international donors and human rights organizations to assist groups like hers, she said, but their commitment has not been matched by gays and lesbians at home.
"Within the country, between black and white and township and the city, there are a lot of things that make people not work together," Soldaat said.
Marriage equality legalization is not necessarily to blame for this gap, said feminist activist Melanie Judge, who is white and sits on the board of Gay and Lesbian History in Action and was integrally involved in making same-sex marriage a reality in South Africa.
LGBT activists there are working in a country that is still struggling with centuries of inequality established by colonialism and apartheid. But the fact that LGBT activists have pursued protections like marriage through the courts and savvy lobbying of high-level lawmakers means that there isn't a broad-based movement that could translate these rights on paper into a lived reality.
"The reality is that many of those gains were made in the courts, and it wasn't made on the bases of a mass-movement of LGBT people advocating for equality and justice," she said.
Judge said groups like Free Gender show that this new movement is emerging. The challenge is trying to politicize better-off and white LGBT folks in the city and convince them to support those working with the most vulnerable.
"What's a very significant characteristic of these movements for change is that it's mainly black, mainly young, and mainly lesbian. And that's where the future of our struggle for substantial equality really sits — in supporting these organizations," she said.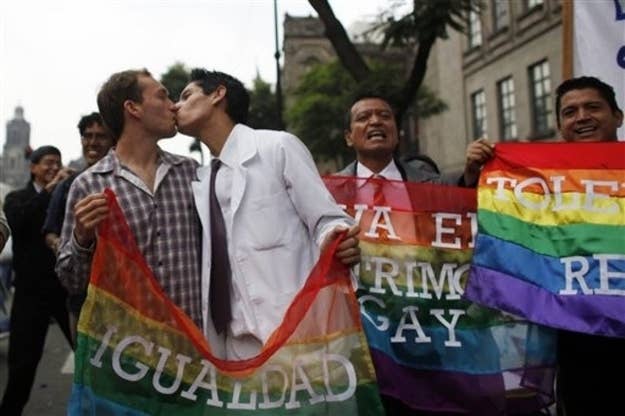 Regional divisions slowed momentum around LGBT rights in Mexico after Mexico City became the first jurisdiction in Latin America to legalize same-sex marriage in 2010.
"We are not an [LGBT] 'community.'… It does not exist as such," said longtime Mexico City journalist and LGBT advocate Antonio Medina when discussing the issue in Nov. 2012. "The big problem that we have had, I think … is that the states were outside" the process of getting marriage passed in Mexico City.
This largely remained the case until a long-shot lawsuit was brought in 2012 by a law student from the state of Oaxaca, Alex Alí Méndez Díaz. In December, he won a judgment from the country's Supreme Court allowing three same-sex couples to wed in the state. Technicalities in Mexico's legal system mean that several more lawsuits must be filed before this precedent will make same-sex marriage a universal right through the country.
But Méndez said he received no help from the activists who passed the marriage law in Mexico City and then successfully defended it in court.
In Mexico City, he said, LGBT activists think that "they've already won marriage … so there is nothing left to do. They think [Mexico City] is all of Mexico."
His legal victory has opened the door to lawsuits in many states and nudged some state lawmakers to start introducing marriage bills. But in some states, Méndez said, the homophobia remains so pervasive that no couples will step forward to sue, fearing reprisal.
One example of continued movement after a marriage victory is Argentina. After a difficult fight to pass an Equal Marriage Law in 2010, it found renewed purpose as an engine for promoting marriage equality efforts in other South American countries. The LGBT Federation helps couples from other countries organize marriages in Argentina and provides support for them to fight for recognition once they return home. Fifty couples from at lest a dozen countries have now married in the country, according to the organization's president, Esteban Paulón.
The Federation also held together a broad coalition of groups to win passage of the world's most sweeping law protecting transgender people, which includes the right to change one's gender on state-issued identification by signing a simple affidavit and access to state-funded gender reassignment surgery. For the activists involved, this was not only a victory for some of the most marginalized members of the LGBT community. It was also a blow at economic inequality, since the discrimination trans people face in education and employment also kept them trapped in low-wage jobs or prostitution.
The test facing the LGBT rights movement after marriage has been achieved, international experience shows, is whether it can broaden its case in popular debate.
"The challenge for us as a movement is to refocus people's attention on the baseline needs of our communities," said Rea Carey of the National Gay and Lesbian Task Force, who regards health care and immigration reform as two of the most important fights for LGBT people. "We want to make sure that we are continuing to educate even in our own community on the needs of LGBT people."