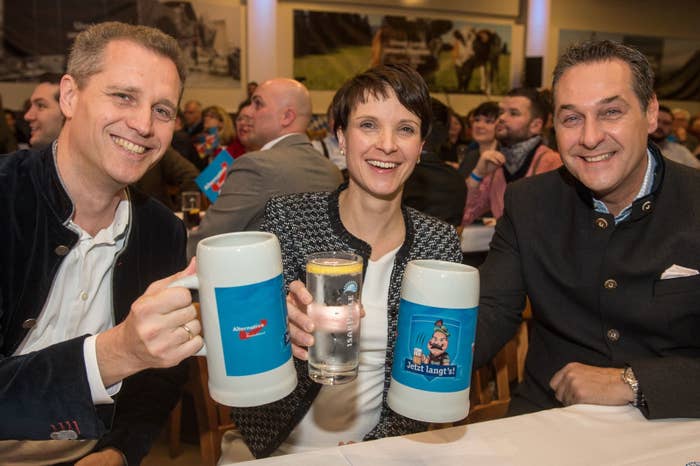 A German lawmaker aligned with Steve Bannon is facing scrutiny after he met with a white nationalist group while on an official trip to South Africa in September.
The lawmaker, Petr Bystron, is a member of the German parliament from the far-right Alternative for Germany (AfD) party, and the senior AfD lawmaker on the Foreign Affairs Committee. According to the AfD, he brokered a meeting between Bannon and the Czech president this fall while Bannon visited Europe to promote his new pan-European organization to boost "populist nationalism."
The TV show Report Mainz broke the news that Bystron met with a group known as the Suidlanders in September, and also participated in firearms training with them. The group considers itself to be an "emergency plan initiative" preparing white South Africans for what they believe is an impending race war.
Christian Lüth, spokesperson for the AfD bloc in the Bundestag, told Die Zeit that the matter would be discussed at the next meeting of the group's executive committee. The party, which made major gains in recent elections with a message against immigrants and Muslims, has occasionally expelled some members who went too far, most recently a local lawmaker who was sanctioned after posing for a picture in front of wine bottles with Hitler on the label.
Left-leaning parties are calling for the government agency that polices extremism to formally place Bystron and the AfD under monitoring.
Burkhard Lischka, a spokesperson for the Social Democratic Party, told Report Mainz he believed Bystron's meeting with the Suidlanders is "showing again that the ethnic-nationalistic wing within the AfD is gaining power."
Bystron did not immediately respond to a request for comment from BuzzFeed News, but he told Report Mainz that he was just trying to get an overview of civil society and wanted to meet with a broad number of groups. But the meeting was not disclosed on his application to make the trip to South Africa, according to Die Zeit.
"I feel that this is an organization of mostly white farmers who are worried about their lives and who are organizing to survive in the worst-case scenario," he told Report Mainz. He told a right-wing magazine that he thought it was important to draw attention to "the racist attacks on the white minority now."
The Suidlanders are part of a broader movement that alleges the South African government was pursuing a policy of ethnic cleansing through a proposal to redistribute land to address inequalities that remain from apartheid. (This claim won support from President Donald Trump in August, when he tweeted he would ask the secretary of state to look into the matter.) One of the group's leaders, Simon Roche, marched at the Charlottesville Unite the Right rally in 2017 while on a tour of the US connecting with alt-right activists.
"The guys did a superb job," Roche told his followers after the event, which resulted in the death of a counterprotester, CNN reported. "A good few of them needed a hiding."
This is not the first time Bystron has come under scrutiny. He has previously been monitored by the German Federal Office for the Protection of the Constitution. He employed for a time a man who once tried to organize a celebration of Hitler's birthday in Switzerland. A Swiss court later ruled that the man could be legally called a "Nazi."
But in September, the AfD was touting Bystron's alliance with Steve Bannon and their work to build alliances between far-right parties. The party put out a press release saying Bystron "helped launch" a meeting between Bannon and the Czech president, and helped to forge alliances with right-wing parties in other neighboring parties. The press release also noted that Bystron had received an award from the Phyllis Schlafly Eagles foundation in St. Louis.
"We must forge a Conservative International to unite the forces of reason and responsibility, democracy and self-determination, for only in this way can we save Europe from the threat of self-destruction," the release quoted Bystron as saying.
Steve Bannon did not respond to a request for comment for this story. Bannon has previously claimed that racist elements get "washed out" of far-right parties, but Bystron's relationships with white nationalists suggests they still exert a strong pull. Bannon also recently was under fire after being photographed with the moderator of a far-right Facebook group that suggested using a swastika as the site's banner and posted about creating a white paramilitary force.