As U.S. Weighs Response To Uganda's Anti-Gay Law, It's HIV Aid Vs. Defense
"Museveni will not back down unless they take away some of the military support, because that's what he cares about," said a Ugandan activist. But sources familiar with a U.S. government review process are worried defense programs are off the table.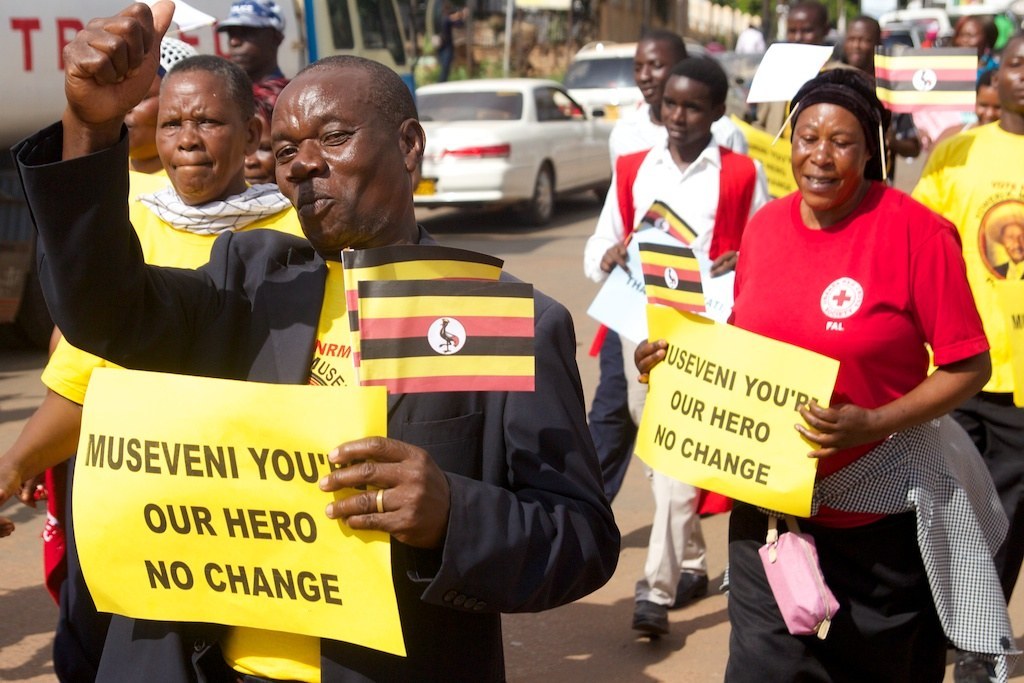 WASHINGTON — Some human rights and public health advocates are growing increasingly concerned that the United States may be preparing to respond to Uganda's enactment of the Anti-Homosexuality Act with a cut to HIV assistance while shielding the aid that is most important to Ugandan President Yoweri Museveni: defense.
Last week, a team of officials from U.S. agencies, including the State Department Office of the Global AIDS Coordinator and the Centers for Disease Control, visited Uganda to review how aid could be adjusted to respond to the Anti-Homosexuality Act, adopted in February. Sources familiar with the team's draft recommendations said they concluded there is no point to cutting health aid. The team did not include any representatives from the Department of Defense, and activists in Uganda and the U.S. don't see evidence that the administration is seriously considering major changes to security cooperation in response to the law.
"The conclusion from the review team is that health is not a lever — the government doesn't care about it ... and cutting aid will only hurt people including minority groups," said a U.S. government employee who participated in last week's review who spoke on condition of anonymity about internal discussions. Several advocates say the Obama administration has assured them that "everything is on the table," but, the employee said, "we're less wanting to put security on the table."
"Museveni will not back down unless they take away some of the military support, because that's what he cares about," Clare Byarugaba, co-chair of a coalition of Uganda organizations opposing the law, said during a briefing at the RFK Center in Washington on Thursday. Promises that the review won't touch health services aren't fully believed within the network of Ugandan health care providers, Byarugaba said, in part because the U.S. government announced a new initiative dear to Museveni — helicopter units for an African Union mission to catch warlord Joseph Kony — late last month, just as it announced the first tweaks to health and development assistance in response to the law.
"There has been a little bit of confusion in the message that the U.S. government has been giving," Byarugaba said.
Activists have stepped up their call for a clearer U.S. response to the law since a raid last Friday on an HIV center in Kampala affiliated the U.S. Military HIV Program. The Ugandan police who conducted the raid had been investigating the program for "carrying out recruitment and training of young males in unnatural sexual acts."
In response, acting spokesperson for the State Department Bureau of African Affairs Erin Rattazzi, said in an email on Wednesday, "We believe the police raided [the HIV center] due to its connection with the U.S. government based on the principled stance we have taken in support of LGBT persons in Uganda and around the world."
Uganda is one of the U.S.'s most important military partners in East Africa, though much of the cooperation does not go directly to the Ugandan government but rather to multinational missions — like the hunt for Kony or another intervention trying to stabilize Somalia — under the umbrella of the African Union in which Uganda is a major player.
Massachusetts Democratic Congressman Jim McGovern, who co-chairs a House commission on human rights, said that although he is supportive of the initiatives to catch Kony, he is concerned U.S. officials are not clearly integrating LGBT rights concerns in their conversations with the Ugandan government about security cooperation.
In a brief interview following a hearing he chaired on human rights in lending by the World Bank — which suspended a $90 million health loan to Uganda following the law's enactment — McGovern said that administration officials "are saying the right things" in public, "but I wonder behind closed doors in these discussions whether or not we're talking about these things."
"I hope we're doing more than I know we're doing," he said when asked if he thought the administration was effectively integrating LGBT rights concerns into security cooperation.
National Security Council Spokesman Jonathan Lalley declined to comment on the state of the internal aid review process, saying, "All relevant stakeholders have a seat at the table in our interagency discussions."
However, Lalley continued, "Uganda's decision to enact the Anti-Homosexuality Act runs counter to universal human rights and to human dignity. Now that the law has been enacted, we are looking closely at its implications, and where appropriate we have adjusted some activities and engagements while we are doing that. None of this diminishes our commitment to the people of Uganda, to promoting regional security and justice and accountability for perpetrators of atrocities like the LRA, and to ensuring that lifesaving treatment for HIV/AIDS continues to reach those who need it."
But sources familiar with the review discussions held in Kampala last week said that focusing the most intense discussions on aid, and leaving out the defense sector, could lead to action that affects antiretroviral treatment for those infected with HIV.
If the U.S. wants to signal its disapproval of the law through aid and security programs are excluded from the review, more pressure is put on health programs, say human rights and HIV advocates. It is the largest pot of aid to Uganda, accounting for more than $400 million of the more than $700 million the U.S. earmarked for Uganda last year. Most of that — $316 million — goes to HIV interventions alone. And last week's raid on the HIV center shows that it's the spot where U.S. funding most directly brings it into conflict with the new Ugandan law, potentially endangering staff as well as making interventions less effective.
Health aid is a "soft spot," said the U.S. employee who participated in the review meetings. "If you don't put security on the table, you cut health."
According to sources familiar with the review process, one option that came up multiple times in the review process would be ending what is known as "scale-up" in the country, the U.S. commitment to funding anti-retroviral treatment for people in Uganda as they are diagnosed with HIV. Global HIV experts say this has been critical to getting Uganda's epidemic under control. The country has continued to have a growing number of infections despite the massive investment by U.S. and other donors in interventions.
The HIV Medicine Association and the Infectious Diseases Society of America Center for Global Health Policy sent a letter to the Obama administration Global AIDS Coordinator Deborah Birx Wednesday in an apparent effort to head off this possibility.
"We are writing now because we understand that the Administration is considering withdrawing HIV resources from Uganda, including funding that provides lifesaving antiretroviral treatment to tens of thousands of Ugandan citizens," the organizations wrote. "We strongly oppose this approach, which would be a disaster for individual and public health. With little evidence that President Museveni and his government will ensure that lifesaving HIV care is preserved for its citizens, the greatest harm would be done to those already most threatened, with the withdrawal of services to support the health and well-being of gay Ugandans who depend upon U.S. funded prevention and treatment services."
Sources familiar with the review process are especially concerned that the U.S. ambassador to Uganda, Scott DeLisi, may be considering this approach.
Given the fact that security programs are of "mutual interest" to the U.S. and Uganda, said the U.S. government employee, "It will be interesting [to see] whether [DeLisi] sticks to the recommendation" to avoid health cuts.
The recommendations have not yet been handed over to officials in Washington, however, and a senior administration official in D.C. flatly rejected the notion of ending scale-up to send a message about the Anti-Homosexuality Act.
"We would never slow the scale-up of HIV/AIDS treatment as a consequence for enacting the AHA or some 'political calculation.' Nothing has diminished our commitment to ensuring that lifesaving treatment for HIV/AIDS continues to reach those who need it." the official said. However, the official added, "The pace of treatment scale-up in Uganda will depend ... most importantly [on] the Government of Uganda's political and financial commitment to HIV/AIDS treatment scale-up and to the implementation of effective and non-discriminatory programs."
Any cut to HIV assistance could be politically explosive in Uganda, where political and religious leaders have been fanning anti-U.S. sentiment since the law's passage with warning that HIV treatment could be taken away. During a Kampala rally in celebration of the law last week, President Museveni endorsed the idea of creating a fund to take over paying for HIV treatment in the event that donors cut their assistance.