U.S. Weighs Response To Anti-Gay Bills In Uganda, Nigeria As Activists Say Washington Didn't Do Enough
"We felt abandoned [by the international community] and we still feel that way," said leading Ugandan LGBT activist Frank Mugisha.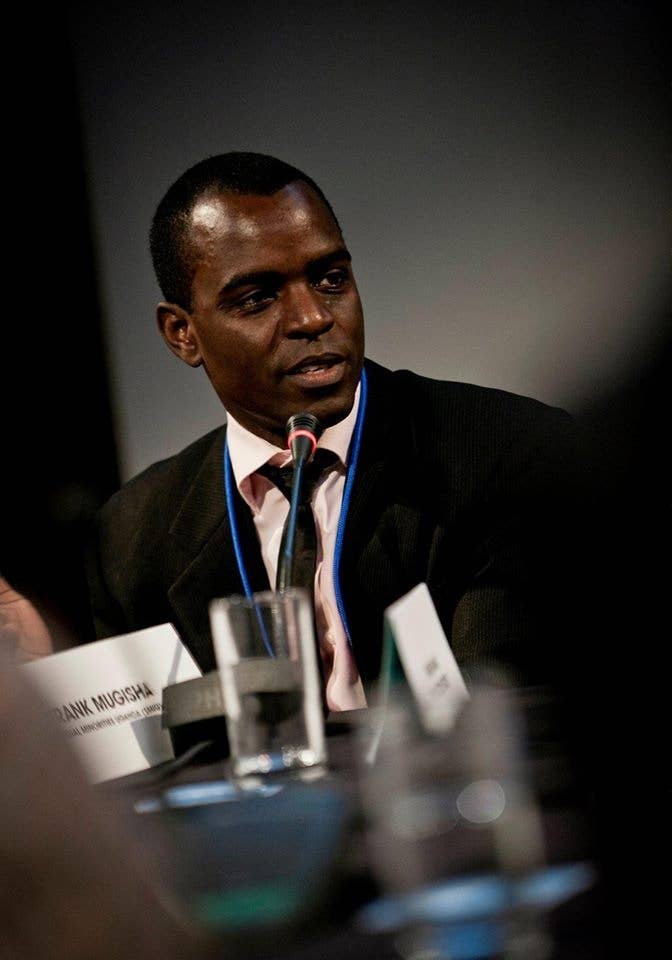 WASHINGTON — The White House is convening an interagency meeting on Wednesday to discuss a response to anti-gay laws in Uganda and Nigeria, as local human rights activists say the administration did not do enough to challenge the recently passed laws.
"We felt abandoned [by the international community], and we still feel that way," said Frank Mugisha of Sexual Minorities Uganda, an activist group.
Mugisha said U.S. officials were too trusting of Ugandan President Yoweri Museveni's assurances he would block the bill, which imposes up to a life prison sentence for homosexuality and criminalizes LGBT rights advocacy. Museveni reversed his position and announced he would sign the bill on Friday.
While the U.S. embassy in Kampala expressed Washington's disapproval of the legislation after parliament passed it on Dec. 20, Mugisha said the U.S. was not specific enough in spelling out the consequences of what would happen if it became law.
"[Foreign] governments have always [believed], 'Let's go slow, the government of Uganda knows the repercussions … [but] they do not understand the political force inside Uganda pushing this bill," Mugisha said by phone from New York, where he arrived on Tuesday.
Top administration officials only publicly spoke out about the bill after Museveni had announced he would sign it. National Security Advisor Susan Rice called Museveni on Saturday, and President Barack Obama put out a statement on Sunday that said he was "deeply disappointed" in Museveni's decision and the law will "complicate our valued relationship with Uganda."
Mugisha said he believed it was a mistake for the administration to wait until so late in the game to weigh in.
"This would have been the conversation that should have been held months ago. ... If the bill is passed, what are we talking about? How much [aid] money are we talking about [being lost]?" Mugisha said.
National Security Council spokesman Patrick Ventrell said the Obama administration had been "crystal clear" with Museveni on the Washington's position.
"This was not an issue of a failure to communicate U.S. views to President Museveni or the Government of Uganda," he said in a statement to BuzzFeed. "We have been crystal clear about our views on the AHB for years, including in extensive and numerous conversations with President Museveni. And since the bill passed Parliament, we have continued to engage President Museveni, members of parliament and of government, and worked closely with our diplomatic and civil society partners on the ground to make our case that the bill should not become law."
He declined to comment on the Wednesday meeting of representatives of several government agencies, called the Interagency Policy Committee. Information on who would attend was not immediately available.
Some human rights activists who have worked closely on the Uganda bill disagree about whether there is more the U.S. and others could have done. "They did what they could do and that failed," said Geoffrey Ogwaro, co-chair of the coalition of Ugandan organizations opposing the bill. "We appreciate the fact that they really tried their best. You really can't blame them."
Human rights activists in the United States, however, were less understanding.
"My sense is that [the U.S. government] has waffled recently," said Maria Burnett of Human Rights Watch, who echoed Mugisha's call for more clarity on how the law's passage could affect Uganda's relationship with the U.S. "There have been times when they've been very effective on this issue over the years since the bill was first tabled in 2009. The last several months is one of the times when they have been less effective."
Several human rights activists described on background what one termed "a weird game of chicken" between Washington and the U.S. embassy in Kampala, in which the embassy was waiting for instructions on how to handle the situation, while White House and State Department officials were looking to the team of Ambassador Scott DeLisi to direct the response.
Nigerian President Goodluck Jonathan signed similar legislation in January, and the U.S. was even less engaged in trying to prevent the bill, human rights activists said. But intervention in Nigeria is even more complicated than in Uganda, they said, because the U.S. does not have as close a relationship with the country's government and local activists are not as united in how to combat the law.
Human rights activists are now calling on the U.S. government and the governments of other donor countries to recall their ambassadors from Nigeria and Uganda for consultation.