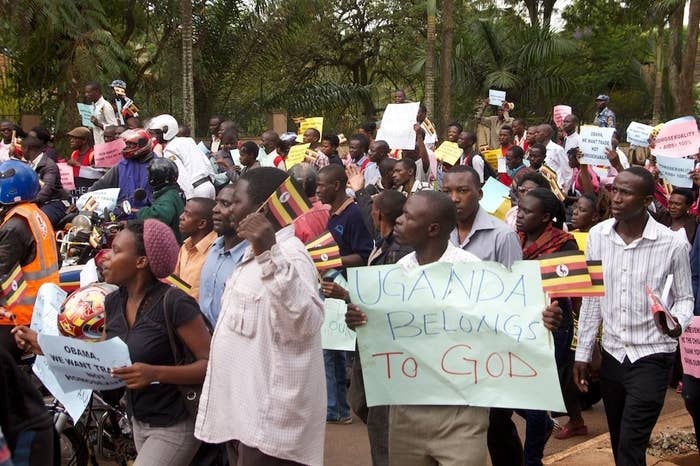 A group of American Quakers say they are offering a way out for some desperate Ugandans fleeing the country's new Anti-Homosexuality Act.
This group, based in Olympia, Wash., calls its project the Friends New Underground Railroad (FNUR) because it sees itself as following in the footsteps of the Quakers who helped bring slaves out of the American South before the Civil War. Working with fewer than 10 Ugandan "conductors," they report having funded passage out of the country for 107 people with grants ranging from $52-$185. The refugees mostly travel in small groups on back roads and make their way to safe houses in neighboring countries. FNUR says they know of at least 12 people who have gone on to third countries like South Africa and Sweden, and they have received unconfirmed reports that around 30 have reached Europe.
The security precautions they say they take makes their work impossible to verify. The identities and locations of the conductors are kept secret even from one another. FNUR won't identify any of the people they've evacuated because they say they don't yet feel secure in their new location, though they say they financed the escape of 22 students in a Catholic seminary accused of homosexuality in the eastern town of Jinja whose case made headlines abroad. They won't say which countries people escape to, who aids them once they exit Uganda, or how those who have gone onto Europe have secured the visas that other refugees can spend years waiting for because they fear the escape routes being shut off. One of the three co-organizers — the only one of the group with experience in international relief work — won't be publicly identified by his real name, saying "we don't want to put anybody in danger." Instead he goes by Levi Coffin II, adopting the name of one of the Quakers who was a leader in the original Underground Railroad.
"We got into this because we were asked," Coffin said in a phone interview from Washington state. The person who became Conductor Number One was a Ugandan acquaintance who asked for support when a group of LGBT people asked him to help get them out of the country. "Quakers have a long tradition of this kind of work... This is work that we were both literally and figuratively called to do."
If their account is accurate, it is a remarkable feat for a handful of individuals with very little experience in international aid. (Their project was adopted by their congregation, the Olympia Friends Meeting, and has since teamed up with another similar effort and other Quaker meetings. It also was just endorsed by the national Unitarian Universalist Association.) Most Ugandan activists and international human rights groups are discouraging LGBT Ugandans from fleeing, since they largely go to Kenya and wind up in enormous refugee camps that are often just as dangerous for LGBT people as Uganda itself. Those lucky enough to be identified as candidates for resettlement abroad can spend months or even years waiting for a plane ticket.
That's why it's set off some alarm bells among seasoned activists in the region. None say they have heard specific reports of mismanagement by FNUR nor doubt it is well-intentioned. But they worry that an independent operation can't do what's necessary to keep refugees safe or could be scammed by people who pocket donations. And it's not the only small relief effort that has sprung up outside Africa in response to the anti-LGBT law — another case led to a public fight on social media between an activist in the US and a leading Ugandan LGBT organization that accused her of "sham fundraising."
"This is not the kind of stuff that well-meaning amateurs can do, and the money's basically going to be wasted," said Scott Long, the former director of Human Rights Watch's LGBT program. "I fully appreciate the good intentions here, but … the organizers [should] be persuaded to subordinate their efforts to a recognized refugee NGO or to the security committee" of the coalition of Ugandan organizations opposing the anti-LGBT law.
But those working on projects like FNUR say they've been responding to calls for help that the groups on the ground have not responded to. Ugandan organizations are primarily focused on advocacy work to make the country less dangerous for LGBT people, though they have set up a security committee to respond to emergency needs. They don't want to encourage people to go into exile, not only because that has its own dangers but also because that sends a bad message to politicians who would like nothing better than to see LGBT people go. The international organizations already working with LGBT refugees in the region don't want to call attention to their efforts for LGBT people fearing they'll be shut down, so they can't fundraise for more support.
But the stories of people fleeing arrest or attack tug at the hearts of foreigners who want to offer direct help to people in crisis. The complex reality on the ground makes that hard to do through established channels — and the donors may never know the individuals they've helped.
Independent actors make the alliance of Ugandan organizations leading the charge against the anti-LGBT law very nervous. The group, known as the Civil Society Coalition On Human Rights And Constitutional Law, has established a formal security committee tasked with helping people in crisis situations and would like outsiders to channel their efforts through them. Pop-up groups can make mistakes that put already vulnerable people in even worse danger, they worry, or if they get defrauded it could discourage donors from contributing to responsible groups. Even if they're well run, they may be diverting resources from the people and organizations that actually need it most.
One thing that causes them particular concern about FNUR is that the one Ugandan partner they've publicly identified, an organization called Gender Equality and Health Organization, was expelled from coalition because of concerns about its management.
"The fact that they've refused to listen and work with the security committee … is very problematic," said Clare Byarugaba, co-coordinator of the Civil Society Coalition who said FNUR's organizers had been notified about the concerns about GEHO. (FNUR organizers say GEHO provided extensive documentation to refute allegations of misconduct, and they were convinced the charges are false.)
And doing this kind of work on an ongoing basis is a massive undertaking, said Neil Grungras of the Organization for Refuge, Asylum, and Migration, which works on LGBT refugee issues. He said he knew "some people who are doing fundraising on a very private limited basis" and he welcomed the LGBT community in the U.S. and Europe to get involved in refugee issues.
But ORAM actually shut down a program to provide direct support to LGBT refugees after five years, even though it considered it successful. The work of sorting out who most needed help, what expenses were most urgent, how to keep them safe drained too much of ORAM's resources to continue.
"In order to run a program like that successfully … you have to invest tremendous resources to understand the situation on the ground," Grungras said. "If you're trying to take [donors'] money responsibly, you [really] have to do that work."
And FNUR's organizers admit they "are figuring it out as we go." The group estimates it has raised at least $11,000, but neither Coffin nor the other organizer who spoke to BuzzFeed for this story, Gabi Clayton, knew the total amount the group had raised.
"We do take fiscal responsibility very seriously," Clayton said. "Maybe we are stumbling a bit learning to do the record-keeping ... but it's not like we've lost the money."
Coffin said the Ugandan conductors sought their support because the people who were trying to escape were actually afraid to approach Ugandan LGBT groups. Those in remote parts of the country feared that contacting a well-known organization in Kampala could put them at further risk.
"They won't contact the civil society organizations in Kampala. They don't think they'd be safe.… They're all saying they don't trust those folks," Coffin said.
Frank Mugisha, head of Sexual Minorities Uganda — which is one of the best known Ugandan organizations internationally that is part of the coalition — is skeptical of these claims.
"Any Ugandan who needs help can get support coordinated within SMUG or outside SMUG," he said. "There are so many structures and if one doesn't trust one they have a variety of choices."
Mugisha said that he believes these foreign efforts "mean well," but he also said that the decision to work around Ugandan groups and help people in crisis through small amounts of cash "comes from the whole notion of patronizing to Africa."
Mugisha said. "I don't believe [short-term] handouts … is something that's helpful at all."
These concerns became public when SMUG took to Twitter on July 6 to demand that an LGBT activist in San Francisco named Melanie Nathan take down a blog post where she cited a SMUG report on violence in Uganda to raise funds for an effort she's called the "LGBT Africa Relief Fund." Between two crowdfunding campaigns, Nathan had raised a little more than $17,000, which was disbursed to 33 people in Uganda and other African countries who had found her online and requested help. The money mostly went to cover food and shelter for those who had been displaced within Uganda, she said. Nathan, who is originally from South Africa, initially launched her fundraising effort with the stated goal of helping "LGBT people escape Africa." She said she quickly changed the name and discouraged people from fleeing because of horrific reports from those who'd reached Kenya.
In an interview, Nathan called the tweet "libelous" and said Mugisha had never written to her with concerns about her fund while also ignoring messages she sent him on Facebook seeking cooperation. Many of the people who approached her, Nathan said, told her they'd been turned away by LGBT organizations in their countries because they were told they didn't have the money.
These groups "said they do not have money [for humanitarian relief], and so, I thought I am doing a good thing," Nathan told BuzzFeed. "I wanted to give the money to people who were asking me. I didn't see the need to give it to anybody else."
Coffin said that although Americans lead the fundraising for FNUR, "the program is essentially run by Africans for Africans" and one-third of the startup funds came from Africans. The Ugandan conductors decide who to help and figure out how to get them out of the country. Though FNUR only funds passage to the border, they are delivered to local safe houses or organizations to provide support on the other side, Coffin said. The only place where the Americans make operational decisions is in helping "sort out" which conductors' group will go first when funds become available, and that's only in order to keep the conductors' identities anonymous.
And they say they've directly confirmed that all 107 refugees have made it out after they've left the country — none, he said, have wound up in Kenyan refugee camps. NFUR has an "official waiting list" of 118 people waiting to get out, Coffin said, and "we have hundreds more behind that."
"We just follow our noses. We definitely will make mistakes," he said. But "we haven't so far — everyone we've tried to get out, we got out."