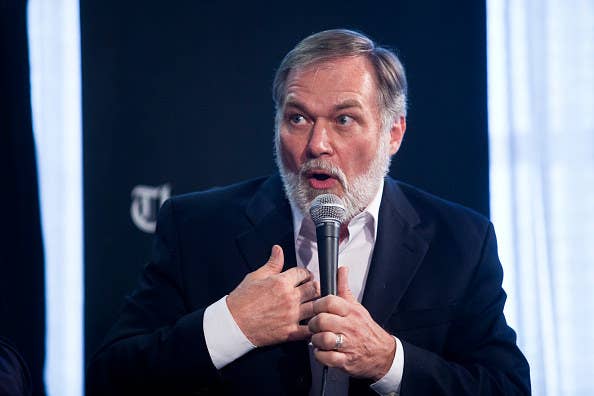 A US federal court dismissed a suit on Monday against Scott Lively, the American anti-LGBT activist whose 2009 visit to Uganda helped catalyze a campaign to enact a sweeping new law criminalizing homosexuality.
The case was brought by the organization Sexual Minorities Uganda (SMUG), which argued Lively committed crimes against humanity for helping craft legislation that included the death penalty for homosexuality when first proposed in 2009. That year, Lively participated in a conference called "Seminar on Exposing the Homosexual Agenda" organized by a Ugandan activist, during which he gave a talk asserting gays recruit vulnerable children and that homosexuality was linked to Naziism and mass murder.
He also met with Ugandan lawmakers on that trip, and advised them via email as they worked on what became the Anti-Homosexuality Act passed in 2013. (It was struck down in 2014 on technical grounds by Uganda's Constitutional Court.) But SMUG first brought its case back in 2012, when there was a renewed effort to pass the bill, arguing that he was participating in a broad campaign to deprive LGBT people of their fundamental rights in Uganda.
In his ruling on Monday, Judge Michael Ponsor of the U.S. District Court in Springfield, Massachusetts, agreed that Lively's actions violated international law. But, he ruled, US courts do not have jurisdiction over crimes committed on foreign soil.
"Anyone reading this memorandum should make no mistake. The question before the court is not whether Defendant's actions in aiding and abetting efforts to demonize, intimidate, and injure LGBTI people in Uganda constitute violations of international law. They do," Ponsor wrote. "The much narrower and more technical question posed by Defendant's motion is whether the limited actions taken by Defendant on American soil in pursuit of his odious campaign are sufficient to give this court jurisdiction over Plaintiff's claims. Since they are not sufficient, summary judgment [to dismiss the case] is appropriate for this, and only this, reason."
Despite the case being dismissed, SMUG and its legal team claimed the ruling as a victory.
"The court's ruling recognized the dangers resulting from the hatred that Scott Lively and other extremist Christians from the U.S. have exported to my country," said SMUG's Frank Mugisha in a statement issued on Tuesday. "By having a court recognize that persecution of LGBTI people amounts to a crime against humanity, we have already been able to hold Lively to account and reduce his dangerous influence in Uganda."
SMUG was represented by lawyers from the New York-based Center for Constitutional Rights, which reiterated that preliminary rulings in this case broke important legal ground. In 2013, a ruling rejecting a previous motion to dismiss the case clearly stated that the persecution of LGBT people constituted a violation of international human rights law.
CCR's Pamela Spees said in a statement, "No matter what happens next in this case, they have made an important difference in demanding their day in court, achieving the recognition that persecution of LGBTI people is a crime against humanity, and facing down one of their key persecutors armed only with the truth of their experience and moral courage."