ROME — A priest and a fascist will face off this fall in an election in Rome that reflects a deep anger about immigration that could propel nationalist parties into the Italian government next year.
On one side is 71-year-old Franco De Donno, a grandfatherly priest who runs a volunteer network and wears rumpled shirts and sandals. On the other is Luca Marsella, a 32-year-old IT consultant with close-cropped brown hair who has built his reputation by confronting immigrant vendors working on the local beach and protesting a run-down building where many immigrants live. His slogans are "Italians first" and "I'll carry your rage into city hall."
Seventy-two years after the fall of the fascist regime led by Benito Mussolini, the movement is making a bid to return to national politics. While its impact is mostly felt on the margins, it is fueled by the same anger that is propelling parties into power that want to pull the country out of the eurozone and deport the hundreds of thousands of immigrants who've arrived in recent years. The revival has some left-wing lawmakers so concerned that the lower house of the Italian Parliament adopted a bill this week that would strengthen laws against fascist propaganda if approved by the Senate.

Marsella represents one of the most dynamic fascist organizations in Italy, known as CasaPound. The group began to form 14 years ago when the leader of a fascist rock band called ZetaZeroAlfa led a group of young people to occupy a vacant government building in the center of Rome, a right-wing answer to the left-wing squats throughout Italy demanding affordable housing. But within a few years, they grew it into a national organization with outposts across Italy, inspiring imitators in neighboring countries and forging ties with Greece's far-right Golden Dawn party, the Shiite political party and paramilitary group Hezbollah, and the government of Syria's Bashar al-Assad.
Marsella is running for president of Ostia, a ward within the city of Rome that is home to 230,000 people — a population equal to a midsize Italian city. The district is ripe for the picking, they believe, because scandals have shattered traditional parties, and local rage against immigrants has grown throughout 2016 and 2017, when nearly 300,ooo new immigrants entered Italy by boats from Libya.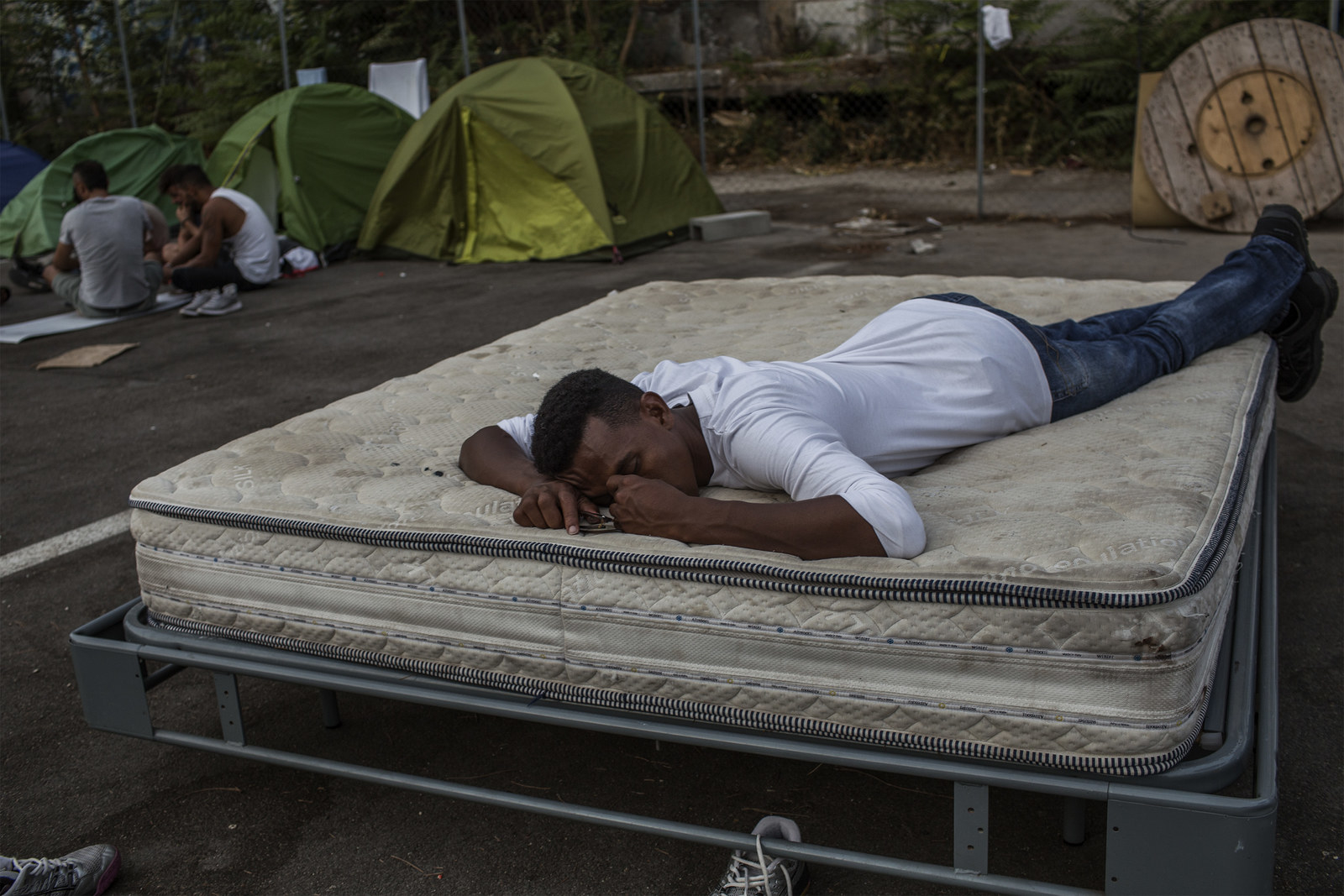 The vote, scheduled for Nov. 5, is a test run for national elections to be held in the spring, where CasaPound believes it has a chance to win enough votes to enter the national Parliament.
Ostia is a proving ground for whether CasaPound can turn its brand of fascism into a successful election strategy, according to a left-wing former member of Rome's city council, Gianluca Peciola.
"Ostia," he said, "is the laboratory for CasaPound."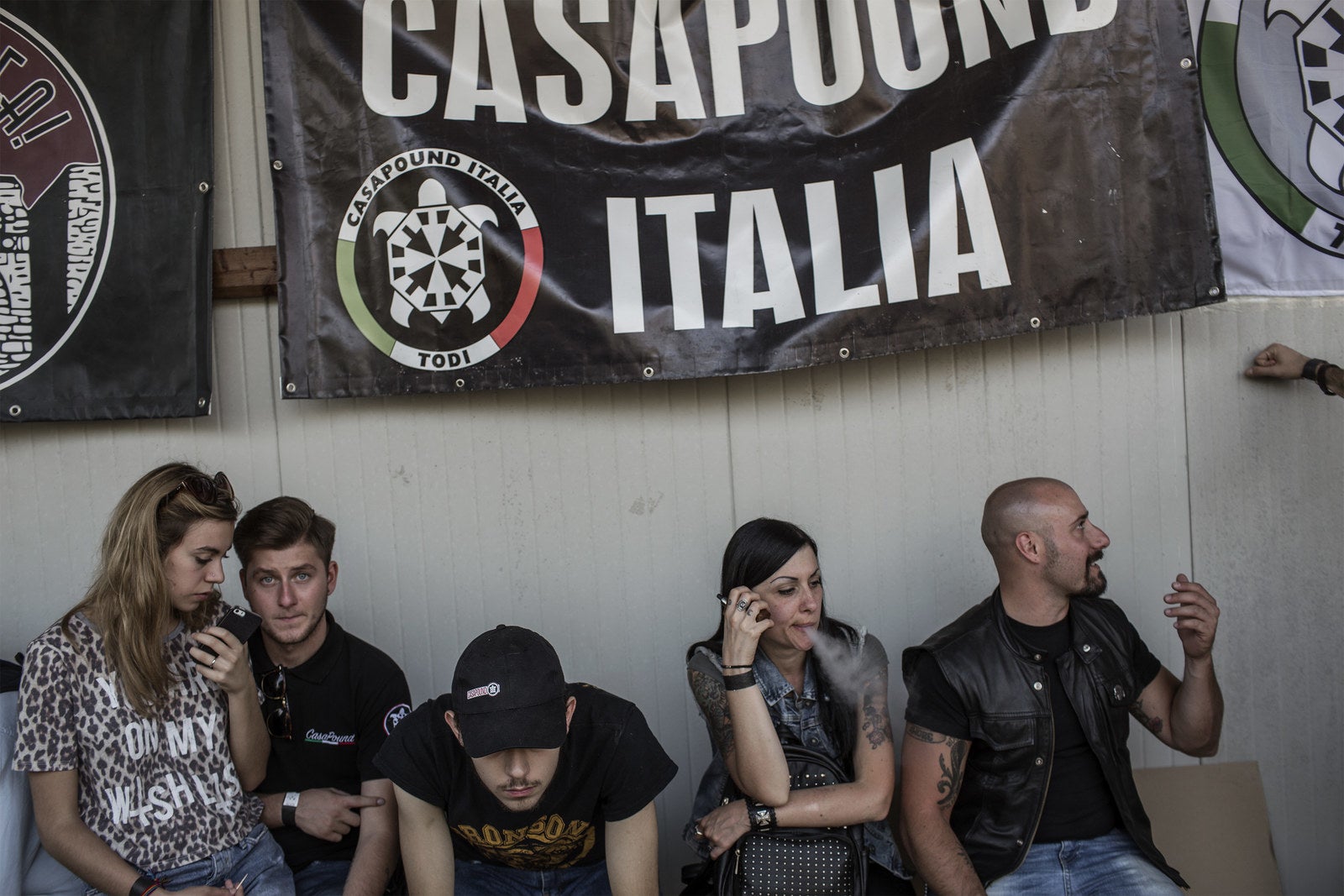 CasaPound activists flocked by the thousands last weekend to the group's annual convention, which was held outside Latina, a town established in 1932 by Mussolini on swampland 70 kilometers from Rome.

Organizers said the city was a symbol of the good that fascism had done for Italy: It had turned a poor country into a modern nation, built roads and infrastructure, and even guaranteed workers time off at the weekends, while developing beachfronts where they could enjoy themselves. Mussolini also made Italy a power in world affairs, invading territories in North Africa, many of which are now on the routes that thousands of immigrants follow to enter Europe.
CasaPound's leaders downplay the fact that Mussolini's government also imprisoned his political opponents. And while it did not fully embrace the drive to exterminate the Jews when it allied with Hitler's Germany in World War II, the country adopted a race law in 1938, and thousands were later arrested and deported to Nazi concentration camps.
"These are the friendliest fascists you'll ever meet."
But CasaPound's members aren't what you might expect, said Marko Borisavoff, a young activist who had traveled to the conference from Serbia, where he collaborates with CasaPound on a project with Serbian Christians in Kosovo.
"These are the friendliest fascists you'll ever meet," he said.
The crowd for the weekend appeared largely male, and a good portion of the participants were teenagers or in their early twenties. Many wore T-shirts with slogans like "A State of Permanent Hostility" or "Fascist Youth Since 1919." Many were heavily tattooed, sporting nationalist symbols, references to the wide-ranging literature dear to the group, or lyrics by ZeroZetaAlfa. Though the group says it rejects racism and anti-Semitism, one participant sported a large wolfsangel, a Germanic rune used as the symbol of Hitler's Waffen-SS and by the US's Aryan Nation, across his calf.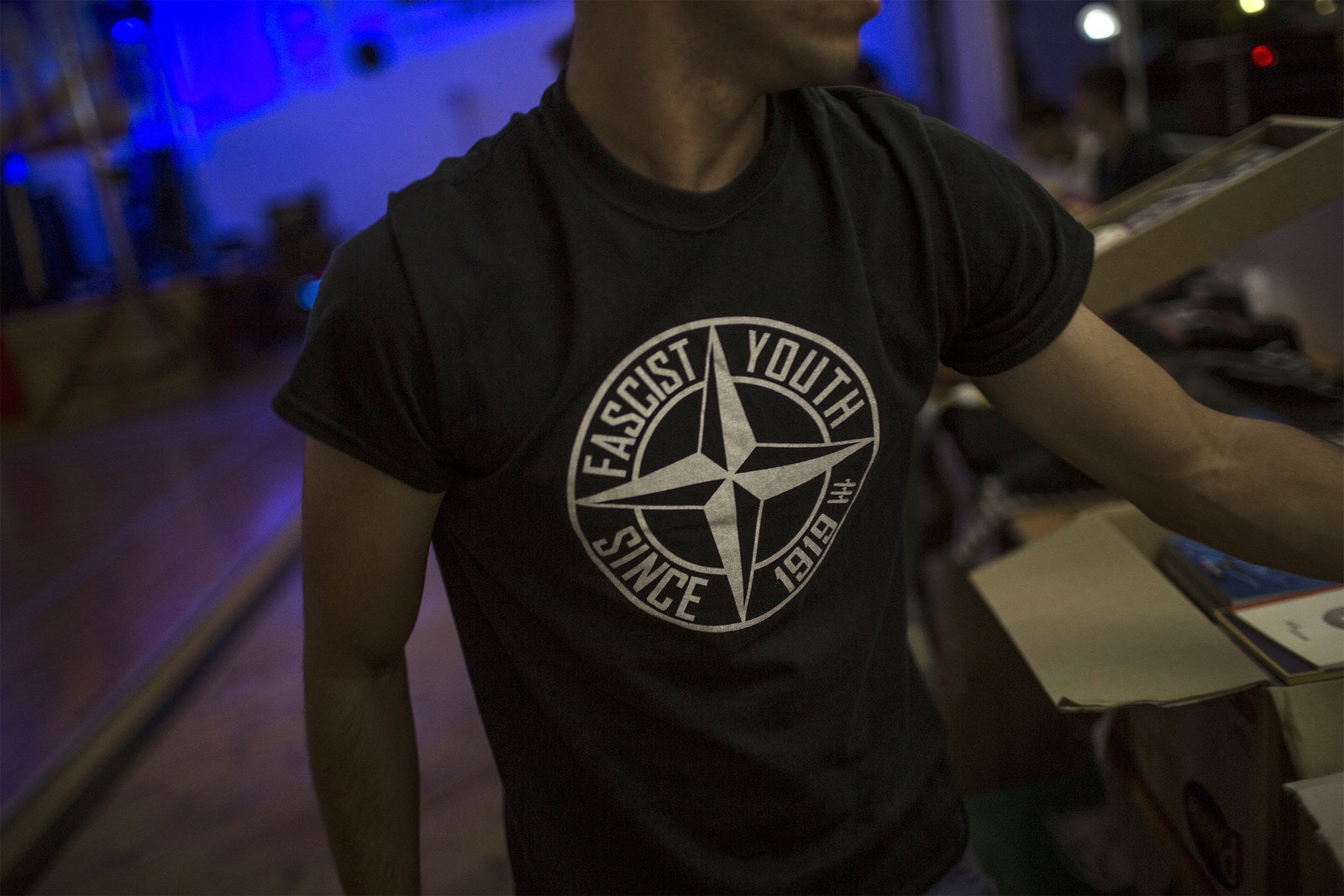 Friday afternoon began with sparsely attended presentations on literary history and talks by politicians — two members of the European Parliament denouncing the EU and "political correctness." But hundreds more started to arrive as night fell and the bands took the stage. One of the acts performing that night was Bronson, a band created inside CasaPound and best known outside of the group for its single "Fuck EU."
Reporters were escorted from the compound as musicians took to the stage; CasaPound spokeswoman Mia Grassi said it was because they wanted to preserve the intimacy of the event and had been "betrayed" by a journalist they had allowed behind the scenes before. She said there was nothing strange or aggressive in the dancing, but the rock scene around CasaPound is a large part of what gave the group a reputation for violence. It first made news several years ago for "La cinghiamattanza," a hazing ritual in which fans flog each other with belts, and YouTube videos show fans charging at each other and using Roman salutes.
CasaPound first took shape in 2003 under the leadership of Gianluca Iannone, a bearish 43-year-old with a shaved head, long beard, and tattoos down both arms, who fronts the band ZetaZeroAlpha. That year, he led a group that coalesced around his music and regulars of a pub called the Cutty Sark to occupy a vacant fascist-era office building in central Rome, which they turned into a cultural center, headquarters, and a squat that still houses more than 80 people.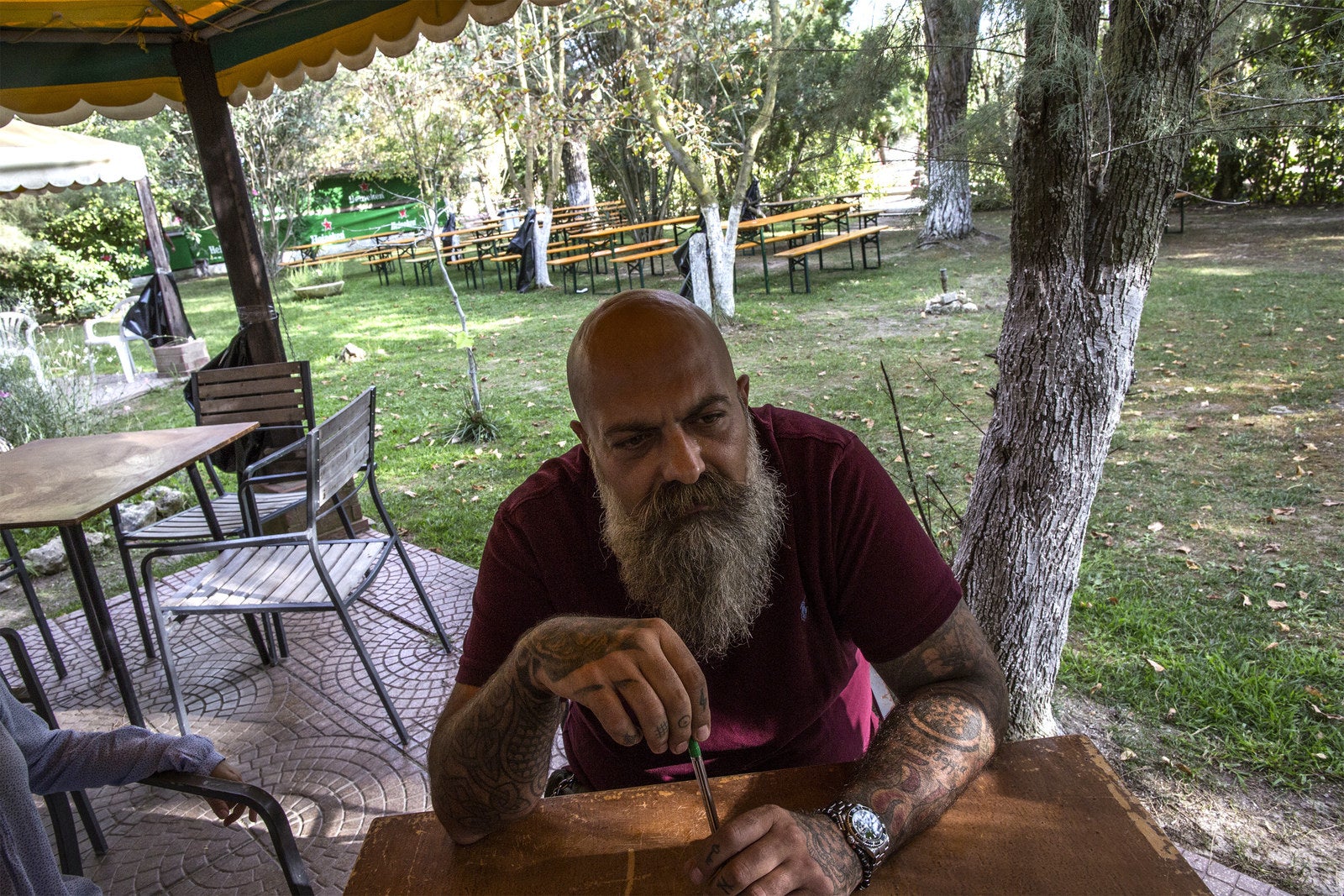 "Nobody understands the difference between CasaPound and the other movements of the right wing," Iannone told BuzzFeed News. "CasaPound comes from the roots, from concerts and bars. This makes us a rock movement … We are free."
CasaPound was born just as the last institutions with direct ties to the fascism of Mussolini were collapsing. Though Italy's postwar constitution formally banned rebuilding the Fascist Party, Mussolini's followers started a party under a different name in 1946, and it remained a force in Italian politics for the next half century. It dissolved in the 1990s, when new leaders reinvented it as a mainstream right-wing party that was later absorbed into the party of former prime minister Silvio Berlusconi.
CasaPound wanted to keep alive what they saw as a purer form of fascism, which to them primarily meant a utopian vision of Italian greatness and a radical anti-capitalism. To signal they were about more than politics, they named themselves after a poet, the American Ezra Pound. Drawn to Italy by Mussolini's regime, Pound was charged with treason after World War II for running a radio broadcast from Italy praising Mussolini and railing against Jews and the international banking system.
Pound's militant opposition to capitalism — which he termed usury — is the centerpiece of CasaPound's political vision, and its first proposal was to disconnect homeownership from banking. They designed a logo that incorporated fascist imagery into the shape of a turtle, because it carries its home on its back.
They formally organized as a national movement in 2008 and experimented with political alliances with other parties. For a time, they became ground troops for the Northern League, the nationalist party that has forged alliances with France's National Front and Russia's Vladimir Putin. But the Northern League has distanced itself from more extreme factions as polls showed it had enough national support that its leader, Matteo Salvini, has a shot at becoming prime minister as the head of a right-wing coalition.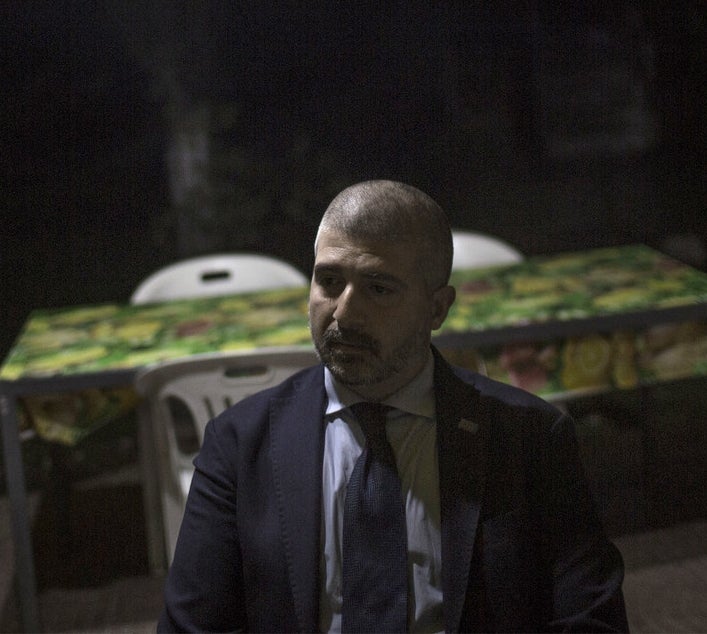 So now CasaPound wants to be the uncompromising voice of Italians who want to leave the EU, withdraw from the Euro, and smash the international finance system.
Its candidate for prime minister is Simone Di Stefano, a 41-year-old who attended the convention wearing a blue suit in the late-summer heat, sporting a lapel pin of the EU flag with a red X across it.
The group's political vision, Di Stefano said, is best encapsulated by the ending of the movie Fight Club, "when the bank buildings explode and the debt of everyone is canceled."
Di Stefano said he is not an "extremist, but a revolutionary." And despite the inspiration of Fight Club's violent end, he added, CasaPound is committed to advancing its vision with "the consent of the governed."
"Fascism was a dictatorship … but it was not just a dictatorship. It can live in democracy." The race laws the fascist government enacted were a "doctrinal mistake," he said, because "the fascist doctrine talks about the unity of all the bodies of the nation."
But some incidents have given the group a reputation for violence. Ezra Pound's daughter unsuccessfully sued to stop their using the Pound name in 2011 after a CasaPound sympathizer killed two Senegalese immigrants during a shooting spree in Florence. A longtime CasaPound activist, Alberto Palladino, was sentenced to more than two years in prison after a 2011 attack that put five Democratic Party activists in the hospital.
"Fascism was a dictatorship … but it was not just a dictatorship. It can live in democracy"
CasaPound spokeswoman Mia Grassi said Palladino was falsely accused and the sentence is still under appeal. (Palladino told BuzzFeed News he "wasn't there" when the incident occurred.) She said the group was attacked by anti-fascist activists dozens of times since 2008. The latest incident occurred on Sept. 13, when left-wing activists allegedly assaulted a group of CasaPound activists attempting to enter a meeting on the fate of a reception center for asylum seekers in Rome.
Di Stefano's response to the immigration crisis is to turn Italy back into an imperial power. He would use Italy's army to invade Libya, set up a state strong enough to shut down the route to Italy, and create jobs in North Africa by investing in infrastructure. He said he believes Europe could fund this with 200 million euros, and Italy would cover its share by withdrawing from the eurozone and printing extra currency.
"States must not take money from taxes, but they must print money," he said. "Everybody in Europe wants inflation."
Those jobs might get some immigrants to leave Italy voluntarily, but he said, "I believe that if you ask one of these African guys if they want to use their hands in order to work and build, I would find very few people willing to work. But we want to create these opportunities, so that when we have to [remove] them by force, they will find a job opportunity."
CasaPound's political vision, said Gianluca Iannone, can be summarized as "Italian first — like Trump."
"It is fascism that created modern Italy … that revived the spirit of the Roman Empire and brought it back into our nation."
The organization bristles at being linked to other groups on the far right, and Iannone rejects the label of right wing altogether. But, he said, it is inevitably allied to anti-immigrant, anti-EU, and anti-capitalist movements across the Continent.
"We share the same jailer, which in this moment is the European market," Iannone said. "In Italy, nobody is helping [Italians] anymore."
CasaPound has also become a touchstone among underground movements across Europe and the Mediterranean. The conference welcomed guests from CasaPound-inspired groups in France and Spain. Last year, CasaPound even welcomed a delegation led by the deputy foreign minister of Syria, whose government the organization has backed since the civil war began in 2011. They also have an organization called Identity Solidarity that has worked with with groups ranging from a white South African community to the Karen in Burma, seeking out alliances with identity groups they argue are being pushed off their ancestral lands.
The candidacy of Luca Marsella in Ostia is a chance to prove that Italians are ready for a fascist solution to local problems and to be a force in the world, Di Stefano said.
"The elections in Ostia are fundamental," Di Stefano said. A fascist solution is needed, he said, because "it is fascism that created modern Italy … that revived the spirit of the Roman Empire and brought it back into our nation." Mussolini created "an Italy that was working — which [sounds] completely crazy today."
The race in Ostia grabbed the attention of national television in late August, just as anger against immigrants was spilling into violence on the streets of Rome.
An asylum-seeker had been stabbed at a shelter in northeast Rome during a confrontation with local residents on Aug. 29, the night before Marsella and De Donno went head-to-head on national television for the first time. All that week, the news had been dominated by reports of hundreds of longtime immigrants made homeless after police used water cannons to evict them from a building where they'd been squatting for four years. And fear of immigrants has been further stoked by reports of rapes and other crimes committed by new arrivals.
During the TV segment, Marsella wanted to talk about how he would do the same with Ostia's own immigrant community, which was living in a crumbling old summer camp occupied with the permission of the city of Rome 20 years ago.
"Do you want to talk about criminality in Ostia?" Marsella asked. "Let's talk about the former Vittorio Emanuele Camp in Ostia which is occupied by hundreds of immigrants pushing drugs." He accused De Donno, who has worked with the camp's residents and other immigrant communities, of "not providing Italians with food … only to immigrants!"
Winning the municipal presidency would normally be a stretch for a group that's only won seats on a couple of small city councils with less than 10% of the vote. But Marsella's candidacy has made national news, because a political crisis in Ostia may have given him a path to victory. And it's a concentrated version of the problems faced by Italy's traditional parties. After the elections next spring, nationalist factions are likely to send to Parliament a record number of MPs who oppose to the European Union, and they have a shot at taking control of government.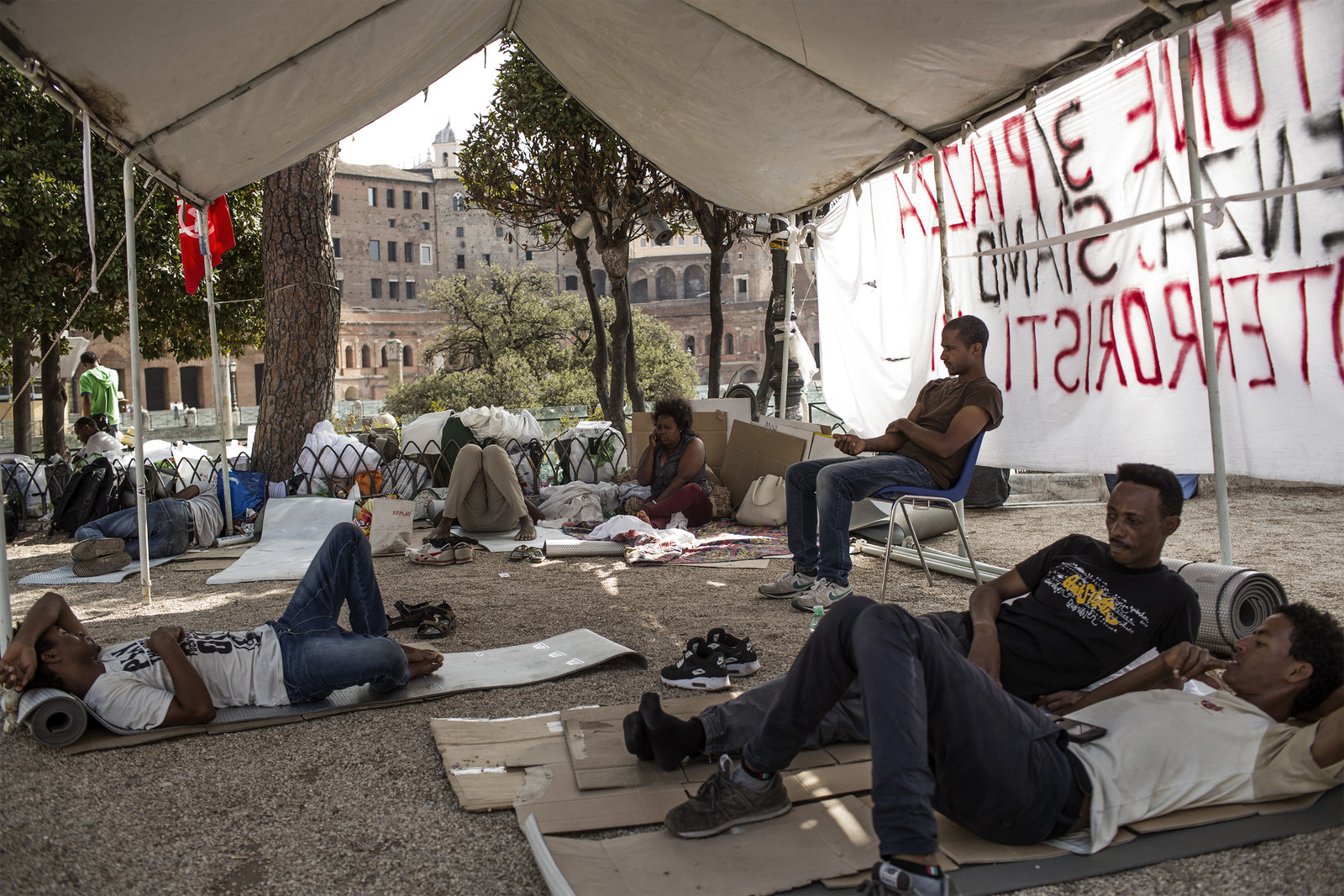 News broke in 2014 about a nationwide scheme in which government officials helped channel refugee assistance money into mafia coffers, among other instances of government corruption. In Ostia, the scandal led to the powers of the municipal government being suspended altogether, and left the local Democratic Party in such disarray that it hasn't yet nominated a candidate for municipal president.
Ostia's traditional right-wing parties are divided too, plagued by the same infighting that has opened a path for newer and more extreme nationalist forces nationwide. Nationally, the fastest-growing party is the 5Star Movement, an anti-immigrant, anti-EU party that draws from both right and left. But its candidate, nominated late in the race, may struggle in Ostia, because Rome's 5Stars mayor is deeply unpopular.
Luca Marsella and his fiancé, Carlotta Chiaraluce, who is leading CasaPound's slate for the municipal council, were upbeat throughout the weekend of the convention. It had just been announced that the election would be held soon, Nov. 5, giving them a head start on campaigning.
The other parties, Marsella said, "are freaking out."
CasaPound already had a network in the community, providing food to 200 families through its food bank, and Marsella has been laying the groundwork for his campaign for months, organizing protests against immigrant vendors who sell to sunbathers, and outside the Vittorio Emanuele Camp, the deteriorating building where a largely immigrant community lives just off the beach.
Many of the residents of the camp are not new arrivals, nor are they in Italy illegally. Several who spoke to BuzzFeed News arrived in Italy more than 20 years ago and said they had been granted refugee status by the Italian government. But in Ostia, as in much of Europe, longtime immigrant communities are the targets of the anger that is building against large numbers of new arrivals.

The residents of the camp are growing so weary that some talk of leaving Italy for other parts of Europe. They're being blamed for the disrepair for a building that the city has allowed to fall apart, they say, while CasaPound claims it's also a hotbed for drugs.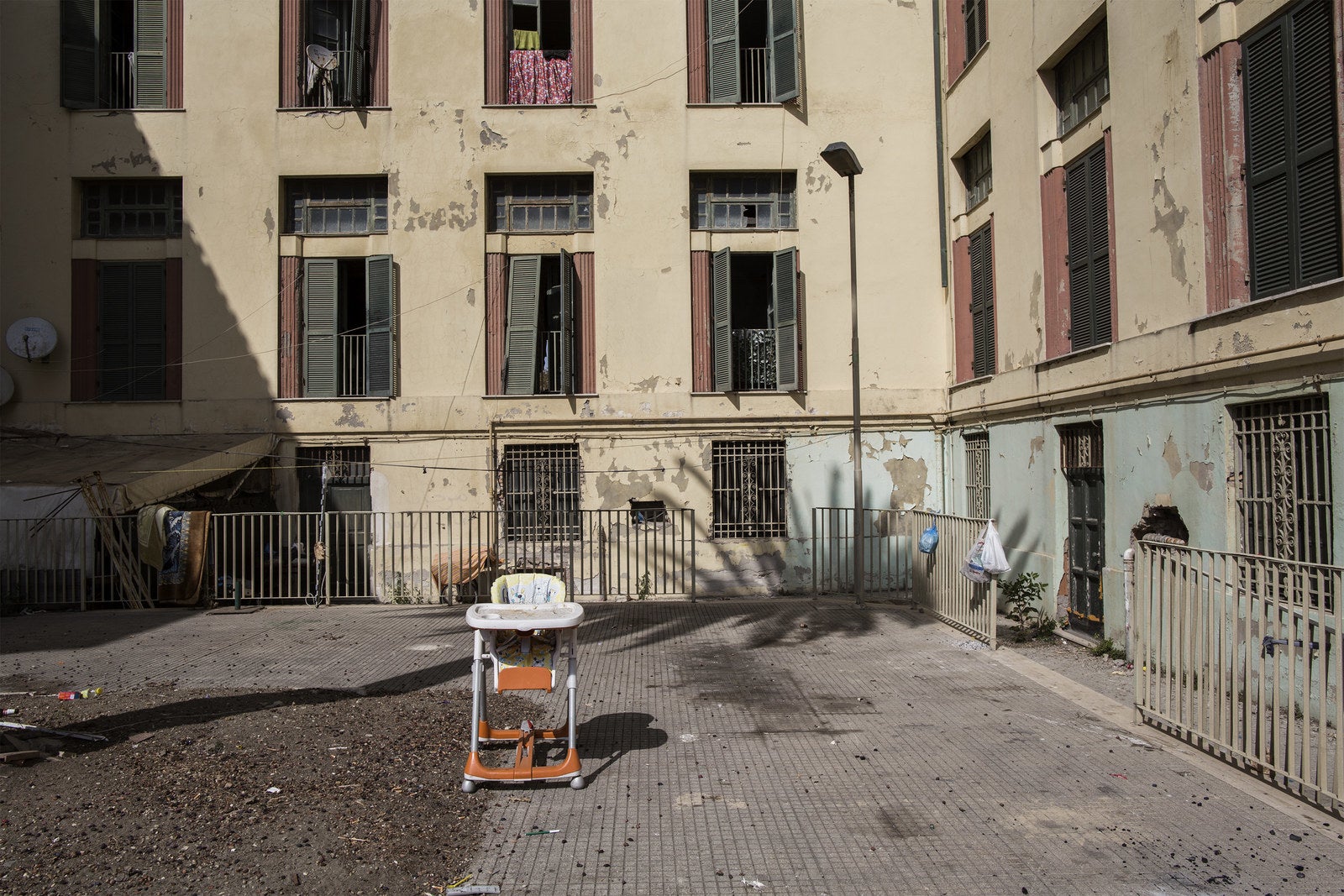 "When we first arrived, everything was good," said Mbimi Bintuhu Rene, who was an engineer in the Congo before he came to Italy in 1992. "Now people like CasaPound are exciting people … they think that we are stealing bread. We pay taxes like anyone."
Italy makes it far more difficult for immigrants to get citizenship than most countries in Europe, including not automatically granting citizenship to children born on its soil. Italy doesn't have the kinds of programs run by many wealthier European countries to help immigrants learn the language or integrate, and professionals like Mbimi Bintuhu find it very hard to find jobs that match their skills, if they can find regular employment at all.
"We are witnessing a clash between Italians who are poor and foreigners who are poor," Mbimi Bintuhu said.
CasaPound organized a protest in Ostia on Aug. 30. They wanted to hold it in the square in front of the train station to catch commuters on their way home from working in Rome, but municipal officials ordered them to stage it on the far side of the tracks. Luca Marsella said that was because they had surrendered to immigrant vendors who work the plaza.
"We need to bring back our national flag to this square and in other spaces where Italians are shutting down their shops, they are forced to abandon their houses, because of the immigrants," Marsella said through a megaphone to a small group of around 20 CasaPound activists, watched only by a dozen or so bystanders. "This is the truth of what's happening in this city."
A 19-year-old named Alessandro was furtively watching the demonstration through the hedge surrounding his apartment building. (He declined to give his last name because he didn't want to be publicly involved in politics.) He said he liked a lot of what CasaPound had to say — he also felt that immigrants were not respecting Italy's culture.
He said he wasn't sure if he would vote for Marsella, but he was seriously considering it. The fact that CasaPound is a fascist party, he said, didn't trouble him at all.
Besides, he said, "I don't think it makes me a fascist just because I say 'Italians first.'" ●