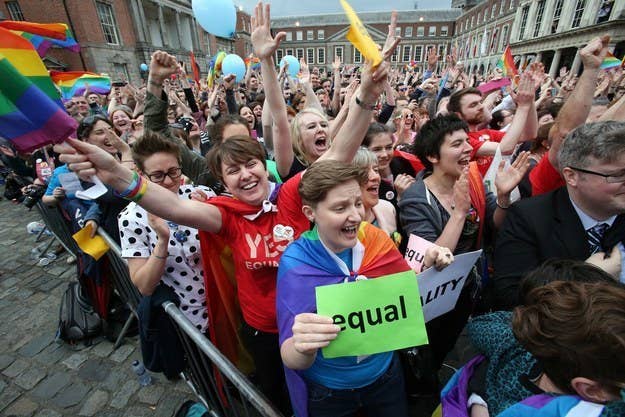 When historians write about the global LGBT rights movement, they will probably divide their timeline into "Before Ireland" and "After Ireland."
Not only did the vote held Friday make Ireland the first country in the world to enact marriage equality by popular vote, but the Yes side crushed the No side by a margin of 25 points. The Yes campaign won with a message that was about far more than the rights of gays and lesbians, asking voters to cast their ballot for "a fairer Ireland" and "because marriage matters." They succeeded in making it a referendum on what kind of country voters — the vast majority of whom are straight — wanted to live in, and they resoundingly chose one where gay and lesbian couples are part of Irish families just like straight couples are.
"Ireland can be the game changer," said Mauricio Albarracín, head of the Colombian LGBT rights group Colombia Diversa and a lawyer who has worked on marriage equality litigation scheduled to soon be argued before Colombia's Constitutional Court. The vote, he said in a phone interview with BuzzFeed News, shows that "the historic tendency is support of marriage equality."
This vote was perhaps the clearest proof that the path to gay equality didn't rely on convincing courts that gays and lesbians are a minority entitled to protection from the majority or winning over a relatively small group of lawmakers. Though three U.S. states had enacted marriage equality by referenda in 2012 — two of which have larger populations than Ireland — the fact that that victory could be repeated outside the U.S. and change an entire country was unprecedented.
Before Ireland, a country whose sodomy law wasn't struck down until 1993, the goal of changing a nation's mind about LGBT rights seemed daunting if not impossible. After Ireland, it seems like it may just be a matter of time even in countries where public support for LGBT equality remains very low and where powerful religious institutions are vocally opposed.
What's more, conservative activists agree at least in part, telling BuzzFeed News that this vote shows that their strongest arguments against marriage equality have lost their impact in key parts of the world.
"We're losing the marriage battles — that's the truth, especially in Western Europe," said Ignacio Arsuaga, a Spanish activist who founded a global online campaign platform called CitizenGo. (Its board includes Brian Brown of the United States's National Organization for Marriage.) "Our arguments are not reaching the majority of society. The majority of society just think in the terms that were promoted by the gay lobby: 'This is a question of rights ...and marriage is a human right."
The Irish victory doesn't mean that marriage equality activists are going to suddenly start rushing to take their case to the voters. There have been a handful of recent referenda that led to bans on same-sex marriage in Eastern Europe, and it's long been the position of LGBT rights groups that the rights of a minority should never be subject to a popular vote. The vote only happened in Ireland because lawmakers worried a marriage equality law would be struck down by the courts because of a provision requiring the state to "protect the Family" in the constitution, and the Irish constitution can only be changed by popular vote.
But this punctures one of the most consistent arguments by LGBT rights opponents against marriage equality: that it is something imposed by judges and political elites over the will of the people. And it will send a message to judges and politicians in countries where partnerships' rights are most hotly debated, LGBT activists believe.
The vote was a "powerful clarion call" to decision makers around the world, said Evan Wolfson of the U.S. organization Freedom To Marry, which has been advising marriage equality efforts in several other countries. "The resounding affirmation of the freedom to marry across every demographic [in Ireland] ... adds to the global momentum we have all created."
This may have a special significance in countries like Italy. Now that Ireland has marriage equality, Italy is the only Western European country without any partnership rights for same-sex couples despite multiple court orders calling on parliament to create them.
Ivan Scalfarotto, who is Italy's first out gay government minister and has been leading the government of Prime Minister Matteo Renzi's efforts to get a civil union bill through parliament, said in a phone interview with BuzzFeed News that the Irish vote shows how fast the climate for debate is changing.
The fact that Ireland is "considered one of the most Catholic countries in the region, makes this [vote] a very meaningful and historic step for Ireland itself and for the region," he said. "In the past, when a pop vote was called on the rights of a minority, the minority lost," he said. "The majority decided the minority's rights had to be granted, and that was a huge step."
The Yes campaign victory is encouraging even in regions where talk of same-sex marriage has historically fueled a backlash against LGBT people.
Frank Mugisha of Sexual Minorities Uganda told BuzzFeed News that the Irish vote was "a positive step" towards "creating debate about homosexuality and lgbt rights" even though parliamentary votes and court decisions establishing marriage equality in the US and Europe helped fuel the passage of a sweeping Anti-Homosexuality Law in 2014.
"It does really help that it was a popular vote from citizens and not politically driven," Mugisha said. Though there was a chance that the Irish vote could spark an effort to reinstate the Anti-Homosexuality Act struck down the courts last August, the fact that "these are ordinary people who live in Ireland who pushed for this" gives a new way to challenge anti-LGBT attitudes if it becomes a major subject of debate in Uganda, Mugisha said.
Mugisha said he could even imagine a day when the Irish campaign's equality message could even work in Uganda — provided LGBT rights could be advanced as part of a broad package of proposals to protect civil liberties that the government has increasingly tried to restrict.
"I think for the coming few years that something that explicitly mentions LGBT rights, it can't happen," Mugisha said. But if LGBT rights are advanced under a broader umbrella and "the word 'equal' is in [the proposal], it can happen."
Of course, Mugisha and LGBT rights activists in many other countries still face difficult uphill battles. But Ireland signals that victory is possible — not just through effective strategy but through a real and broad changing of attitudes — and that gives a profound sense of new confidence to many LGBT activists around the world.