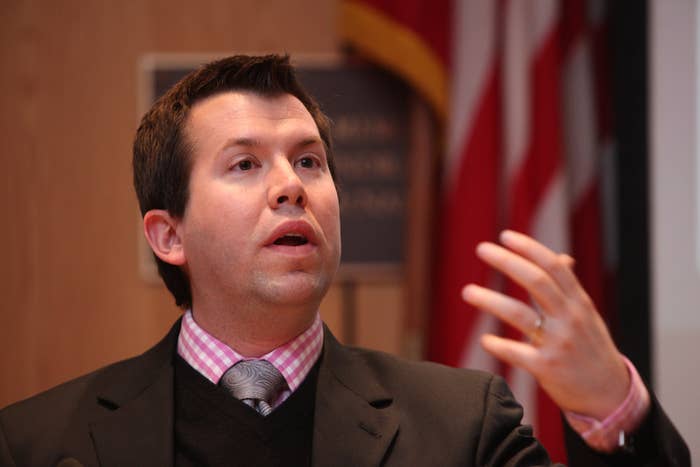 A Catholic university in New York City has said it will take no action against the chair of its theology department after he married his same-sex partner on June 27, in contrast to the several parochial K-12 schools that have fired gay and lesbian employees who marry.
The marriage of Fordham University Theology Professor J. Patrick Hornbeck and Patrick Bergquist — who directs the family ministry of St. Bartholomew's Episcopal Church in Manhattan — was announced in the "Weddings" section of the New York Times the day after their ceremony.
In response to an inquiry from BuzzFeed News, Fordham University provided a statement from Senior Director of Communications Bob Howe saying that university wished the best for Hornbeck and his husband.
"While Catholic teachings do not support same-sex marriage, we wish Professor Hornbeck and his spouse a rich life filled with many blessings on the occasion of their wedding in the Episcopal Church. Professor Hornbeck is a member of the Fordham community, and like all University employees, students and alumni, is entitled to human dignity without regard to race, creed, gender, and sexual orientation," Howe said in a statement that had been released previously. "Finally, same-sex unions are now the law of the land, and Professor Hornbeck has the same constitutional right to marriage as all Americans."
Fordham's response to Hornbeck's marriage has been attacked in a number of conservative Catholic websites over the past two weeks, apparently beginning with Patheos.
Fordham University describes itself as "both Catholic and Jesuit" in identity, and invokes Catholic doctrine in other areas, including prohibiting the distribution of birth control.
"As an institution in the Catholic, Jesuit tradition, Fordham University follows Church teachings on reproductive issues," states the university's student handbook. "Distribution of contraceptives, contraceptive devices and/or birth control, in any form, is prohibited on Fordham University property and at University-sponsored events."
The New York Archdiocese did not immediately respond to a request for comment on Fordham's response to Hornbeck's marriage. Neither Hornbeck nor his husband could be reached for comment.
Hornbeck's marriage follows controversies in several archdiocese around the country where gay and lesbian teachers at Catholic K-12 schools have been fired after marrying their same-sex partners. The most recent firing to make national news was at the Waldron Mercy Academy just outside Philadelphia, where the archdiocese will host a large family summit in September that is schedule to include a visit by Pope Francis.
The Academy notified parents at the end of the school year that it was not renewing the contract of its longtime director of religious education, Margie Winters, because of her marriage to Andrea Vettori. Vettori appealed directly to the pope to intercede in a letter made public on July 1.
Philadelphia Archbishop Charles Chaput praised Winters's firing as showing "character and common sense at a moment when both seem to be uncommon."