Man Gets 22 Years For Raping Black Lesbian In South Africa
The unusually heavy sentence may be a sign that law enforcement is finally getting serious about the widespread violence targeting black lesbians in South Africa.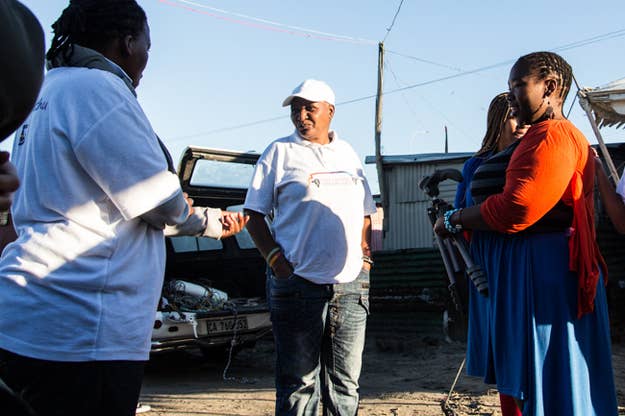 A South African court sentenced a man to 22 years in prison on Tuesday for the 2010 torture and rape of a black lesbian from a township outside Cape Town.
The sentencing of Andile Ngcoza for brutalizing Millicent Gaika over the course of five hours in the Gugalethu township was heralded by a leading activist as a sign that the justice system is getting more serious about crimes targeting black lesbians.
Black lesbians are frequently targeted for what is sometimes called "corrective rape" — sexual assault under the pretense that it will "cure" lesbians of same-sex attraction.
While there are no reliable statistics on how frequently these hate crimes occur, a recent study found that almost one in three lesbian or bisexual women in South Africa reported being the victims of "forced sex." South African women as a whole are at greater risk of rape than women almost anywhere in the world. More than 54,000 cases are reported to police each year in a country with a population of less than 50 million, and many more likely go unreported, especially among lesbians who risk ridicule or further harassment from police and health workers when they report an assault.
Even when cases are reported — and get serious media attention — men who attack lesbians are often able to escape justice. Ngcoza, who was sentenced on Tuesday, almost escaped sentencing in the assault on Gaika, absconding after being convicted in 2011 before being re-arrested earlier this year.
Funeka Soldaat, a leading activist who founded the group Free Gender and has been organizing black lesbians in Cape Town's townships for more than 20 years, told BuzzFeed that the conviction "really gives hope to our organization in terms of doing our work effectively, and i think it's going to give to other lesbians whose cases are still in court."
There have been no arrests in the 2011 death of 24 year-old Noxolo Nogwaza, for example, whose head was crushed in a township near Johannesburg with a piece of pavement after she was raped. Nor has anyone been brought to justice for the death of 36-year-old Patricia Mashigo, who appeared to have been stoned to death in the township of Daveyton. The man who reportedly broke into the house of 21-year-old Phumeza Nkolonzi in Cape Town's Nyaga township and shot her repeatedly in front of her grandmother and six-year-old niece also has never been arrested.
In February, four men were for given 14 year sentences for beating to death 19-year-old Zoliswa Nkonyana, but the handling of the case undermined the message the ultimate verdict could have sent. The case was postponed 40 times, thanks in part to incompetence on the part of the police and prosecutors.
Failures on the law enforcement side have been matched by a seeming lack of interest in South Africa's government to act aggressively to address this widespread violence.
It created a task force to address the issue two years ago, but it took no official action for most of that time.
It has recently come out of dormancy, thanks in part to an especially horrific killing that took place on June 30 of this year. Duduzile Zozo was found half-naked in the township of Ekurhuleni, outside Johannesburg, with a toilet brush shoved in her vagina.
A suspect in the case had an initial hearing before a judge in October.
Phindi Malaza, of the Johannesburg-based organization Forum for the Empowerment of Women, reacted cautiously to the news of the sentence issued Tuesday.
"If it's a sentence that has an element of motivation on the basis of sexual orientation, that would have a wider community impact," said Malaza, who had not yet had time to review the verdict.
But this problem is so entrenched, she said, that she was waiting to see more evidence of a turnaround. "I guess it's too early to feel really positive about this," Malaza said.