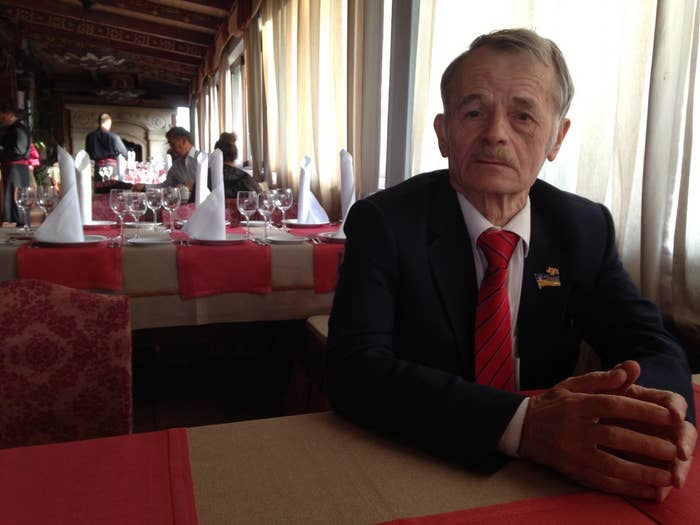 SIMFEROPOL, Crimea — When Russian troops seized Crimea from Ukraine in March, Vladimir Putin assured the peninsula's indigenous minority group, the Crimean Tatars, that Moscow would grant them better rights than Kiev had ever provided them. Six months later, Russia has exiled their leaders, outlawed their elected parliament, raided the homes of several Crimean Tatars, and threatened to deport or prosecute anyone who refuses to accept Russian rule.
The brutal crackdown on the vocal Crimean Tatars, which began earlier this month after their elected parliament, the Mejlis, called on its supporters to boycott local elections, has evoked dark memories from 1944, when Stalin forcibly deported the entire population to Central Asia. Most of the 300,000 Crimean Tatars, who vehemently opposed the Russian annexation, are now faced with a stark choice: continue their dissent in a Russia that brokers none; quietly adapt to life under the new regime; or leave the homeland they spent decades fighting to reclaim.
"The atmosphere's completely lawless, it's more dire than under Soviet power," Mustafa Dzhemilev, the wry, diminutive, chain-smoking Ukrainian lawmaker who led the Mejlis from 1991 until last year and is still the Crimean Tatars' unofficial leader, told BuzzFeed News in a Georgian restaurant in Kiev on Thursday. "Soviet power was predictable, in a way, because you knew there'd be the investigation, the court, the arrest, and then they sent you to the camp. Now that's all vanishing."
After boycotting the obviously flawed referendum in mid-March that returned overwhelming results for a return to Russia and maintaining their opposition since, many Crimean Tatars have begun to see worrying parallels. In an interview with the Russian newspaper Kommersant conducted in August and published on Monday, Sergei Aksyonov, the Putin-appointed head of Crimea's government, said that the Mejlis "does not exist" and vowed to "expel from Crimea anyone who incites ethnic hatred," a charge leveled at several exiled Mejlis leaders.
The local elections that the Mejlis had boycotted were held on Sep. 16 and two days later, balaclava-clad special troops raided the Mejlis' office — which was still flying the Ukrainian flag — in the Crimean capital, Simferopol. They were followed by investigators from the FSB security services, who spent 12 hours in the building. They shuffled through papers and Mejlis leaders' personal belongings, and left with all the computers and stacks of documents. Two elderly Crimean Tatar women who remained inside opened a window to face waiting TV cameras. "Glory to Ukraine!" one of them said, sotto voce.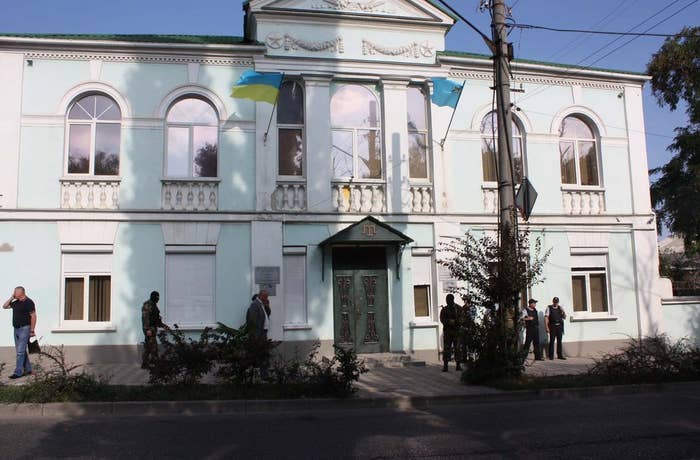 A legendary Soviet dissident who spent 15 years in Soviet prison camps and once went on a record 303-day hunger strike, Dzhemilev, 71, had resisted Putin's considerable overtures to win him over only weeks earlier. Not long before the first Russian troops appeared on the Crimean peninsula in February, Dzhemilev was approached by a Russian businessman in the city of Sevastopol who said that Putin wanted to meet him. Unable to discern what Putin could want from him, Dzhemilev refused.
When Russia's lighting-quick annexation of the peninsula shortly afterward made it clear what Putin wanted, Dzhemilev received another invitation to meet him, this time from Mintimer Shaimiev, the former longtime head of the Tatar minority in Russia. (The Tatars in Russia are related to the Crimean Tatars, but are far less independent-minded politically.) This was the first request for contact made by Russia at any level to a Ukrainian official since the invasion. Dzhemilev agreed, only to back out again after his wife asked him, "Why are you going to meet that bastard?"
Eventually, Shaimiev found a compromise and convinced Dzhemilev to talk on a special telephone in his Moscow office that, Putin said, had the power to reach him anywhere in the world at any time of day without fail. "He said, 'We will solve anything the Ukrainians didn't solve as soon as is humanly possible,' like it would be heaven," Dzhemilev said. "I was polite with him. I said, 'We are not opposed to help, and Russia certainly owes us for [the Soviet deportations], but first you have to remove your troops.'
"Putin said, 'That's just what I expected you to say. Any patriot would say that. But let's find out what the people want in the referendum,'" Dzhemilev continued. "I said, 'The Mejlis of the Crimean Tatar people has already made the decision to boycott this referendum. It's illegal and pointless — you can't hold referendums under occupation,'" he said.
"I told him, "Nobody's going to recognize this referendum, and neither are we. And you talk about the Crimean people — there's no such people. There's the indigenous Crimean Tatar people, and there are settlers, who, of course, have the same rights as us, but not the right of self-determination you're talking about,'" Dzhemilev said. "And he just kept saying, 'referendum, referendum.'"
Then, Putin said that he was worried the Crimean Tatars would wind up entangled in "bloody misadventures," and warned that Ukraine had been taken over by "fascists," Dzhemilev said. "I told him, 'Listen. We are very proud that we fought for our homeland all those years without spilling a drop of blood, ours or anyone else's. But when a foreign soldier shows up on your land and starts imposing the order of a foreign country, then there's no telling what's going to happen." The conversation ended there.
"I can't go to Moscow now, so there's no way I can reach him on that phone," Dzhemilev said.
Exile has made Dzhemilev an even more iconic figure. When he attempted to drive into Crimea in early May, several thousand Crimean Tatars came to meet him at the border, waving sky-blue flags with the Mejlis' logo.
Two weeks later, Russian military helicopters flew low over a rally held to commemorate the anniversary of the 1944 deportation, the first Dzhemilev had missed in decades.
Later, Dzhemilev said, Russia tried to exploit his efforts to free his imprisoned son, Khaiser, who was arrested last year for shooting one of the family's bodyguards, Fevzi Edemov. Though two Ukrainian courts and the European Court of Human Rights have ruled to reclassify the crime as involuntary manslaughter and ordered Khaiser Dzhemilev's release, Russia is holding him in custody while it conducts a new investigation, used as a pretext for searching his father's house in July.
Shortly afterward, a senior Kremlin adviser approached Dzhemilev in Kiev conferring another invitation to talk with Putin. "He said that as soon as negotiations started, they'd open the door to Crimea for me again, and, most importantly, that my son would be home the next day," Dzhemilev said. "I told him, 'What a vile government you have. You're telling me that your tsar, the head of this huge country, is stooping to blackmail like this? He's holding my son hostage? Then tell him that I don't negotiate with terrorists.'"
Some of the Mejlis leaders who remain in Crimea have taken a more conciliatory line than exiled leaders like Dzhemiliev and the Mejlis' current president, Refat Chubarov. "Many people believe that he shouldn't have squarely dismissed the offers made by the head of the Russian state," Ali Khamzin, the Mejlis' head of foreign affairs, told BuzzFeed News in an interview last week. The Mejlis has long wanted special status as a nation and the legalisation of the rights to land seized by returning Crimean Tatars in the 1990s, but failed to win either from Kiev. The new pro-Western government — which came to power after protesters ousted pro-Russian president Viktor Yanukovych in February, prompting the Russian annexation — was unlikely to be any better, Khamzin said, since it insisted Ukraine remain highly centralized and keep a single state language, despite deep political divisions and a large Russian-speaking minority in the southeast.
A few minutes after the interview, however, Khamzin was walking out of the building with a plastic bag of the personal effects he managed to salvage from his office after Russian officers raided the Mejlis. "They want to provoke us into violent resistance, Molotov cocktails and so on. We won't give them a chance," he said.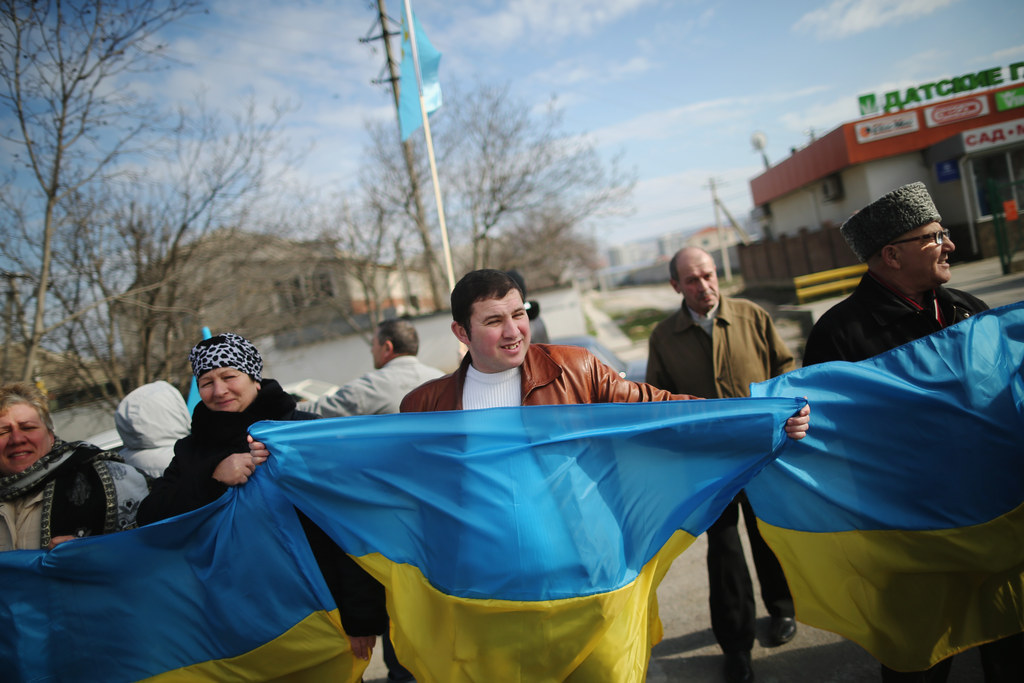 Since then, security forces have searched the homes of several dozen Crimean Tatars, including Khamzin, in demonstrative pre-dawn raids commonly known as maski-shou, or "mask shows." Russian authorities claim they are clamping down on the global Islamist organisation Hizb ut-Tahrir, which is a banned terrorist group in Russia but allowed to operate freely in Ukraine. Few of the Crimean Tatars, one of the world's most secular Muslim communities, adhere to the group's views. The "extremist literature" authorities are ostensibly searching for is banned under a notoriously vaguely worded law commonly used to suppress dissent.
"The Crimean Tatars are being used by Ukraine as a 'fifth column' fighting against the Russian population. They are being manipulated by their leaders and influenced by Hizbut," Vladimir Garnachuk, a Moscow transplant who works as an adviser to the Crimean government, told Buzzfeed News.
Two decades of living in Ukraine's far more open-ended political environment have made the Crimean Tatars one of Russia's few significant remaining dissident groups by default. Moscow, stung by low turnout at the September local elections, which were held across the country, appears to be prepared to tolerate them only if they back the status quo.
After Russia's envoy to the United Nations complained about Dzhemilev and Chufarov's participation in a United Nations conference on indigenous peoples this week, two Crimean Tatar delegates were prevented from traveling there. Gayana Yuksel, an activist whose husband is banned from entering Russia, was removed from a train to Kiev by Russian officials who seized her passport, ripped a page out, and told her she could not travel because it was damaged. Another activist, Nadir Bekirov, says a group of masked men stopped his car and took his passport by force.
Police have also targeted businesses belonging to the family of Dzhemilev's sister, Dilyara Seitveliyeva. Police detectives, accompanied by six gunmen, raided the family's restaurant in Bakchisarai, the historic Crimean Tatar capital. The owners were charged for minor irregularities that could be used against essentially any Crimean business, like failing to register at the proper address. A popular backpacker hostel owned by the family is facing similar charges. Both businesses are now facing closure.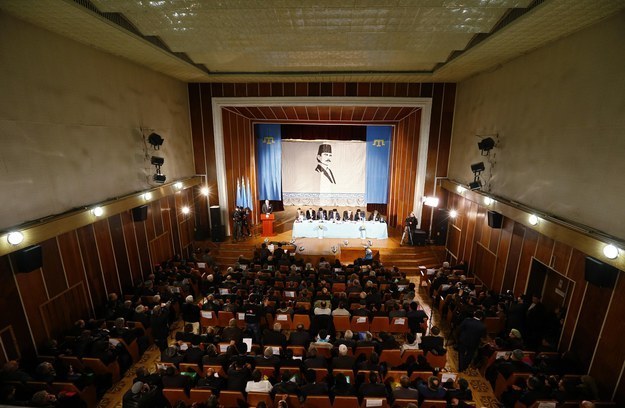 Despite the harassment, it seems extremely unlikely that the Crimean Tatars, who only make up just over 12 percent of the population, will be willing to offer any significant resistance. About 10,000 Crimean Tatars have already fled to mainland Ukraine, according to Alim Aliev, who runs the refugee organization Krym-SOS.
"The more fear grows deep inside you, the faster you become a Russian citizen," Aliev told BuzzFeed News.
Mejlis officials have reached a consensus to focus primarily on surviving in their homeland under the new conditions. Many Crimean Tatars have taken Russian citizenship, which for many is the only way to remain employed and own property without hindrance. A small number of them, including Khamzin's own son, even chose to adapt and joined United Russia, Putin's giant official party.
"We still call it an occupation, but we now realize that it will last for long if not forever. So we've decided that we should step on the throat of our own song," Mejlis member Nariman Dzhelyal told BuzzFeed News, quoting a famous line by the Soviet poet Vladimir Mayakovsky about tempering one's passions and beliefs.
In the restaurant by the Kiev airport 415 miles to the north, Dzhemilev vowed to fight until the end. "People who've had a breath of democracy can't get used to living under the totalitarian boot again," he said. "Some parts of the population might be satisfied with cheap vodka, potatoes, and a television, and that's all they need. But Crimean Tatars are different. The most important thing for us is freedom."
Leonid Ragozin reported from Simferopol, Crimea. Max Seddon reported from Kiev, Ukraine.