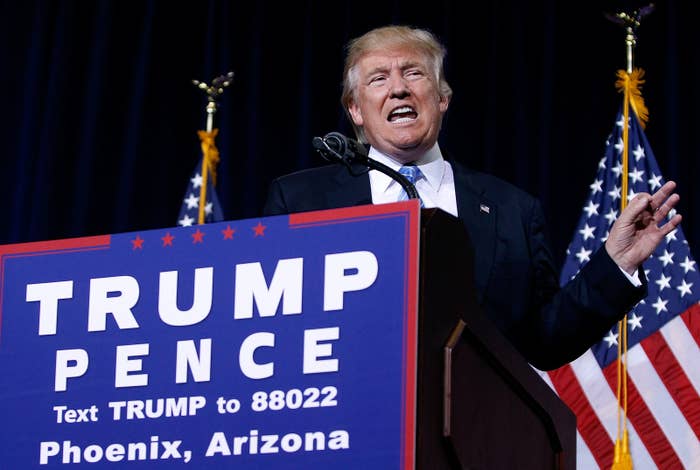 Newly released US State Department cables indicate that Donald Trump, a self-styled political outsider, was a ghost on the international diplomatic stage as well in the years before he became the most powerful man in the world.
In response to a Freedom of Information Act request for mentions of Trump from January 2010 to early June 2016, a month before he clinched the Republican nomination, the State Department said it discovered a total of just 16 relevant communiques from its embassies or consulates abroad — and 11 of those were translations of public German media reports about the 2016 U.S. election.
During a similar period prior to the 2008 election, then-Sen. Barack Obama's name came up 145 times and the name of his opponent, Sen. John McCain, appeared 139 times in diplomatic cables, according to State Department communications published online by WikiLeaks in 2010. (Trump is mentioned an additional 13 times in the WikiLeaks cable database, which covered 2003 to 2010 — six of those mentions were transcripts of Israeli media reports.)
That the man who would become president was so rarely mentioned, despite high-profile business projects around the world, did not come as a shock to Cameron Hume, former ambassador to Indonesia and a career foreign service officer.
"It doesn't really surprise me. We don't generally report on private American citizens," Hume said, adding that most American businesses do not involve the US government in their foreign projects, at least unless things go sideways.
"If they're happy, they don't talk to you. If they're unhappy, that's when they might get [the embassy] involved," he said.
When it came to Trump as a presidential candidate in 2015 and the first half of 2016, another former ambassador, who requested anonymity to discuss diplomatic protocol, said senior US officials serving abroad would likely have tried to avoid discussions about the ongoing election as best they could, based on longstanding tradition and decorum.
"It doesn't surprise me that there wouldn't be a lot of chatter in the cables about him, because most of us wouldn't engage in that conversation," the ex-official said. "Even if someone came up to you and said, 'What do you think of Trump?', you just don't engage, because we're career professionals. That's not what we're supposed to do."
Hume, who left the State Department in 2010, said he does not doubt the election came up in discussions with foreign officials, but that likely happened in social settings and were not considered anything officials felt obligated to report.
In March 2016, Reuters reported that foreign diplomats were raising alarm "in private conversations" with US officials about Trump's incendiary campaign rhetoric, but a source familiar with that reporting said those conversations took place at high levels in offices in Washington, DC, and therefore would not be included in the international cables.
Here's what did make the cables:
CABLE: SENIOR OMANI OFFICIAL CONCERNED ABOUT TRAVELING TO US

Of the five cables that mentioned Trump, aside from the German media reports, one includes a notable exchange between a high-level Omani official and a U.S. congressman on a congressional delegation (CODEL) trip to the Middle East more than a year ago.
The cable, dated Jan. 28, 2016, describes a meeting between Omani officials including Minister of Defense Secretary General Mohamed bin Nasser Al-Rasby and several lawmakers from the House Armed Services Committee, in which they discussed detainees released from Guantanamo Bay to Oman and the US policy toward Iran.
Then, "as the delegation departed, [al-Rasby] asked the CODEL whether [then-candidate] Donald Trump's recent statement about keeping Muslims out of the United States meant he shouldn't travel there.
"Representative [Doug] Lamborn assured the Secretary General that Mr. Trump must have meant that improved background checks would reduce the probability of terrorists entering the United States," the cable says. "He continued by saying that visits between Oman and the United States would be valuable to improve understanding and to build bilateral ties."
A spokesperson for Lamborn's office confirmed the exchange. Omani officials did not respond to a request for comment, but Oman's leader, Sultan Qaboos bin Said, congratulated Trump upon his electoral victory, wishing Trump success in leading the U.S. and hoping for "further development and growth to cooperation between the two countries and people," according to a local report. Oman was not among the Muslim-majority nations singled out in Trump's controversial and now-stalled travel ban
CABLE: MUSLIM LEADERS, WESTERN ENVOYS, HEAVY REDACTIONS
One mysterious cable, labeled "confidential," came from the US consulate in Jeddah, Saudi Arabia in February 2016. The cable discusses a meeting between some Western envoys and the Organization of Islamic Cooperation, a 57-member inter-governmental organization based in Jeddah that bills itself as the "collective voice of the Muslim world."

The cable is heavily redacted and Trump's name is nowhere to be found. A State Department official said Trump's name was swept up in the redactions, and the official declined to provide context for the mention. The OIC did not return a request for clarification.
After Trump's victory in November the OIC released a statement of congratulations and said, "The OIC recalls its fruitful relations developed over the years with the [US] and hopes that this constructive relationship will continue with the incoming administration on the basis of mutual interest and respect."
CABLE: TRUMP WANTS HELP IN NAME DISPUTE IN MACAU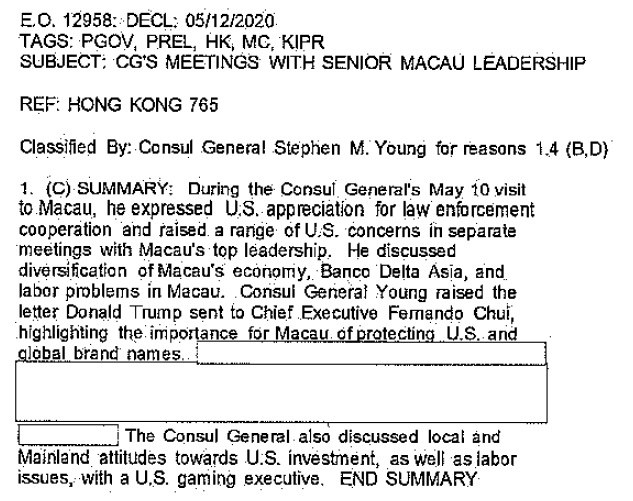 From 2010 to mid-2015, when Trump announced his presidential candidacy, only two cables mentioned him. Once, in May 2010, it was because Trump had complained to a top official in Macau, a special administrative region of China and gambling hub, that a local resident opened a restaurant using Trump's name without his permission. The Macau official directed another local official to look into it. (China would eventually grant Trump's longstanding trademark requests just days after the election.)

CABLE: TRUMP USED AS REFERENCE IN GEORGIA BUILDING PROJECT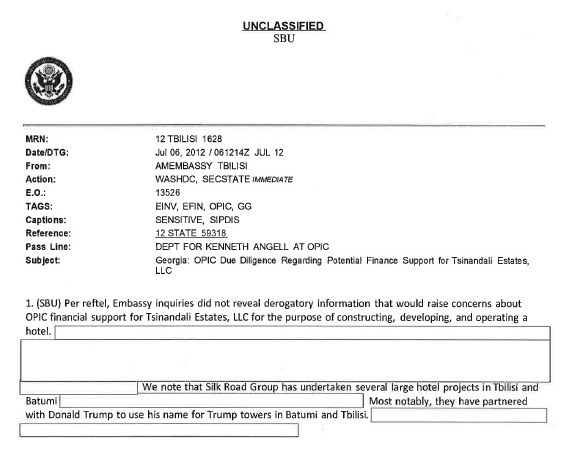 The second time was in July 2012 when U.S. embassy officials in Tblisi, Georgia, asked around about a proposed building project called Tsinandali Estates on behalf of the US government's Overseas Private Investment Corporation. The officials noted that Silk Road Group, an investment group and sponsor of the project, previously had "partnered with Donald Trump to use his name for Trump towers in Batumi and Tbilisi."

A spokesperson for the Trump Organization said that the firm and the Silk Road Group had decided to end the development of Trump Tower in Batumi, but that the Trump Organization holds the Silk Road Group and Georgia "in the highest regard." The spokesperson declined to comment further on Trump Organization business practices abroad.

CABLE: THE 'AUSTRIAN TRUMP'

Perhaps the most oblique mention of Trump comes from a Feb. 12, 2016 weekly report out of the US embassy in Vienna, Austria. That cable describes Austrian construction tycoon Richard Lugner who jumped into the presidential race there the day before. Lugner apparently referred to Trump as his model, "though without the wild west manners." Lugner came in last in the Austrian election last spring.
You can read all 16 of the State Department's cables from that time period here.