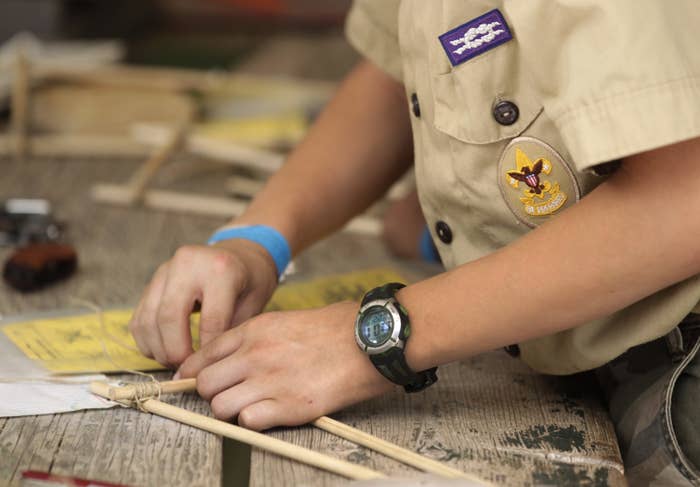 The national president of the Girl Scouts says the Boy Scouts are "secretly trying to recruit girls to appeal to "millennial parents," BuzzFeed News reported on Wednesday. As a woman who has been involved with the Boy Scouts since I was a little girl, I would like to offer a different view of the situation.

Like many other girls, I grew up in a scouting family. My father was a second-generation Eagle Scout, and like his father before him, he dreamed of passing his scouting knowledge on to his sons. Instead of sons, my father was blessed with three daughters, and he decided to pass on his scouting knowledge to his girls instead. While other kids were learning nursery rhymes and preschool songs, we were learning scout skills and camp songs. When I was 10, my father was hired to be a camp ranger, so we moved to a Boy Scout camp.
I lived at camp for that first summer, and I think my mother started to forget what I looked like. I loved the camp and became hooked. My dad, knowing that I loved the outdoors, sent me with my cousin to a Brownie meeting. He was excited at the prospect of me becoming a Girl Scout, but I came home from that first meeting and told him I wasn't going back.
It wasn't that the meeting went badly. In fact, it was fun and I learned a lot — but I already had a mom at home to teach me basic home economics skills. I already knew how to sew and cook. I knew other Girl Scout troops were camping and hiking, but none of the units near me were. It just wasn't the same. I wanted to learn wilderness survival skills: how to build an outdoor shelter, throw a tomahawk, or cook a meal over a campfire. I wanted to learn what my father and grandfather had learned. I didn't understand why I could participate in all of the camp sessions but not earn a merit badge. It wasn't fair. I wanted to be a Boy Scout!
Over time, I discovered that my desire to be a Boy Scout was shared by other girls. There were more of us: tag-alongs at camp, daughters of Boy Scouts. We were like a small club. We participated, but we weren't really scouts. My older sister joined an Explorer Post, which was a co-ed option for scouts who wanted to go into the emergency services — police, fire, EMTs, and so on. I had no desire to do that, so I just didn't join. I continued to hang out in camp over the summer, and eventually moved on to other extracurricular activities.
This is the simple truth: There are many reasons a girl could want to join the Boy Scouts. Maybe she wants to follow in her father's footsteps, or join her brother. Maybe she just likes what the Boy Scouts are offering. Maybe she doesn't like what the Girl Scouts in her area are offering. Maybe she just wants to, for a reason entirely of her own. Why question it?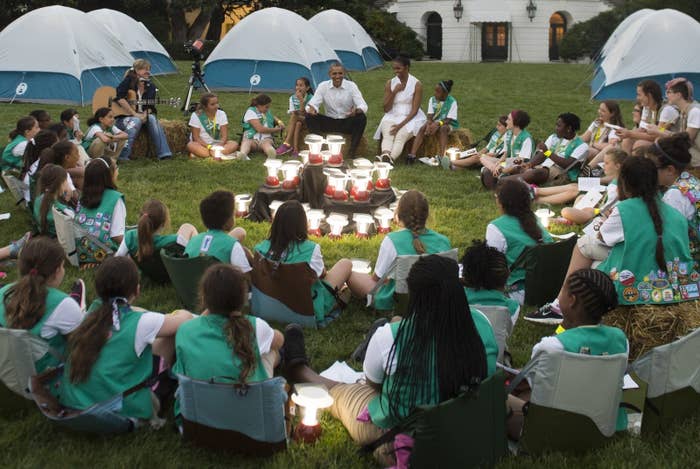 My little sister, who is 15 years my junior, eventually joined the Boy Scouts' co-ed Venturing program, which was in its infancy when I was a kid. She earned the Silver Award, which is the equivalent to the Eagle Scout award — although if you ask her, it's not quite the same. She wanted to be an Eagle Scout like our dad and grandfather.
I moved away in high school, after my parents divorced and stepped away from scouting. After college, I moved back to my hometown to be closer to family, and eventually reconnected with an Eagle Scout from my father's troop and began volunteering. After a few years we were married and raising a family. We are both active Scout volunteers. My husband is now in the same situation as my father — an Eagle Scout with three daughters.
It has been 30 years, and I am still hearing girls say the same thing I did so long ago: "I want to be a Boy Scout!" I hear it from my daughters, from little girls at camp with their brothers or at the scout shop buying their brothers' uniforms, and from Venture Crew members who would rather be in a troop. This is why I disagree with the idea that the Boy Scouts are secretly plotting to overthrow the Girl Scouts, or looking for a way to boost their membership.
Instead, I believe they are simply trying to answer the pleas of many little girls across the country. These little girls don't want to be Girls Scouts — if they did, they already would be. What they want is plain and simple: They want to be Boy Scouts. Why should anyone have a problem with that?