BuzzFeed News has reporters around the world bringing you trustworthy stories about the impact of the coronavirus. To help keep this news free, become a member.
A TikTok showing a grocery store worker in California being targeted by a woman representing an anti-mask movement has gone viral.
Liz Chavez, 31, is a supervisor at a health food store in Orange County, California. As an essential employee, she's been working through the COVID-19 pandemic, and at this point, dealing with customers who refuse to wear masks has become a daily occurrence, she told BuzzFeed News. But one of the customers she encountered on Thursday was a little different.

At her store, cashiers have been directed to tell a manager or supervisor if a customer isn't wearing a mask, per store requirements. In this case, it was two women wearing large badges that said "FTBA."
"I went up to them like, 'Hey, in order to be inside the store you're required to wear a mask,'" said Chavez. "They told me, 'No, we're not required to wear a mask.'"
That's when one of the women launched into a spiel about how they were from the "Freedom to Breathe Agency" as her companion took out her phone to record the exchange. The woman, identified as the FTBA's founder, Lenka Koloma, says in the video posted to TikTok that they are "making sure that people's constitutional rights, civil and federal laws are not broken."
"You personally need to take this to your manager because you personally can be sued for this, OK?" Koloma tells Chavez while handing her a piece of paper.
"You are putting yourself into a major legal liability — you personally," Koloma adds.
Chavez said the paper stated that she could face legal action for telling people to wear masks.
"The piece of paper they gave me was basically telling me I could go to prison for up to three to five years and I could get fined up to $10,000 for telling them to wear a mask if I'm not a doctor," she said.
Koloma and the other woman left after the exchange shown in the TikTok.
"They weren't there to shop," said Chavez. "They honestly were probably just waiting for somebody to come up to them and ask them to wear a mask so they could do this."
The video now has more than 1.2 million views on TikTok, and even more on Twitter.
The "Freedom to Breathe Agency" has drawn attention before for its stunts and was even the subject of a warning from the Department of Justice. The group — which is not a real governmental agency — had been distributing "face mask exempt" cards that claimed the holder was exempt from wearing a mask "under the Americans with Disability Act," a misspelling of the Americans with Disabilities Act (ADA).
"Denying access to your business/organization will be also reported to FTBA for further action," the cards said.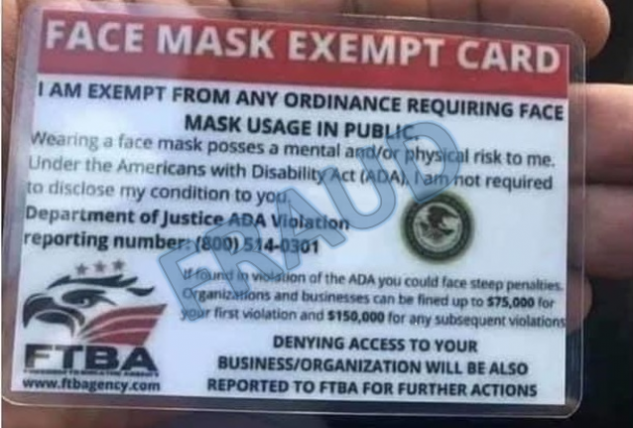 The Department of Justice said in a statement that the cards were not issued or endorsed by the government.
"Do not be fooled by the chicanery and misappropriation of the DOJ eagle," said US Attorney Matthew G.T. Martin in a statement. "These cards do not carry the force of law. The 'Freedom to Breathe Agency,' or 'FTBA,' is not a government agency."
The FTBA once operated with a website and public Facebook page, but after that was taken down, the "agency" now uses a private Facebook group.
Koloma told BuzzFeed News that she and the woman she was with "both have medical, health conditions and also religious beliefs that do not allow us to wear a mask," though she declined to say what those medical conditions are.
She said her claim that someone like Chavez could face legal action is because telling someone to wear a mask is akin to impersonating a medical doctor. A health order from the state of California, however, has mandated that customers and employees wear masks when around other people.
California's COVID-19 information website also states, "To prevent infection, you must cover your nose and mouth when outside your home. So wearing a mask is now required statewide." It says that "anyone going outside their home" should wear one.
Koloma also denied that she is impersonating a state or federal agency.
"That's absolutely false because we are a legitimate organization, we introduced ourselves as FTBA, the Freedom to Breathe Agency. There's nothing illegal or fraudulent," she said.
Chavez told BuzzFeed News she believes Koloma was hoping for a confrontation.
"They definitely should be stopped because obviously she was not nice at all," said Chavez.

She added that despite clear signs in the store stating masks must be worn, and free masks being available, fights with customers happens every day.
"They just give us all sorts of excuses for why they shouldn't wear one," she said. "It happens all the time. I don't know why it's such a big deal. We have to wear them for our entire shift. They only have to wear them for the 10, 20 minutes they're in the store."
She said it's been nice to see the kind comments from people on TikTok, even the ones who think she's a teenager.
"I just want to say people really need to be nice to these grocery workers — we work our butts off during this pandemic," she said. "Just give us a little break. It's just our store policies. We're following the rules. We don't need to be attacked every day."