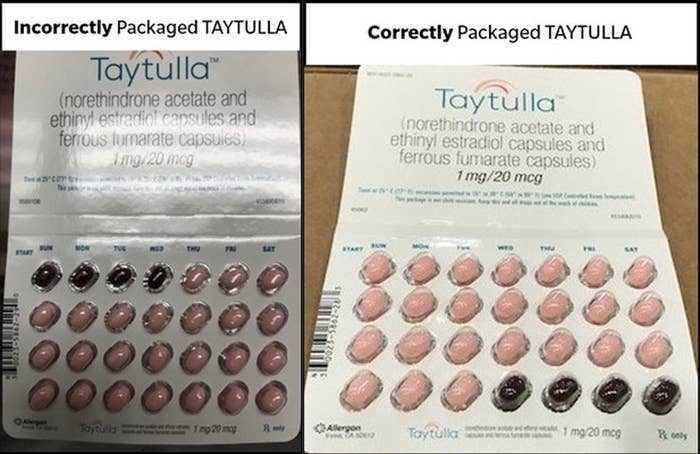 A nationwide recall has been issued for the birth control brand Taytulla due to a mistake that could lead to unintended pregnancies.
Parent company Allergan is recalling nearly 170,000 packs of the pills that have been circulating since last August.
A normal 28-day pack of Taytulla contains 24 pink hormone pills followed by four maroon placebo pills that cause bleeding. But, in the packs being recalled, the placebo pills are at the beginning of the pack.
"As a result of this packaging error, oral contraceptive capsules, that are taken out of sequence, may place the user at risk for contraceptive failure and unintended pregnancy," said a statement from Allergan.
"The reversing of the order may not be apparent to either new users or previous users of the product, increasing the likelihood of taking the capsules out of order."

A doctor reported the error in a single sample pack of Taytulla, said Allergan spokesperson Amy Rose in an email to BuzzFeed News. That led the company to issue the voluntary recall for a single lot of 168,768 sample packs.

The affected lot is number 5620706, with an expiration date of May 2019.
The company has advised patients with packs from the affected lot to contact their doctor for a return.
The Wall Street Journal reported there have been no reports of unintended pregnancy related to the recalled packs. Hormonal birth control pills need to be taken in the correct order and at the same time each day to be most effective.
Given the potential consequences, people are pretty concerned.
Although "Taytulla" isn't the worst baby name.