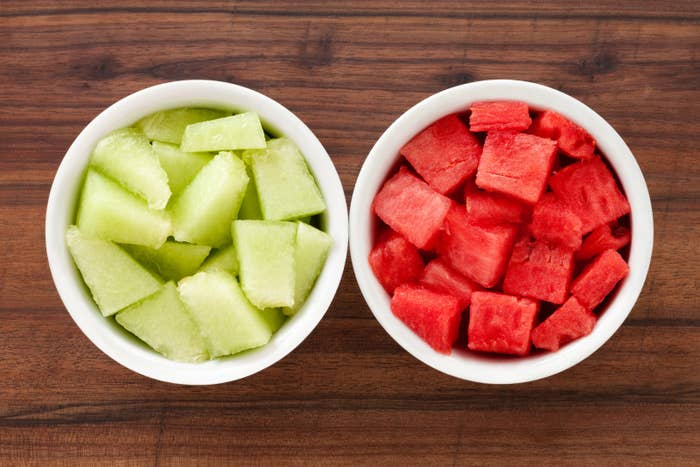 Unless you're a big fan of diarrhea, be careful what melons you take home from the grocery store.
A bunch of precut melon has been recalled due to a multistate outbreak of salmonella infections, according to the Center for Disease Control and Prevention.
The recall involves cut watermelon, honeydew, cantaloupe, and fruit salads containing them produced by Caito Foods facility in Indianapolis. The products were distributed in Georgia, Illinois, Indiana, Kentucky, Michigan, Missouri, North Carolina, and Ohio.
The CDC reports that 60 people have fallen ill in five states, with 31 people hospitalized. No one has died.
Salmonella is a bacteria that causes diarrhea, fever, and abdominal cramps, among other stomach flu-like symptoms. Most people recover after about a week, but others — especially kids under 5, adults over 65, and people with weakened immune symptoms — can be hit harder and require hospitalization. In rare cases, according to the CDC, salmonella infection can lead to death.
The recalled melon was sold in clear, plastic clamshell containers at Costco, Jay C, Kroger, Payless, Owen's, Sprouts, Trader Joe's, Walgreens, Walmart, and Whole Foods/Amazon.

The CDC is advising people to throw away or return any melon included in the recall. And if you can't remember where you got it, you're better off just tossing it.