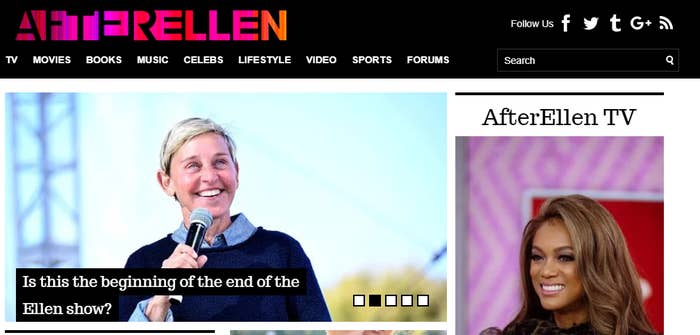 The editors of many of the world's top publications for lesbian, bi, and queer women released a letter Tuesday with an "unapologetic message of support and solidarity to the trans community."
"DIVA, Curve, Autostraddle, LOTL, Tagg and Lez Spread The Word believe that trans women are women and that trans people belong in our community," the letter states. "We do not think supporting trans women erases our lesbian identities; rather we are enriched by trans friends and lovers, parents, children, colleagues and siblings."
The letter is signed by the editors, publishers, and founders of the listed publications.
It's a strong message of solidarity from the biggest names in queer women's media, but it didn't come out of nowhere. Although the website is not named directly, AfterEllen has recently come under fire for articles and tweets with anti-trans rhetoric.
For 14 years, AfterEllen was a queer-owned-and-operated platform for entertainment and lifestyle news directed at LGBT women. The site is not associated with Ellen DeGeneres. In 2014, it was sold to Evolve Media. According to a note posted by former editor-in-chief Trish Bendix, the staff was given two years to improve AfterEllen's profitability. In 2016, Bendix and other staffers were ousted by Evolve, and many of the site's mainstay writers left with them in solidarity.
Evolve then hired Memoree Joelle to lead the site in November 2016. Since then, there's been a shift in AfterEllen's tone. Neither Joelle nor Evolve has responded to requests for comment from BuzzFeed News.
It started with small mentions, like articles that perpetuated the anti-trans myth that trans women are trying to force lesbian-identified women to sleep with trans women who haven't had bottom surgery. That's a common refrain from a minority of lesbians who do not see trans women as valid or as able to identify as lesbians.
There have also been several articles in this vein on AfterEllen, such as one defending the exclusion of trans women from a women's music festival, or another that was critical of trans inclusion in lesbian spaces. One recent article, written by Miranda Yardley, who identifies as transsexual, decries what she calls the "anti-lesbian idea which had wedged itself into the heart of transgender ideology."
More publicly, this tweet set off a firestorm:
The tweet was a link to a video by lesbian YouTuber Arielle Scarcella, titled "Dear Trans Women, Stop Pushing 'Girl Dick' On Lesbians." The tweet quickly received a slew of replies from LGBT women who believe trans women belong in their community, too.
Although the letter from Diva, Curve, and others didn't specifically name AfterEllen, their target is pretty clear.
"We strongly condemn writers and editors who seek to foster division and hate within the LGBTQI community with trans misogynistic content, and who believe 'lesbian' is an identity for them alone to define. We condemn male-owned media companies who profit from the traffic generated by these controversies," the letter states. "We also strongly condemn the current narrative peddled by some feminists, painting trans people as bullies and aggressors – one which reinforces transphobia and which must be challenged so that feminism can move forward."
The letter goes on to say that the signed publications believe it is their responsibility "to call out scaremongering conspiracy theories leveled at the trans community."
The letter comes not only after controversy at AfterEllen, but after Diva's publisher, Linda Riley, faced attacks for her support of the trans community. Diva is a UK-based monthly magazine, and Riley recently made an appearance on BBC Radio to discuss the Gender Recognition Act. She ended up debating an anti-trans opponent, and afterward her inbox and social media were flooded with abusive messages.
"We knew it was coming. We were sort of steeling ourselves for it," Diva's editor, Carrie Lyell, told BuzzFeed News before the letter was issued. "A lot of the comments have been very personal, around her appearance and her working class background and her intelligence and things like that."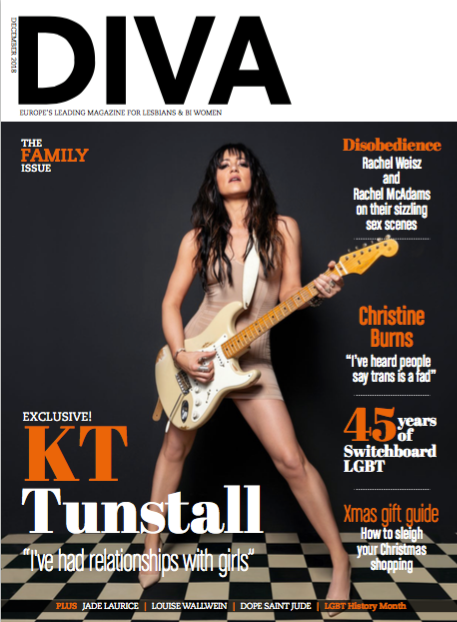 Lyell said Diva has been trans-inclusive since its early days, so it's strange to see this upswell in backlash now. But she said this isn't a new point of debate within lesbian circles, and it seems to come back every so often.
"It's unusual because our stance is very clear and we're very unapologetic about it," she said.
Another recent flashpoint in the UK happened during London Pride, when a group of anti-trans lesbians took over the front of the parade. Lyell said moments like that are a reminder that cisgender queer women need to speak up in support of trans women.
"Suddenly, it felt like cis allies really had to take a stand and say these people don't think for us," she said. "A lot of that emotional labor is really put on the trans community."
Despite the loud anti-trans contingent, Lyell said Diva has also received a ton of messages of support.
"I think you have to have a thick skin, but Linda and I will happily take some of those punches if it means the trans community is spared having another," she added.
For queer trans women working in these media spaces, these issues hit that much closer to home.
Mey Valdivia Rude is a queer trans Latina writer who was previously the trans editor for Autostraddle. These days, she writes frequently for Them.us, a queer publication owned by Condé Nast. She said it's odd to see this debate persist, considering that anti-trans lesbians are such a minority in the community.
"They are very loud and very good at making a ton of fake Twitter accounts, but they're really not that numerous, so it's just weird to see one of the pillars of the queer lesbian community go so extreme," she told BuzzFeed News.
She added that the changes at AfterEllen have been "absurd" to watch.
"Of course there are always going to be people in marginalized communities who want to hold other marginalized people back," she said.
As a trans writer, Rude has often encountered what are known as TERFs, or trans-exclusionary radical feminists. (The phrase itself is rejected by those it refers to, who contend that it's a misogynistic slur.) The first time she encountered pushback from TERFs online was after Rude wrote an article looking at the idea of "biological" sex.
"As soon as it was published, TERFs were calling me a rapist, saying the article was promoting the idea that lesbians had to have sex with trans women," she said. "If that's the argument you're making, you're not any kind of real political movement."
Despite everything that's happening, Rude is optimistic that this too shall pass. In the meantime, she believes that trans women in media and in queer spaces need readers' support.
"Read stuff by multiple trans women. Don't just read one trans opinion and think that's all you need," she said. "Read stuff by trans writers of color and disabled trans writers, immigrants, trans writers with other marginalized identities. Listen to trans women and honestly just ignore — don't engage with TERFs other than to block them and report them."
CORRECTION
Mey Valdivia Rude received messages from critics calling her a "rapist." An earlier version of this post misquoted her critics.