A man in Philadelphia says he's homeless again despite a GoFundMe campaign to help him raise over $400,000.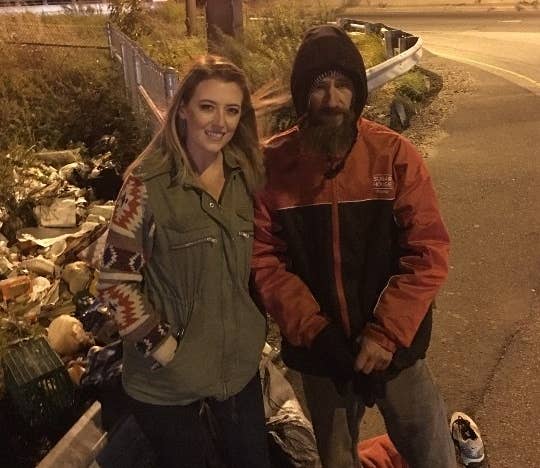 Johnny Bobbitt made headlines last November when he used his last $20 to help a woman stranded on the side of the road.
The woman, Kate McClure, was on her way to Philadelphia when she ran out of gas on Interstate 95. Bobbitt saw her pull over, told her to lock her doors, then returned with a can of gas to get her moving again.
"Johnny did not ask me for a dollar, and I couldn't repay him at that moment because I didn't have any cash, but I have been stopping by his spot for the past few weeks," McCLure wrote in a Facebook post about the incident. "I repaid him for the gas, gave him a jacket, gloves, a hat, and warm socks, and I give him a few dollars every time I see him."
McClure was so touched by what Bobbitt did that she and her boyfriend, Mark D'Amico, started a GoFundMe campaign for Bobbitt. They said the funds would be used for a new home, a 1999 Ford Ranger (Bobbitt's dream vehicle), and trusts in his name.
The campaign took off, raising more than $402,000 and blowing away the $10,000 goal.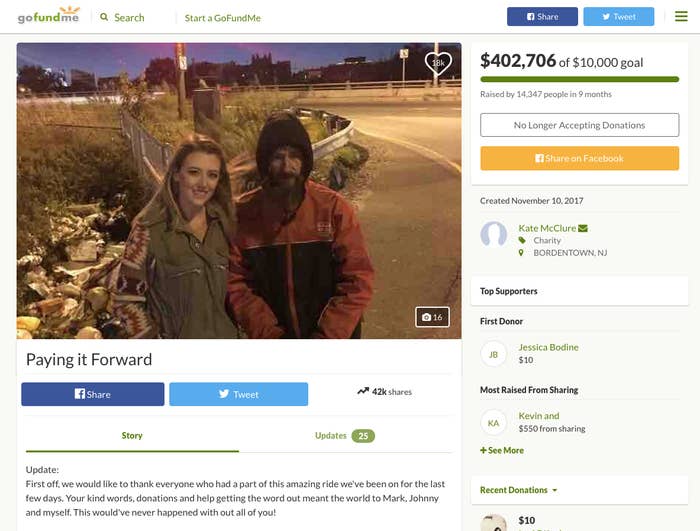 But now, Bobbitt says half that money is still out of his reach because McClure and D'Amico are withholding it. He told the Inquirer that he's once again homeless, using drugs, and panhandling.
According to the Inquirer, some of the money was used to buy Bobbitt a camper and a vehicle, but both have since been sold. About $200,000 of the fundraised money is still unused and being controlled by McClure and D'Amico.
D'Amico told the Inquirer the money is sitting in a savings account and Bobbitt will only have access to it once he's employed and off drugs.
"Giving him all that money, it's never going to happen. I'll burn it in front of him," D'Amico told the paper. BuzzFeed News has reached out to McClure for additional comment.
A GoFundMe spokesperson told BuzzFeed News the organization is now looking into the matter.
"GoFundMe is looking into the claims of misuse regarding this campaign. When there is a dispute, we work with all parties involved to ensure funds go to the right place," said the spokesperson.
"We will work to ensure that Johnny receives the help he deserves and that the donors' intentions are honored. GoFundMe always cooperates with Law Enforcement investigations."
As for Bobbitt, he says he is in touch with lawyers and is exploring his legal options.