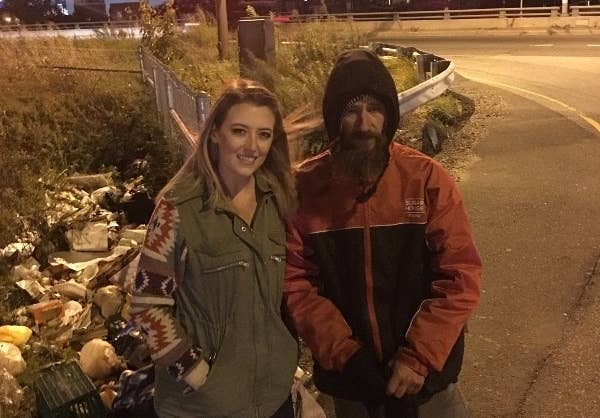 In a case of paying it forward gone awry, a New Jersey couple has been ordered to hand over thousands of dollars they raised for a man living on the streets in Philadelphia.
A judge ruled that Katie McClure and her boyfriend, Mark D'Amico, must give what's left of the more than $400,000 raised for Johnny Bobbitt to their defense lawyer. The money will be placed in an escrow account, according to NBC News.
The money was raised for Bobbitt with a campaign on GoFundMe.com after a selfless act by Bobbitt last November. McClure had been stranded on the side of Interstate 95 outside Philadelphia when Bobbitt used his last $20 to get her gas. The two struck up a friendship and McClure and her boyfriend went on to set up the fundraiser.

On the GoFundMe page, McClure and D'Amico said the money would be used to get Bobbitt a vehicle and shelter, with the remaining money going into trust funds.

"A bank account will be set up for him with funds for every day needs that will get him through until he finds a job," the GoFundMe page says.
The story made national headlines, but earlier this month it was revealed that the couple hadn't given Bobbitt full access to the funds.
Bobbitt told the Inquirer that McClure and D'Amico were withholding half the money and accused them of mismanaging the funds. He also said he had gone back to drugs and panhandling and was once again without a home.
At the time, D'Amico told the Inquirer that Bobbitt wouldn't see any more money until he got a job.

"Giving him all that money, it's never going to happen. I'll burn it in front of him," D'Amico told the paper.
A local lawyer took up Bobbitt's case and filed a lawsuit against the couple, leading to the judge's decision. As the case continues, McClure and D'Amico have also been ordered to account for what's become of all the money that was raised for Bobbitt.
In a statement to BuzzFeed News, a GoFundMe spokesperson said they're also investigating the case.
"When there is a dispute, we work with all parties involved to ensure funds go to the right place. In this case, we are working to ensure that Johnny receives the help he deserves and that the donors' intentions are honored," the spokesperson said.
BuzzFeed News has reached out to Bobbitt's lawyer for comment.