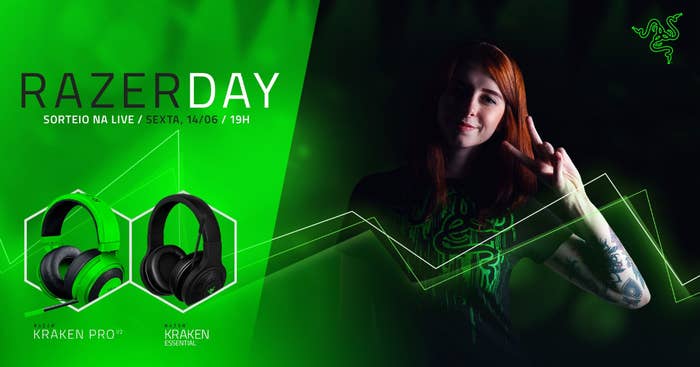 Gabriela Cattuzzo, a woman video game streamer in Brazil, has been dropped by a sponsor for tweeting "men are trash" after she was sexually harassed.
It started with a tweet of Cattuzzo's on June 21 that has since been deleted. According to the gaming news site Kotaku, Cattuzzo tweeted a photo of herself on a mechanical bull to which a male user replied, "you can ride me if you want."
"There's always going to be fucked in the head macho man to talk shit and sexualize women until the woman starts making jokes, right?" she replied, adding "And this is why men are trash."
Cattuzzo followed that up by saying not all men are problematic, but that wasn't enough for the gaming hardware company Razer, which said on Twitter that it will let its contract with Cattuzzo expire and not renew it.
"We would like to make it clear that Gabi is not a spokesperson for Razer and has never been a brand ambassador. She was part of a team of influencers who were called upon to use and publicize the brand's products," the company said.

"As gamers, we face every type of preconception and stereotype from the outset, and we will continue fighting so that this type of situation doesn't repeat itself," the statement said, adding that the company opposes any kind of "extremism."
A Razer spokesperson told BuzzFeed News that the company has "no comment at this time."

Razer is a well-known brand among gamers, and it serves as a sponsor for individual streamers and esports teams alike. Cattuzzo has 68,000 followers on Facebook, which is where she usually streams, and another 89,000 followers on Twitch.
Now, people are calling out Razer for its reaction, considering that Cattuzzo was the target of harassment. Critics say it's a reflection of deep-rooted misogyny in the gaming community.
Cattuzzo posted a statement on Twitter giving her side and saying the whole situation started a "witch hunt." She said she never intended to be "misandrist" and that while she usually doesn't respond to harassment, this time she "burst."

"I was an asshole. I apologize. Was he an asshole too? Yes! But I reacted 10x worse," she said in Portuguese.
She also said she's taking a break from social media due to death threats against her and her family.
Cattuzzo has not responded to BuzzFeed News' request for comment.