The Food and Drug Administration approved a generic version of the EpiPen on Thursday, a move that may be welcomed by people with life-threatening allergies.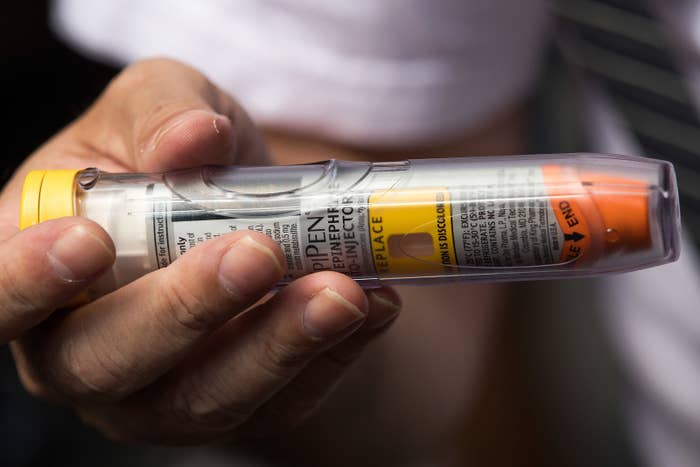 The new generic version, made by Teva Pharmaceuticals USA, is the first to be approved by the Food and Drug Administration as an equivalent to brand-name EpiPens.
EpiPens are auto-injectors that a person can use to deliver a shot of epinephrine during potentially life-threatening allergic reactions. Epinephrine treats anaphylaxis, an allergic reaction to things like medication, food, and insect stings. Anaphylaxis can lead to anaphylactic shock, which is characterized by plummeting blood pressure and symptoms like face, lip, and throat swelling; difficulty breathing, hives, dizziness, nausea, and loss of consciousness.
According to the FDA, anaphylaxis occurs in 1 in 50 people in the US. Those who've had one episode are at risk for another, and are advised to carry an EpiPen at all times.
"This approval means patients living with severe allergies who require constant access to life-saving epinephrine should have a lower-cost option, as well as another approved product to help protect against potential drug shortages," said FDA Commissioner Scott Gottlieb in a statement.
EpiPens and EpiPen Jr., with a smaller dose for children, are made by Mylan, which has come under intense scrutiny for the prices of EpiPens. Mylan obtained the rights to sell EpiPens in 2007, and since then, the price for a two-pack has increased from under $100 to $609.
The blowback over pricing led actor Sarah Jessica Parker, who was a spokesperson for Mylan, to cut ties with the company in 2016.
EpiPen users have also faced shortages, which the company attributed to manufacturing delays. To make matters worse, unused EpiPens have to be replaced annually because they expire.
Mylan released its own half-priced generic EpiPen in 2016, but the Teva Pharmaceuticals version is expected to add more competitive pricing to the ring.