The first winter snowfall is a magical thing, but imagine getting to experience it for the very first time again.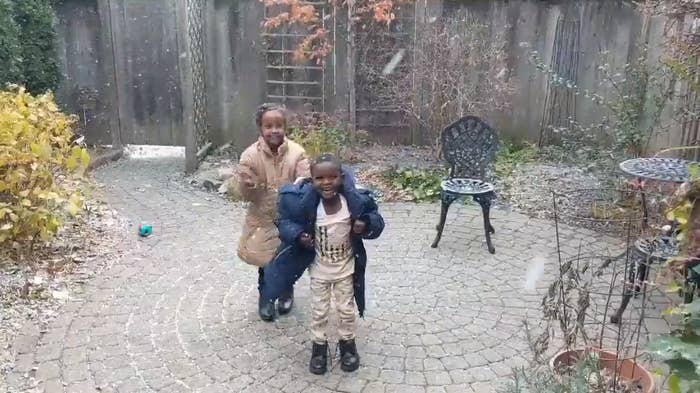 That's exactly what a family of five, newly arrived in Canada from Eritrea, got to do.
One of the family's sponsors, Rebecca Davies, shared this heartwarming video of two of the kids dancing with utter joy.
The family — a mother and four kids under 7 — were living in a refugee camp in Sudan before arriving in Toronto last week.
According to Human Rights Watch, about 12% or Eritreans have fled the country and its oppressive rule. These refugees then face further hostility seeking safety in neighboring countries like Sudan, which forcibly returned 100 asylum-seekers to Eritrea last year.
Davies said on Twitter that the family is temporarily staying with her. They were brought to Canada through the private sponsorship program and fundraising efforts by the Rosedale United Church. The program allows private groups to pay to bring qualified refugees into the country. It can be a long and difficult process, making the kids' moment in the snow all the more special.
People were getting a bit emotional...
...and were so happy the family made it to the Great White North.
For fellow immigrants, it was a beautiful reminder of their own first Canadian snow.
Because it really is a special moment.
And in case you're wondering, yes, they did eat the snow.
BuzzFeed News has reached out to Davies for comment.