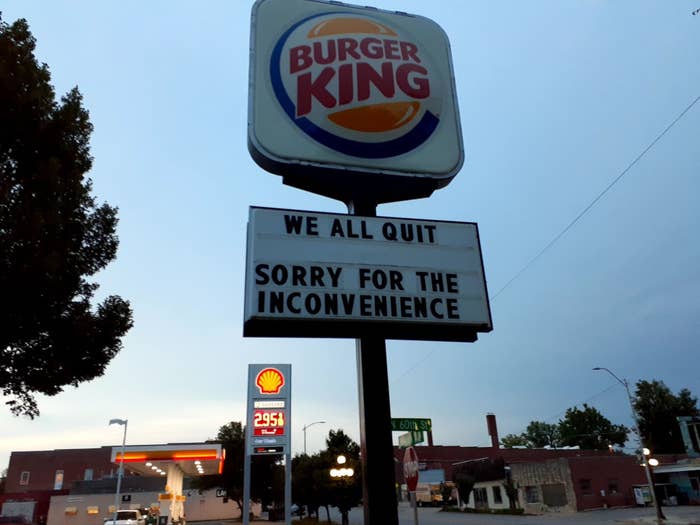 In the middle of June, Nebraska was stuck in a heat wave, with temperatures soaring into the 90s and 100s. Inside one Burger King in Lincoln, it felt much worse.
Rachael Flores, the former general manager of the location, told BuzzFeed News that working the lunch rush amid the hot fryers left her and her employees beet red as they struggled in the heat. The addition of face masks due to COVID-19 protocols only made things worse.
"Everyone's just starting to feel sick. And me, I got really bad one day, and I was kind of delirious. I could barely stand," she said.
Flores said her fellow employees told her to go home so she eventually did, making her late for a meeting with upper management.
According to Flores, her supervisor was not pleased about her leaving work due to the heat. She claims he told her she was being a baby, making excuses, and not doing her job. She said when she escalated it up the chain of command, a higher-up accused her of lying. Burger King corporate and its parent company, Restaurant Brands International, did not return numerous requests for comment on these allegations, and calls to the Lincoln store went unanswered.
That was the last straw for Flores. She put in her two weeks, and one by one, at least eight of the location's 13-person crew did the same.
On July 10, departing employees left a final message on an outdoor sign: "We all quit. Sorry for the inconvenience."
The sign went viral on sites like Reddit. Commenters cheered the employees on, saying "Good for them!" and "We love to see it."
Short-staffed fast-food joints have become an increasingly frequent sighting on social media, with photos of signs saying locations are closed due to lack of employees, or this TikTok of a McDonald's, which shows a sign saying "everyone quit" and an empty kitchen.
Fast-food workers are usually paid minimum wage or close to it, and were considered "essential workers" throughout the pandemic. Some of them have had enough.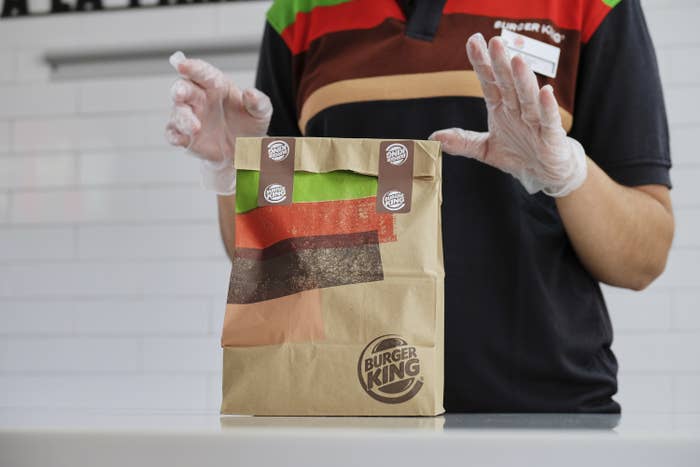 Pay wasn't the issue for Flores, but a lot of other things were. She claims that the air conditioner in the restaurant was out for several long weeks, and that management would do a quick fix, only for it to break again hours later. She said she felt frustrated that she wasn't able to provide safe working conditions for the people she managed. Burger King did not respond when asked about those conditions.
On top of that, Flores said there was a chronic staffing issue that would leave only four people for the lunch shift — cooking, taking orders, and working the drive-thru — when there should have been eight or nine.
Another worker who left, Kylee Johnson, told BuzzFeed News those shifts were exhausting.
"So when Rachael put in her two weeks, I was like, I'm done. I'm not staying here anymore," said Johnson.
Cheyenne Coulter, who'd been working there for eight years, confirmed the air-conditioning and staffing issues. She put in her notice after Flores, who Coulter said was "one of the best things to happen to that store," did.
"I was getting tired of how my boss and us employees were getting treated," Coulter told BuzzFeed News. "Part of me leaving was solely because [Flores] was leaving, but another was the fact that I just couldn't handle it anymore. I would have left a long time ago had Rachael not been there."
Saturday, July 10, was the last day for many of the people who quit. Flores said management wasn't prepared and sent people in to convince employees to stay, offering $1 raises.
"And then they came to find out that they're hiring new managers at what they're already making. So then it's like, You only offer us $1? What is that? Like, you don't value us?" she said.
The sign was put up by Flores and another employee, partly a "fuck you" to management, and partly a genuine apology to customers, including their regulars. What Flores didn't expect was to see the sign on social media while still in the middle of her shift.
According to Flores, her managers called her about the sign soon after and told her to take it down.
"I was like, Well, I'm sorry. We're short-staffed. It's the beginning of lunch. I just don't have the time right now," she said.
Her last day was supposed to be the following Monday, but Flores said she was let go that day for the sign. The cherry on top was that the people brought in by corporate to close the store for the day didn't actually know to turn off the lights and had to call Flores, she said.
Between the stress of working through the pandemic and extended unemployment benefits, Flores said people like her are simply less willing to put up with what they perceive to be bad working conditions. Both she and Johnson said the pandemic has pushed people to look for new opportunities.
"It's a good time to sit there and say, OK, I am worth more than this. I don't have to be treated like this," said Flores.