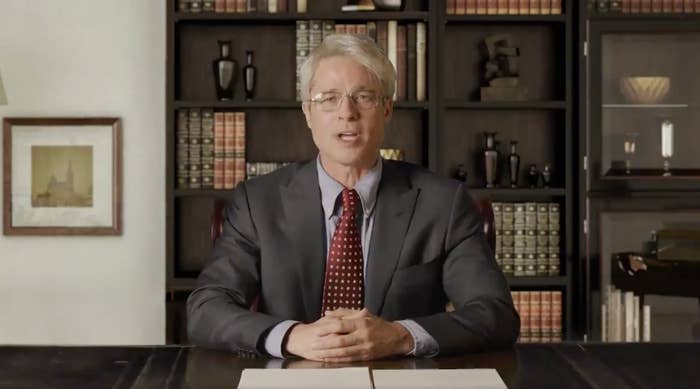 BuzzFeed News has reporters across five continents bringing you trustworthy stories about the impact of the coronavirus. To help keep this news free, become a member and sign up for our newsletter, Outbreak Today.
Dr. Anthony Fauci's wishes have come true and he was portrayed by Brad Pitt in a touching opening sketch on Saturday Night Live.
SNL, which has turned into SNL at Home as the cast films their sketches remotely, opened this week to Pitt sitting at a desk in a suit and wig. Fauci, of course, is the director of the National Institute of Allergy and Infectious Diseases and a familiar voice of reason through the novel coronavirus pandemic.
"Good evening. I'm Dr. Anthony Fauci. First, I'd like to thank all the older women in America who have sent me supportive, inspiring, and sometimes graphic emails," he quipped.
He then told the audience that President Donald Trump has "taken some liberties with our guidelines" and fact-checked what the president has been saying, starting with a clip of Trump saying vaccines are coming soon.
"Relatively soon is an interesting phase. Relative to the entire history of Earth? Sure. The vaccine's gonna come real fast," Pitt said.
"But if you were to tell a friend you'd be over relatively soon, and you showed up a year and a half later, well, your friend may be relatively pissed off."
On Trump saying the virus will disappear like a "miracle," Pitt said, "A miracle would be great. Who doesn't love miracles? But a miracle shouldn't be plan A."
In response to some Trump comments, Pitt simply looked incredulous — at one point full-on facepalming.

"I know I shouldn't be touching my face, but..." he said.
The bit then took a touching turn as Pitt removed his wig and switched back to his own voice.
"And to the real Dr. Fauci, thank you for your calm and your clarity in this unnerving time. Thank you to the medical workers, first responders, and their families, for being on the front line," Pitt said.
To make the sketch even more perfect, Pitt is actually the person Fauci chose to portray him on SNL.
In a recent appearance on CNN, Fauci was asked who should portray him on SNL — Ben Stiller or Brad Pitt.
"Oh, Brad Pitt, of course!" he said.
It may seem like a stretch for known hot person Pitt to play a 79-year-old public health official. But, as people noted on Twitter, the Fauci thirst is real.