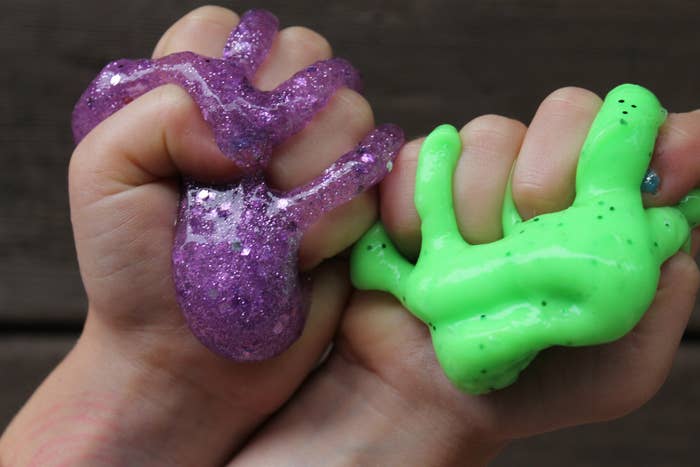 Slime is a gooey toy product that's super satisfying to play with (and make yourself), but some of the commercial versions may contain potentially unsafe levels of a chemical, according to a UK-based consumer group.
The advocacy group, called Which?, tested 11 different slime products, most of them bought on Amazon. They found that 8 of the 11 products exceeded the European Union's safety limits for boron, although the group didn't report any cases yet of people getting sick from the products.
Boron is a chemical in borax, which is found in household staples like laundry detergent and eye contact lens solution. At high levels, it can irritate the skin and, if ingested, cause vomiting, diarrhea, and an upset stomach.
Here are the eight products with high boron levels that the London-based group looked at in its tests:
Jupiter Juice (pink), made by Toysmith

Fluffy Slime (pink), made by CCINEE

Crystal Slime Magic Clay (pink), made by Cosoro Dodolu

Mini Bucket Putty (green), made by Baker Ross

Slime Toy (purple), made by iBase Toy

Fluffy Slime (blue), made by Loyo

Brezeh Free Slime Toy (orange), made by Brezeh

My Fluffy Slime (green), made by Virtuotrade

Jupiter Juice had 1,400 mg/kg of boron — four times the EU limit of 300 mg/kg for children's toys, according to the group. Three of the slimes contained amounts deemed safe by the EU, including:
Goopy Slime (green), made by HGL

Hulk Green Halloween Slime, made by Planet Slime Shop

Glam Goo Deluxe Pack (clear), made by Glam Goo

The consumer group asked Amazon to comment, and the online retailer told the group that the products in question are no longer for sale on the site. The researchers are based in the UK, but BuzzFeed News found some available for purchase from Amazon's US site.
Because these slimes tend to have minimal labeling, the consumer advocacy group is advising parents to approach all premade slimes with caution.
Unlike the EU, the US doesn't have restrictions on boron in children's products, according to a spokesperson for US Consumer Product Safety Commission. However, the slime sold in the US must meet particular safety standards set for toys.
"If a children's toy or other article intended for use by a child is a hazardous substance or bears or contains a hazardous substance that would be accessible by a child, that article would be a banned hazardous substance," the spokesperson told BuzzFeed News.
Animal studies suggest the chemical may be linked to low birth weights, birth defects, and developmental delays, according to the UK advocacy group. However, Dr. Elizabeth Murray, a pediatric emergency medicine physician at the University of Rochester in New York, said those results in animals don't necessarily indicate the chemical is harmful to children and adults playing with slime.
"The purchasing of slime is a much lesser concern to me," she told BuzzFeed News. However, it could be an issue with people making it at home, which is a hugely popular DIY craft. "The safety concern I'd have is kids being exposed to borax during the making process," she said.
Murray recommends that parents look for slime recipes that don't use pure borax.

BuzzFeed News has reached out to the manufacturer of Jupiter Juice for comment.