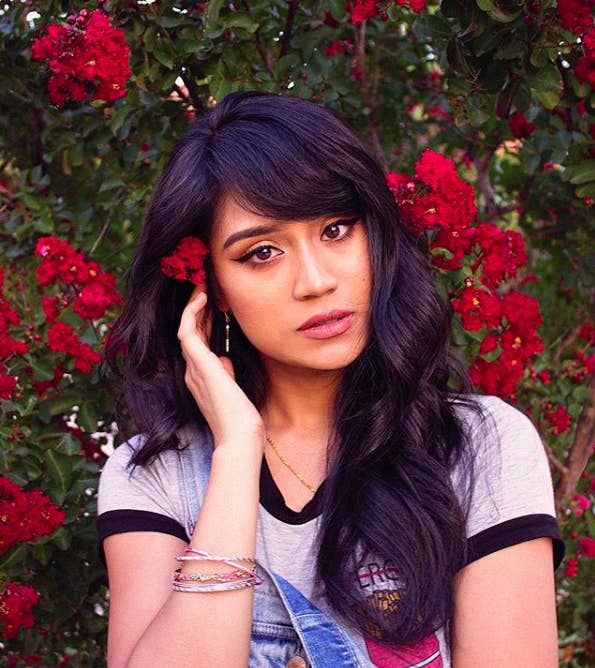 Alavia Khawaja had been renting out a spare bedroom in an apartment she shares with her sister for about a month on Airbnb. It was smooth sailing until one guest turned out to be a complete nightmare, involving days of harassing messages and, ultimately, an arrest.
It started on Oct. 11, when Khawaja's guest, a man named Leonard Jackson, arrived at her Richardson, Texas, apartment.

She told BuzzFeed News Jackson had a positive review on his profile. The only red flag was that he wanted to make sure no other men were staying in the home.
"He said, 'I just can't stay with guys is all,'" Khawaja told BuzzFeed News.
She brushed it off and his check-in went fine.

When Jackson came home later, with a male friend in tow, things got weird. Strangely, Jackson had cleaned the apartment, but he'd also broken into Khawaja's locked bedroom.
Her friend entered first and found Jackson leaving the room. Inside, Khawaja's closet had been ransacked and any photos of male friends she had were thrown in the trash.
"He denied everything," said Khawaja. "I essentially kicked him out and he asked for a refund before leaving."
Soon after, she said she realized nearly $500 in cash was also missing. She called the Richardson Police Department and Sgt. Kevin Perlich told BuzzFeed News that police took a report that day.
Khawaja also contacted Airbnb. She was told the best thing she could do was fill out a conflict resolution form.
Then, Jackson started sending her messages by text and on the Airbnb app.
"Leonard starting texting me, texting me to come stay with him," she said.
In screenshots provided to BuzzFeed News, Jackson sent Khawaja messages such as "I need you to be my wife one day." He also asked if she had condoms.
He requested to book her room again, which she denied.
She called the cops again, but she said they just told her not to worry.
"Whatever answer they gave did not help me at all," she said.
She called Airbnb again too, but once again, she said, they were unhelpful.
"Essentially they just told me it wasn't their department, and they'd call someone," she said. "They were not helpful at all, instead they tried to point out that I didn't fill in the form properly."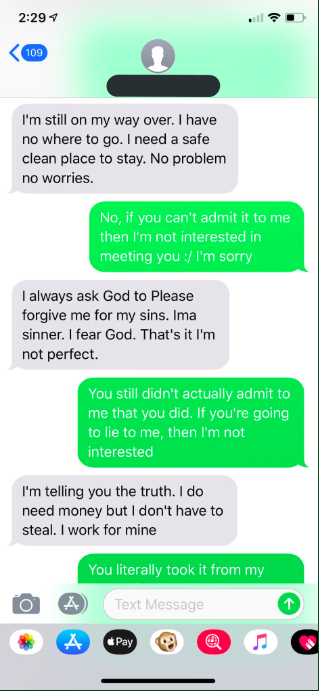 On a friend's suggestion, she started replying to Jackson's texts, hoping to get a theft confession that she could bring to police. The conversation took a turn when Jackson stated he was coming over.
"That alarmed me," said Khawaja.
She called the police, but they said they wouldn't do anything unless Jackson actually showed up.
Khawaja ended up getting in her car and parking where she could see her apartment entrance. When Jackson showed up, she called the police. Perlich confirmed that Jackson was arrested for criminal trespassing on Oct. 20. He was also arrested by Dallas police on Oct. 17 for unauthorized carrying of a weapon and drug charges.
Both times, Jackson was taken to county jail and released on bond, and both times Khawaja wasn't informed that he'd been released. He also managed to call Khawaja multiple times from jail.
Perlich said his department currently has a warrant out for Jackson's arrest for theft.

Finally, after contacting Airbnb again, Jackson's profile was removed from the platform, nearly two weeks after Khawaja first contacted them.
"They should have done that two weeks ago when I first said something," she said.
In a statement, Airbnb spokesperson Ben Breit told BuzzFeed News that the company's response was too slow.
"This reported behavior is abhorrent and unacceptable, and has no place on Airbnb. We have removed this guest from our platform and are in contact with local law enforcement to offer our assistance," he said.
"Our initial response to this incident was simply too slow and we are working to fully support our host. There have been over 400 million guest arrivals to date and negative incidents are extremely rare."

It's not enough for Khawaja. Although she hasn't heard from Jackson since his profile was deleted, he's somewhere out there and knows where she lives.
"I am definitely worried. I feel that I shook him hard enough that he won't come, but I also don't think he's in his sound mind," she said. "What if he showed up to my place again?"
She also isn't satisfied with the response from Airbnb. Since she tweeted about the ordeal, she's heard from other women with similar experiences.
"I just want them to do better and not let this happen to anyone ever again," she said.