Yes, I'm His Daughter
My dad is old and white; I'm young and brown. It's often been more complicated than it should be.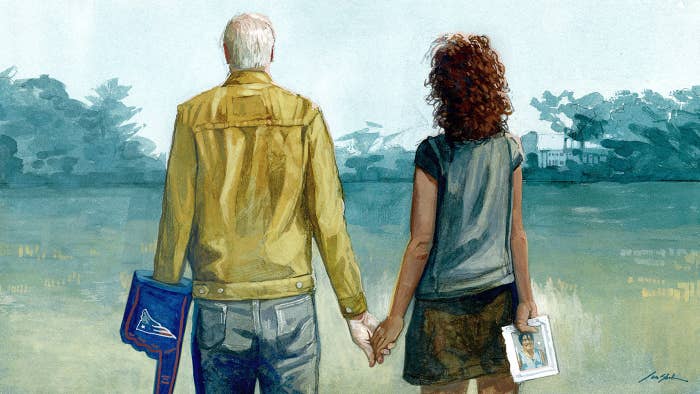 I still remember the first time someone questioned if I was my dad's daughter. I was 7 years old, and my family had just begun our summer vacation at Lake Sunapee in New Hampshire. My dad and I went into town to get some hamburgers, buns, and charcoal while my mom and brother unpacked. We quickly raided a small local shop, and at the checkout I felt I deserved a package of Twizzlers for a job well done, and dropped them on conveyor belt. If it had been Mom, the package would have been swiftly returned to the shelf, but Dad never said no. I shimmied toward the exit in quiet victory, waiting for the transaction to be over so I could burst into the sunshine with Twizzlers in hand. As I waited, I heard the cashier comment on my prize.
"Someone's got a sweet tooth," she teased good-naturedly.
Dad, never one for small talk, confessed he could never say no to "my daughter," gesturing to me.
The cashier's face quickly cycled through confusion, skepticism, self-consciousness, and back to confusion. I'm not sure which of these emotions compelled her to ask, but she did: "That's your daughter?"
I was blindsided. Did she mishear him? Did she not see us come in together, shop together, see me tug his shirt toward the ice cream? It didn't occur to me to be insulted, but not so for Dad, who curtly demanded, "Who the fuck else's daughter would she be?"
I wasn't sure what the extra vocabulary meant, but I could tell the cashier was equal parts taken aback and deeply embarrassed. She didn't apologize but looked sorry, and avoided all eye contact as she finished ringing us up. My dad stormed out of the store but was gentle when he took my hand, and kissed my curly head when we got in the car. I was assured I wasn't at fault and opened my Twizzlers, but something felt off. That intangibly "off" feeling would become all too familiar through the myriad ways my relationship to my dad has long been tested, from outside and within.

My mom and dad married in 1975 in a small ceremony at Brandeis University in Waltham, Massachusetts. I love looking at the pictures: My African-American mom was stunning in a lacy gown and close-cropped afro, while my blonde, blue-eyed dad of German heritage sported a distinctly '70s mustache. My brother Justin was born in 1980 and enjoyed all their attention until 1991, when, to everyone's great surprise ("And excitement!" my mom always interjected), my parents found they were pregnant with me: Mom was 44, Dad 47.
I've always adored my unique familial role as the baby of everyone, even cousins, and being the caramel-colored nexus of a black family from the South and a European family from the Midwest. I love that I catch obscure pop culture references from before my time and have a weakness for antiques; I love that I think sauerkraut and collard greens go great together. Of course, we all wrestle with the considerable age gap and racial differences: I felt my parents walked too slow, it seemed all the good stories had already happened with Justin, and literally no one understood my hair. But somehow those never came to mind when we sat around the rarely used dining room table at Thanksgiving and listed what we were thankful for. My first was always my family, and the second always the sparkling cider.
The age gap proved to be a significant hurdle for Mom and me. It seemed we were constantly at each other's throats, a symptom, we later realized, of pubescent teenage arrogance colliding with menopausal forbearance. But while Mom and I waged our hormonal war, the superficial differences between Dad and me always seemed negligible. I never saw my dad as just an old white man, uninterested in or incapable of relating to me. I always had evidence to the contrary: I inherited his biting sarcasm, he revealed his man crush on Clint Eastwood to me, he bought me a chemistry playset and told me not to call myself a "lady chemist, just a chemist."
But that changed when I was about 12, when Dad — a longtime smoker — was diagnosed with throat cancer. After two years of excruciating chemo, he was declared in remission, and we finally exhaled. But the emotional toll and his physical frailty changed our family dynamic. Dad became more reserved and lost interest in Mom and me (Justin had just entered medical school), missing my soccer games and spending his days in his basement office.
Like most addictions, my father's drinking began as a secret indulgence. We first realized the extent of his problem when I was 14 and we planned to get Justin from the airport, but Dad was so drunk he couldn't make it out the door. Having yet to witness drunkenness, I thought he was having a stroke and called 911. I soon learned what "BAC" is, and that ".41" is a number that deems one lucky to be alive.
From there, my teenage years were punctuated by 3 a.m. hospital visits for unresponsive stupors or bloody spills down the stairs. Justin did what he could from a distance, but Mom didn't want to distract him with every single one of Dad's incidents. Her fierce support and love for me was unwavering as always, but I couldn't fathom why she was still married to this man who seemed hellbent on destroying us. It wasn't long before I hated my father, before I begged Mom to leave him, before he was nothing to me but an old white man who constantly smelled of vodka. I began to resent his contribution to my genetic makeup. I was ashamed of the whiteness in me because as far as I could see, that was the root of all the problems plaguing my family.
His race became yet another chasm between us, as it came to symbolize all the weakness and anger I now associated with him. But it was one that those around me refused to recognize. By the time senior year rolled around and my final high school basketball season came to a close and all the seniors' parents were asked to join their daughters on the court, it did not strike me as odd that it was only my mom and me standing there, exchanging hugs and a small bouquet. She was the only parent I had come to need, the only one I was proud to claim, and, it seemed to me, not coincidentally the one I more obviously resembled. But I could hear those around me thinking the question no one dared ask: Where's Lauren's dad? My smile and commitment to enjoying the night gave them their answer: Who cares?
His alcoholism peaked not long after that, in January 2009, when I came home from running errands to find him sprawled in the crisp, white snow, with a bloody forehead and his glasses missing. When he reached the hospital, his core temperature was 86º F: One doctor asked us to "prepare ourselves." I remember telling myself I was prepared, but I knew how hollow and haunting such a goodbye would be. But he pulled through. In the ICU, before they removed the breathing tube, Mom told me he wrote my name many times, but I refused to visit him. When he could speak, I came to hear his tear-stained apology and proposal to change. I nodded, but when he was finally released a few weeks later, I expected it wouldn't be long before I found him unconscious again, or worse.
Apparently, almost being frozen to death was exactly what Dad needed. He made a genuine effort, and by the time I was off for college, he and Mom were actually engaging in conversation, even laughing. There were relapses, but there was progress, too. As he tried to prove himself, I deigned to briefly discuss the Patriots with him once a week before I asked that he pass the phone back to Mom. By sophomore year I stopped dreading coming home, and would even watch TV in the same room as him; by junior year we could even do so with commentary. I publicly hugged him when I graduated in 2013. Two weeks later, I even baked him a cake for Father's Day. He loved it; Mom even cried. We were getting there.
Two days later, Mom died. It was sudden, a heart attack, and knocked the air out of my lungs for months to follow. She was my best friend, my constant source of near-fanatic love, and she was gone. Justin came home and we three sat on the couch while his wife took care of logistics and our cousins loaded the fridge with food. When the services and practicalities were over, and Justin returned to being a surgeon, my dad and I were still sitting in the now cavernous Colonial home in small-town Massachusetts that I grew up in, ignoring the stifling June humidity Mom always hated. We emotionally slumped toward each other, the only two who had been there when it happened and the only two left.
I felt like I had suddenly become a lot of things I wasn't ready to be: an adult, a worrier, an agnostic. But the one thing I felt ready to be was my dad's daughter. Not only because he needed me to be, but because I did, too. I needed to cling to the solidarity of our love and loss of Mom, the love my stubborn teenage self refused to see in him, even in his sobriety. For this love, for Mom, and for knowing that without him, I wouldn't be here; for all this, I could call him Dad again. And this decision to mend our familial bonds has proven crucial.
Now that Mom is gone, the day in New Hampshire is played out more often than ever. Because when we walk around, the world sees a 71-year-old white widower and a 24-year-old mulatto woman. They see an old man and his nurse. They see a helpful citizen and a confused old man. Without Mom around to visually explain ("Oh, OK, an interracial couple and their spawn!"), no one sees us as father and daughter. So I'm thankful for whatever combination of maturity, forgiveness, and sobriety it is that allows me to see it nonetheless.
We can even see the humor in the baffled glances — it's even better when we're with Justin and his Korean wife and the world just has no idea what to do with us. Sometimes I remember my sullen, scorned teenage years all too clearly, and the girl who rejected this old white man who put me through so much. But regaining our familiar roles is what brings our love for Mom to life, and it becomes obvious that I'm his daughter. Who the fuck else's would I be?