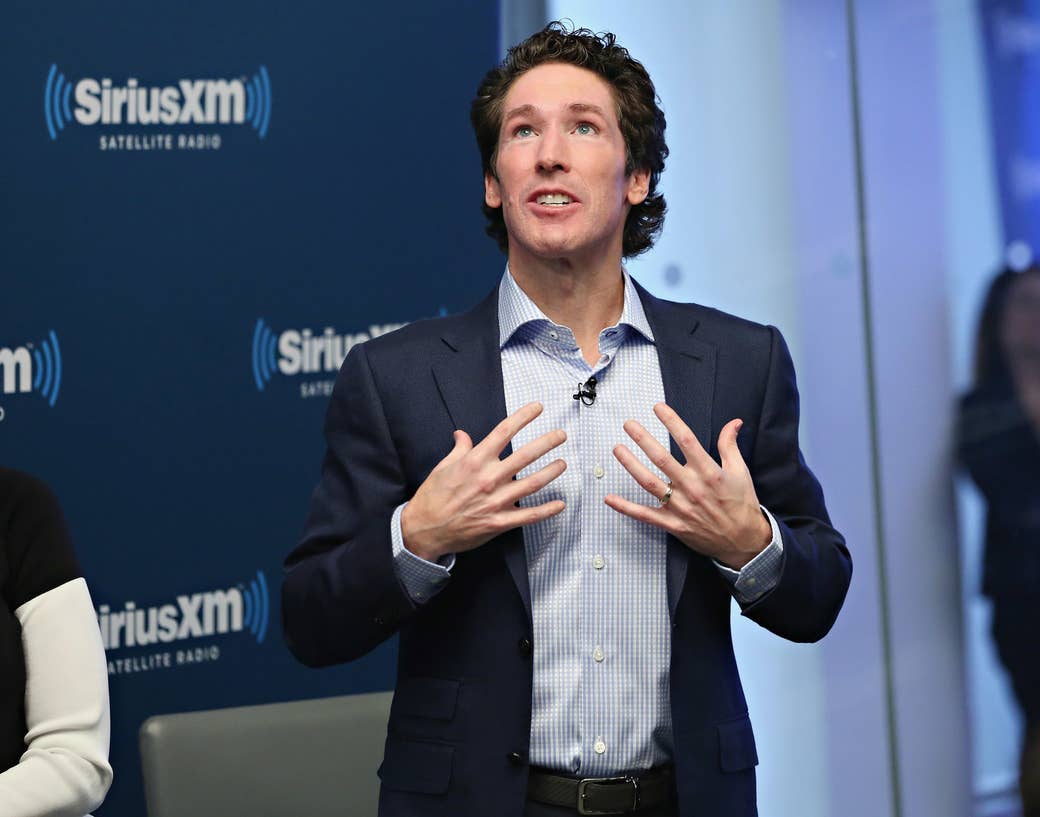 Houston pastor Joel Osteen's name was trending on Twitter for much of Monday, as criticism mounted against him for not opening his Lakewood megachurch to serve as a shelter for victims of Hurricane Harvey. By the time the church did start receiving donations and refugees mid-morning on Tuesday, a narrative had already gained momentum on social media that Osteen was coldheartedly keeping the church's doors closed to those in need.
People railed against Osteen, arguing that his "excuses" were not valid. Outlets like TMZ covered the debacle, and the rapper T.I. weighed in, saying that the Lakewood closure "is why people (like me) don't trust the mega churches." The speed, tone, and volume of criticisms leveled against Osteen and Lakewood Church speak to the seriousness of the flooding crisis in Houston, but also to a larger powder keg of resentment directed at a particular strain of American Christianity — Osteen's pro-wealth prosperity gospel, and the larger evangelical movement it's associated with — that many see as failing to be charitable to people who are truly in need.
Hurricane Harvey made landfall at 10 p.m. on Friday, August 26, unleashing unprecedented rains over Southeast Texas and Houston, our nation's fourth-largest city. A Houston-area meteorologist called Harvey "almost certainly the biggest US flood-producing storm of all time." Mandatory evacuations were issued for seven counties and a state of emergency was declared in 30 others. Since Friday, at least 19 people have died, and over 30,000 in Texas and Louisiana, at last count, have left their flooded homes with no destination in mind but away.
The George R. Brown Convention Center in downtown Houston opened its doors and has already received 10,000 refugees, double what the Red Cross planned for. People have also been received at smaller facilities across the Houston area, including many places of worship: Four mosques in the Islamic Society of Greater Houston are open as shelters, and at least 17 Houston-area churches have been operating as shelters or temporary staging areas for evacuees. But Lakewood — Houston's largest church — was slower to open its doors, and found itself in the eye of an online storm.
"We're a church, man. You don't ever open the doors and say, 'Sorry, go away.'"
Lakewood Church spokesperson (and Joel Osteen's brother-in-law) Donald Iloff Jr. said in a phone interview on Wednesday morning that Lakewood is used to a constant barrage of criticism — "a daily stream of bitchery," he called it — based on their beliefs, but that this situation felt different. "It was making us look like we don't care," he said. "We're a church, man. You don't ever open the doors and say, 'Sorry, go away.' Nobody here could do that." He has glanced at social media the last few days, but mostly tried to stay away from it. "I stopped looking at Twitter," he said. "We were busy doing stuff."
Once the worst of the rains stopped, Lakewood started receiving more donations than it could keep up with. Diapers, baby formula, clothes, and towels piled up along the walls as lines of cars waited to drop off more. Then, after city officials told Lakewood that the convention center was reaching capacity, the church opened its doors to those seeking shelter, and it is currently housing more than 400 evacuees.
Lakewood Church is nothing if not a high-profile target for criticism. It is housed in the former Compaq Center arena (originally The Summit), which, until 2003, was home to multiple professional sports franchises, including the Houston Rockets. Lakewood bought the Compaq Center from the city of Houston for $7.5 million in 2010, after seven years of leasing and extensive renovations. With an estimated attendance of 52,000 people spread out over six worship services (four in English and two in Spanish), Lakewood is one of the largest churches in the US. Osteen, its leader, is the smooth-talking best-selling author of books like Your Best Life Now and the host, with his wife Victoria, of a Sirius radio channel.
Within the evangelical movement, Osteen is seen as something of an outsider: a too-slick Elmer Gantry type who preaches a feel-good prosperity doctrine, drives fancy cars, and deals in bumper-sticker theology. Lakewood Church is part of the Word of Faith movement, a charismatic movement that teaches Christians that faith in God will heal illnesses, improve relationships, and bring about personal prosperity.
This teaching is not part of mainstream evangelicalism, which has condemned Osteen and the prosperity gospel in no uncertain terms for the last few decades. Gordon Fee, a prominent Pentecostal scholar, wrote a book called The Disease of the Health and Wealth Gospels, and the well-known Calvinist pastor John Piper once said that "the prosperity gospel will not make anybody praise Jesus. It will make people praise prosperity." Utah pastor Rick Henderson condemned Osteen by name in a 2013 sermon and subsequent Huffington Post article: "He frequently misunderstands important matters of faith and doctrine when being interviewed. He repeatedly gets the Gospel wrong. And he does so when talking to millions." So it was not entirely surprising that, as the water rose in Houston and Lakewood remained seemingly closed, the backlash against Osteen would be swift and fierce.
By the time Harvey had started to really unleash on Houston, people were scrambling for places to stay. But Lakewood Church was curiously silent, until, at 11:13 a.m. on Sunday, August 27, it posted an update to its Facebook page: "Dear Houstonians! Lakewood Church is inaccessible due to severe flooding! We want to help make sure you are safe. Please see the list below for safe shelters around our city, and please share this with those in need!"

Immediately, commenters started writing messages — some supporting the church's leadership, some asking why the church wasn't opening its own doors, and others sharing charismatic prayers: "We exercise the authority of Christ over Harvey and tell you Harvey to leave Houston this instant never ever to return," one commenter wrote at 11:18 a.m. Harvey remained.
Just as quickly, people took to social media to ask Osteen why the church wasn't opening its doors to flood refugees, wondering about the fuzziness of the language that the church posted and why Osteen wasn't doing more to help those displaced by the storm.
"Houston's Joel Osteen has a net worth over $50m and a church that holds 16,800 but this [tweet] is all he's offering," the economist Mark Elliott tweeted. According to the writer Charles Clymer, someone associated with the organization Indivisible USA went to Lakewood Church on Monday, August 28, and took photographs of the parking lot, writing in a caption, "There is no flooding here. There is no flooding on the roads anywhere around the Lakewood building." More eyewitnesses posted photos from Lakewood's campus, including one woman who pointed out a dry ramp going up to the building's entrance.
More and more, prominent evangelicals seem to be folding conservative politics into their belief system.
The backlash against Lakewood Church, and the resentment fueling it, ties into a larger national narrative around the hypocrisy of politically involved evangelical leaders who helped put Donald Trump in office. American evangelicalism in the last four decades has been an increasingly politicized movement, rooted in many ways in the establishment of the Moral Majority, a political action group whose very name declared its concern with rectitude and character. Yet evangelicals are more often known for what they are against — abortion, same-sex marriage — than what they are for. More and more, prominent evangelicals seem to be folding conservative politics into their belief system.
Evangelical leaders like Dinesh D'Souza and Eric Metaxas have devolved into self-parody under the Trump administration. Metaxas, who wrote a best-selling biography of the theologian and World War II martyr Dietrich Bonhoeffer, now tweets about hosting Sebastian Gorka on his radio show and wrote an op-ed about why Christians must vote for Trump. Dinesh D'Souza was a policy adviser for Ronald Reagan and wrote a well-regarded book on Christian apologetics before he launched his career as a pundit railing against Barack Obama, and eventually spent time in jail for making illegal campaign contributions under other peoples' names. D'Souza tried to return to relevance with a 2013 infomercial for his friend's artificial Christmas tree, and just this week was retweeted by Donald Trump when he shared a Washington Post article claiming that left-wing demonstrators were the true source of violence at a Berkeley rally.
Criticism of white evangelicals has reached a fever pitch with the Trump administration, and not without reason. A recent PRRI/Brookings poll asked whether a politician can behave ethically in office even if he has committed immoral acts in his personal life; the results showed that "no group has shifted their position more dramatically than white evangelical Protestants," who went from 30% affirmation in 2011 to 72% in 2016. This practice of changing the rules in service of political expediency drives others — Christians and non-Christians alike — to censure white evangelicals, especially those who espouse virtues like chastity out of one side of their mouths and use the other side to support the policies of a groping, thrice-married opportunist who once claimed he has never needed to ask God for forgiveness.
It is also true that there can be a kind of glee with which some people rush to assume the worst about evangelicals and prosperity gospel Christians. "Joel Osteen gets it from both sides," says Kate Shellnutt, associate editor at the flagship evangelical magazine Christianity Today. "Plenty of Christians criticize him for offering what they see as shallow, self-help faith, for not preaching enough on sin. Then non-Christians or former Christians will see him as a prime example of their concerns about the church: that it's too flashy, money-focused, selfish."
Kate Bowler, an associate professor at Duke Divinity School and the author of Blessed: A History of the American Prosperity Gospel, has observed similar attacks on Osteen and argues that he is misunderstood: "Joel Osteen is not the flashy money-grubber that people imagine when they think of a prosperity preacher," she says. He is an encouraging pastor, Bowler says, but people want to believe that his enthusiastic persona must be a cover for underlying greed and evil.
A storm as severe as Harvey, with all the pain and desperation it brings, puts any pre-existing criticisms of Osteen and his brand of religion into even sharper relief. Bowler says, "In the face of a natural disaster, the prosperity gospel lacks a language with which to account for problems that cannot be remedied by individual faith."
We do not know what to do with people who do not deal well with suffering. Evangelical Christians and those who follow the prosperity gospel are different in many ways, but alike in this important one: Neither has developed a full and attractive understanding of why people suffer and how to care for them when they do. Part of the reason evangelicals who support Trump have been so heavily criticized is that they subscribe to a religion that is meant to care for the poor, the marginalized, and the suffering, yet their politics often leave care of the most vulnerable to the whims of private institutions, which creates a gap. A church that lacks a theology of suffering — an Americanized, feel-good, eternally positive church like Osteen's — will invariably come under fire for failing to do one of its most important jobs.
We do not know what to do with people who do not deal well with suffering.
"The prosperity gospel has been the favorite whipping boy for the wider evangelical world who are looking for an indictment of greed and hyper-individualism in American culture," Bowler says. "What observers want to see right now is that there is a language of charity embodied in American Christianity, and that generosity knows no denomination."
The vitriol against Osteen on Twitter this week has certainly been intense, and some point to the church opening its doors to evacuees yesterday as evidence that their campaign was successful — although it is not clear whether Osteen or other Lakewood staff were ever intentionally deceiving people.
Iloff offered a different version of events than the one shared by critics on social media. "The church was never locked," he told me. "The people who showed up were let in; it's just that very few people came." This, he says, was due to flooding around the building and the surrounding highways. And church leaders didn't initially offer Lakewood as a shelter in part out of concern that it would flood during the weekend's heaviest rains, Iloff said. "If we had let people in and that water had flooded, you would be writing a whole different story now."
Islam, Judaism, and Christianity all share the story of Noah, a righteous man among evildoers whose family was saved when God sent a flood to destroy the rest of the world. After 40 days and 40 nights of rain, the Bible tells us, Noah's ark came to rest on Mount Ararat, where he and his family stayed until the water had gone and the earth was dry. They were the only people left on the planet.
Once-in-a-lifetime floods are not something anyone in the world, except for Noah, has ever been prepared for. A flood in Sri Lanka in May killed over 200 people, and floods in India, Nepal, and Bangladesh this month have killed nearly 1,200. The death toll in Houston is likely to grow as the waters recede. Who is to blame for a natural disaster? In lieu of clear answers, we point fingers. ●
CORRECTION
Donald Iloff Jr. is Joel Osteen's brother-in-law; a previous version of this article misstated their relationship.