In a city of beige sheds in Burbank, north of Los Angeles, the SirReel Studios live up to their name when Tegan and Sara Quin appear fresh out of makeup, the mirror image of each other, even more so than usual. Fans can usually tell the 35-year-old Canadian identical twins apart: Sara has a heart-shaped face, and Tegan has a little scar from her old labret piercing. Their friends compare anxious Sara to a cat, and breezy Tegan to a dog. In a cab two days prior, Sara and I sat in the back talking about her relationships, while upfront Tegan thrashed to the driver's alt-'90s playlist, routinely turning to ask if we were even listening: "Guys, Hole!"
But on this stiflingly hot day in late February, they're styled to eradicate any differences. "Pretty weird, huh?" says Tegan. They both have slicked-back hair, whited-out lips, and bleached eyebrows to shoot footage for "Boyfriend," the lead single from their forthcoming eighth album, Love You to Death, that will be part of their live show. Each of the record's 10 songs will have its own clip, ranging from a DIY video with an Instagram-famous dog groomer (piano ballad "100x") to this big-budget affair.
On a table are clay busts of Sara's face, which she sat for a few days ago. It was traumatic. The molding material covered everything but her nose, which made her panic. She says she and her girlfriend of five years, Stacy Reader, aren't affectionate by nature, so she knew it was bad when Reader started squeezing her hand and reassuring her using her pet name, Squin. Tegan's phone contains several close-up shots of her sister's putty-clad nostrils. It's a perk of sharing a face that only one twin had to do it.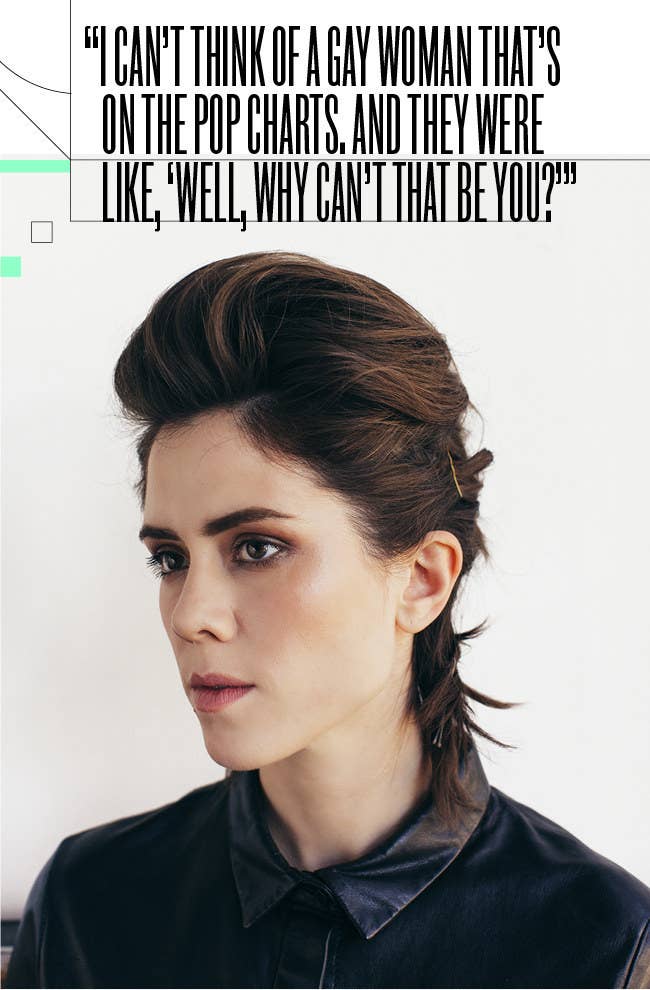 "Boyfriend" is one of Sara's songs, and it sounds like a right-to-reply from the silent partners of "I Kissed a Girl" or Demi Lovato's "Cool for the Summer." "I let you take advantage 'cause it felt so good / I blame myself for thinking we both understood," Sara sings seductively, before bursting into an anxious, sing-songy ultimatum: "You call me up like you would your best friend / You turn me on, like you would your boyfriend / But I don't wanna be your secret anymore."
She didn't intend it as a kiss-off. She was writing in part about Reader seeing a guy when they first met, and more broadly about gender identity and roles in all relationships, which inspired the video's fluid, drag-inspired aesthetic: The Quins take turns getting gaudy makeup applied, and a giant motion-capture camera films them in close-up, miming along to the ridiculously catchy track. In the final, CGI-enhanced edit, the colors will swim across their faces. Sara says she's ready for such an obviously queer pop song (she notes it name-checks The Crying Game) to strike a mainstream chord. "The idea of a guy being like, 'I totally relate to 'Boyfriend,' girls are always playing these games with me,' and I'm like, I know," she says with an emphatic groan. "I think there's a part of me that wishes I lived in a world where it was like that."
Fans won't see this footage until the Love You to Death world tour, for which Sara has massive ambitions. Right now, they're booked to play 4,000-capacity venues in major U.S. markets, but, she asks out loud: "By 2017 can we be one of the top headlining tours in the States or internationally? Can we be one of the top-billed artists at festivals in 2017? I would love to be up there with our peers, Arcade Fire or Vampire Weekend. Maybe we can reach enough people that we can sell out a Madison Square Garden or an O2 Arena at some point. I want to believe that."
Tegan and Sara's last album, 2013's Heartthrob, turned them from cult indie artists to actual pop stars, seven records into their career. It took a little convincing: The record's predecessor, 2009's disjointed Sainthood, sounded like the work of a group that had fallen out of sync, but their then-label head told them there was massive mainstream radio potential in their new demos. (He'd worked with Kid Rock, and used the enjoyably inappropriate example of "All Summer Long" to show how an alternative artist could shift to the mainstream.) He challenged them about assuming there was a ceiling over their potential reach. "I was like, 'Well there is, quite literally,'" says Tegan. "I can't think of a gay woman that's on the pop charts. And they were like, 'Well why can't that be you?'"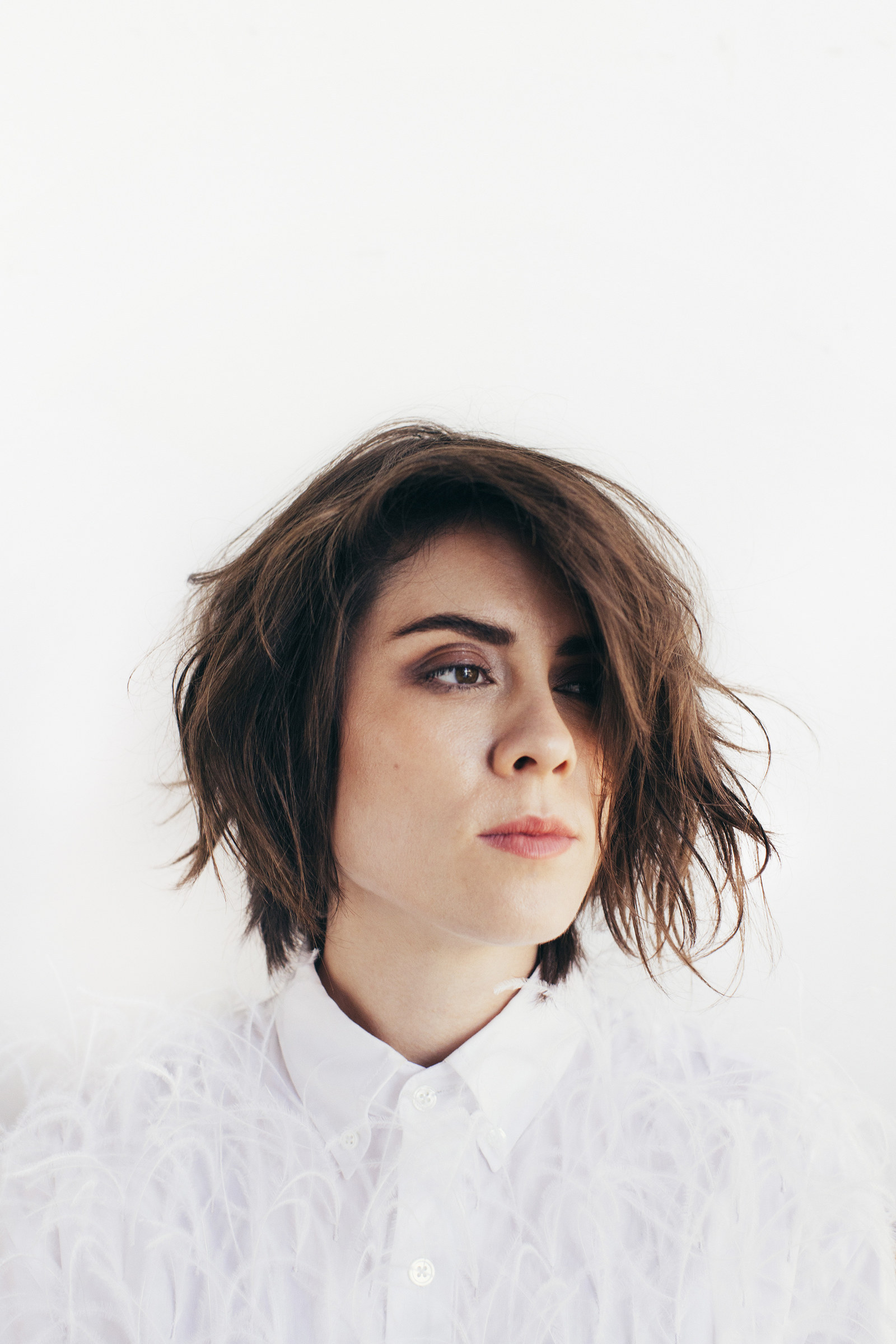 They swept pop radio. The album went top three in the U.S. and Canada, "Closer" became their first top 20 single, and they won Junos (the Canadian Grammy) for Single, Group, and Pop Album of 2014. They performed the song with Taylor Swift on the Red tour in August 2013 (she baked them biscuits and jam), supported Katy Perry on the Prismatic Tour the following year, and reached millions more people when they sang "Everything Is Awesome" for The Lego Movie. But this time around, they want to be the main event.

Pop feels a bit like an arms race at the moment (see: Taylor Swift's "Bad Blood" video) with power concentrated among a small few. You rarely hear established acts — let alone indie acts — speaking so honestly about their desire to muscle their way to the top. And even if more artists did, pop rarely works that way. Tegan and Sara are low-key stars, and have no intentions of becoming "Olympians," as Sara admiringly describes Swift and company. But for them to demand more feels not only radical, but actually possible, and not only because Love You to Death is their strongest, catchiest record to date.
After years of butting up against the indie press poking fun at their sexuality and sisterhood, the Quins have found acceptance in the modern pop world, where strong, nontraditional personalities are in no short supply. As artists like Years and Years, Willow Smith, Halsey, Troye Sivan, and Frank Ocean have proven, gender and sexual fluidity is no longer seen as a limitation. At least at surface level, pop is as interested in social justice as the sisters have always been.
And the once-unusual online fandom that the twins have stoked for over a decade (their fans labeled themselves Tees or Esses) has become a cultural norm. Though some devotees, first drawn to the twins because they were outsiders, kicked back at their mainstream makeover: "Who even are you guys any more?" asked one fan when they announced they were opening for Katy Perry. They missed the point: Pop finally allowed Tegan and Sara to be themselves without apology.
The stars are aligned to get them where they want to go professionally, which is only possible because the Quins are closer than they've ever been. The sisters' infighting and comic onstage bickering are part of the band's lore, but the fact that they can now collaborate and manage each other's anxieties finally makes them a proper united front at this pivotal moment. They have always joked that if they had been born as one person, they would be terrifyingly powerful, but Sara had always resisted that kind of association.
"Before we were even in a band I was filled with self-doubt about what I actually had to offer people besides looking like Tegan," says Sara. "I've always carried that in our band and in our relationship. And so what if I just let go, and let Tegan have influence on what I do, and she lets me have influence on what she does?"
"We finally get to become the superhuman," says Tegan.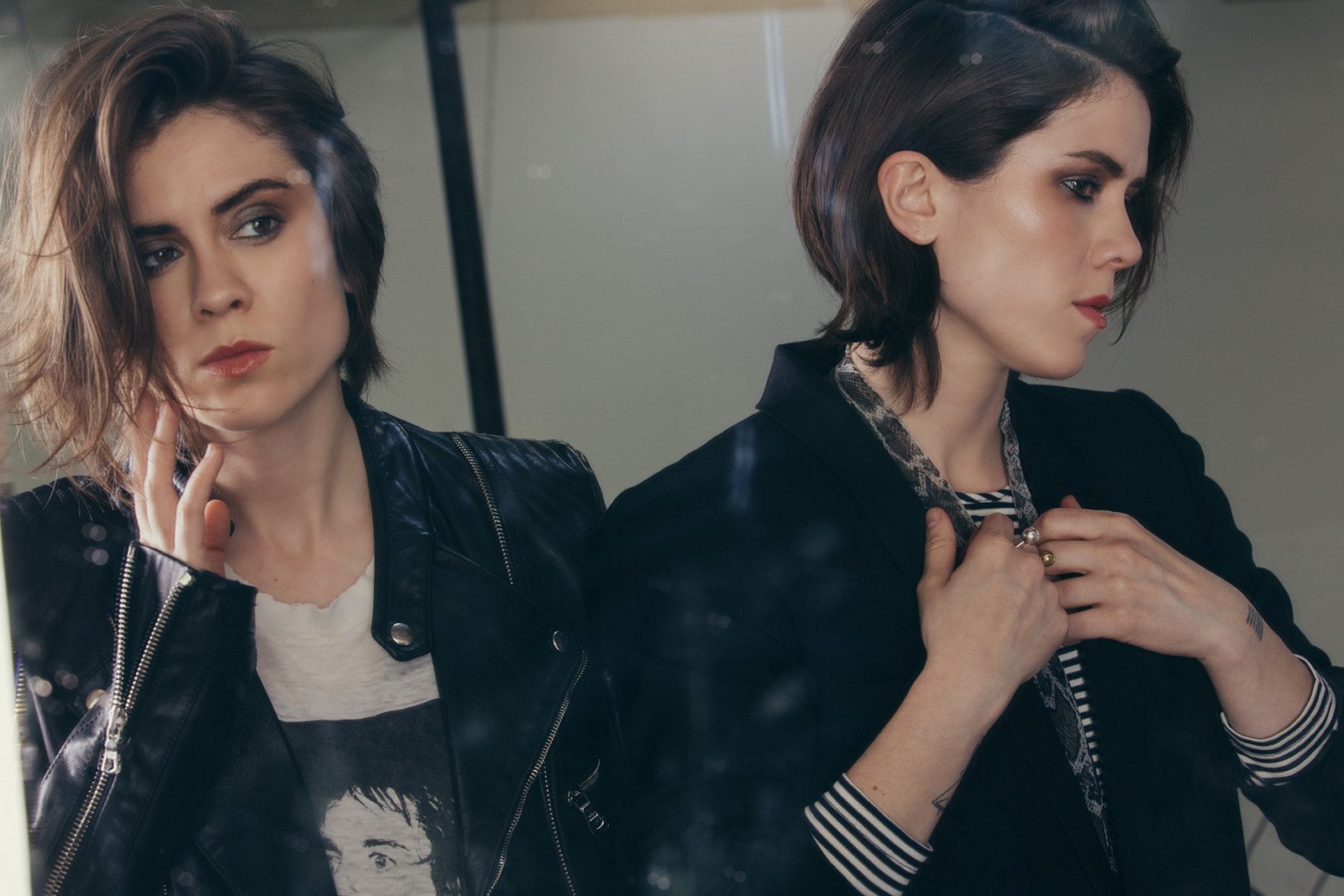 In a fancy bar atop the Pershing Square Building in Downtown L.A., the Quins are squinting at JPEGs on Tegan's phone, figuring out last-minute changes for the lyric insert for the Love You to Death vinyl.

"I like the way it looks as LYTD," says Sara.
"I understand that," says Tegan.
"Love You to Death looks like that movie—"
"That's the name of the record so let's not implant weird associations."
"—that movie—"
"Because it's vinyl we can get away with it — we should put the whole name."
Tegan and Sara have been a major label band for almost a decade, but still act like a DIY cottage industry, particularly when it comes to merchandise. They obsess over other bands' stores so that they can give thorough plans to their label, Warner Bros., which Tegan describes as "the puppy that's sitting outside waiting to be let in."
Working with their creative director (and Sara's ex-wife) Emy Storey, they cater to fans who treat them like a lifestyle, selling Tegan and Sara pencils, pillows, gym bags, journals, calendars, and mugs. For Christmas 2014, they made an ornament. Even Sara's Scottish Fold cats, Mickey and Holiday, the real stars of the twins' Instagram, have their own merch line: enamel pins and a set of cookie cutters in the shape of their faces. "There was a long period of time where I think that what we were doing did feel very revolutionary," says Sara. "And now it feels very par for the course."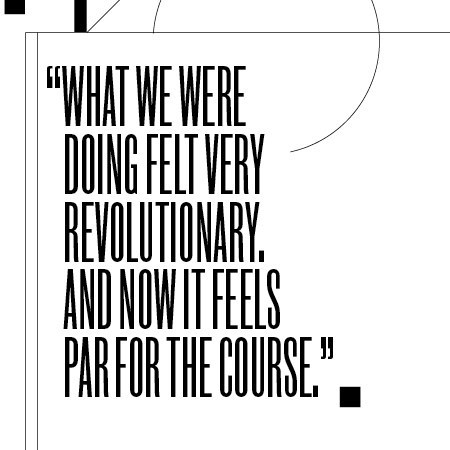 As queer women in an industry still largely ruled by straight, white men, they've always felt compelled to hold on to their business. "We didn't wanna relinquish control and say, yep, you're right, we're just manufactured by the old label," says Sara.
Over lunch at the Los Angeles County Museum of Art earlier that afternoon, she makes clear that they don't think of the way they approach their work as any kind of edict for other bands. "As we've gotten bigger and had more resources and access to these departments, we're just like, 'Oh, this is so fun — should we just run the record label?'"
"Sara and I consider ourselves efficiency experts," says Tegan. "We feel we'd be really good at everything, and then show people a better and more efficient way to do it." Sara's dream is to turn around the U.S. Post Office, which she finds so upsettingly disorganized, she's discussed it with her therapist. Playing with a necklace she borrowed from her sister (and will later accidentally break), she relates it back to how she and Tegan approach their work. "We never let up. Nothing can ever just be OK. We're really controlling. We love being bosses, we love being leaders."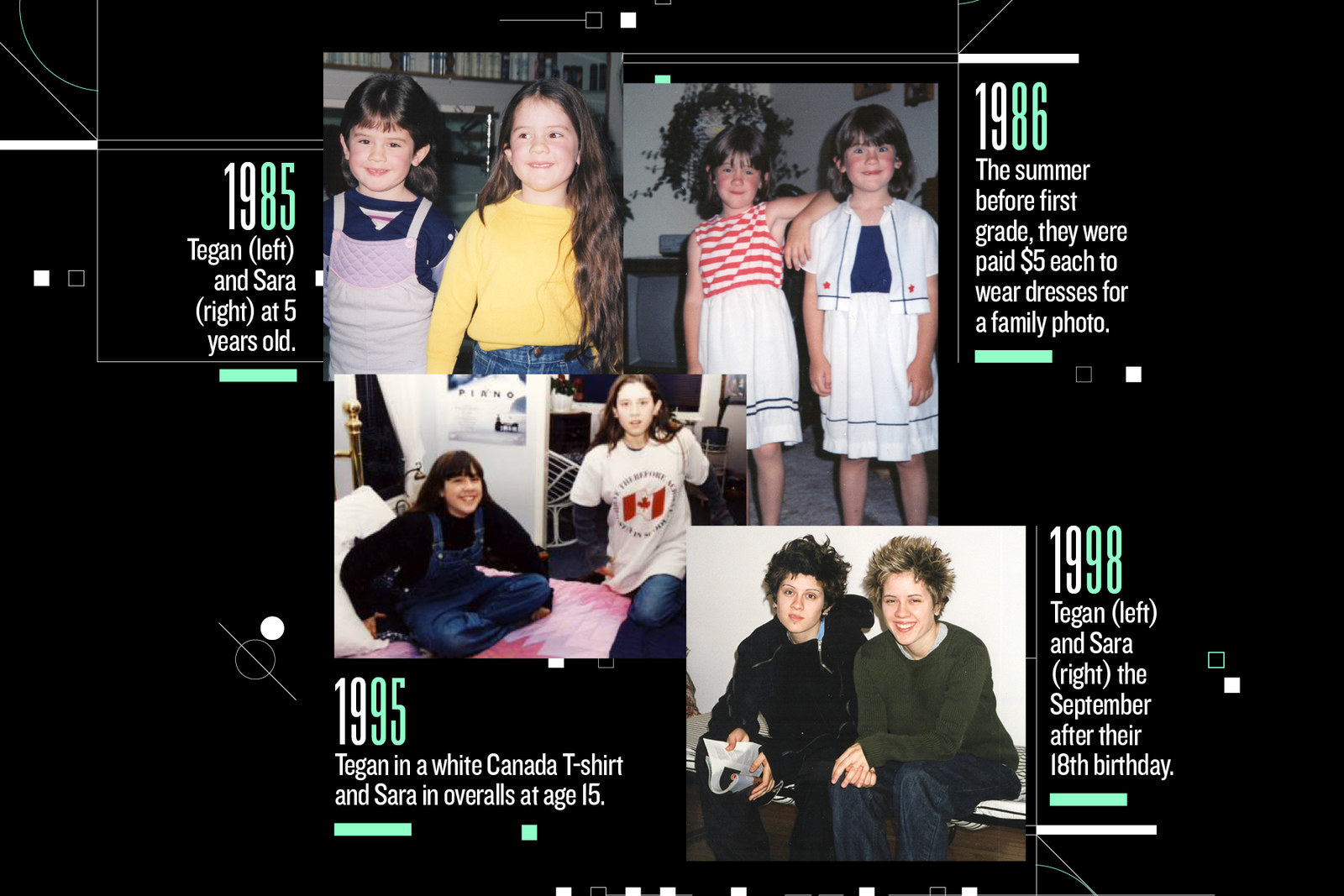 The instinct started early. The Quins grew up in a lower-middle-class, racially mixed part of northeast Calgary. Their parents divorced when they were 5. When they spent weekends at their dad's one-bedroom apartment, he took the couch while the girls shared his bed. At dinnertime, he would spin a globe and make them name the capital of whatever country their finger landed on. If they guessed right, they went to McDonald's. If not, they ate whatever was in the fridge. "Well, that was the joke," says Tegan. "There was nothing in the fridge."

As teenagers, they were high-achieving burnouts, who drank, smoked pot, and dropped acid during the school day (never together, so that they could babysit each other through the trips), but volunteered and studied classical piano. On the weekends, they would get into circle pits when bands like NOFX came through town. They picked up the guitar at age 15, and started writing together as Plunk, using the school photocopier to print the artwork for their cassettes.
They first attracted Canadian industry interest after winning a college battle of the bands ("Garage Warz") while they were still in high school. It made the 17-year-old punks suspicious. Their mom, Sonia, who worked with at-risk teenage girls, told them to wait a year before signing anything, and when her only kids told her they were skipping college to pursue music, she made them take it seriously, driving them to coffee shops to hand out tapes and résumés. They held up their end of the bargain: They never touched drugs again, and never drank on the job. "It was a tough first year," says Tegan.
Eventually, Universal Canada paid for them to make a demo. They got three tapes out of it — sought-after rarities Yellow Tape, Red Tape, and Orange Tape — but no deal. Still, the girls approached the producer about recording an independent debut album. "We had faith that if we made a record," Tegan says, putting on a dramatic voice, "They would come." They asked their grandfather, who had raised himself up from poverty through farming and remained incredibly frugal, for a loan of $10,000 CAD.
In April 1999, producer Jared Kuemper and the 18-year-old Quins set up a recording studio in Sonia's crystal-strewn living room, and made Under Feet Like Ours. It's a time capsule that makes their love of Ani DiFranco obvious: crunchy guitars, angsty lyrics, husky over-enunciation, though their message is clear. "Freedom's rough / So we take our stand and fight for tomorrow," they sing on "Proud," while "Divided" recounts their mom sending them to a therapist during a particularly rough patch.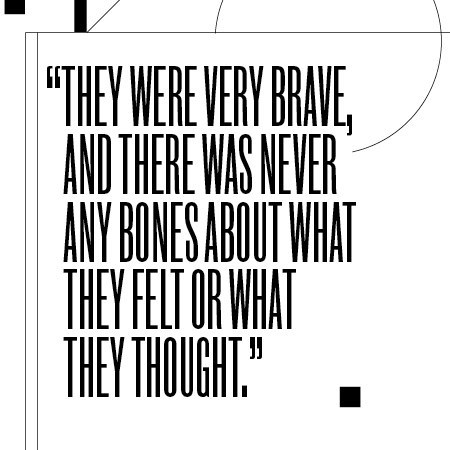 A year later, Vapor Records, the label founded by Neil Young and his longtime manager Elliott Roberts, signed the band on the spot. Both sisters were already out, and Vapor encouraged them to be open about their sexuality, believing that they could become the voice of a generation.
"The climate when they started was not as it is today," says Roberts. "They were very brave, and there was never any bones about what they felt or what they thought." The first album was mostly re-recorded for their Vapor debut, 2000's This Business of Art, which had a few new tracks. They were all but unknown when they performed a growly rendition of "My Number" on the Late Show With David Letterman, Tegan wearing a Tim Horton's T-shirt.
That summer, they were invited to support Neil Young and the Pretenders in America, and studied the machinations of a well-run show. "Neil has his whole family on tour," Sara says. "It felt like family. I remember thinking, This feels normal."
They put the lessons into practice. A second loan from their grandpa, for $20,000, covered CDs and T-shirts for their first Canadian tour, which they mounted via Greyhound bus in 2001. They ran a tight ship, maintaining a show binder, a merch binder, and a logistics binder. After each show, one twin kept watch as the other fed dollar bills into ATMs. By the end of the tour, they had made $6,000 apiece, and put another $6,000 in the company pot. Their family's financial conscientiousness had translated into serious business acumen. "When we got to Calgary, our grandpa said, 'You gonna put a down payment on your loan?'" says Tegan. "We said, 'No, here's the money.' Everyone felt so much pride."
When the Quins secured the New Pornographers' John Collins and veteran Vancouver-based producer David Carswell to help their next album, 2002's mostly acoustic pop-punk If It Was You, they offered the men contracts, because they wanted them to get royalties one day. This was a level of professionalism foreign even to established musicians a decade or so their senior. "We were still really stupid about the business end of it," says Collins. "Those two young ladies were completely operating on another level."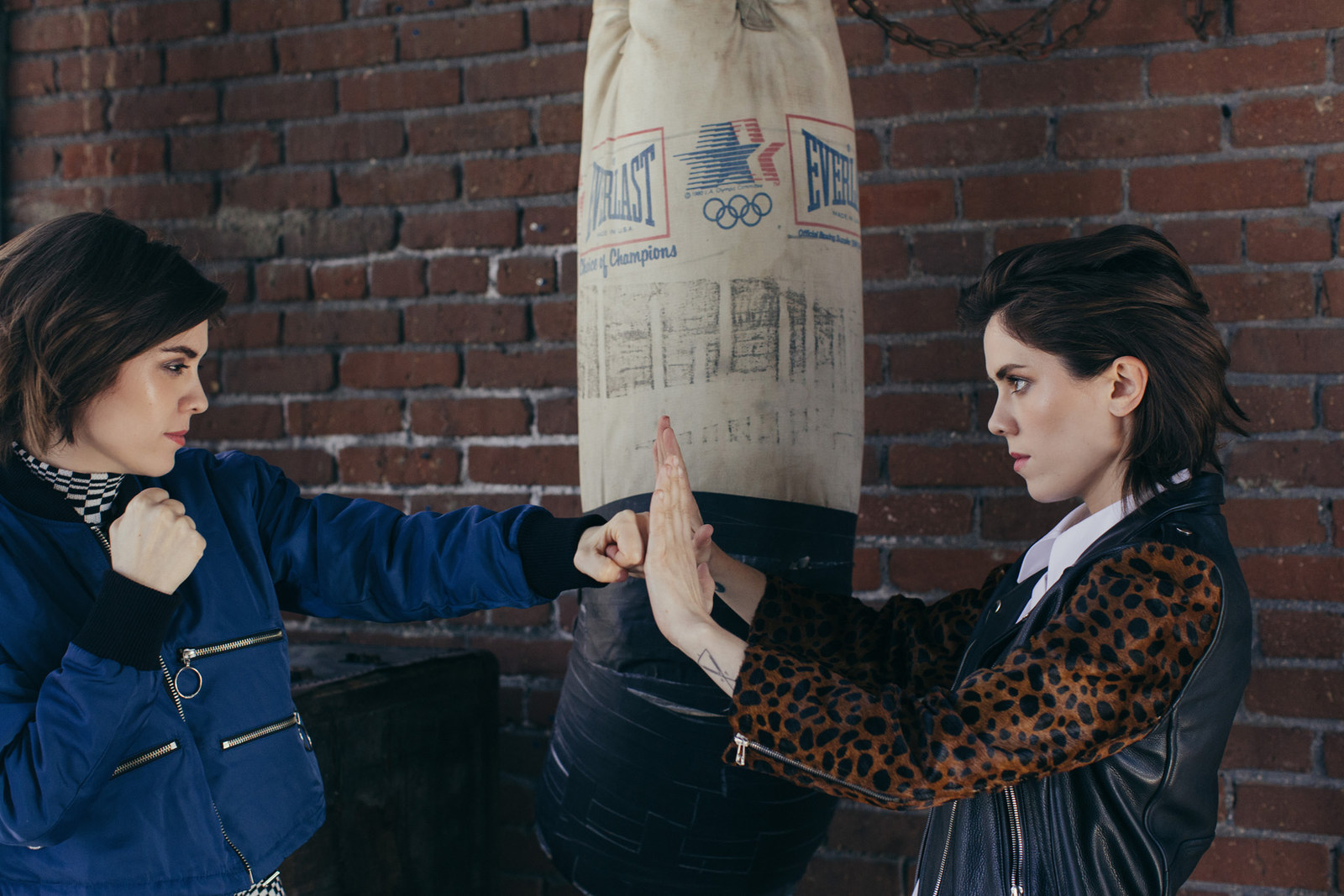 It's a cool L.A. afternoon in late February, and Tegan has flown to Vancouver to move into her new apartment. Sara and girlfriend Reader will follow later today to buy furniture for theirs. The sisters lived on opposite coasts for over a decade, but just bought condos three blocks apart in downtown Vancouver — so close you can see Tegan's place from the courtyard of Sara's building. They both rent in L.A. while they're working, like now: The washer-dryer in the kitchen of Sara and Reader's Silverlake home is whirring with one last pre-flight laundry load. A friend will cat-sit when they're gone. Right now, gray, placid Holiday is nowhere to be seen. Mickey, the weirder black-and-white sibling, spends the next three hours staring out of the kitchen window, or lying spread-eagle on the rug. Sara gets two seltzers out of the fridge, which is plastered with postcards and photos showing the couple smiling at a recent family wedding.

Reader moved from the East Coast to live with Sara, and wasn't as worried about leaving behind her friends and job as she was the prospect of the Quins living in the same city. "You guys are doing so well and you have such an established thing in your world — do you think you can really do that?" Sara recalls Reader saying. "I was like, 'Well, we're about to find out.'"
Love You to Death is the first time Sara has written about the darkest era of her relationship with Tegan, which almost broke up the band just as they were first making commercial and critical headway. "It was cruel of me to do what I did to you," she sings on ballad "100x." "White Knuckles" is gothic-tinged synth-pop. "I made us feel unlucky too," she sings, stretching each word. "So, luck be damned / Break that mirror in two."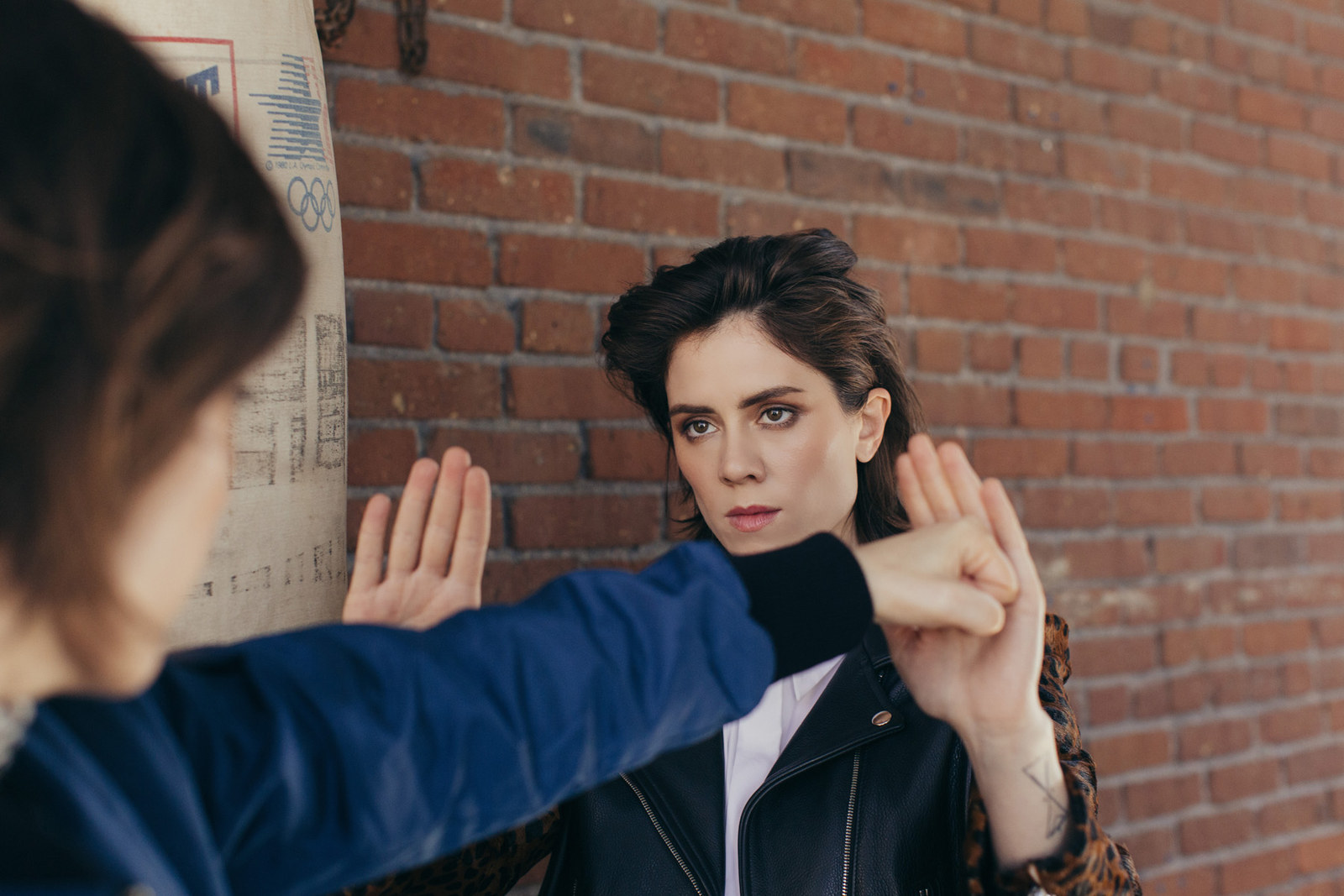 The hurt set in when Sara left for the East Coast at age 23. Vancouver was too expensive, and she needed to escape her burgeoning twin identity crisis. Weeks after moving to Montreal she met Storey, who introduced her to the city's activism scene and became her long-term girlfriend. She was also the first person who intervened when the sisters fought, a role that even their parents had avoided. "I sometimes so desperately wanted someone to just say which one of us was right and which one of us was wrong," says Sara, pulling at her laundry-day T-shirt.
When Sara returned to Vancouver to record 2004's synth-adorned So Jealous, the sisters went into therapy. On tour they shared hotel rooms, where they would wrestle after shows. They also fought in front of their crew. "As women, we've also had to carry the burden that men are allowed to kick shit and punch each other," she says. "It was completely horrifying to people that we would fight."
By the time they made 2007's rocky, experimental The Con, they had been upstreamed from Vapor to major label Warner Bros. The tour was grueling. They were grieving for their grandmother, who had practically raised them, and Sara for her relationship. She and Storey had married in a civil ceremony — just the two of them, signing papers before a notary — so that the New York–born designer could get Canadian citizenship, which Sara detailed in The Con's sweet, contemplative opener, "I Was Married."

But by the time the Quins toured Europe in 2008, the couple had separated, "and I was totally alone for the first time in a long time," says Sara briskly as James Blake's "Limit to Your Love" plays from her stereo. She speaks with such intensity that she rarely lingers on the emotional details. That freezing tour, they got in three bus accidents. In Glasgow, on February 29, the sisters properly came to blows.
"That was rock bottom," says Sara. "That was screaming, fighting, pushing, punching: Band's done. I feel ashamed of how badly Tegan and I treated each other. We were totally without the tools to get through what was happening to us."
They canceled a string of shows. Their managers freaked out, until Neil Young stepped in. Sara recalls him saying: "Who cares? Just fucking cancel everything. What's more important: their relationship or doing Glastonbury?"
"I remember my therapist and people around me being like, 'Has it ever occurred to you that you're just tired? That you need a break for a minute?' Like, Wow, how did we get so far apart from each other? I remember in between The Con and Sainthood really deciding that my relationship with Tegan as a sister was far more important than the one in a band."

Love You to Death is the first album where Sara's felt comfortable writing about her struggles with her sister. "In the years where I wasn't secure in our relationship, I knew that was the one completely untouchable topic," she says, speaking rapidly. "I have left Tegan as a very protected thing — the only protected thing — and I think it's because I was most afraid of it. Now that we're good again and things are so strong between us, it's really much safer for me to start to analyze it."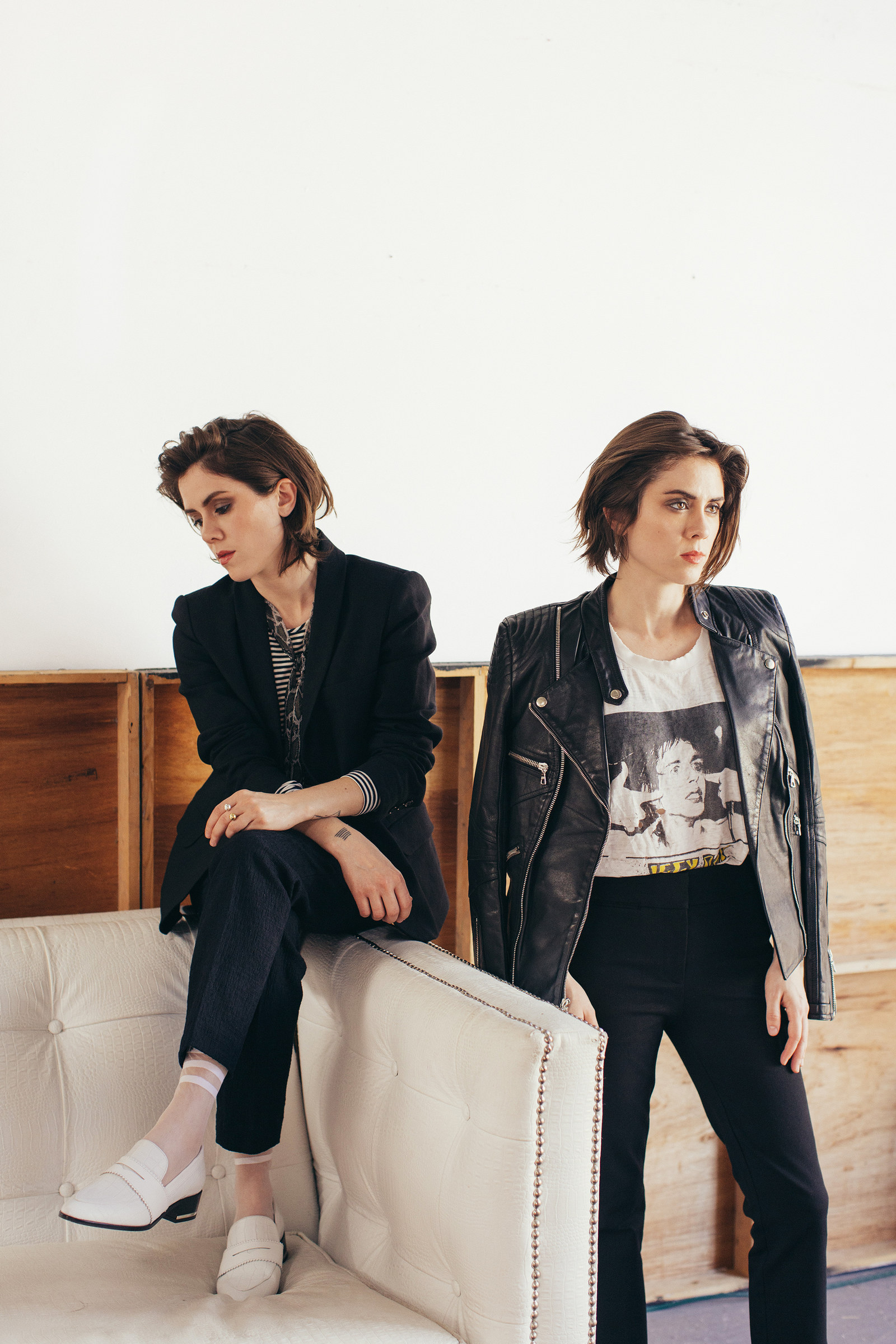 Two days later, Tegan opens the door to her Vancouver apartment, which she's just moved into after seven months of renovations. It's striking: all bright white and exposed concrete, and floor-to-ceiling windows spanning both stories. Her future studio is full of boxes and trinkets: Their grandpa died last year, and each twin inherited one of the vintage slot machines he refurbished as a hobby, and the beer signs from their grandparents' basement bar, where the couple would dance to country music and host bands. There's a trophy Storey made the sisters for not fighting during a 2011 tour, two bronze football players atop a plaque that reads "Tegan and Sara Get Along." Tegan turns on the electric fireplace, and settles at one end of her couch. The place is so new that she hasn't had time to buy basic appliances — she's still sharing a vacuum with Sara that they trade back and forth. Spare planks of wood from the renovation serve as a makeshift coffee table.

If there's one thing they won't be doing on the Love You to Death campaign, it's eagerly traipsing around radio stations in the hope of getting playlisted, a rigmarole that sent them spiraling last time around. "[You have to] wake up and go to a radio station and talk to a bunch of people named like, Daryl the Dog and Sharkman, and they're gonna ask two questions that aren't relevant to our project, honk some horn, and then we're done for the day," Tegan recalls. "I'm like, 'Should we spend $2,000 flying here?' Then it opens a can of worms: Have we lost our integrity, was this worth it, what is pop music, is this working?"
Compounding the stress, their beloved aunt Julie, who had toured the world with them early on, also died mid-tour. The intensity of their lives meant that the sisters closed ranks to make their eighth record, the process as insular as it was on their debut. Greg Kurstin, who rarely works on full albums, produced eight of Heartthrob's 10 songs, and came on board for the whole of Love You to Death. "Working with Tegan and Sara, it just feels so effortless," says Kurstin, who's also worked with dozens of A-listers like Adele, Taylor Swift, Sia. "It's one of the few bands that I would wanna do a whole album with."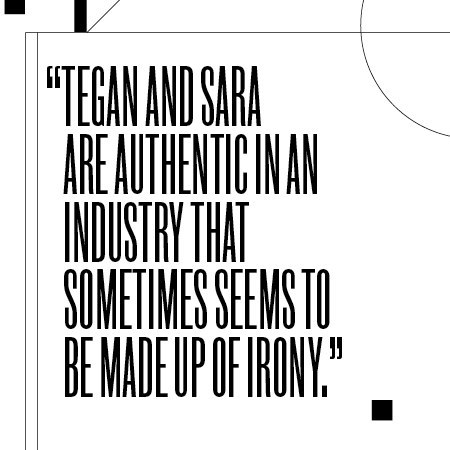 As the new Lucius record plays from her laptop, Tegan says they wanted to write a "very introverted" album because she knew the scale that they're operating now could sacrifice the intimacy they've always had with their fans. That's not to say it sounds insular — they've pushed Heartthrob's synth-pop palette into harder, leaner bangers. For her, Love You to Death is about "how debilitating and transformative" relationships can be, which includes Sara, though her identity is less contingent on her sister's than vice versa.
Tegan's dating again after having had two long-term girlfriends back-to-back. (Sara calls her a "serial monogamist," who, if left single, "might die — her organs might not work.") Last year, she realized that too many of her relationships had been about compromise, and that she hadn't been pulling her weight. It set her on a course of self-improvement — she mimes tearing and preening at herself with the exaggerated movements of the lead in a Sia video.
Love You to Death starts with "That Girl," which flickers and pounds as she asks, "When did I fall so far? Barely recognize me." But over the course of her five songs, she comes to accept her whims. "There's a point where you have to be like, 'This is me, and you're either charmed or not,'" she says with a wry grin. "I want to feel comfortable with who I am, still work on myself, but not constantly tear myself down, either."
Tegan is more confident than her sister, though Sara's anxiety can mean that she becomes the dominant one. "Sara has this awful, anxious time feeling like an outsider, and it's so funny," Tegan says, sounding incredulous. "Like, Well you act like an outsider! I just act like I belong everywhere I am, and I don't have those fears, and yet when I am with Sara, sometimes I feel like an outsider for sure.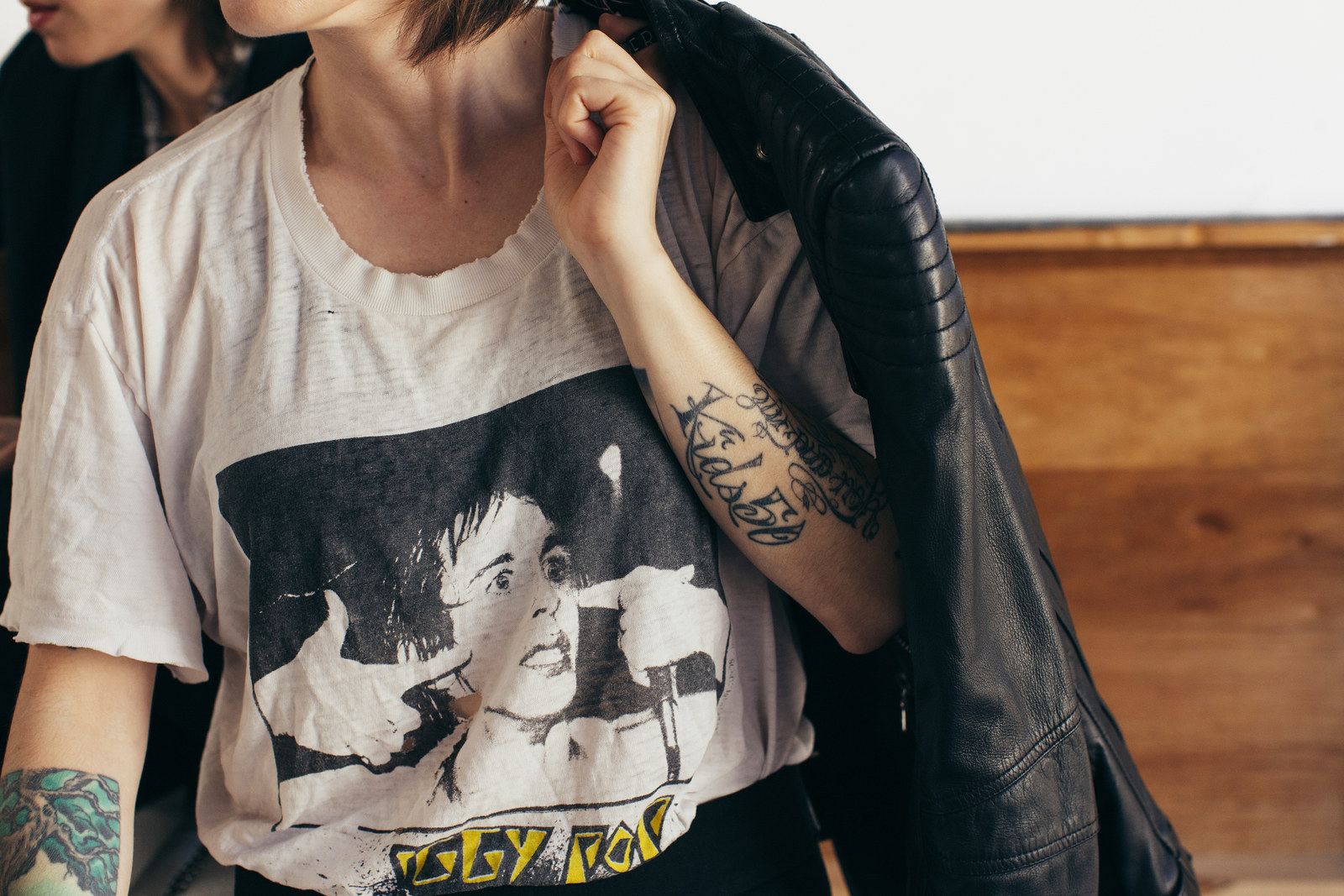 "I remember being in the back of the van, and Sara being in the front, ranting about Stereogum, bands from Montreal," she continues, reflecting on the tour for 2004's So Jealous. Sara desperately wanted the band to be accepted by the indie rock elite and the press, despite the abject sexism and homophobia they experienced from the latter: Pitchfork said they could once be mistaken for "tampon rock," Spin, "a Wicca-folk nightmare"; radio hosts would ask them live on air if they were incestuous with each other; and NME declared that they were "quite lovely, even if they do hate cock."

"I'd be sitting in the back, staring out the window like, 'Aren't we cool? I thought we were so cool.' She was like, 'We are not cool,'" says Tegan.
When Sara was anguishing over being accepted by the likes of Arcade Fire, Tegan had found a home in the pop-punk community, befriending bands like AFI, New Found Glory, Against Me!, and Paramore. "I loved the openness," she says. "I had felt a little bit like an outsider but not of one specific group — we're on tour all the time, we're outsiders, period."
Hayley Williams said Paramore had been looking for an "important" band to support them on their 2010 outdoor arena tour. The sisters fit the bill. "They don't need to keep pushing themselves but they do," Williams says. "And their name means something. Not only because they stand for something, but because they play original songs that they write from their heart. Tegan and Sara are authentic in an industry that sometimes seems to be made up of irony."
On tour with Paramore, Tegan spotted a change in her sister. "Just to be embraced by those fans, she realized we weren't as outsidery as she thought we were. Definitely I saw her confidence growing, and her interest in pop and electronic music also became really important, and became an asset."
Tegan agrees that her and Sara's relationship is probably the best it's ever been. "What we've accomplished is so astronomical compared to what most people have to do," she says. "We have to work together, we have to share a face, an identity, we have to sleep next to one another on a bus — it's incredible. So the fact that we even enjoy each other is a miracle. We're lucky that I still hear Sara's music and think that she's a genius, she's amazing, that she's interesting and she can say things in a way that I could never."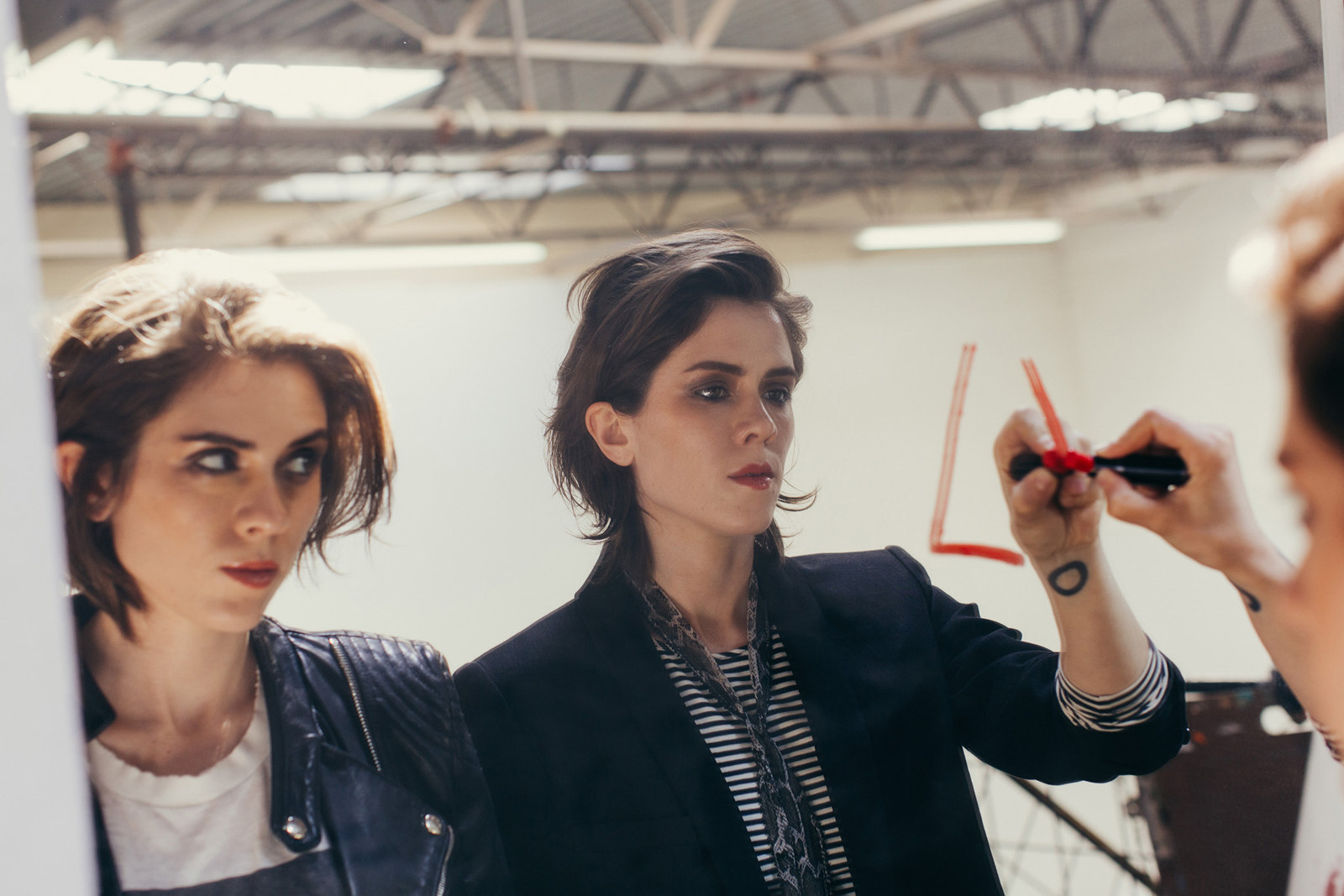 In a fancy Japanese restaurant in downtown Vancouver, the Quins spend 20 minutes respectfully arguing about their individual approaches to activism — now a prerequisite for the modern pop star, but a lifelong concern for the sisters. The week before, a judge denied Kesha the preliminary injunction that would free her from her contract with Dr. Luke's label. (A judge formally dismissed the case April 6.) As many artists did, Sara tweeted "#freekesha" from the band's account.

The upshot of their very nuanced debate is that Tegan would rather take action by going straight to the source — a charity, the person at the center of the issue — rather than post on Twitter or Instagram. "I don't feel better when we post about something that's controversial," she says. "It actually makes me feel like we think we got away with being supportive about something. Sara posted about Kesha without ever talking to me, but obviously I would support it."
Sara also gets involved behind the scenes, but thinks speaking out alongside her peers is important. "When I see Bethany [Cosentino] from Best Coast, and Lena [Dunham], and Justin Bieber tweeting about Kesha, my impulse is to go, 'This is fucking outrageous, I'm gonna fucking say something.'" She worries that if they didn't join in, fans would accuse them of being vapid.
Over their 17-year-career, Tegan and Sara have consistently stood up to be counted, especially on LGBT issues. They've also quietly benefitted a range of charities, mostly pertaining to marginalized groups. They've just signed up as board members of the Girls Rock Camp Foundation, and want to show teenage girls how to get into their world. "Sara had a great idea about touring high schools and talking to them about self-esteem and music," says Tegan.
"They are completely authentic and honest," says Cyndi Lauper, who in 2007 invited them on her True Colors tour, which benefits LGBT organizations. "They show that you can be yourself, stay on your path, not sell out, and fans will be drawn to that."
As out queer women, they've always been natural activists, though it started with their mom. Sonia went back to college when the girls were young, and brought home lessons about prejudice and advocacy, which spurred them into action when their school banned baggy pants to try to combat local gang culture. "Our mother told us, 'This is fucking fascist, and so what we're gonna do is sign a petition and we're gonna do a sit-in and change the infrastructure,'" says Sara. They gathered 30 kids and assembled outside the school office to discuss censorship. "Our mom instilled that in us really young. We should understand what we care about and we should participate and support the people that we do care about."
Tegan's reticence to get on the internet soapbox also stems from anxiety about how their fanbase reacts. Certain factions find fault with everything they do. The Quins caught onto the value of online fandoms earlier than most bands, following their fans' lead. Jennifer Vaughn taught herself HTML to start the first Tegan and Sara fan site in 2000, when she was 24, after she heard This Business of Art but couldn't find much background on them. Within a month, the first of many online T&S communities had formed around it. (The band started their own site two years later.) She met her wife through the board — they just celebrated their 10-year anniversary, and have two kids.
These sites were how you found them before Twitter endorsements from Katy Perry and performances at the Oscars: You discovered one queer band's online message board, asked for tips of other artists to listen to, found Tegan and Sara, and signed up to their forum asking if it was normal to listen to "My Number" while thinking of your female gym teacher, only for the older board members to reassure you that was the most textbook baby-queer move ever. The sisters fed the culture that their fans had started, sharing reading lists, tour diaries, and behind-the-scenes footage before most people had an internet connection fast enough to watch it.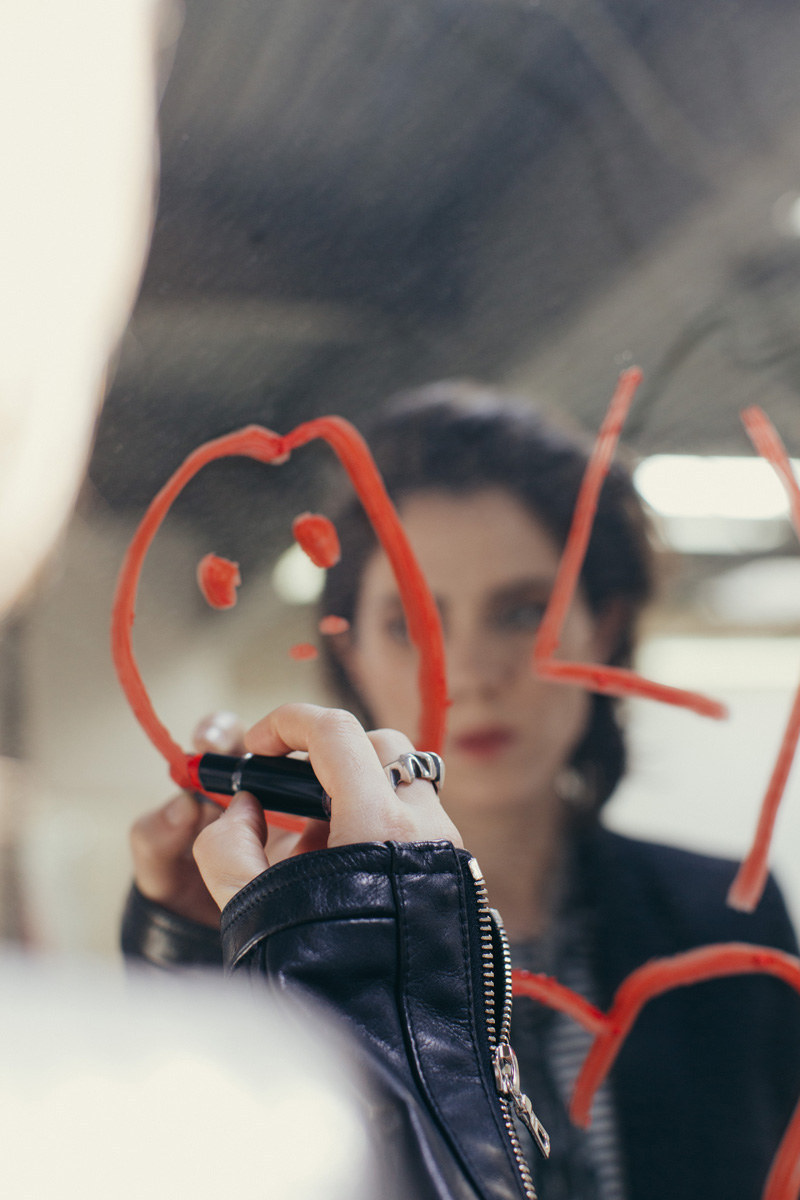 These days, the Quins have a fan club, the Superclose Society, which offers exclusive merch and official membership cards, and is generous with photos and insights into the women's lives. The implied intimacy can lead some of their fans to overzealous criticism. If they support a cause, it's the wrong one. "Sara posts a picture of the cats, they want a selfie; we post a selfie, they think we're douchebags; I wear a pleather jacket, I'm a seal hunter," Tegan sing-songs, looking weary at the thought. It's the catch-22 of being role models for a marginalized identity: The pressure from fans not to mess up is even higher, though responses like these seem more self-defeating, or self-serving, than genuine attempts to hold the Quins accountable for any serious wrongdoing.
"I see so many messages: 'what about #blacklivesmatter,' 'what about #oscarssowhite,'" she continues. "If you speak up on one topic, everyone expects you to speak on every topic. I do believe that a lot of people listen to us to hear about what music we listen to, and what books we read, and what we believe politically, but it's a very, very fine line for me. I'm always careful about the balance because I don't want to be a political commentator. I'm not educated in that, and I am always nervous to talk on any topic outside of music because I don't wanna be one of those people that just speaks emotionally but doesn't have the context to support it."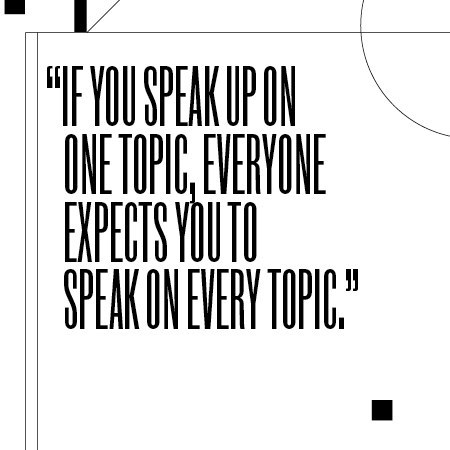 But Twitter does give them useful recourse that they didn't have a decade ago: In the run-up to the Academy Awards, the weekend we're in Vancouver, Rolling Stone listed the Quins' 2015 rendition of "Everything Is Awesome" as the fifth best Oscars musical performance ever, describing them as the "Canadian lesbian duo" who had performed with the Lonely Island. Sara tweeted back: "lesbian Canadian duo @teganandsara is honored to be included w/heterosexual trio @thelonelyisland." Rolling Stone took it down straight away, and apologized. "No more Mr. Nice Guy with that kind of thing," Sara says.
They're thinking of making a T-shirt that has every homophobic, sexist thing ever written about them emblazoned on it, to show how far society has come, and all that they've weathered. "We refuse to feel ashamed," says Tegan. "'Cause we felt ashamed then and we don't anymore. Now we wear it as a badge of honor — we lived through a time where you could talk that way about women."
"At this point it feels like they've made such inroads, or that it's so normalized in a great way," says Against Me!'s Laura Jane Grace, who wrote the song "Borne on the FM Waves of the Heart" for Tegan to sing on in 2007. "They're Tegan and Sara, they're great, they're lesbians, who fucking cares? They're twins, who cares? They're just a really great band."
With certain battles won, they can also relax and live their truth. One of Love You to Death's most striking songs is "BWU." Sara sings: "Save your first and last dance for me / I don't need a white wedding." She's never believed in forever, but she couldn't have written "BWU" before gay marriage was legalized in America last summer. "I really felt it was important for me and Tegan to be on the forefront of that movement," she says. "But as soon as it happened, I felt relieved. Not because suddenly we were all getting married — I was like, finally, I can just say what I really think, which is that now everybody has it, let's start dismantling this shit."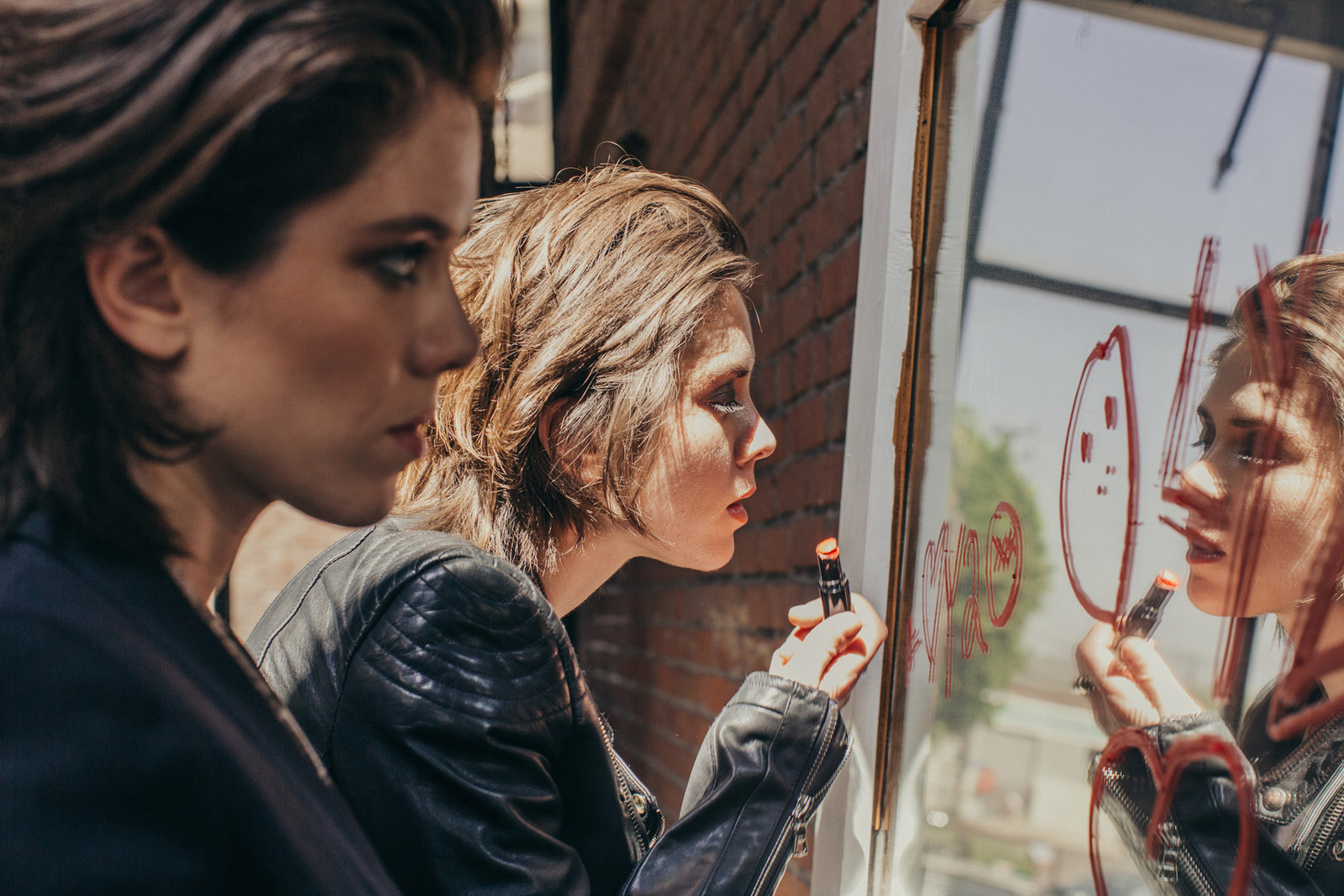 Their influence has borne out. Jack Antonoff of fun. and Bleachers regularly collaborates with Sara, and is one of Taylor Swift's and Sia's go-to songwriting partners. "You would go into the studio with an artist and you'd be like, 'What are you into lately?'" he says. "And they'd be like, Heartthrob. What kinda vibe do you wanna do? Heartthrob."

They still want to widen their scope. They're writing for other artists, like Carly Rae Jepsen, but won't settle for being anyone's opening act this time around. Sara's just written the score for Clea Duvall's new movie, The Intervention, and wants to campaign on the minuscule number of women in film scoring. Tegan wants to push into other formats like podcasts and embrace the financial necessity of branding.
"Being a musician doesn't just mean being a musician anymore," she says. "And I think that for Sara and I, it's actually taken some of the pressure off." She just spent the last three months rewriting the demos for songs they didn't use to give to their publisher, to see if other artists will record them. "I still feel like there's so much more to say. But maybe we'll find other ways to say it, not just through music."
The check arrives. Amid empty wine glasses and a bowl of decimated pork belly, talk turns to the future. They renewed their deal with Warner Bros. for three records, Love You to Death being the first, even though they're both aware that whole albums, and the music business infrastructure that creates and sells them, may hold little sway as playlists and singles come to dominate. But progress has always been their priority. The only difference now is that they can lead from the front.
"I think there's so much that's changed about our industry since we started," says Tegan, growing louder over the hubbub of the busy restaurant. "And that's the best part."