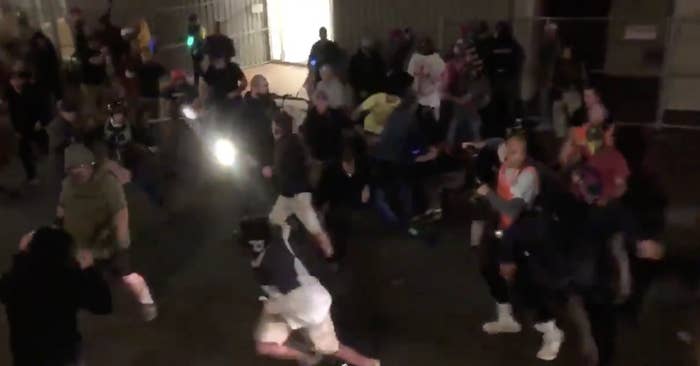 Violence broke out in Portland, Oregon, on Saturday night, after members of the far-right organization "Patriot Prayer" clashed with "anti-fascist" counterprotesters.
A brawl took place outside the Kelly's Olympian bar in Portland, according to footage posted on social media.

The incident mirrored clashes between anti-fascists and "Proud Boys" in New York on Saturday, following a Republican event in Manhattan.
Video footage showed violence between masked protesters, and people firing what appeared to be pepper spray.
Right-wing protesters who wore MAGA hats and anti-fascist counterprotesters who were dressed in black participated in the violence.
The far-right group Patriot Prayer called for a rally Saturday evening in downtown Portland.
A reporter for the Oregonian said that members of the far-right men's organization "Proud Boys" were also present.
The incident appears to have taken place after Fox News criticized a left-wing demonstration earlier this week. That incident protested the shooting of Patrick Kimmons, who was killed by police in the city last month.

Right-wing protesters reportedly chanted "USA" and carried a US flag as they approached the left-wing group.

Anti-fascist protesters responded with chants of "Go home, Nazis."
Footage also emerged of anti-fascist protesters burning US flags.
Police in Portland confirmed that violence unfolded over a roughly three-hour period. In addition to pepper spray, police said, hard-knuckled gloves, firearms, batons, and knives were also used by protesters.
While police believed assaults had taken place, there were no reports of people being taken to the hospital, and no arrests were made.
"The Portland Police Bureau's objectives for today's events were to provide a safe environment for everyone, including participants, non-participants and bystanders," Portland Police Chief Danielle Outlaw said in a statement. "We are aware that there was a large, violent encounter between opposing groups on Southwest Washington Street."
"Officers responded to the scene and used less lethal munitions to break up the fight and prevent further violence. We will continue to investigate this incident and ask that anyone who was the victim of a crime to come forward and file a report," Outlaw said.