The tusks of almost 7,000 elephants, weighing more than 100 tonnes, have been burned in Kenya in a symbolic warning to ivory poachers.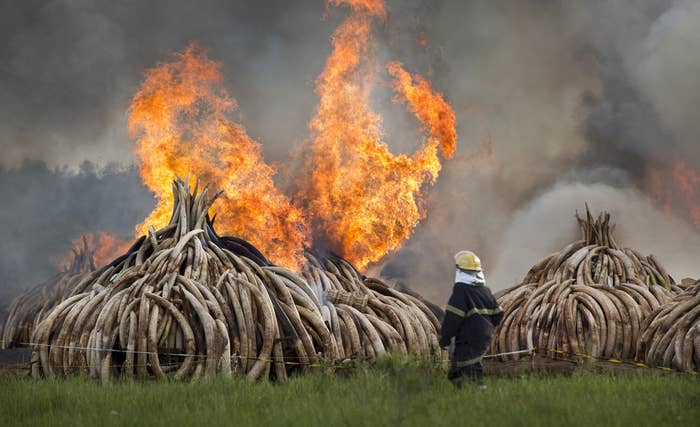 "We are going to put you out of business," Kenyan president Uhuru Kenyatta said in a message to poachers, delivered to a crowd gathered for the burning ceremony at Nairobi National Park on Saturday.
Around 5% of the global stocks of ivory was burned in 11 symbolic pyres, along with 1.35 tonnes of rhino horn.
While the trade of ivory has been banned since 1989, authorities have estimated that the stockpiles would have been worth around $105 million (£82 million) on the black market.
"This will send an absolutely clear message that the trade in ivory must come to an end and our elephants must be protected," Kenyatta said.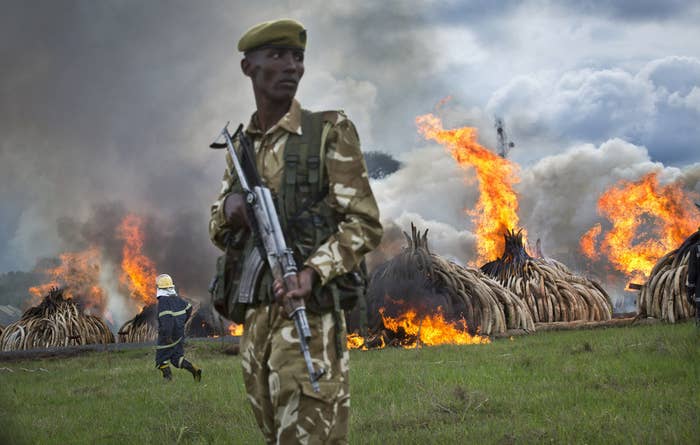 Kenyatta will join global leaders in pushing for a total international ivory ban at a United Nations summit later this year, which would include the sale of ivory bought before 1989.
While the import of ivory into China – where it is highly prized – is illegal, activists have expressed concern that legal sales of ivory could cover up the illegal sale of newly produced, smuggled ivory products.
Ivory burnings of this kind have been held in Kenya many times before, but not on this scale, and it is hoped that today's burning will send a strong message to poachers.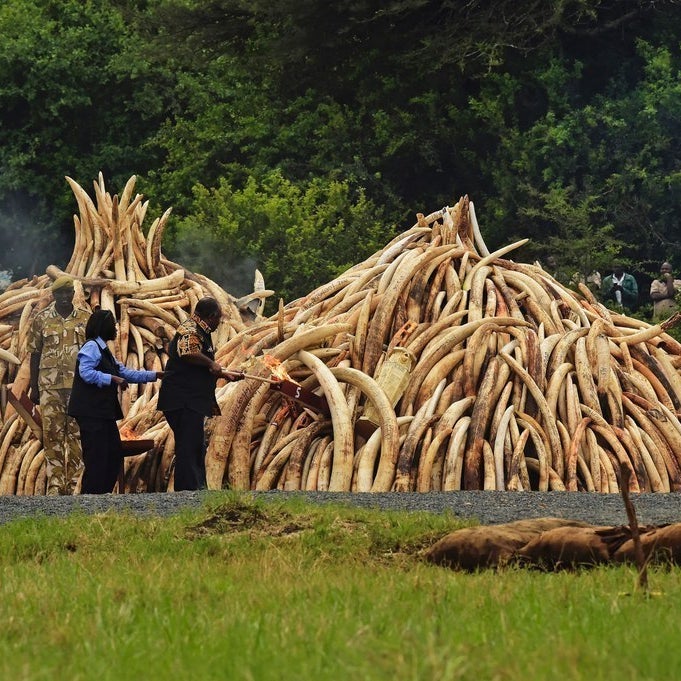 More than 30,000 of Africa's 450,000 elephants are thought to be lost to poaching every year, and 94 have been killed in Kenya alone this year.
The elephant population is is a "perilous state," according to palaeontologist and chair of the Kenyan Wildlife Service, Dr Richard Leakey, The Telegraph reported.
But some campaigners have warned that the burning is a stunt that will simply lead black market traders to change tack, rather than deter them.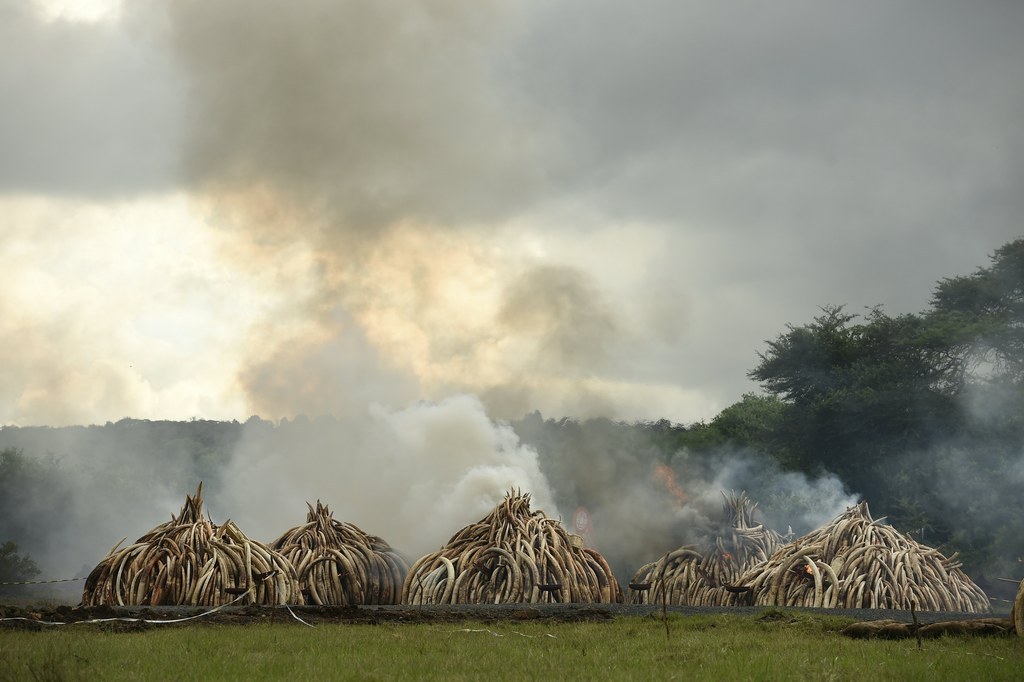 "I think it's almost reckless of the Kenyans," Mike Norton-Griffiths, an environmental economist told the BBC's Today programme ahead of the burn on Saturday.
He worried that taking 5% of ivory stock out of circulation would almost certainly prompt a reaction from poachers that would lead to the death of more elephants.
"The traders will see 5% less ivory available to be released to them. Their response will be: 'They're taking this seriously, they're never going to release this ivory to us, we must go and collect more from elephants,'" Norton-Griffiths said.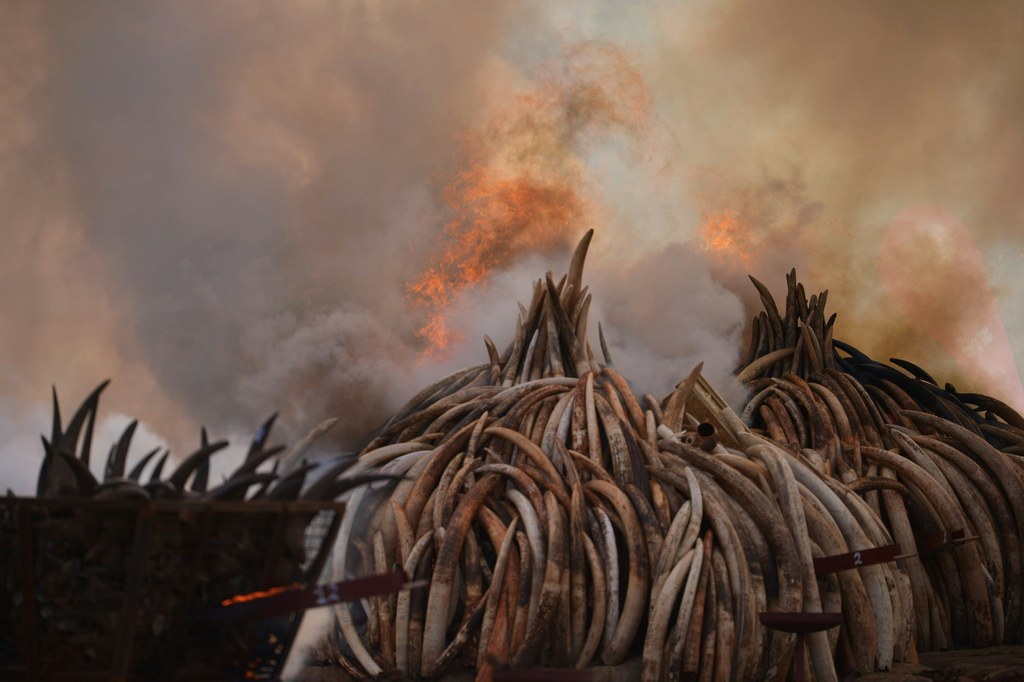 But addressing the issue during the burning ceremony, Kenyatta said he felt that he had made the right decision. "I'd rather wait the judgment of future generations who I'm sure will appreciate the decision we've taken today," he said.
Responding to criticism of burning the seized ivory rather than allowing it to be sold and putting its revenue into Kenya's economy, Kenyatta said that while Kenya was a poor country, "is a rich country in terms of the heritage god has given us," and that it was important to take a stand to fight corruption end ivory smuggling.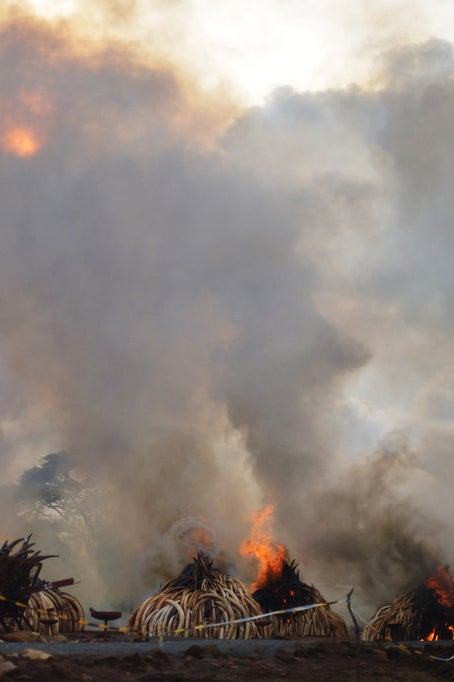 Ivory itself does not actually burn easily, but thousands of litres of petrol being pumped from the centre of the pyres allowed it to catch light.