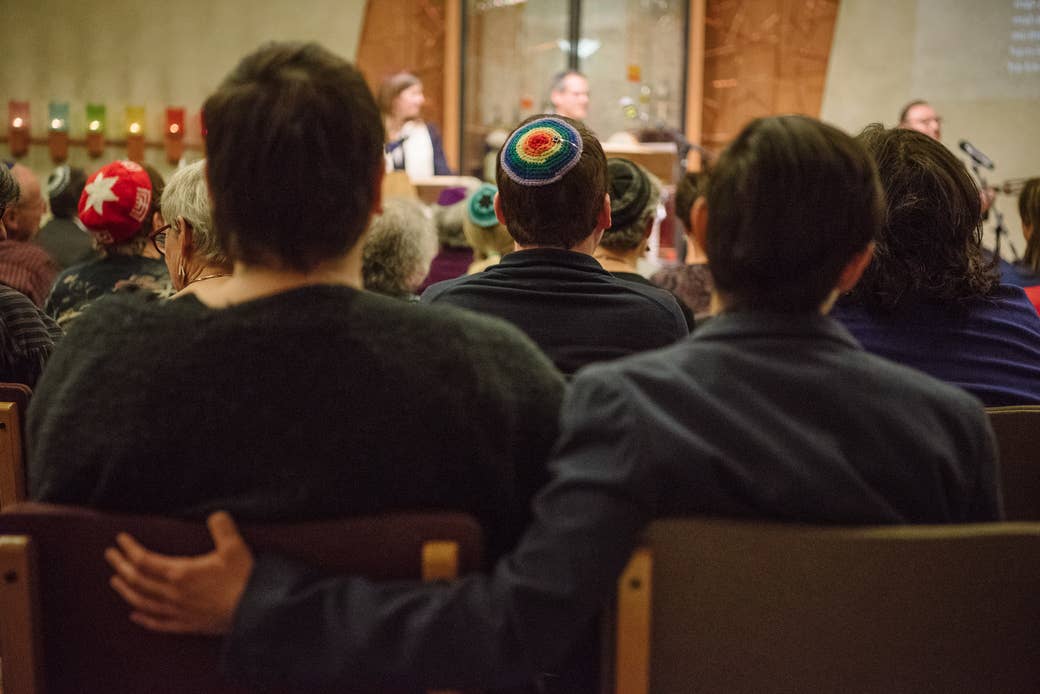 Since opening its doors in 1972 in Los Angeles, Beth Chayim Chadashim (BCC), which means "house of new life," has offered a Reform, progressive space for LGBT Jewish individuals who had previously been excluded from religious environments.
Considered the first of its kind, the BCC came to fruition only a few years after the Stonewall riots and not a moment too soon: Less than 10 years later, it would find itself supporting its community through the heartache and hardships of the AIDS epidemic that took several of its members.
In 1994, Beth Chayim Chadashim appointed Rabbi Lisa Edwards to the position of head rabbi, making her BCC's first openly gay rabbi at ordination to lead the temple. Since that time, Edwards has remained a pillar of strength and guidance within the temple, marrying same-sex couples, nurturing the growth of BCC's families, and leading her community through difficult times, such as the mass shooting at Tree of Life synagogue in Pittsburgh just last month. "It's been such a blessing in my life," said Edwards when we spoke to her, "I've been so blessed and lucky that I was of the age I was and had the opportunity I have had to serve this community, this congregation, these people. It's been the blessing of my life."
Morgan Lieberman began documenting Edwards and the BCC community in January for her project, Pride Over Prejudice. As a queer Jewish documentary filmmaker and photographer, Lieberman hopes to use this project to shed a light on a community she admires, respects, and identifies with.
Here we share a few of the images from her series that truly exemplify why, 46 years later, the world's first LGBT synagogue remains vital to the Los Angeles community it serves.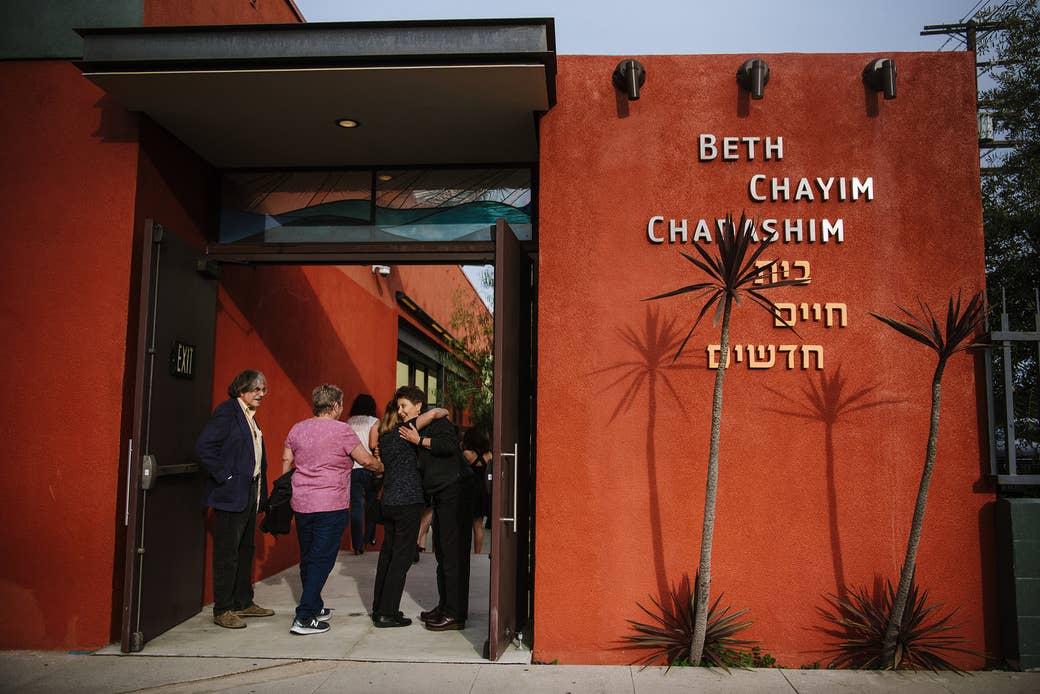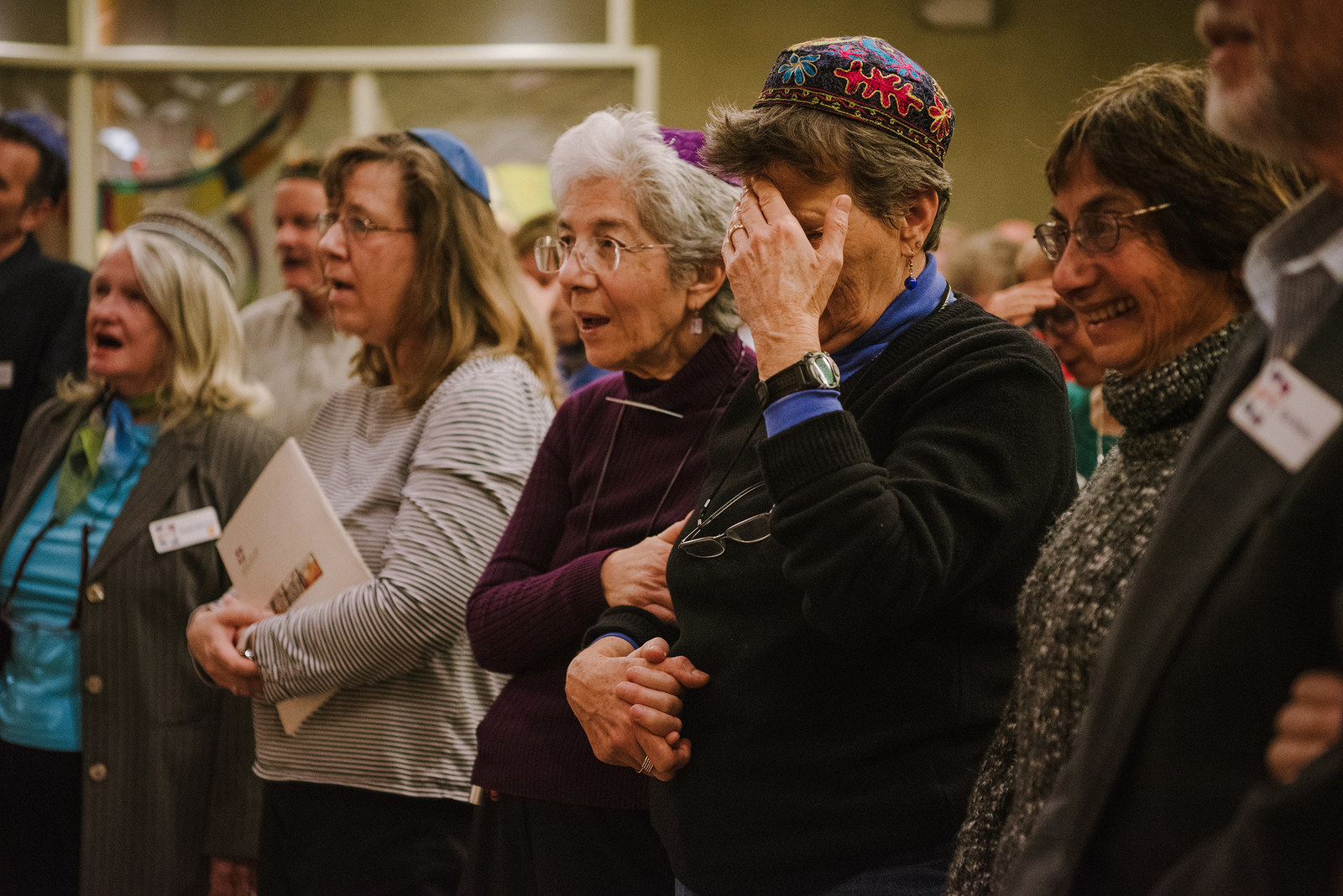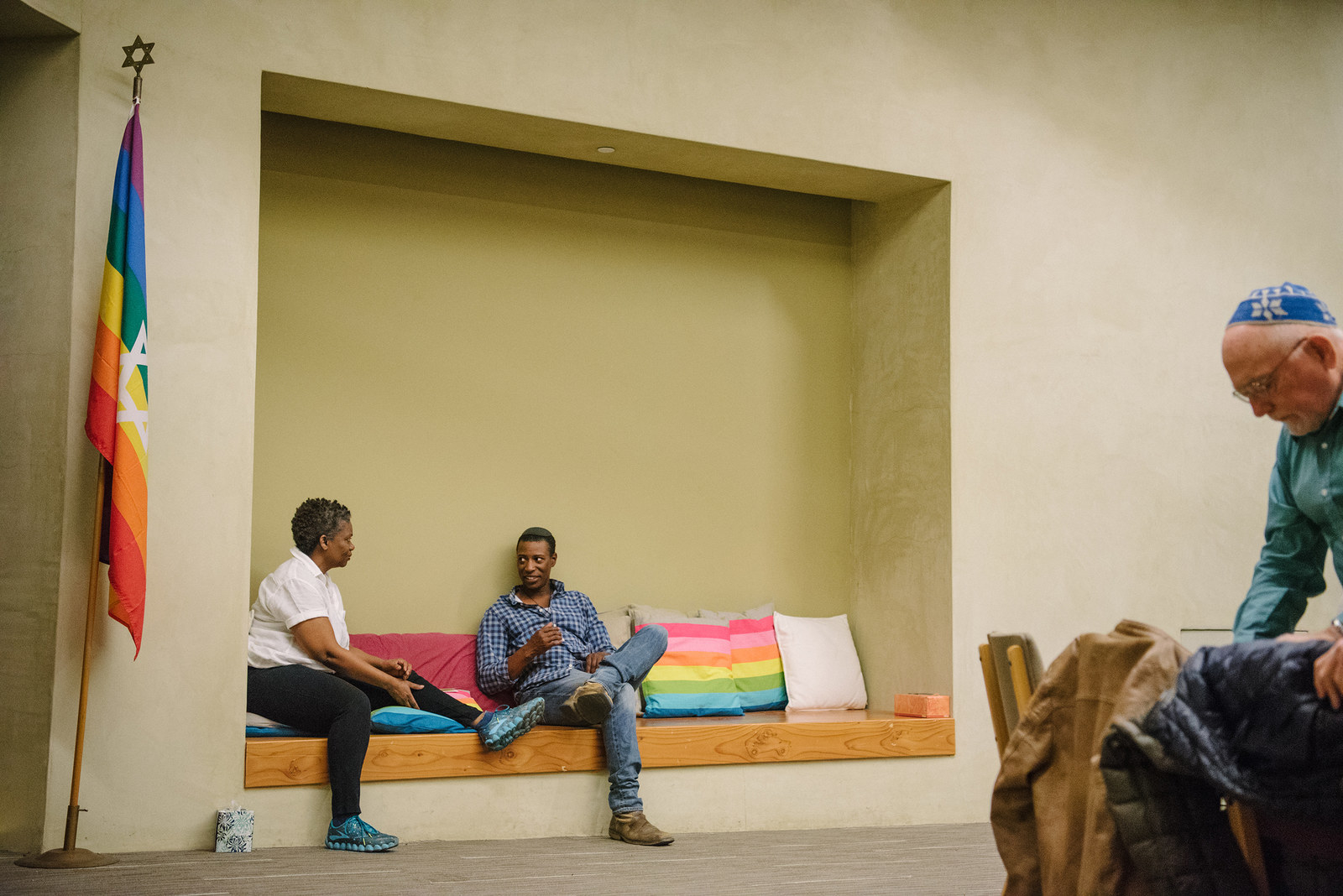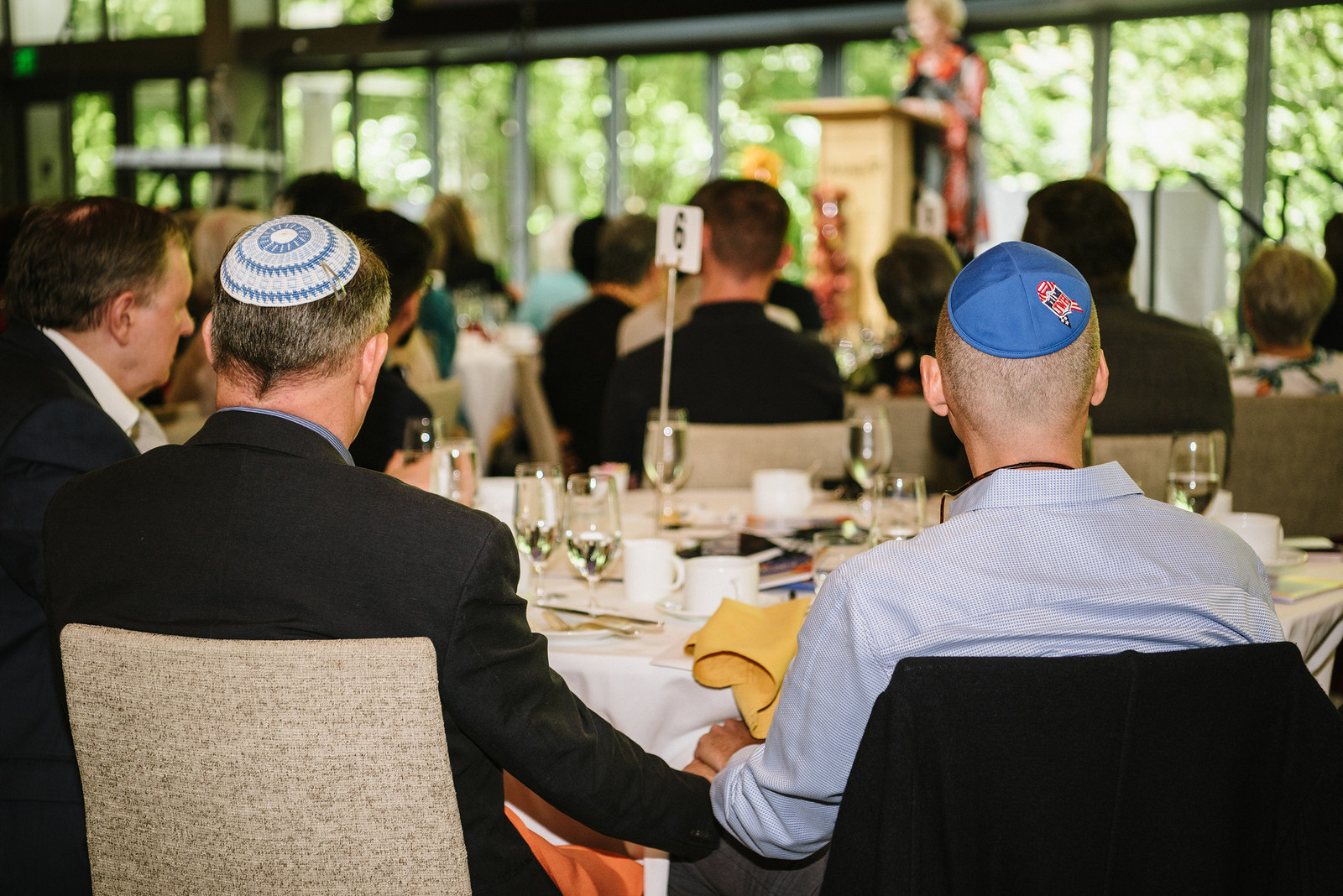 Nestled in Mid-City, an area with over 20 synagogues that has historically been a cultural hub for the city's most religious Jews, and where Kosher delis close early on Friday evenings for the observance of Shabbat, BCC is a unique fixture in an otherwise Orthodox community.
In February, the temple hosted a "Totally 80s Purim" celebration where members of the congregation parodied famous '80s songs to represent stories and fables of the Jewish holiday. Dressed in a colorful costume, Rabbi Edwards looked on in amusement as Cantor Juval Porat sang Blondie's "Heart of Glass." Another member was dressed as artist Keith Haring protesting California ballot Proposition 64, which health professionals opposed, believing that "AIDS victims who fear losing their jobs or their liberty will be driven underground, hampering efforts to control the disease."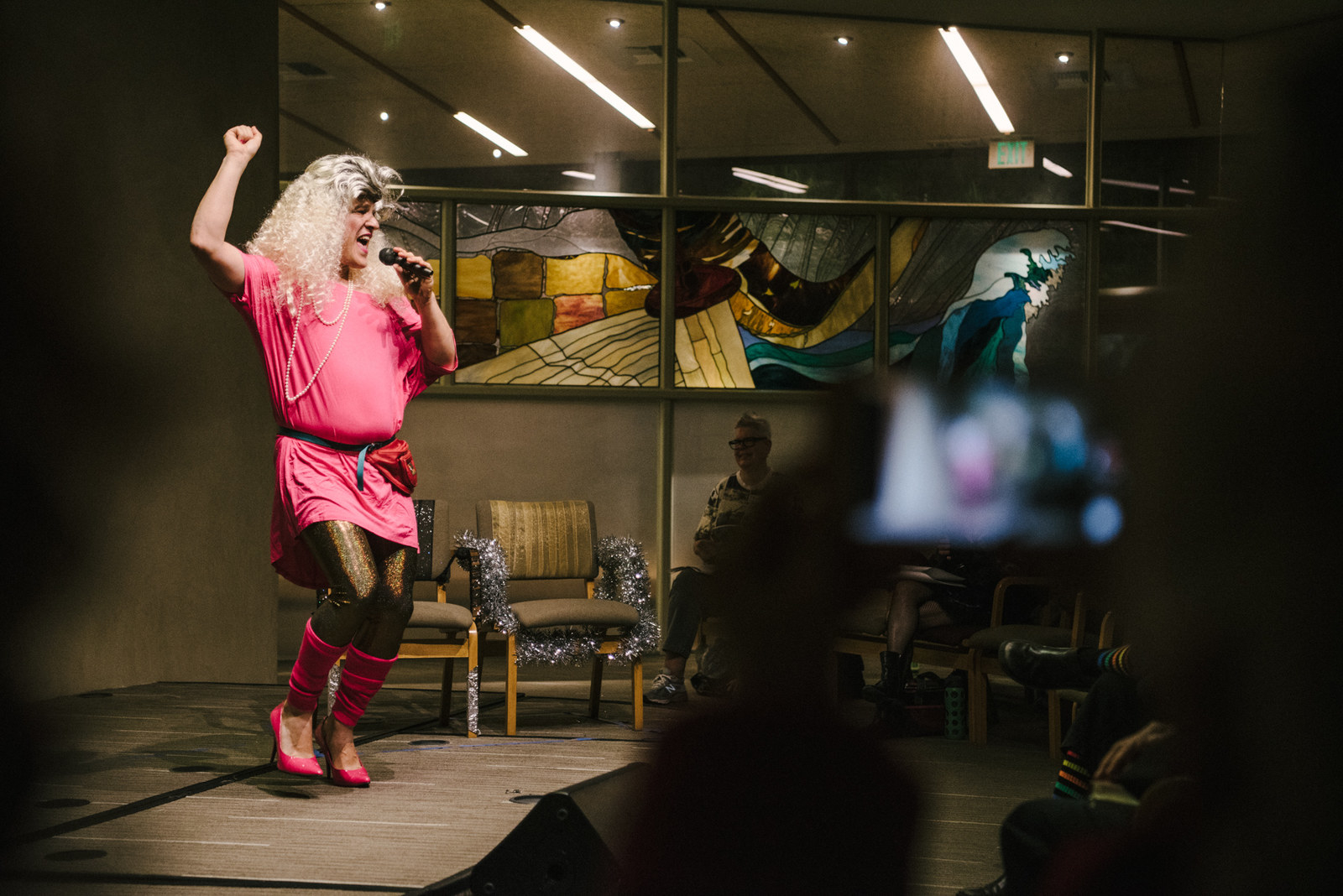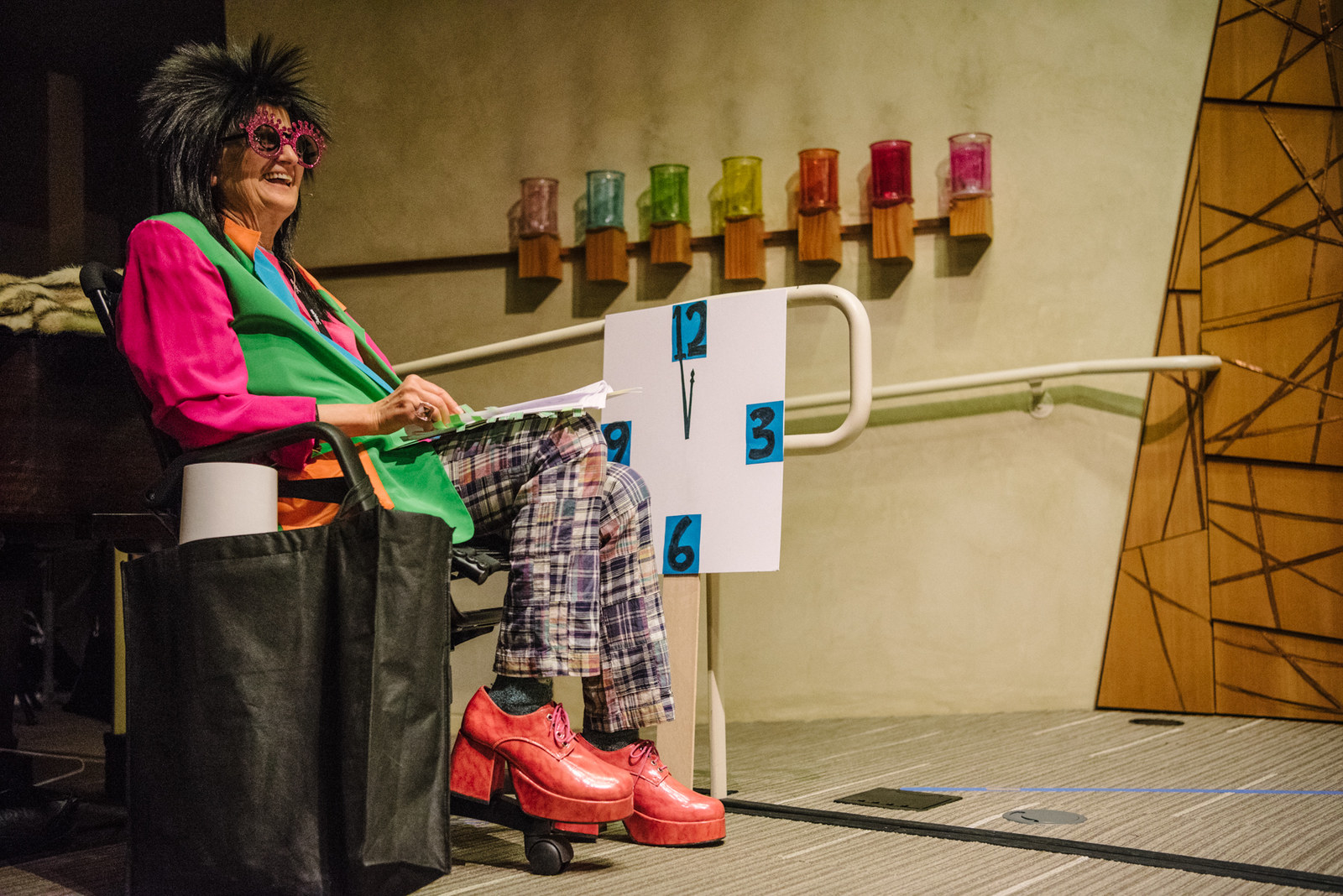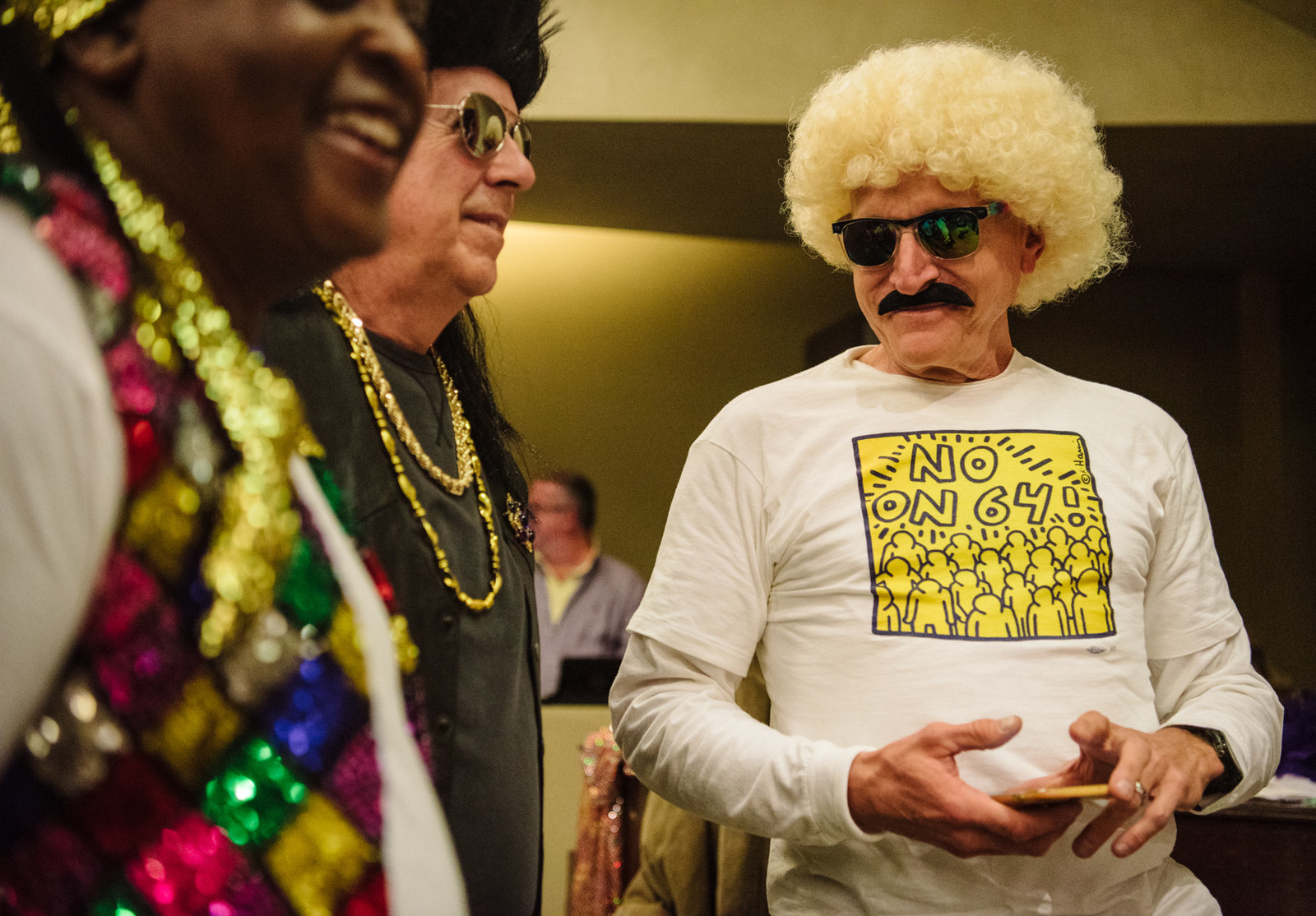 This year marked the 10-year anniversary of the monumental California Supreme Court victory for same-sex marriage, which was ruled constitutional on June 16, 2008. In the months following, Edwards married close to 50 couples, appropriately deeming it the "summer of love," before legal battles put ceremonies on pause for the next five years. Edwards said it was powerful to see "couples that had been together for a very long time who were getting married for the first time to each other." She found it equally powerful to see couples who had been married before it was legal asking one another to do it again for a second time. "I always find it such a blessing for couples to be able to say to each other, 'Would you marry me again?'"
In March, Edwards said she was moved to officiate the wedding ceremony of BCC member Elyse Saragossi, who grew up in the congregation. Her parents, Bonnie Moore and Carol Saragossi, had tasked Edwards with Elyse's baby naming and bat mitzvah years earlier, making the ceremony that much more meaningful to Edwards and the family.
From the many marriages Edwards has officiated, families continue to grow the congregation. BCC hosts events throughout the year, outside of the temple, to help keep the BCC family closer than ever. In May, members gathered on the beach in Santa Monica for a day of bonding and a bonfire later in the evening. "LGBT families have a lot of options in the Jewish community now, thankfully," said Edwards, "but the community here is made up of parents who want to be part of [it]." She also finds the diverse blend of families to be a huge benefit for the children, "it's quite a mix," she said, "and it gives such a wide range of experiences to the kids who get to be part of this community."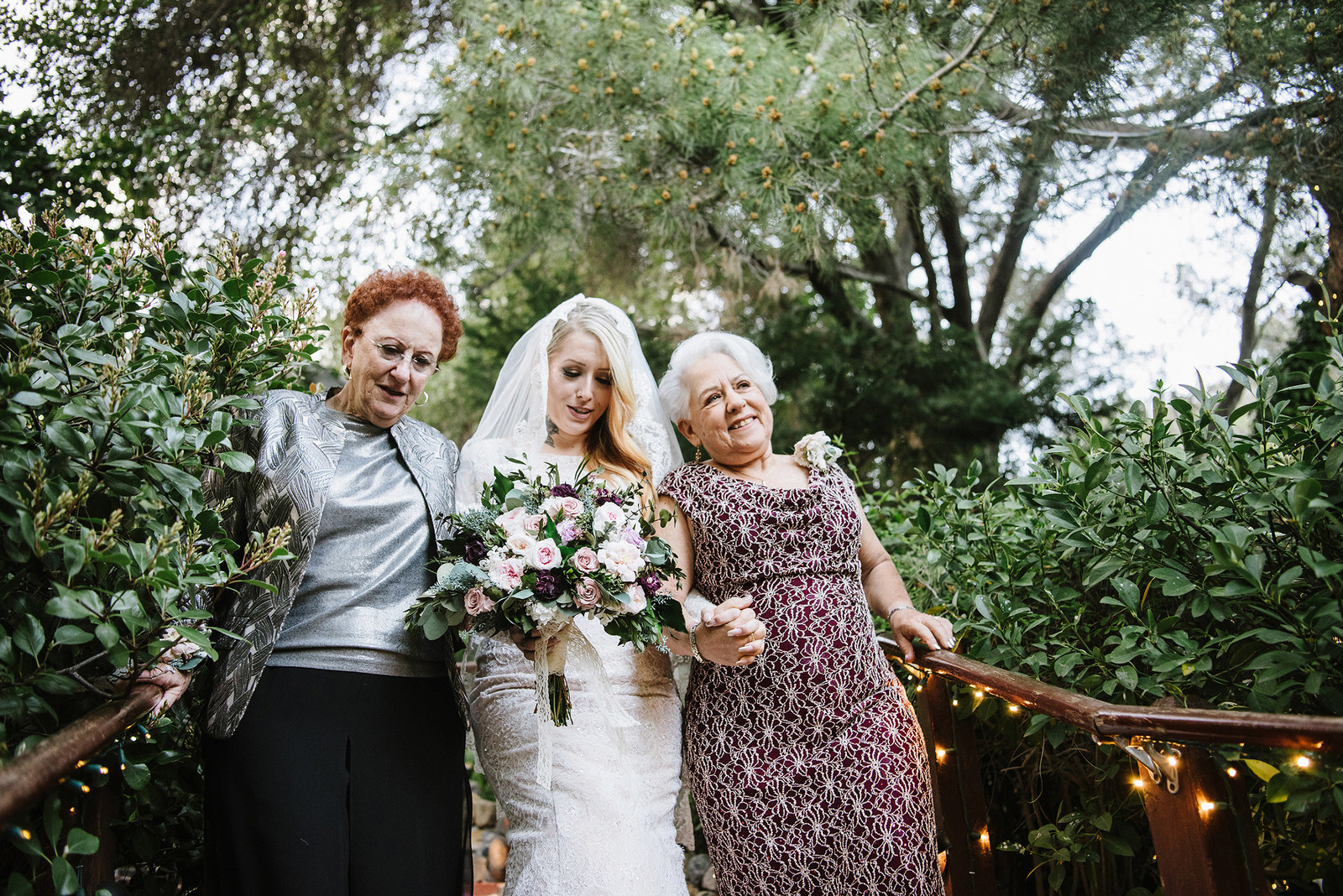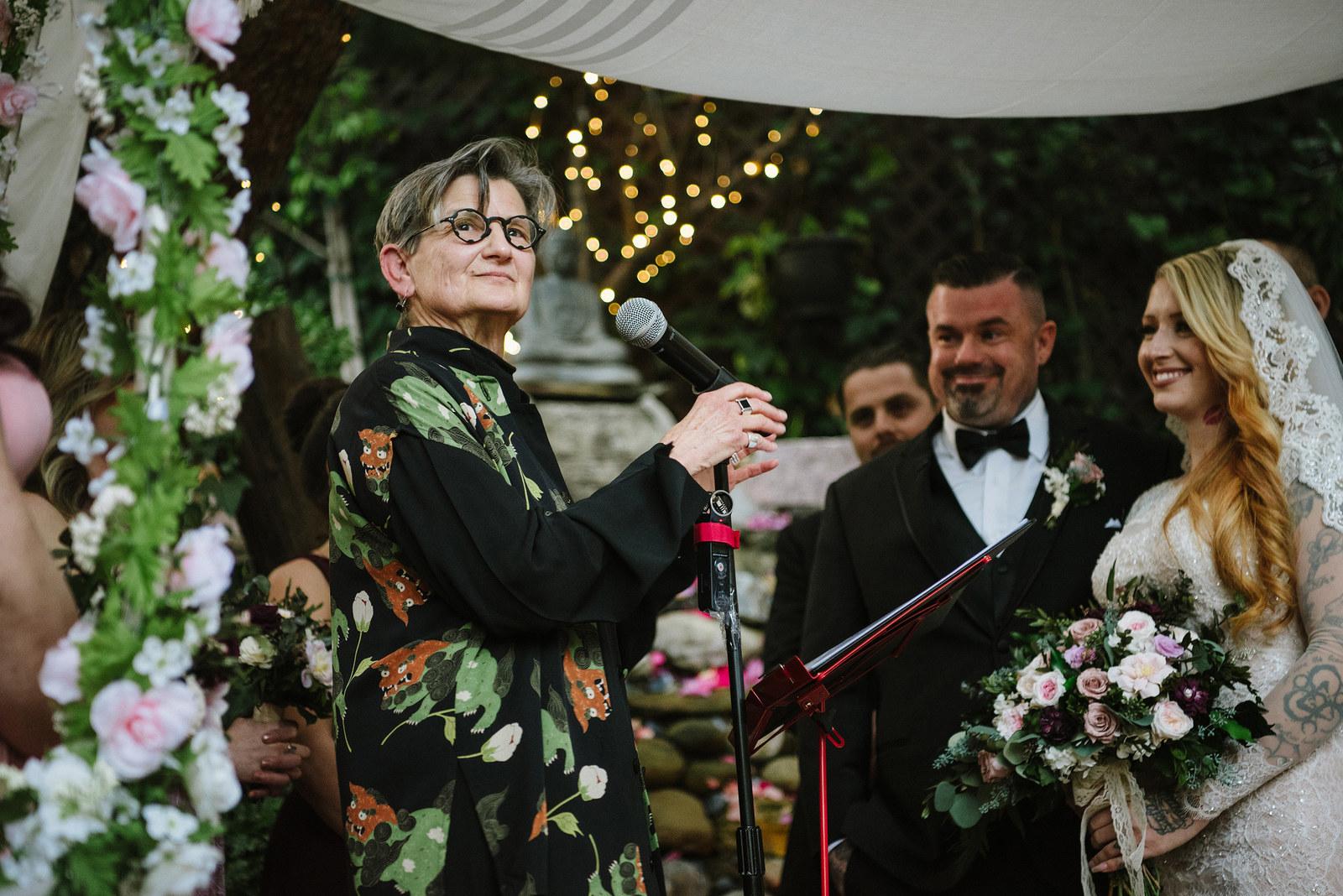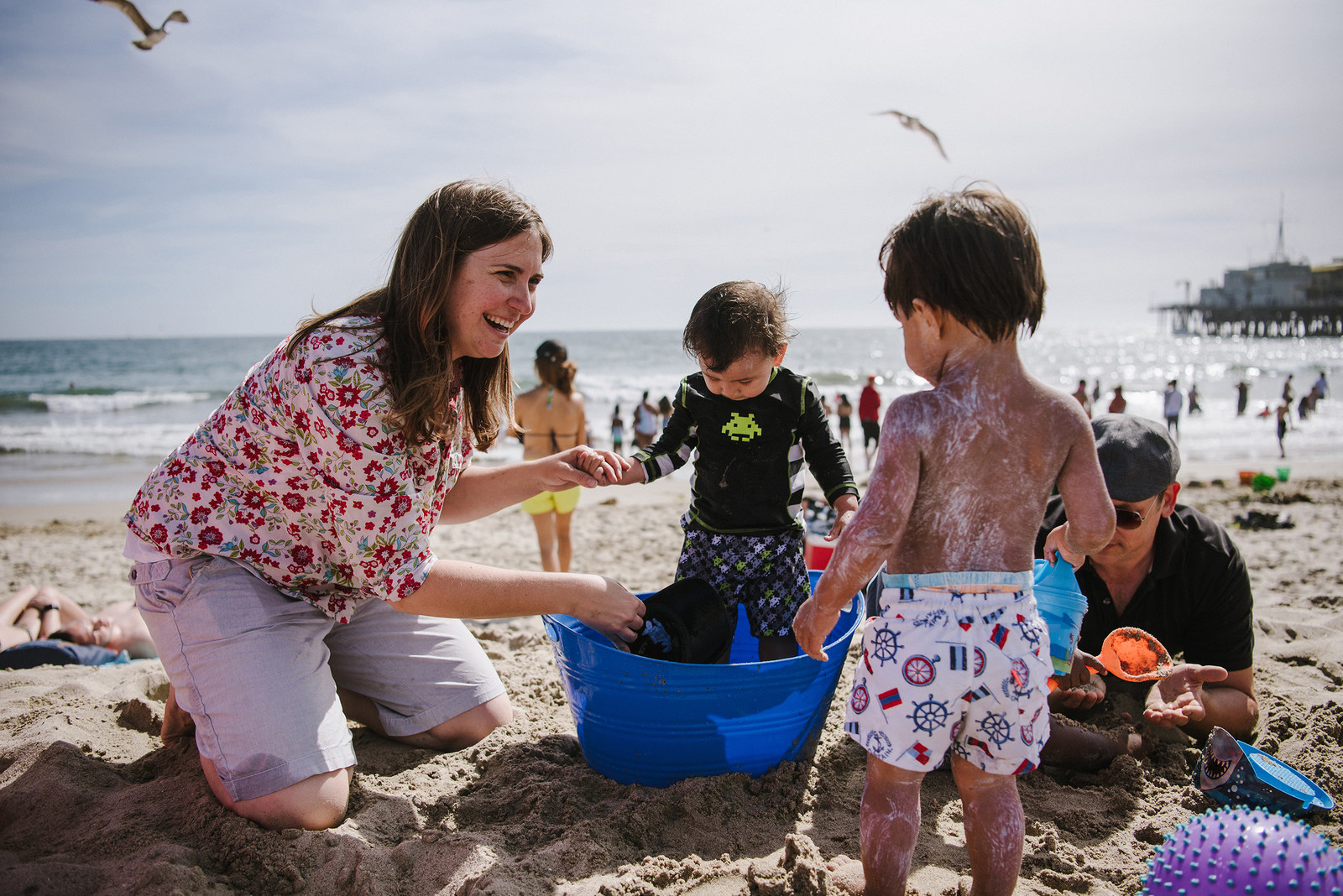 It's with the love and support of her wife, Tracy Moore, a board member of the One Archives Foundation and an influential activist for both the temple and the LGBT community at large, that Rabbi Edwards leads Beth Chayim Chadashim. Edwards and Moore were one of the many couples who were legally married during the summer of love in 2008. Moore's pride for the work and achievements of her wife is endearingly displayed via her license plate, which reads "LEZBTZN," a play on words referring to "rebbetzin," the Yiddish word for the wife of a rabbi.
Each year, BCC hosts a Vision Awards brunch to present congregational awards to those deserving of recognition for their service and dedication to the LGBT community. At this year's brunch in June, Edwards and Moore presented member of Congress Karen Bass, BCC's congressional district representative, with the Harriet Perl Tzedek Award. Bass has worked closely with Edwards and Moore over the years, and was also the officiant who married them in 2008.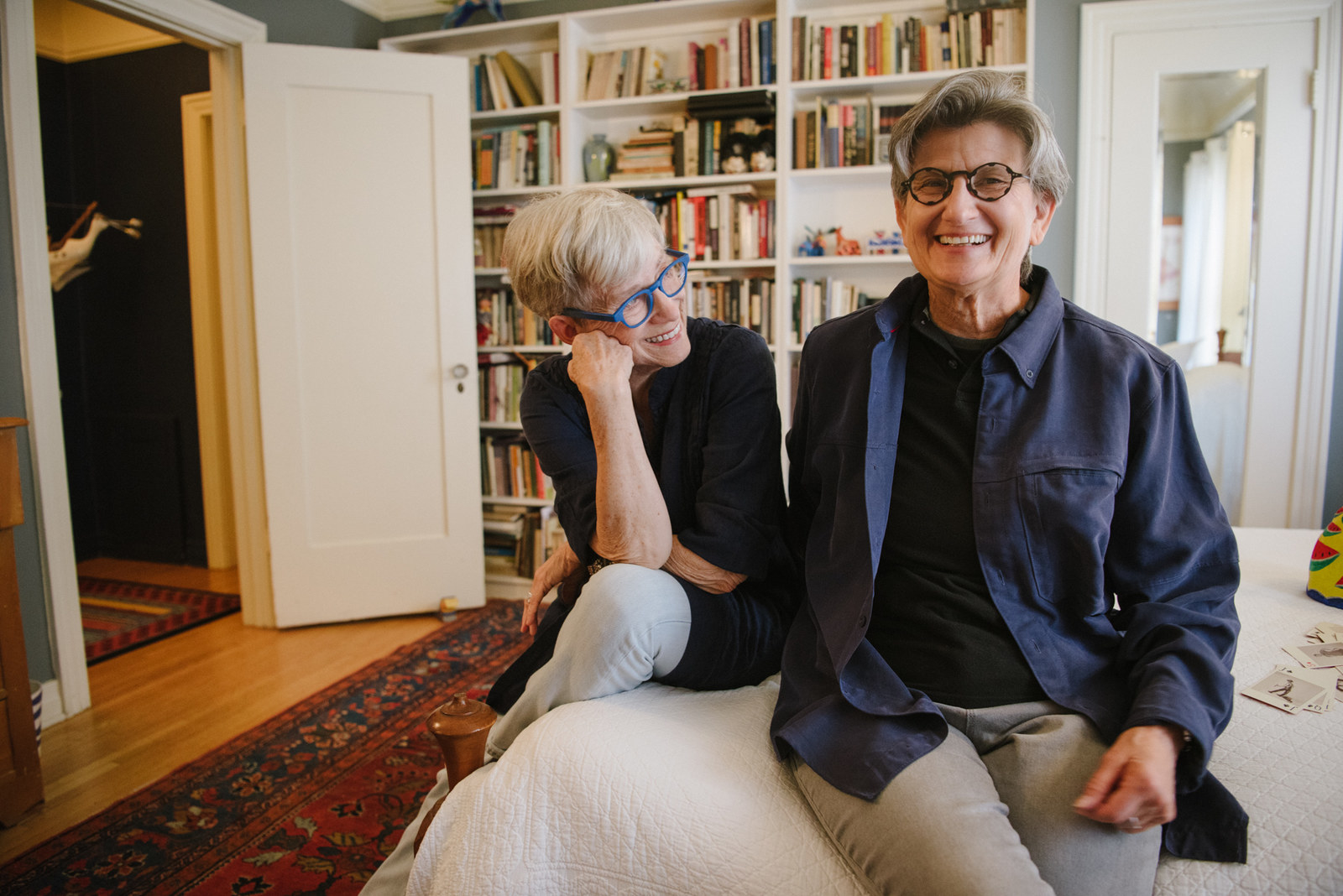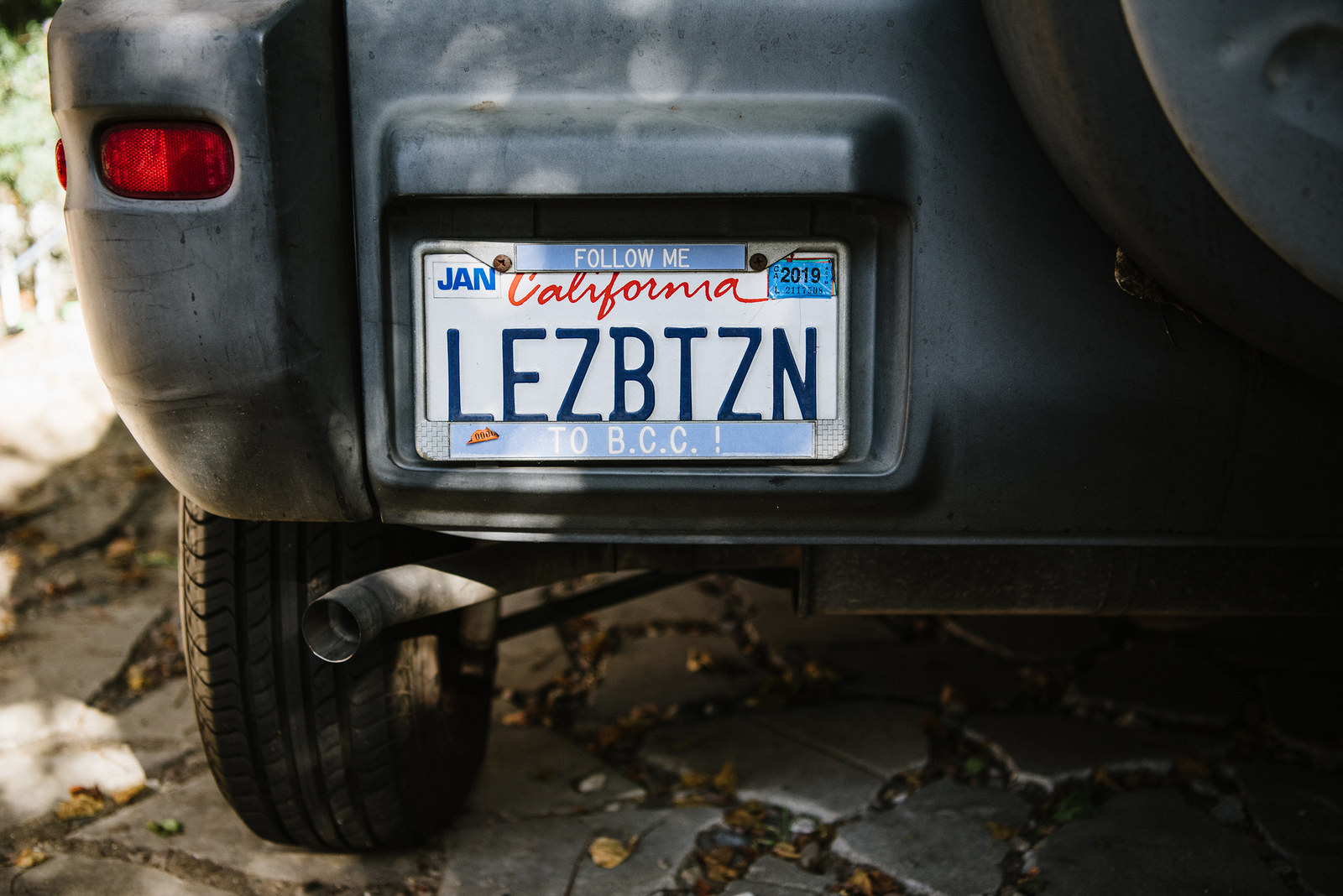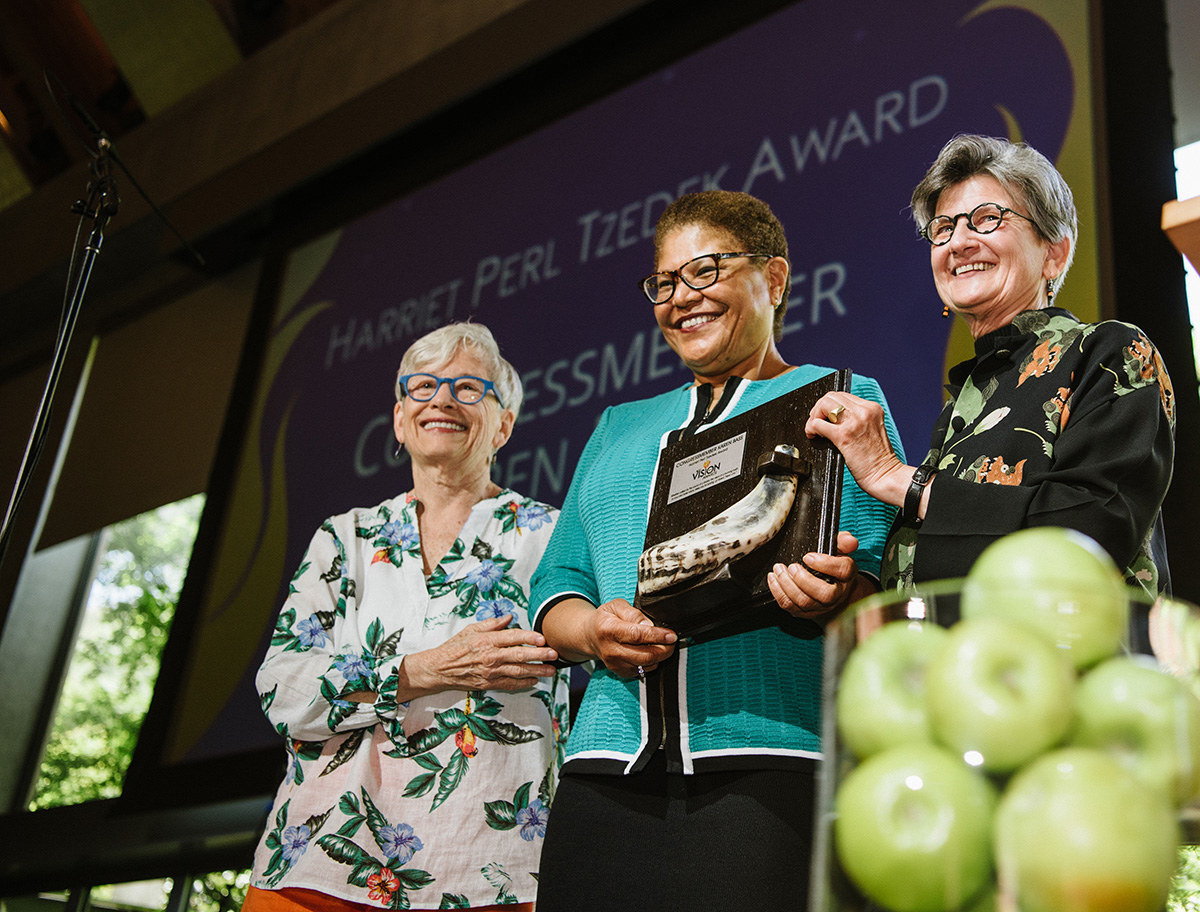 On Oct. 27, a gunman walked into Tree of Life synagogue in Pittsburgh and opened fire during morning Shabbat services. Eleven people were murdered in what the Anti-Defamation League described as the deadliest attack on Jews in American History. With the Jewish community reeling from the horrific and senseless act, Edwards helped organize a vigil for Tree of Life victims at the Federal Building in Westwood, California, the very next day. "It's [important] that we be there for one another, that we gather together, that we stay strong and united against forces that would really rather divide us," Edwards said.

Above all, it's the strength of the congregation that will get them through this dark time in Jewish history. "[BCC is] made up of a lot of people who have really become family to each other over the years," said Edwards, "and find that this should be the place where their friendship circle is, where they go to when they have needs or sorrows in their lives, but also the place where they go to celebrate. Where they take seriously the idea of living a Jewish lifestyle and living in Jewish community."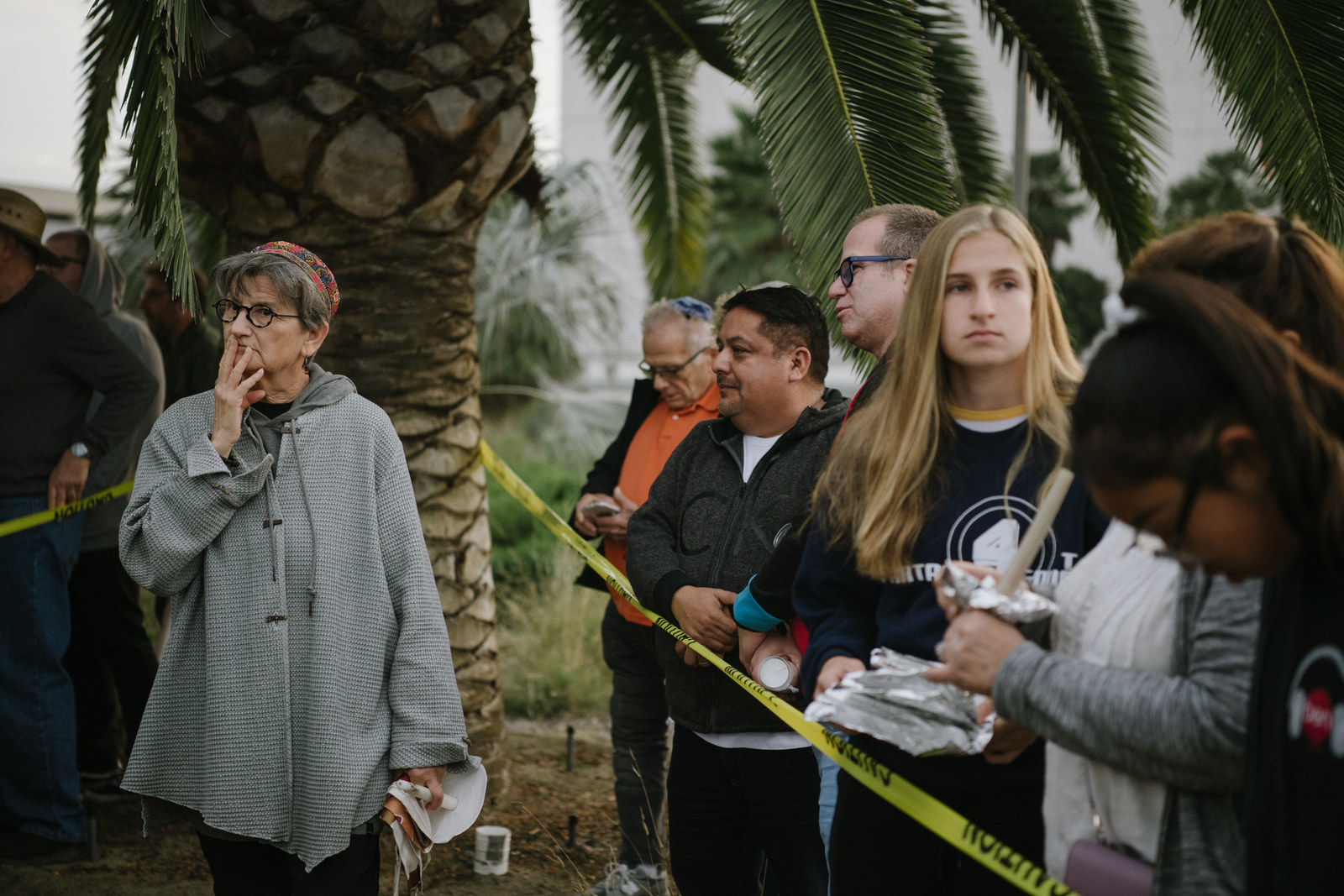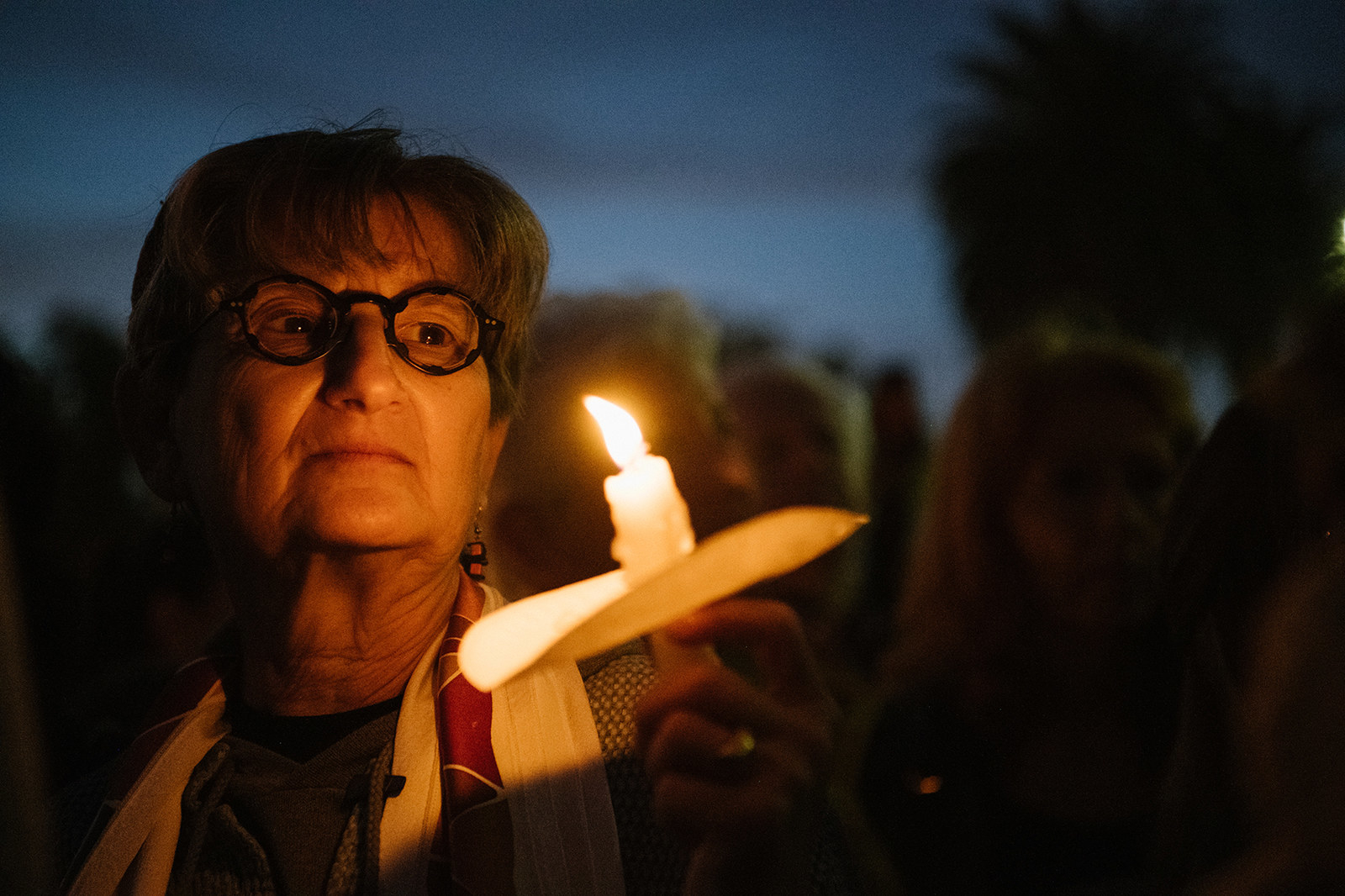 CORRECTION
The meaning of Beth Chayim Chadashim, "house of new life", was misstated in an earlier version of this post, as was the fact that Rabbi Lisa Edwards was BCC's first rabbi to be openly gay at ordination.