Jim Obergefell, the lead plaintiff in the historic 2015 Supreme Court case that saw marriage equality become legal across the United States, says President-elect Donald Trump's claim that he sees marriage equality as settled law "doesn't mean anything."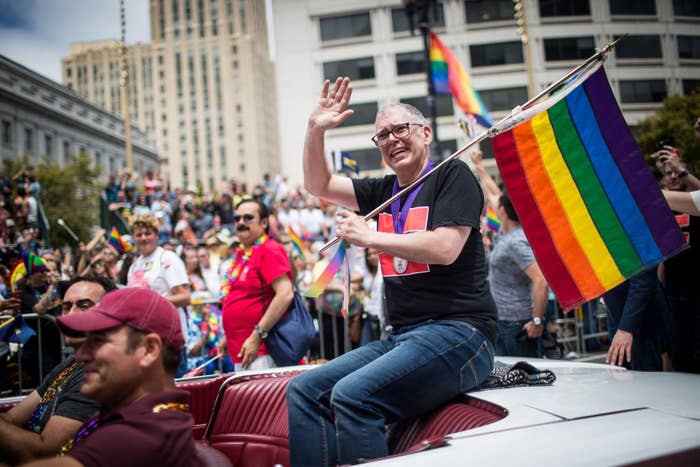 In an interview with CBS's 60 Minutes on Sunday evening, Trump said he is "fine" with the Supreme Court's ruling on marriage equality.
Asked if he supported marriage equality, Trump answered, "It's irrelevant because it was already settled. It's law. It was settled in the Supreme Court. I mean, it's done."
Obergefell, who endorsed Hillary Clinton in November, said that he doesn't trust Trump to hold a consistent position on marriage equality.
"He flips on pretty much everything he says... Saying it's settled law — that doesn't mean anything," Obergefell told BuzzFeed Australia News in Sydney, where he was promoting his book, Love Wins, and campaigning for marriage equality.
"Roe vs. Wade, a woman's right to choose, that's been settled law for 43 years, and the Republican Party continues to chip away at it, trying to overturn it," he said.

Obergefell said his "biggest concern" is the prospect of the Republican-controlled White House and Senate resulting in a very conservative Supreme Court that could overturn decades of civil rights victories.
"There's one vacancy at the moment. It seems likely that one or two more could retire. Regardless of [Trump's] personal feelings, his party, his Congress, wants very conservative justices," he said.
During his presidential campaign, Trump released lists of judges he said he would consider appointing to the country's top court. The selection was compiled with the assistance of the conservative groups the Federalist Society and the Heritage Foundation, Trump said.

"I'm afraid that's who will be nominated and confirmed and that will change the course of our country for decades to come," Obergefell said. "I really am afraid about that."