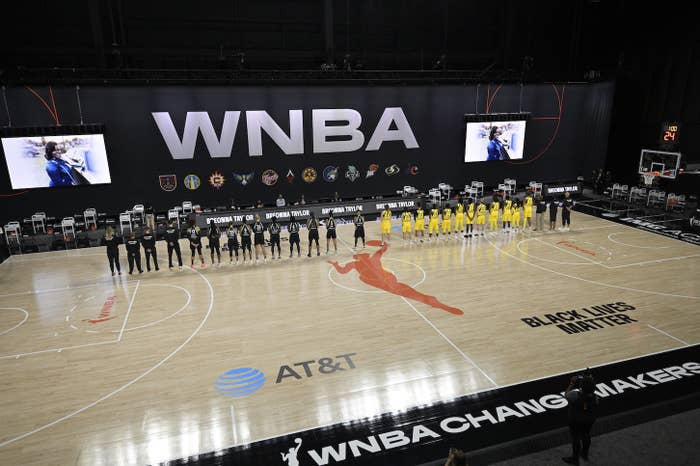 The players of two Women's National Basketball Association teams walked off the court as the national anthem was playing during a season-opening game in Florida on Saturday in an act of solidarity with the Black Lives Matter movement.

At the game in Bradenton, the Seattle Storm and New York Liberty players were also wearing black sweaters with the words "Say Her Name" written prominently on them, as part of a tribute to Breonna Taylor, the 26-year-old Black woman whose death at the hands of Louisville police has helped trigger national protests.
Athletes have protested during the national anthem before, but this appeared to be the first time members from two entire professional teams had walked out altogether while it played.
The players' walk-off was part of a seasonlong initiative called the Justice Movement that the WNBA and the Women's National Basketball Players Association (WNBPA) had announced earlier this month. Through a series of coordinated actions, the organizers of this collaborative effort hope "to be a driving force of necessary and continuing conversations about race, voting rights, LGBTQ+ advocacy, and gun control amongst other important societal issues," according to a WNBA statement. The two organizations hope to raise awareness through community conversations, roundtable discussions, and podcasts among other initiatives.
This is not the first time that WNBA players have protested during their games. As ESPN reports, Indiana Fever players knelt in solidarity with NFL quarterback Colin Kaepernick in 2016 as part of his protests against the police killings of Black men. According to ESPN, the Los Angeles Sparks also walked off the court in 2017 to raise awareness about the Black Lives Matter movement, while in 2016 Minnesota Lynx players wore pregame warm-up shirts that featured Philando Castile and Alton Sterling in an effort to draw attention to police brutality, according to the Guardian.

There is a long history of basketball players protesting myriad social justice movements, including NBA players who boycotted games to highlight the racial segregation of hotels or those who marched in protests after Martin Luther King Jr.'s death.
President Donald Trump and other high-ranking members of his administration have castigated athletes who take part in protests during the national anthem.
Earlier during Saturday's game, the two teams had observed a 26-second-long moment of silence in honor of Taylor — one second for each year of her life.
"We're dedicating this season to Breonna Taylor, an outstanding EMT who was murdered over 130 days ago in her home," said New York Liberty player Layshia Clarendon, who is also the first vice president of the WNBPA and is one of the leaders of the initiative. "We will say her name."
Clarendon further noted that the organizations are dedicating this season to the "Say Her Name" campaign, which is committed to fighting for social justice for Black women, mentioning other victims, including Sandra Bland who died in police custody five years ago.
As is the case for many American sports, the WNBA season was delayed by the coronavirus pandemic. According to the Hill, all games for the abbreviated 22-game schedule will be held at the IMG Academy in Bradenton.
The Seattle Storm players won Saturday's game 87 to 71, according to ESPN.