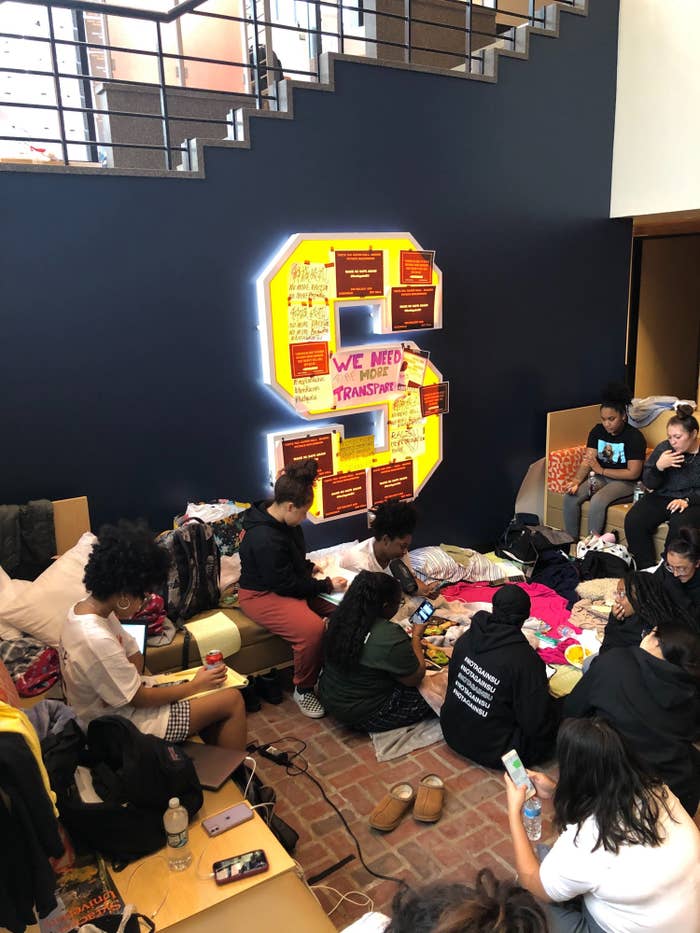 More than two dozen students have occupied the admissions building of Syracuse University since Monday, protesting what they described as the university administration's "complacency in the spreading of white nationalistic ideology."
The protest movement, which is led by black students and tweets under the hashtag #NotAgainSU, has been active since it was formed in late November.

The group organized in response to several bias-related incidents on campus, which included racist graffiti, verbal harassment, a swastika drawn in the snow, and the posting of a racist manifesto on a Syracuse University discussion page on GreekRank.com, a website where students can learn about and discuss fraternities and sororities. At the time, students posted a list of demands that the university's chancellor, Kent Syverud, eventually signed with three line edits.
On Monday night, the university suspended more than 30 students affiliated with the current protest in response to the demonstration at Crouse-Hinds Hall, an organizer told BuzzFeed News.
"Suspensions should only be given to students who are a threat to the campus," said the student organizer, a gender-nonconforming Asian American who wanted to remain anonymous. "But they are giving them to people who are peacefully protesting and not to people committing racist crimes." The student organizers have expressed fear of academic repercussions due to their involvement with the movement and wanted to remain anonymous.

Then on Wednesday, Syverud announced the suspensions would be lifted.

"They are our students," he said. "They are protesting because of incidents of racism and anti-Semitism and hate. They are angry about those incidents and are frustrated that perpetrators have not all been found and punished. Meanwhile, they feel that they are being punished for protesting this and other things."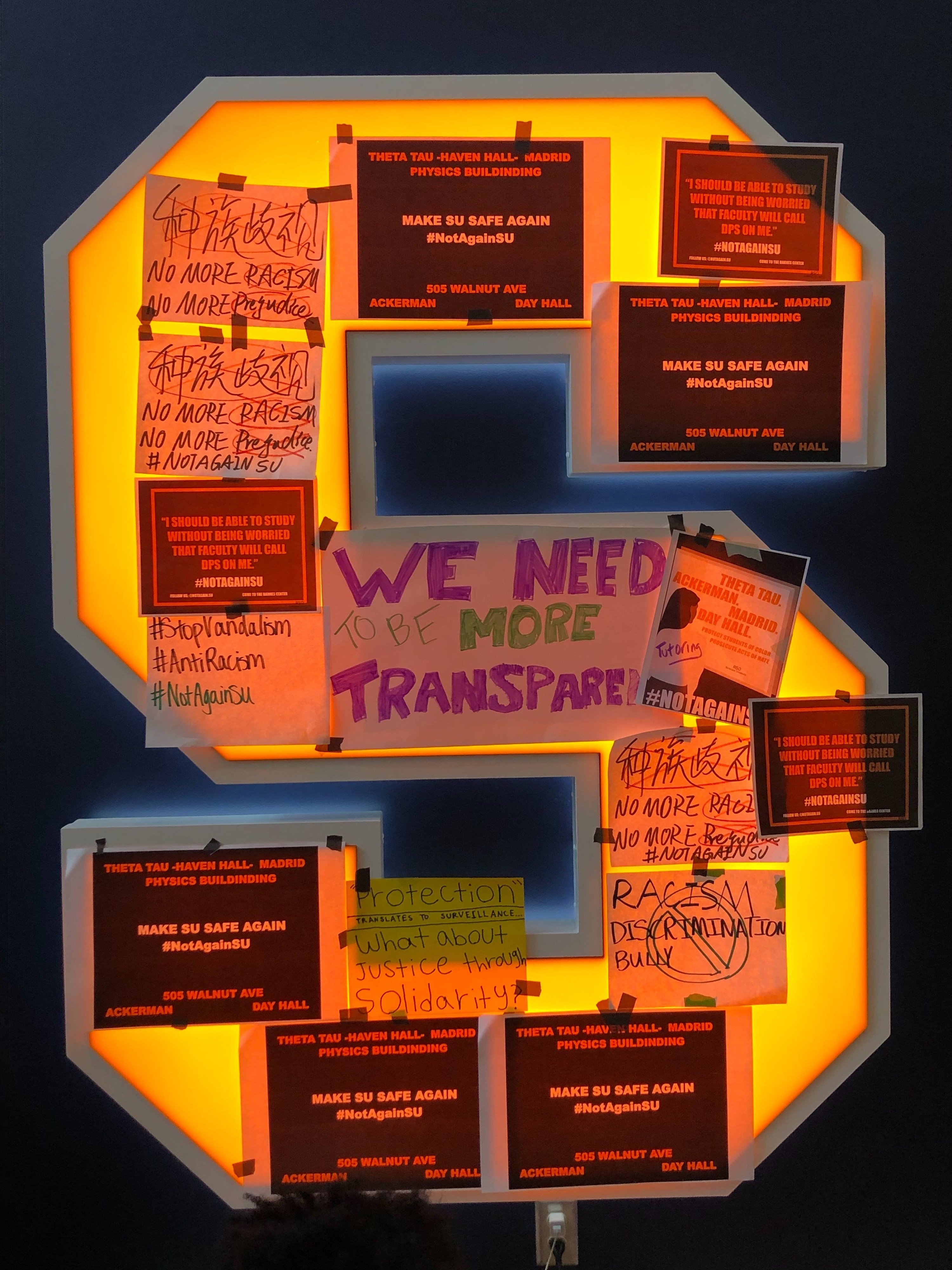 Earlier in the day, the administration had posted a statement saying it had offered to revoke suspensions for students who would voluntarily leave the premises, would provide space for the protests during specific hours at the building or at another site, and offered to meet with the students Thursday as well as throughout the spring semester.
The student protesters rejected the offer after some deliberation, according to the statement.
As he announced the university's reversal of position, Syverud said he recognized that the protesting students were afraid of being arrested and that they were even being fed.
"Enough. I am not going to let students be arrested and forced out of Crouse-Hinds Hall. The building is now closed. The students now there can stay there. I have directed arrangements for ensuring they are fed and cared for," he said. "I am also directing that interim suspension be lifted and the suspension procedure be stopped while all we step back."
This latest building occupation came after one student organizer told BuzzFeed News that the university's efforts and follow-through with their commitments to act against racism have not been "adequate."
Additionally, protesters posted video footage of campus security officers allegedly throwing out food that protesters had brought. One of the organizers alleged it was a way for the university to "starve the students" out of their protest and that there had been a lot of confusing messaging from the university around food deliveries to the students, something that another faculty member confirmed to BuzzFeed News.
#NotAgainSU said in a statement that it "recognizes that the racist, homophobic, xenophobic, anti-semitic and all other attacks against underrepresented students that occurred over the past few months are indicative of an institutional enabling of white supremacy."