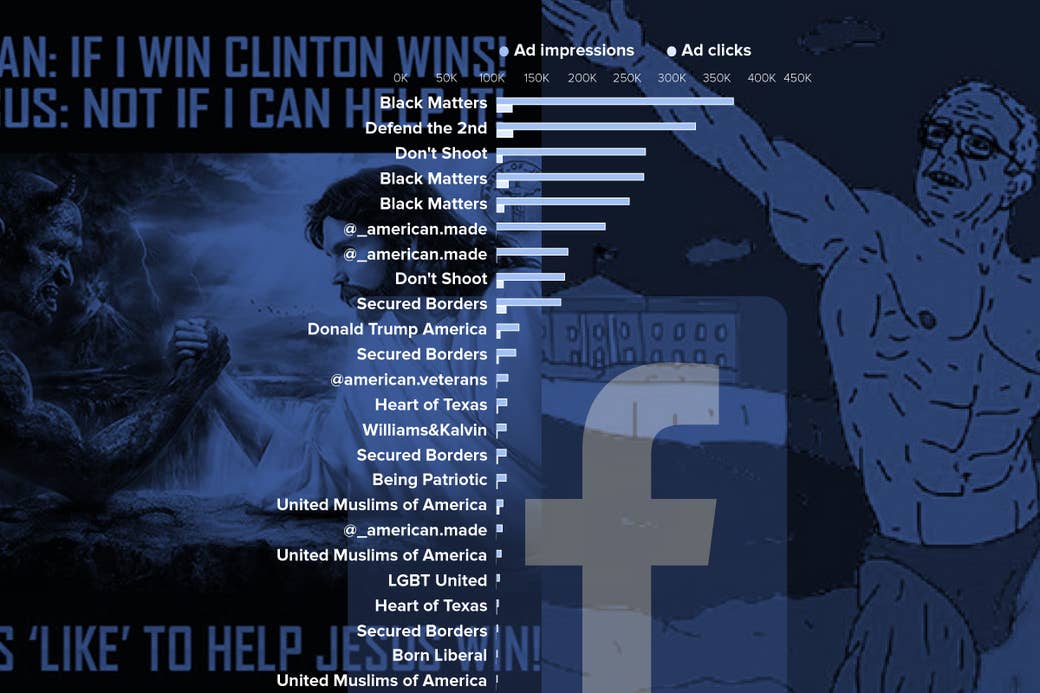 The public got its first official glimpse this week of around 30 of the some 3,000 ads that Russian troll farm Internet Research Agency bought on Instagram and Facebook during the 2016 election season.
The ads invited people to like fake groups built around divisive social issues such as gun control and immigration. The agency also staged fake protests around subjects like racial justice or LGBT rights.
The House Permanent Select Committee on Intelligence released metadata for 29 of the ads and images for 25 of them. The data includes information like the location, age range, and interests of people the agency specifically targeted as well as details about when the ads were purchased, how much they cost, and on what part of the platform the ads showed up — such as the Facebook News Feed.
The ad samples show they were specifically targeted toward communities interested in African-American (8), immigration (4) and Muslim-related (4) issues but also included political groups like supporters of the tea party (3), Donald Trump (2) and Bernie Sanders (1) and people who show an affinity to issues like patriotism (2), LGBT rights (2), gun ownership (1), veterans (1) or Christianity (1).

The metadata also revealed that Russian agents were able to use granular filters to reach target groups. Among those filters: people whose behavior resembles that of an "African American" person who must also be interested in BlackNews.com; people "employed" by Gun Owners of America; people interested in Ivanka Trump Fine Jewelry; interest in Malcolm X and Martin Luther King Jr.; and Facebook users who are into "Laura Ingraham, God, Christianity, Bill O'Reilly (political commentator), Rush Limbaugh, Bible, Conservatism in the United States, Michael Savage, Mike Huckabee or Jesus."
Some ads were targeted at specific states. Some were as targeted as the 20-kilometer radius around Ferguson, Missouri. The 29 ads only amounted to roughly $11,000 — or a little over 10% — of the $100,000 worth purchased.
Immediately below is a graphic that shows 29 ads, listed by Facebook page, that received the most views and clicks. Below that are the 29 corresponding ads with their accompanying metadata, such as people targeted, price, where it was placed on Facebook, and so forth:
Facebook, which also owns Instagram, will make investments like "hiring more ad reviewers, doubling or more our security engineering efforts, putting in place tighter ad content restrictions, launching new tools to improve ad transparency and requiring documentation from political ad buyers" to prevent similar campaigns from happening again, said Colin Stretch, vice president and general counsel of Facebook during the Senate hearing.

"We know bad actors aren't going to stop their efforts," said Stretch. "We know we'll all have to keep learning and improving to stay ahead of them."

Recognize any of these ads? BuzzFeed News would love to hear from you. Please get in touch: lam.vo@buzzfeed.com