Reports That A Racist Manifesto Was AirDropped To Syracuse Students Are Being Called An "Unsubstantiated Rumor" By Officials
The AirDrop reports came amid a series of other racist incidents that made students and faculty members feel unsafe over the past two weeks.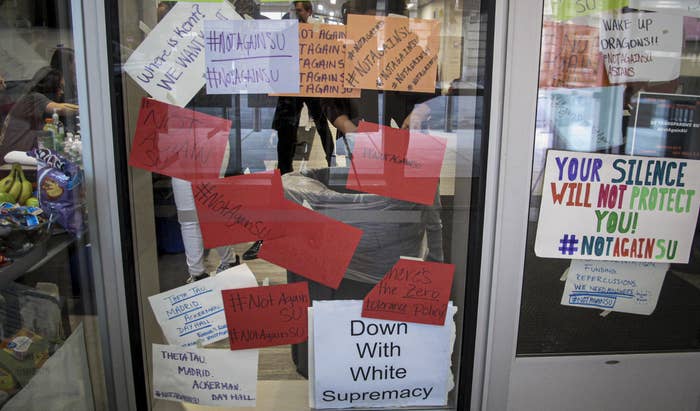 Syracuse University officials on Friday said reports that a racist manifesto was AirDropped to students' phones in the school library is so far an "unsubstantiated rumor," though several law enforcement agencies, including the FBI, are still investigating.
"The rumored AirDrop of a racist manifesto to student devices at Bird Library remains under investigation by the Department of Public Safety, Syracuse Police and the FBI," the university said in a statement. "So far, no one has been able to produce a device that received that document despite pleas from investigators to come forward to help find those responsible. At this time, the alleged AirDrop remains an unsubstantiated rumor that spread rapidly from Monday night into Tuesday morning."
The AirDrop reports came amid a series of other racist incidents that made students and faculty members feel unsafe over the past two weeks. These incidents — including racist graffiti, verbal harassment, and a swastika that was drawn in the snow — prompted days-long student protests, police investigations, and condemnation from New York Gov. Andrew Cuomo.
The university's Department of Public Safety said it received reports Monday and Tuesday about students receiving a copy of the 74-page anti-Muslim manifesto, which had originally been published online by the suspected perpetrator of the Christchurch mosque shootings. The manifesto was also published on a Syracuse University discussion page on GreekRank.com, a website where students can learn about and discuss fraternities and sororities.
Ephraim Ozabor, a 21-year-old Syracuse student, told BuzzFeed News that he arrived at the library shortly after hearing rumors that the manifesto was being AirDropped to people inside. He said he saw several students leaving the building in a hurry.
"I literally pulled up to Bird Library maybe a minute after people said the manifesto was AirDropped," Ozabor said, "and people were terrified. It was a very scary scene. People were leaving Bird in masses. Bird is never empty on a Thursday night, but it was empty."
He told BuzzFeed News he was skeptical of the university's announcement on Friday, saying it "goes to show that SU is not committed to finding the perpetrators."
"It's not possible that not one of these racists have been found and subsequently punished but one protester was arrested?" he told BuzzFeed News in a text message. Syracuse police recently arrested a young woman for making anti-racist graffiti during student protests.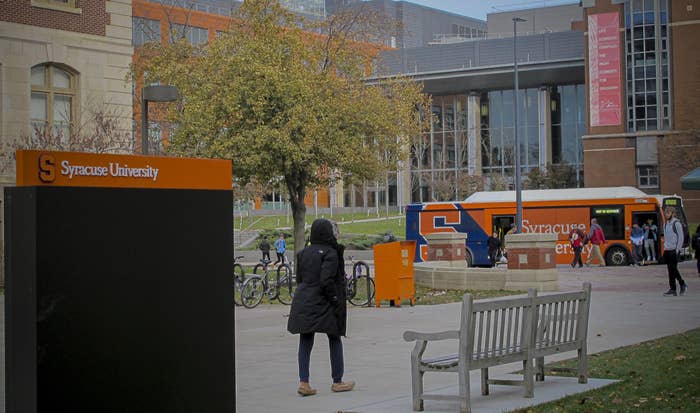 Chancellor Kent Syverud also committed Friday to several demands made by student groups, who have led sit-in demonstrations over the past seven days, the statement said.
Syverud agreed to punish and potentially expel students who were involved in the recent racist incidents, to instate a new policy that includes mandatory diversity training for new staffers, to publish monthly reports on bias on campus, and to protect students who participate in peaceful protests.
Though student groups are happy with that progress, they are still calling for the resignations of Syverud, Public Safety Chief Bobby Maldonado, Associate Chief John Sardino, and Dolan Evanovich, the senior vice president for enrollment and student experience.
"We have been under these violent conditions for far longer than this moment," read a statement posted on the protest movement's Instagram account. "We cannot wait for tragedy."
In 2018, Syracuse made headlines when a fraternity published a "roast" that featured what university officials described as "extremely racist" content. The incident also sparked protests and prompted the chancellor to implement similar measures to the ones he committed to Friday, including mandatory diversity training.

"Some things have changed … and a lot haven't," Tula Goenka, a professor of television, radio, and film at Syracuse's Newhouse School of Public Communications told BuzzFeed News. "How students feel on campus … I don't think that's changed."
"It's sad that we have to accomplish these things, the fact that we have to do this," said Brianna Johannes, 23, a senior who serves on several committees in the protest movement, for which students using the hashtag #NotAgainSU. She said that at least four racist incidents, which preceded those from last week, have taken place during her four years at Syracuse, none of which she felt the school administration appropriately addressed.
"This is a task that the administration should be taking on themselves," she said, "to fight for there to be harsher levels of punishment for hate crimes on this."
Johannes added: "For me personally, considering the climate we are living in today, my fear stems from white supremacists who could come onto campus from anywhere and escalate a peaceful protest into something more violent."

Goenka said: "I think Syracuse University is not isolated. What is happening in our country and around the world — everyone is affected by this, whether it's students, faculty, or staff. We have to see what's happened in the past two weeks. We cannot see this as isolated."