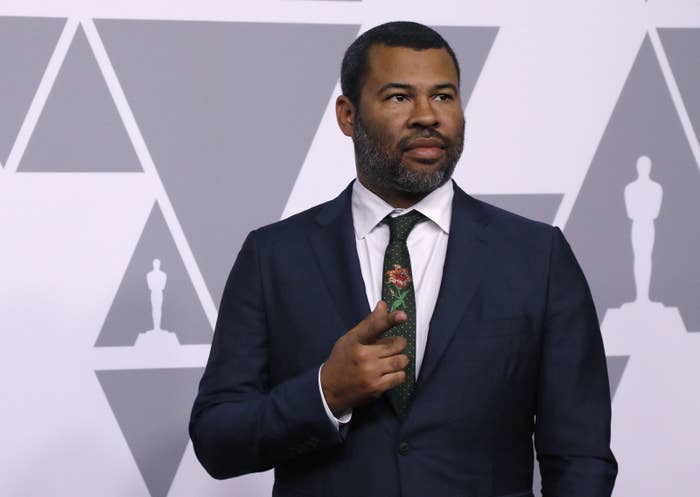 It's been three years since the #OscarsSoWhite hashtag first flooded social media, throwing the Academy of Motion Picture Arts and Sciences into a crisis over the unrelenting whiteness of actors and filmmakers who get Oscar nominations.
This year's nods appear to be more diverse: Best Director nominees included people of color and a woman; the first woman was nominated for Best Cinematography, and Get Out's four Oscar nominations had Jordan Peele "ugly-crying" with joy.
It's progress, but not the full picture. What about representation on the screen? How much more or less diverse are the people we actually see and hear?
To look at changes in that kind of diversity, BuzzFeed News analyzed the film scripts of all the Best Picture nominees released in the three years below to get a snapshot of what kind of progress was made. (The early 2000s were strong years for black people winning acting categories, but we focused on the Best Picture nominees.)
2017

2015 (This year's releases prompted a second wave of #OscarsSoWhite criticism, during the ceremony in 2016.)

1989, the year when Spike Lee's racially diverse Do the Right Thing was critically lauded but failed to make the cut for Best Picture nominees. (That year, the Best Picture award went to Driving Miss Daisy, with Morgan Freeman in a stereotype-reinforcing role as a kind driver to a rich, elderly white woman. This sparked criticism of the Academy, not unlike today's #OscarsSoWhite.)
The analysis counts how the films were cast and how many words were spoken by women or people of color. (Ideally there would be a more finely sliced version of this analysis, such as white women compared with black women, but those statistically didn't make sense to do. More on that below.)
Here's a sketch of what we found: Overall, films nominated for Best Picture have become more diverse between 1989 and 2017 — but only slightly. What's different now is that there are specific films that move the dial forward: In Lady Bird, for example, 78% of the dialogue spoken is by women. In Get Out, 47% of the dialogue is from black people. And the range of roles a person of color or woman in a Best Picture–nominated film can play has expanded beyond those of Driving Miss Daisy, where some of the most uttered words by black people were "yessum," "dat," and "miz."
To reach these conclusions, BuzzFeed News first extracted the written dialogue from all 22 screenplays nominated — five from 1989, eight from 2015, and nine from 2017. Then we identified the major characters in each film, which we defined as any character who spoke at least 100 words. Next, we assigned a gender and race to each character, using the Variety Insight database, IMDbPro, and other reporting. When a race and ethnicity for an actor was not available or ambiguous, we contacted their representatives. Because there were too few people of any specific nonwhite race or ethnicity to analyze in detail, we categorized actors into just two race/ethnicity categories: white and "people of color." (You can find our list of actors, a more detailed methodology, and our calculations here.)
In all, we analyzed more than 172,000 words, spoken by 265 characters.
In terms of casting, the Best Picture nominees have become somewhat more diverse, but remain overwhelmingly white. Women actors increased in representation substantially since 1989: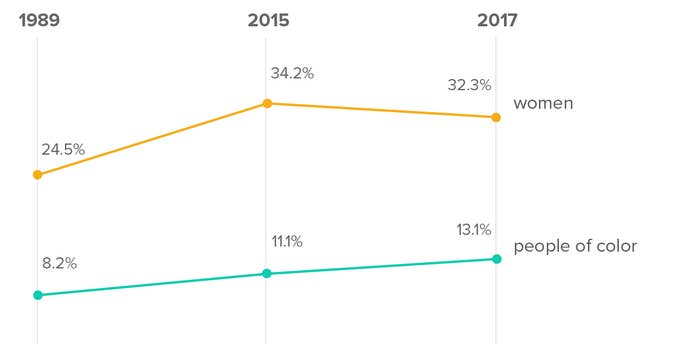 It's not just the number of women or people of color in a film that matters. A person of color could be cast in a film but appear only as a bit player. So what about how much they say?
By counting the number of words a character speaks, we can approximate screentime and measure an actor's significance in a film. It's not perfect — in The Shape of Water, for instance, the main character is mute — but spoken lines are a fundamental part of films and a general indicator of a character's importance.
Based on the percentage of spoken words, women's speaking presences increased steadily over the three years we examined. For people of color, the percentage of dialogue didn't follow as clear of a pattern: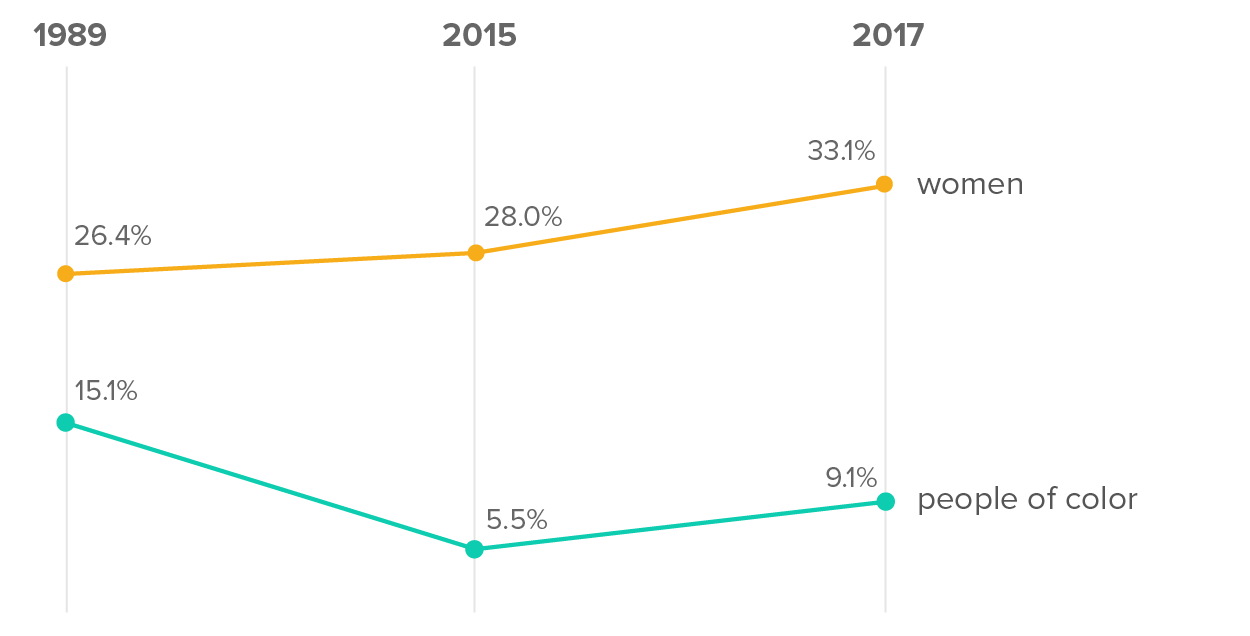 The percentage of words spoken by black people for 1989 was heavily influenced by Driving Miss Daisy. In that film, nearly 37% of the dialogue was spoken by black actors. There were also only five films nominated for 1989, increasing the impact that Driving Miss Daisy had on that year's numbers.

In fact, of the 22 films we analyzed, Driving Miss Daisy had the second-highest percentage of words spoken by black people, behind only Get Out. And the films with the highest percentages of words spoken by women were Lady Bird and Mad Max: Fury Road. The charts below show that films like these often make up a token few or a small handful of the nominees each year: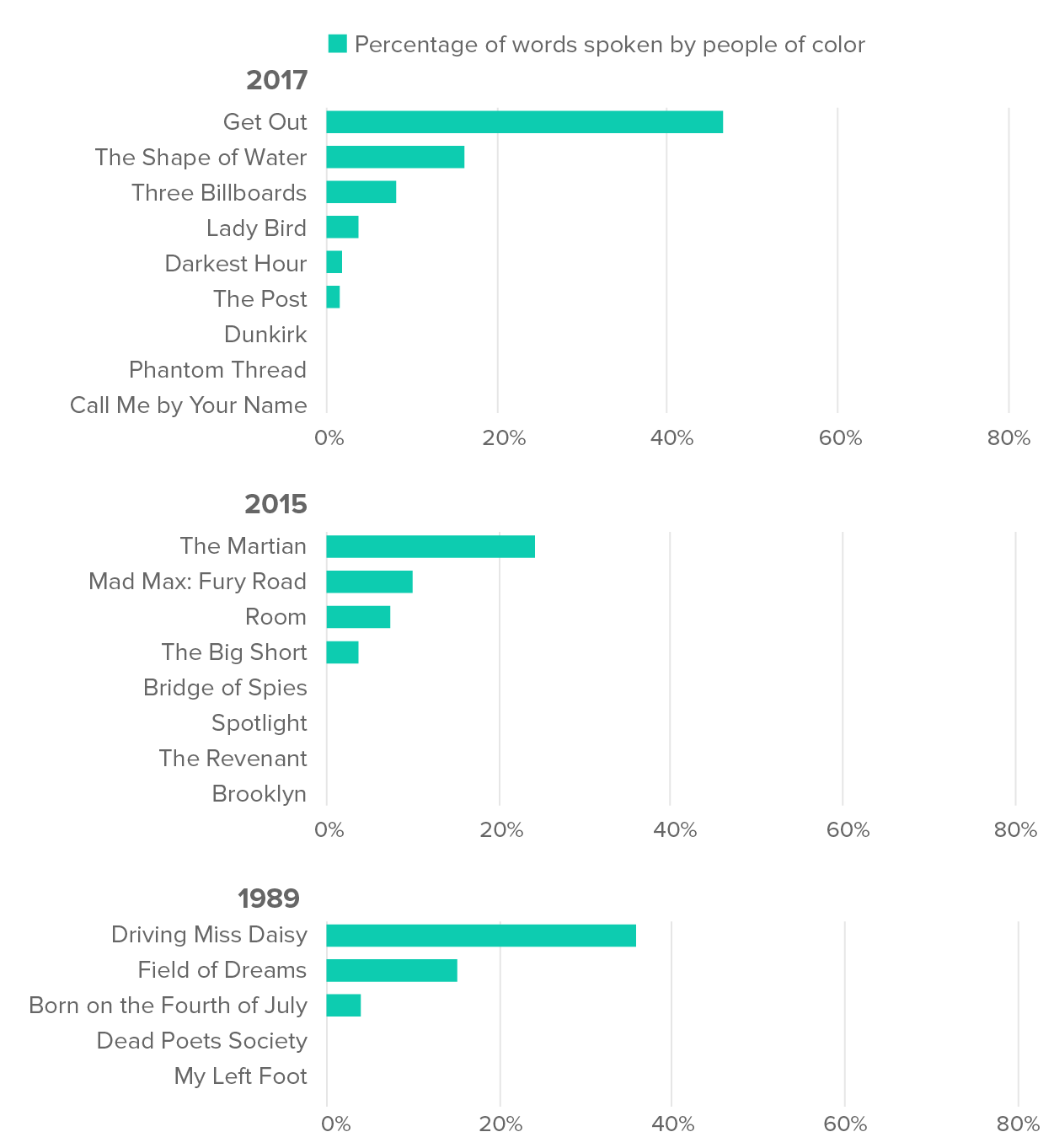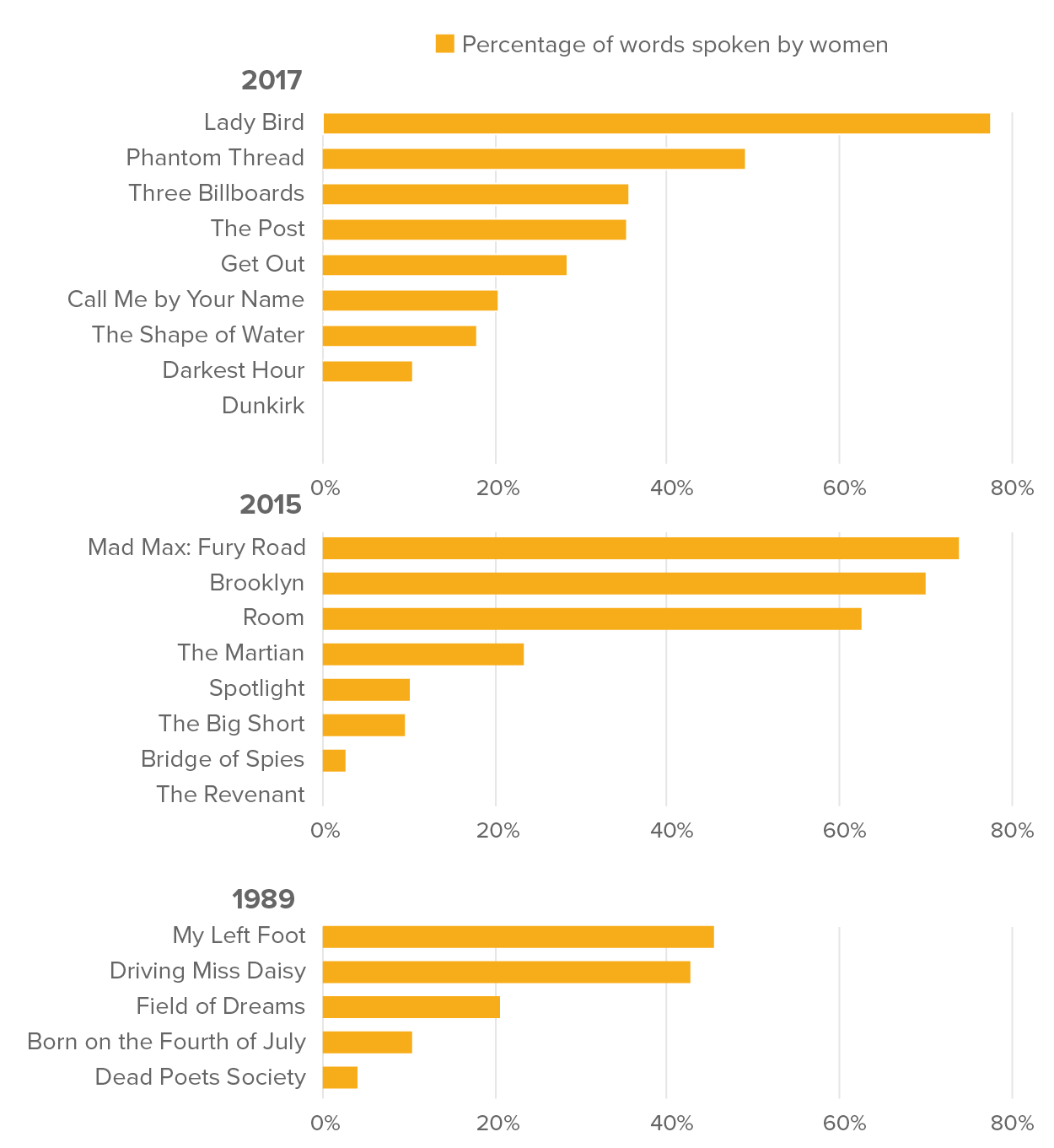 Of the 22 films analyzed, nine didn't feature a single actor of color who spoke at least 100 words. Women accounted for the majority of words spoken in just four of the 22 films.
In two films — Dunkirk and The Revenant — no woman character crossed the 100-word threshold.
Of all the films we analyzed, one in particular stood out: Dunkirk. The Christopher Nolan film featured only white men — and was criticized for its "failure to acknowledge the presence of Muslim troops at Dunkirk." Nolan's representatives did not respond to a request for comment.
And so, if a large proportion of films still don't feature major characters portrayed by diverse actors, where should we look for progress? Maybe it is in the kinds of words spoken by characters in diverse films? After all, each film creates its own little reality — skewed as it may be — and the kinds of characters who inhabit this universe and their relationship to other characters matters just as much.
For a film to pass the Bechdel test, one of the criteria is that women have to talk about something other than a man. Similarly, the BuzzFeed analysis looks at the words people of color and women speak to get a better feel for the kind of archetypes they may portray.
In Driving Miss Daisy, for instance, the most common words used by black people were words associated with servants, like "yassum" or "miz" and "mist" (short for "mister"), while white actors speak of "god" and "business." Their difference in vocabulary and slang is also indicative of their hierarchical relationship:

In contrast to that, the black and white actors in Get Out share vocabulary that isn't necessarily tied to a specific archetype: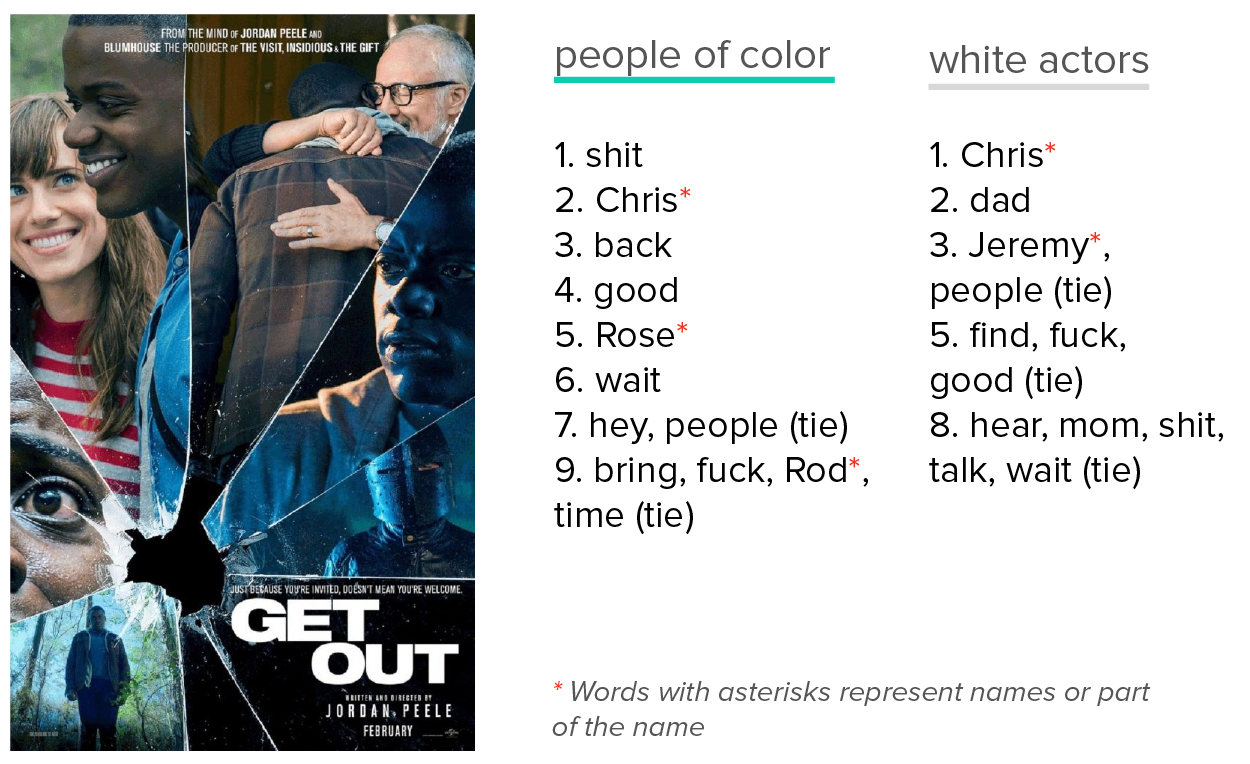 Brooklyn is an example of how women and men may still be cast within typical gender roles. The most common words spoken by women include "Mrs." and "married," while for men they include "Irish," "home," and "money."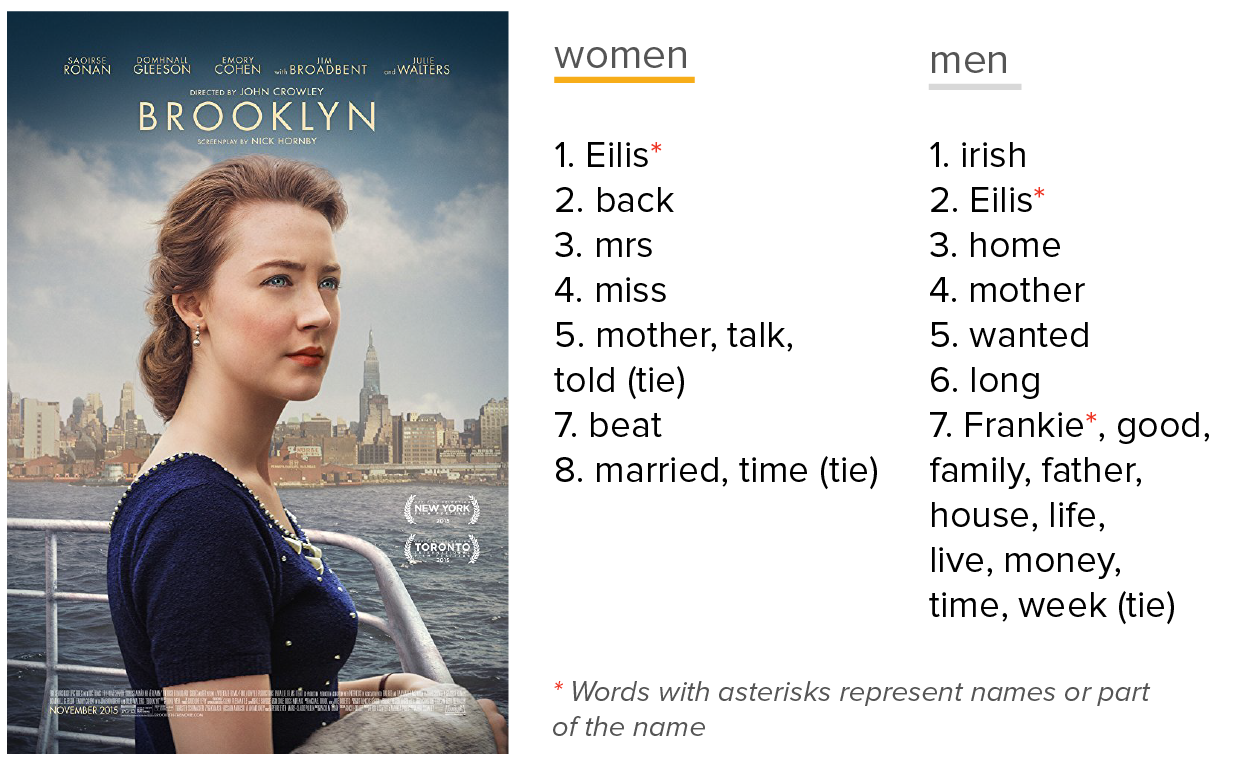 In the plot Mad Max: Fury Road women and men share words around combat like "war" or armored vehicles like "rig." The language reflects what critics have pointed out as an accomplishment of the film: to portray women and men as equal opponents in combat. (There's not much talking in the film — it's a lot more fighting and driving — and the majority of the talking is done by women. So the list for men is a little shorter.)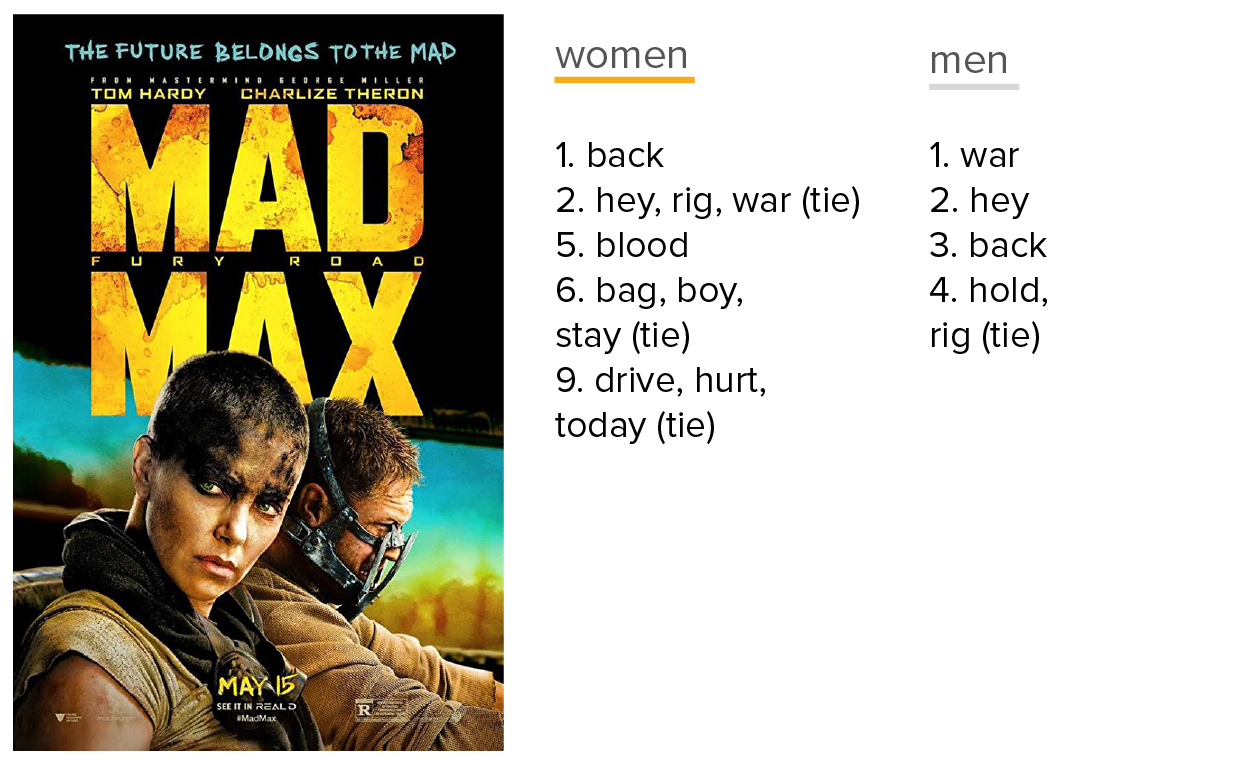 Although this analysis is based on a limited sample size, the results stand in stark contrast to the many accomplishments of the women and people of color who were nominated as actors, directors, producers, and filmmakers.
But certain signs make some experts more optimistic.

Darnell Hunt, a professor of sociology at UCLA who publishes the yearly "Hollywood Diversity Report," argues that Hollywood films with diverse casts are more profitable and successful than more homogeneous films.
"Black Panther is the poster child," he said. "It shows what happens when you put money into a tentpole film with an outstanding director and an all-black cast, or mostly black cast."
But it's not clear to him that these are lasting changes.
"You go up one year, you go down the next year," he said. "It's going to be interesting to see whether two years, three years in, we're talking about [Black Panther] as an outlier or if it becomes a turning point."