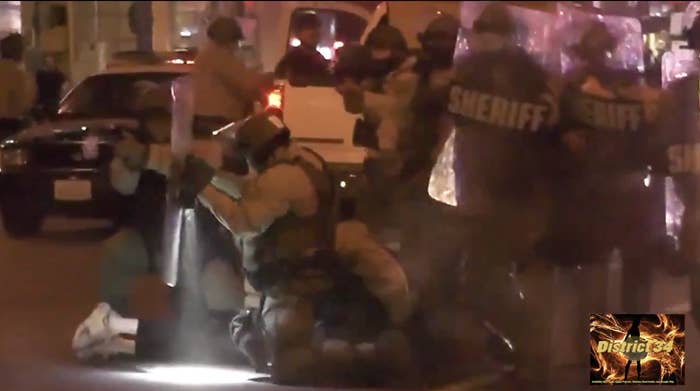 The Los Angeles Sheriff's Department (LASD) is investigating an incident during which a deputy was caught on video repeatedly striking a protester with a riot shield.
The incident took place Friday evening during demonstrations for racial equality in West Hollywood and was captured by several social media videos. The LASD told the Los Angeles Times that it was aware of the video.
The department said in a statement to BuzzFeed News that "force was used" during the arrests of six protesters and that it was conducting a "use of force investigation."
In videos circulating online, a man can be seen lying on the ground surrounded by several LASD deputies, while one deputy uses the edge of his riot shield to strike the protester's ankles several times.
"I witnessed three officers on this tiny guy," a witness told Fox 11 anonymously. "And it looked like he [the deputy] was trying to chop his leg off with his shield."

Cammy Hicks, 36, who posted a now-viral video capturing the incident, told BuzzFeed News that she "didn't expect for [the deputy] to do this.
"They pushed him down, that's why it was so shocking," she said.
Hicks said she had been marching with protesters for months and was driving alongside the protest the night of the incident to offer protesters rides if they needed it. She said that she was shocked when she realized that she knew the protester who the deputy was hitting.
"I've marched with this kid for months now," she said, adding that he was a small-built person and that the deputies did not need to use force.
"It just hurts that they think what we're out there doing is vandalism and rioting," she said. "It hurts that the reason why we're out there is dismissed."

Protesters had gathered after a Kentucky grand jury announced Wednesday that no officers were going to be charged directly for killing Breonna Taylor, a 26-year-old Black woman who died in her own home after officers entered her apartment with a no-knock warrant and fired several rounds at her. The jury announced that only one of the officers will be charged for shooting into a neighboring apartment.
Led by three vehicles, 75 people gathered at 6 p.m. in Hollywood and proceeded to march down Santa Monica Boulevard toward West Hollywood, where the crowd grew to about 100 people on Friday. Almost four hours into the march, at 9:45 p.m., protesters were met by LASD deputies in riot gear blocking their way.
The LASD said it gave the protesters an order to disperse after "several acts of vandalism" took place.
Authorities said they detained 10 and arrested six protesters suspected of "reckless driving, unsecured passengers in a truck bed, taking over the streets, battery on a peace officer, resisting or obstructing deputies and failure to disperse."